A Tale of Two Vices
Gambling is a vice that has often been associated with other vices. It is not unusual to see a Slots, Video Poker, Video Keno or Table Game player enjoying a drink whilst playing his/her game of choice. Furthermore, for anyone who has ever walked into a West Virginia slot parlor, if you see a non-smoker in there, then you have gotten an object lesson that there are occasionally exceptions to rules.
The combination of gambling and sex is also one that has occasionally presented itself in subtle ways: The expanse of, "Party Pits," consisting of scantily clad dancers and dealers in many of the Las Vegas casinos is one example. Another example is the booming underground, "Call girl," trade in Las Vegas and, to a lesser degree, other centers of gambling.
Pornhub, as the name implies, is a website devoted to pornography, but it has now decided to expand its footprint by delving into gaming. As reported by our parent site, LatestCasinoBonuses.com.
Pornhub Casino launched on February 1st, 2016 and is seeking to combine two very popular vices: Gambling and Porn. It is undoubtedly so that this casino is the first of its kind, so this might serve as a bit of a viability test for this niche market.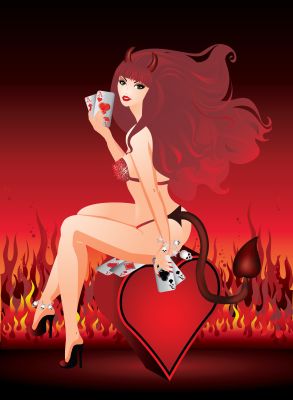 Keep in mind that the combination of pornography and casino games is not in itself an original one, a Google Search for, "Online Strip Poker," will reveal a plethora of websites (some with No Download required) in which visitors can enjoy a game of Strip Poker, Strip Blackjack, Strip Hi-Lo or Strip Video Poker, just not with actual money on the line. These sites have even expanded to mobile, on occasion, with sites such as Racypoker.com available to be played on a smartphone without any downloads required.
I suppose that will be enough stalling on my part, it is now time to pay a visit to https://www.pornhubcasino.com/.
The Main Page is not unlike other Online Casinos in the respect that it promotes its offerings, whether they be slots, Video Poker or Table Games. It is unlike others in that these pictures and descriptions consist of a cornucopia of naked breasts and women in varying states of undress. By hovering over any one of these pictures one can determine whether it can be a, "Play for fun," game or whether it must be played for real. Unsurprisingly, all of the live dealer games can only be played for real money.
I have decided to play the traditional and beloved game of, "Porn Teen Slot," for free and only have to create a username and password as well as enter my first and last name, birthday and E-Mail address to do so. I received a confirmation E-Mail with a minute or so, followed the link, and am ready to play a (a)rousing game of, "Porn Teen Slot."
For those of you looking to stick your units into some teen slots, this is a pretty rudimentary slot game in which the only special features consist of some stacked symbols (which pay well) and Bonus Games. Interspersed in your spins will be small videos that take place anytime three symbols or more are hit, one would think they might also be longer for four or five of a kind, but they're not. Longer videos will occasionally play for Big Pays and the entry to the Bonus Games consists of a montage of various degrees of vaginal, and possibly anal, penetration. The conclusion of Free Games involves a gentleman ejaculating upon the exposed breasts and face of a woman.
There is another slot game called, "Porn Star Slots," though I wouldn't know if it consists of recognizable porn stars. The game operates the same as the teen version with the major difference being in the Bonus Games. The Teen version has stacked wild symbols in Bonus Games whereas the Porn Star version has Locking Wild Reels. The Bonuses can re-trigger in both games, though it is presumably less likely in the Porn Star game due to the locking wilds.
There are also games that do not involve nudity, such as most of the Table Games with no live dealer and a plethora of other slot machines.
There is also a section for Webcam Poker, with both play for real and play for fun versions. However, at the time I was logged in, there was nobody participating.
The current bonus is a 100% deposit match bonus up to $400.
I'm not particularly interested in pornography, to be completely honest, but my impression of the slot games is that they would grow tedious even for individuals more inclined to watching strangers penetrate one another in various ways. Additionally, some people might be disappointed in the Teen Slot game because, for some of these women, the last time their age ended in, 'teen,' is probably when Clinton was still in office. The Webcam Poker holds potential for people who would like to see one another naked, but if it does gain players, if I may be so bold, I would expect a proverbial, 'Sausage party."
One has to be a cash player in order to do anything involving the live dealer Table Games, but I should imagine it involves nudity or near nudity.
This motif is a good idea for what I presume is a highly niche market of people who do not have the ability to wait until they are done gambling to masturbate, or alternatively, take so long masturbating that they feel the need to gamble during the process. This casino has only been released for two months, so I'm going to give it a chance to grow and develop before I make any predictions as to its long-term viability.
Posted by
Mission146