Is Simms the Answer?
Let's face it: Downtown Grand has not been doing terribly well since they've opened. David McKee, in his Las Vegas Advisor Stiffs & Georges blog, referred to it as an, "Identity Crisis."
http://dmckee.lvablog.com/?p=16423
The Downtown Grand was previously known as the Lady Luck Casino, which closed in early 2006 for remodeling. The process was originally scheduled to take nine-twelve months, but the financing for the project collapsed and the property was purchased in early 2007 for 100 million dollars.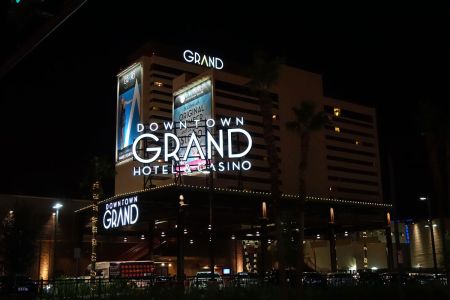 The new owners, CIM Group, apparently didn't see much profit potential for the property as it was not opened until late 2013, and that after much arm-wrenching by the city. During this time, the property had been referred to as a, "Blight," and a, "Carcass," by various city leaders.
The Downtown Grand completed the renovations and opened in November 2013. Realizing that the old Lady Luck had likely been long since forgotten about, one of the components of the Downtown Grand's marketing strategy was to become an Ascend Collection hotel with the Choice Hotels franchise. This strategy gave them access to the Choicehotels.com booking network and, as a result, made them the only casino hotel marketed by Choice Hotels International.
Having stayed there, I can say that the rooms are immaculate, of course, they should be given the fact that they are all newly renovated. However, as I sit here a year and a half later, I'd be hard-pressed to describe the gaming floor.
The Downtown Grand has a number of excellent dining choices, ranging in price from casual to fine dining and offers a ton of great values. The main problem with Downtown Grand, during my stay, was that there is absolutely nothing remotely memorable about the property except, "Yeah, the rooms are really nice." How do I know? Well, as the LVA Article reported, the gaming floor is being outperformed by rooms and dining!
Jim Simms is the new sheriff in Downtown as CEO of Downtown Grand Casino, and I should be somewhat familiar with seeing his work in action, as he was long-time President and General Manager of Wheeling Island Hotel, Casino, Racetrack.
Jim Simms came in and immediately recognized some problems, "The fact that we are two minutes away from Fremont is a long two minutes."
http://lasvegassun.com/blogs/kats-report/2015/jul/20/ceo-wants-bring-downtown-out-70s/
He said that there is nothing visually to pull in any of that Fremont Street traffic, and with that, I couldn't agree more. In fact, walking back from a visit to the El Cortez on the morning I checked out...of Downtown Grand...I actually had some trouble locating the property that I had just left! Honestly, the place is about as dynamic as a nickel sitting in a pile of quarters, you might spot it eventually.
When Wheeling Island was struggling, Jim Simms came up with two deals that really started to right the ship in terms of generating loyalty and getting new players to the property. The first thing that he did (and, remember, this place doesn't have Vegas level competition) is that all new players club members get $20 Free Play. The second thing he did was come up with the Hot Hotel Deals program, by which a player earning 200 points in one day ($1,000 coin-in) gets a free room Sunday-Thursday that month, and it can be earned once a week.
I think that we can probably expect better offers from Downtown Grand given the competition, as of the time of this writing, they are offering a $1,000 loss rebate for new Members. The point of the matter is that Jim Simms is a guy who can identify strengths and weaknesses in a property and actually turn weaknesses into strengths.
Why would I say that? The answer is that Jim Simms recognized that Wheeling Island had no problem filling rooms on Friday and Saturday, so even if you give rooms away during the week for what some would consider very little play, you're at least filling some rooms and those who get the rooms are going to gamble a bit.
Within a short period of time, the Island went from having ALL table games scheduled to be closed at 1:00a.m. throughout the week to basing it off of demand. It's not unusual for Blackjack to go all night long through the week, these days. Is that a huge improvement? Perhaps not huge, but any improvement is an improvement.
Furthermore, with the New Member Free Play, at one point when guests of other hotels might ask what there was to do in the area, at the end of the list there might be a muttered, "Oh yeah, there's a casino too, it's okay, I guess." Now, front desk clerks at many of the area hotels tell people that they'll get $20 Free Play if they have not had a player's club card there and at least sound a little animated about the casino.
It's true that these are small steps, but Jim Simms isn't the type of guy that thinks these things are going to correct themselves overnight.
Prior to Simms coming to Downtown Grand, one other problem they had was the price point. It was very clear that they were trying to target the Golden Nugget clientele, but they didn't have that much backing it up, least of all, the location.
As of the time of this writing, though, it looks like they are also changing that with excellent direct booking prices. They are currently offering certain nights for $27/night, (not counting the Grand Experience Fee) and if you book two nights, you get 10% off and a $25 food & beverage credit. That's essentially buy one get one, because with the restaurant options, you definitely won't mind eating there.
Golden Nugget's lowest rooms on the dead days this Summer seem to range from $49-$69 per night, and if there are any package deals offered, that is not immediately apparent from their website.
The only issue I take with Simms is that he is quoted in the Las Vegas Sun as saying, "The thing that amazes me about downtown is, we've all heard about downtown being the cool place to go, but the pricing structure is still stuck in the 1970s. Everybody still discounts as if we're offering an inferior product."
Well, Jim, compared to The Strip, you kind of are. I mean, the Downtown Grand is a very nice renovated property with positively immaculate rooms, but it's not the Mandalay Bay, the Wynn, Caesar's Palace....the list goes on.
Downtown is the cool place to go BECAUSE it is not the Strip, and because the prices are not Strip prices. It's also important to note that the rates are going to be held down by the fact that there is so much competition for the hotel business Downtown and because comparable properties are offering excellent values, as well. I would suggest that, for many people, you have to convince them that Downtown is a huge value compared to the Strip just to get them to stay there.
Jim Simms succeeded at Wheeling Island Hotel, Casino, Racetrack because he figured out a way to take what he was given, (not much, except a very solid hotel product) and make the most out of it. He knew what the market was, he knew what the casino was, and he operated within the confines of what he could or could not do to great success. Downtown Grand will have a chance at long-term success if Jim Simms works within the confines of what Downtown Vegas is, because Downtown Grand is not going to be the catalyst that changes the entire rate structure Downtown or the guests that frequent it.
Posted by
Mission146