Downtown Grand to be Sold?
Wait a minute, I'm confused. Is the title of this Article not, "Downtown Vegas Changes?" I thought that the Downtown Grand opening could be construed as a change in Downtown Vegas given that it happened less than two years ago...
The Downtown Grand opened to such fanfare that, even though my former wife and I visited Vegas for the first time in December of 2013, (two months after the opening of DG) and even though my former wife and I stayed Downtown (at The D) the entire time we were there, I don't believe that we once set foot in the Downtown Grand...because we were not aware of its existence.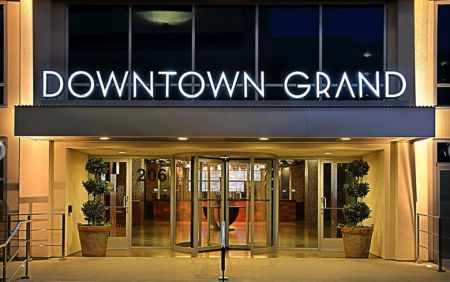 Given the fact that I am one of the Administrators here at WizardofVegas.com, I would have most assuredly encountered a thread about a new casino opening Downtown, right around the time that I finalized my plans to go to Vegas for the first time, but there was nary a reminder of the Downtown Grand's existence while we were actually there and any potential visit to the property did not occur.
On my April 2014 visit to Vegas, I actually had the opportunity to stay at the Downtown Grand. Interestingly enough, the gaming floor had less than zero appeal to me and the only action that the property ever saw out of me was my using a Match Play at the Craps Table. I might have also had some Free Play on my PC card, but I can't quite remember at this time. I did, however, return to the property after the one night that I spent there, surveyed the gaming floor again, and was probably gone in less than five minutes.
The Downtown Grand is so memorable that, after eating breakfast at Stewart and Ogden's the morning after staying there; I walked over to the pharmacy which is not more than several hundred feet away, paid a visit to the El Cortez (where I played for the next two hours or so) and actually forgot where the Downtown Grand was located! Under normal circumstances, I wouldn't have considered not walking into the Downtown Grand ever again a particularly troubling event except I had to return...because my stuff was still there.
Granted, the hotel rooms are immaculate and absolutely fantastic. The rest of the property looks very nice too, not owed in any small part to the fact that very few people use any of it.
Other than my hotel stay, I think my most memorable experience at Downtown Grand was that I hailed a taxi cab near it. I had certainly telephoned for taxi cabs at various points in my life, but this was the first time that I properly hailed one, so that was pretty cool. Of course, hailing my first cab wasn't exactly the most earth-shattering experience of my life, so it probably doesn't speak well for the casino that hailing my first cab there is my fondest memory of them. And, furthermore, I wasn't even in the casino at all that day.
Unfortunately, Luck hasn't been a Lady for the former Lady Luck Casino tonight, or any other night for that matter, since October 27th, 2013.
Vegas Chatter has reported, among other things, that the first CEO of Downtown Grand was too busy going on Disney cruises to be the, you know, head of his failing casino:
It's really hard to blame him, though. The ships must have had innumerably more people on them and would have been much more exciting. And, if Disney ships even do have casino floors, I'm sure that would have been more fetching, too, and would probably have had more players.
Fortunately, this chapter of the former Lady Luck property may be soon to mercifully end as Vital Vegas reports that Downtown Grand may be putting itself up for sale:
It is tough to say who might buy the Downtown Grand, but they will certainly pay less than the combined 200 million dollars (100 million to buy the property and 100 million to renovate) paid by CIM Group. It is certainly difficult to envision the Stevens brothers (owners of The D, Golden Gate and former Las Vegas Club) buying the property as they just purchased the Las Vegas Club. However, it would certainly be welcomed if they did, because it seems that they can turn just about anything into a tremendous success.
I would think that its best chance would be to get purchased by a large casino operation with multiple locations in the U.S. in order to use their network of casinos to drive attention to the (former?) Downtown Grand. One such potential buyer might be Penn National Gaming who agreed to buy the Tropicana a few short months ago. To purchase the Downtown Grand would put a Penn National Gaming property both on the Strip and Downtown. Their spin-off company, Gaming and Leisure Properties, also owns the M Casino. In total, they own nearly thirty properties in eighteen different states.
In any event, Penn National Gaming would have the kind of power needed to drive Vegas visitors to the Downtown Grand and they could even potentially start all of that off by holding promotions at their other properties by which the winners get a trip to Las Vegas and would stay at Downtown Grand.
In any event, it's difficult to say who (if anyone) will buy this property, but I can think of a couple things they should have done from the beginning which might help now:
1.) Provide a Grand Experience without the, "Grand Experience Fee!"
-People hate resort fees. Hate them. My position has always been that, if the resort fee were simply added to the room rate and no resort fee was charged, nobody would notice. Of course, I work in hospitality, so it stands to reason that would be my perspective.
Either way, the Downtown Grand could advertise, "We do not and will never again have resort fees!" I think that people would love it. I consider the hatred of resort fees (as long as they are clearly stated prior to booking) to be irrational, but it's there.
2.) Simple Promos
-At one time, the DG did have a $1,000 Loss Rebate, but it apparently didn't work well enough to drive enough people to visiting the property. Personally, I would have just had someone walk along the Fremont Street Experience shouting, "$25-$100 Free Play for new Player's Club Members at Downtown Grand!"
I mean, Fremont Street has plenty of people on it, like, all the time. The Downtown Grand seems to want some of those people to go there, though I can't be sure, but that seems like a way to do it.
Take the Jackie & Michael Gaughan approach to promotions, make them simple and give people what you say you are going to give them. Four Values: $25 in Free Play, $50 in Free Play, $75 in Free Play and $100 in Free Play and make them all equally likely. They need to get people to like the casino, but in order to do that, people must first walk into it.

What else could they do? Hell if I know. For me to put more thought into it, they'd have to hire me. I probably wouldn't take it if offered anyway, no job security.
Posted by
Mission146