Disclaimer
Be advised that I work with the Venetian. However, this review was writen over a year before I started, and was never changed afterward, except the addition of this disclaimer.
Introduction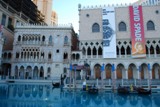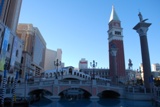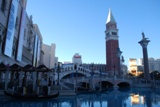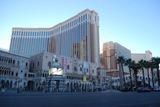 There can be little debate that the Venetian should be on anybody's short list of the biggest and finest hotel/casinos in Las Vegas. If you include the most recent expansion portion, the Palazzo, then I believe it is the largest hotel in the world with a combined total of 7,117 rooms.
There is something else that makes the Venetian stand out from other Vegas properties, and it is hard to put into words. It doesn't rely on the usual tricks and gimmicks to get visitors through the door. Perhaps because it doesn't need to. For example, there is no gigantic obnoxious sign out front. There is not the quintessential buffet every other big Strip hotel has. It is legitimately beautiful and impressive -- worthy for at least a visit by any Vegas visitor.
Location
The Venetian is on the northern Strip, on the east side of the road, between Harrah's and the Wynn and across from the Mirage. From the I-15, it is between the Flamingo and Spring Mountain Exits. It is within easy walking distance of Caesars Palace, Treasure Island, and the Fashion Show Mall.
History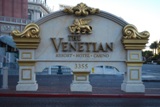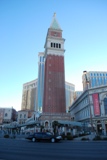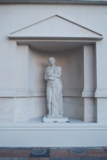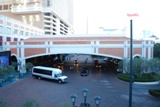 In 1996, Sheldon Adelson imploded his own Sands hotel to make room for the Venetian. On May 3, 1999, the Venetian opened its doors. Later, additions were added: first the Venezia tower, which is just south of the Venetian tower, and then the Palazzo.
The Palazzo
I debated with myself, and with others, a long time about whether to combine the Venetian and Palazzo into one review. Same with the Wynn and Encore. One could even make a case for Bally's and Paris. Good arguments can be made for, and against, both combining and separating them. In the end, I decided for purposes of the average visitor, they are sufficiently different to justify separate reviews. So, this review shall address the Venetian only, although sometimes comments about the Palazzo can't be helped, due to their proximity and since they are under the same management.
This Review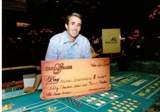 This review is primarily based on my stay from January 10 to 12, 2011. At times I also draw upon many previous visits. From about 2005 to 2008, I was a good customer at the Venetian. I played mostly video poker there monthly for the mailers and sometimes participated in table game tournaments. On April 20, 2008, I won a $100,000 craps tournament there. The first prize was $50,000.
However, later that year the mailers became more stingy, they got rid of the liberal video poker machines, and my host left for another casino. For these three reasons, I became estranged from the Venetian. Enough time had passed that I felt I could return on my own dime and old play would not entitle me to any special treatment. Indeed, nobody recognized my face, and I didn't recognize anybody either. This review is my attempt at a fresh look at the Venetian.
Parking Garage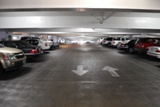 The parking garage is not one of the Venetian's proudest features. As I recall, it used to be better, but they had to remodel it to make room for the Venezia Tower. It is the tall and narrow type of garage that requires lots of turns and usually takes a while to find a spot. The lower levels are closed off, probably for valet parking, so you always have to climb at least four or five levels. On a busy day, spaces on the first available levels are hard to find, so I usually head up to level 8. They try to cram as many spaces as they can in the garage, so spaces and lanes are both narrow. On the plus side, the garage is clean, and there is usually not a long wait for an elevator.
The Hotel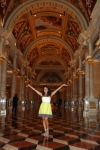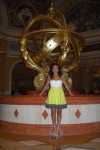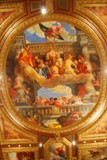 Even if you're just visiting the Venetian, no visitor should miss the hotel lobby. Hand-painted artwork adorn the walls and ceilings. Comparisons to the Sistine Chapel would not be unreasonable. The main entrance also has an elaborately painted ceiling.
The Venetian rooms are 100% suites. They are all very comfortable and well-appointed. However, that comes at a price, and nobody ever said the Venetian was cheap.
My visit was mid-week, during January, which is a slow month in Vegas. I made my reservation on the Venetian's web site when the base cost was $149 per night for a one-bed room. When I arrived, I was pleased to have only one person ahead of me in line. The line is Wendy's style, meaning one line serving lots of windows, as it should be. In past stays, I don't recall ever having a long wait to check in – perhaps a few minutes at most.
The front desk attendant was very friendly, helpful, and knew his job well. My brother-in-law decided to join me, so I asked to upgrade to a double-bed room, which cost me an extra $35 per night. Then there was the dreaded Las Vegas resort fee, this time $17 per night. Finally, add 12% tax to all that and I was at $225.12 per night. I was also offered a Strip view for an extra $10 and a larger suite for an additional cost I don't remember. Both options I declined. For a first-time visitor, I think the extra $10 for a Strip view is worth it. My east-facing room had a lousy view, but this jaded Vegas local didn't care.
According to Vegas.com, the resort fee covers the fitness center, high speed Internet, local calls and a free newspaper. I can vouch for none of these things, as I never asked for any of them. However, I can specifically say that I never received a free newspaper. As in my most of my other reviews, I'd like to add that I find hidden resort fees to be deceptive and dishonest. They are not disclosed when you make the reservation, and you have no right to decline to pay it and forfeit the perks. I'm sure the Venetian, and the many other Las Vegas hotels that have mandatory resort fees, would argue they don't like to nickel and dime their guests with extra fees. I can respect that. It isn't that I object to paying more to get more or for added convenience, but I do object to surprising the guest with the fee when he shows up. What I think would be honest would be to add the resort fee to the base price of the room. My apologies to those who have already read my rant about this in other reviews.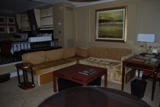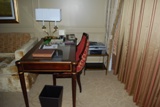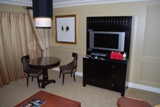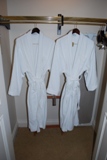 The Venetian's split-level suites are wonderful. The living rooms have a large flat-screen TV, long couch, coffee table, a small round table, desk, mini bar, safe (mine was locked shut), DVD player and curtains which open and close by remote control. The bedroom had another large flat-screen TV, two queen-sized beds and robes in the closet. The beds were magnificent -- perfect hardness and the sheets were very soft and brand-new white. The pillows were heavenly. I should have checked whom they buy from, as everything was much more comfortable than what I have at home.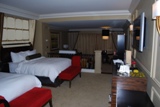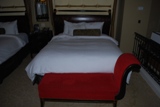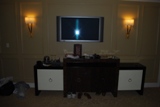 The bathroom had a separate bath and shower, a make-up vanity, a toilet in a separate room, and a nice selection of personal items, such as a sewing kit and an emery board. The shower was the kind I like, which pours water from a large shower head directly from the ceiling, like it is raining. A nice flow, and you didn't have to wait a long time for hot water. The only thing that was missing, in my opinion, was a coffeemaker. In all fairness, few Vegas hotels offer them, especially on the Strip. Some pieces of furniture were a little dinged, but nothing too bad, and not worth complaining about.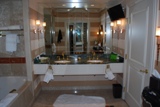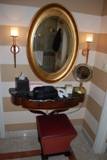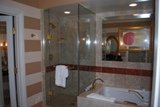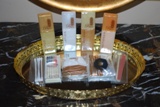 Another thing that every guest should know is the Venetian has two towers: the original Venetian tower and the newer Venezia tower, neither of which is to be confused with the Palazzo. Calling the two towers by such similar names I would not have recommend had they asked me. Still, that isn't as badly named as "The Hotel" tower at the Mandalay Bay. My front desk agent was conscientious about making sure I understood the difference, which I already did. When I went up to my room on the 6th floor, I overheard another guest who was clearly confused and exhausted from looking for her room. A good Samaritan guest explained to her that she was in the wrong tower. If you're given the choice, which I was, I would recommend the original Venetian tower, because it is a lot closer to the casino and shopping area. On the other hand, the Venezia Tower is newer and closer to the front desk.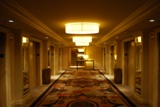 A good word is deserved for the many hotel elevators. Never have I had a long wait for an elevator or had to stop at almost every floor to get to the higher floors. By my count, the Venetian tower has 24 elevators. I think their elevator-to-room ratio is much higher than average for Las Vegas.
I should also mention that I'm infamous for leaving personal items in hotel rooms. My wife can vouch for that. This time I evidently left a Netflix DVD and mailing jacket in the room. By the way, the DVD was the Big Bang Theory (go figure). Two days after leaving, Netflix records showed receiving it back in the mail. Somebody at the Venetian must have returned it. Thanks! I was worried about what happened to it.
Pool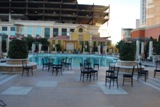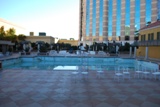 The main pool was closed while I was there. Judging by lots of construction workers milling about, they were doing some remodeling. January is a good time to do that. I was surprised they let me walk around taking pictures. When it is open, the Venetian features a big pool for serious swimming and some smaller ones for just cooling off. Compared to other Strip pools, I would say the Venetian has a quiet, relaxed environment. If you're looking for a party atmosphere, this is not the place.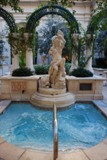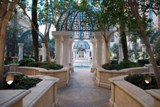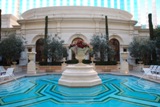 There is a little-known second pool area at the Venezia Tower. It is small but very beautiful, like a Roman Garden. Due to the high buildings surrounding it, the Venezia pool probably doesn't get much sun, but it would be a great place to relax. When I was there, I was the only soul around most of the time.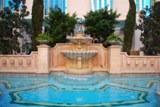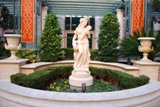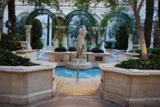 Entertainment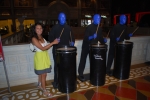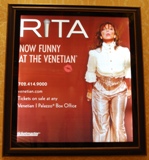 Besides temporary shows, the Venetian hosts, on a permanent basis, Blue Man Group, Phantom, and Rita Rudner. I'm also going to mention Jersey Boys, which plays next door at the Palazzo. I applaud the Venetian for NOT having another Cirque du Soleil show, or an imitation. It isn't that I don't like Cirque, but we have enough already in Vegas. Here is a brief review the shows they offer:
Blue Man Group
Without a doubt, this is one of my favorite shows in Vegas. Now that Mamma Mia is gone, I would have to say Blue Man is my single favorite show in town. I saw it several years ago at the Luxor, and I am overdue for another visit. The show itself is hard to describe. Three people painted in blue (for all I know, some could be women) play a variety of unusual instruments, most of them some kind of substitute for drums. For example, big contraptions made out of PVC pipe. There is also a whole orchestra to accompany them. In addition, they do various acts of unusual skill, like shooting marshmallows from long distances, with another Blue Man catching them with his mouth. The audience is not passive, and is frequently called upon to participate. I'm not sure if the ending has changed, but when I was there, every audience member was, shall we say, made part of the show. I don't want to blow the ending for those who haven't seen the show yet.
Phantom
Formerly know as Phantom of the Opera. This is a well-done Andrew Lloyd Webber musical, which has played on Broadway for years. Some of the tunes, I think, any American would find recognizable, especially if staying at the Venetian. It seemed like I was often hearing music from Phantom in my travels about the property, like in restrooms and elevators. I saw it at the Venetian a few years ago. Speaking for myself only, I found the show uninteresting and difficult to follow. Some familiar songs I enjoyed, but such moments were too few and far between. Between them, I had almost no idea what was going on. I just know it had something to do with an opera house haunted by a very jealous ghost. Kristi M., whom has written other hotel reviews once said to me, "I knew you wouldn't like it, Phantom is for women and gay men." Her words, not mine, so don't write to me. For more information, please see the Phantom review by Nick.
Rita Rudner
I saw Rita when I did my review of Harrah's a year ago. She just recently switched to the Venetian -- definitely a move up. Briefly, Rita does very clean comedy, mostly about Vegas and differences between women and men. There are lots of clips of Rita on YouTube to get an idea of her material. Much like Phantom, I think Rita is more for a female audience.
Jersey Boys
This musical plays next door at the Palazzo. I know this review isn't supposed to address the Palazzo, but I enjoyed Jersey Boys so much I can't help but mention it. The show is about the lives of Franki Valli and the other three members of the Four Seasons. They had so many great hits and such an interesting story that the show almost writes itself.
Restaurants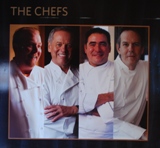 The restaurants at the Venetian are outstanding. If forced to an opinion, when it comes to dining, I think no property in Vegas does it better than the Venetian. If you're on an economy vacation, you may find it difficult to find much variety in your budget. However, for the more financially endowed, it is hard to go wrong at the Venetian. Here is where I dined this trip.
Grand Lux Cafe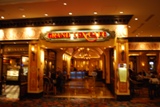 This is the most economical of the Venetian restaurants outside of the fast food places. It is owned by the same company that runs the Cheesecake Factory, and the two have very similar menus. The Grand Lux is a little more upscale and has a shorter menu, however. Like the Cheesecake Factory, the portions are huge and loaded with tasty calories. The fatty and salty food is an easy way to satisfy your stomach, but it is also difficult to stop eating. I usually feel ashamed of myself when I leave. There is another Grand Lux at the Palazzo.
Noodle Asia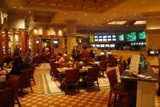 This small, informal Chinese restaurant is next to the sports book. The food is tasty and a little more authentic than what you usually find at American Chinese restaurants. Personally I recommend the Hong Kong noodles. They changed the name to something else, I think "seafood dry noodles," but Hong Kong noodles sounds better. Overall, it is nothing outstanding or fancy but a good value for moderate budgets.
Pinot Brasserie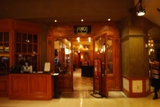 I had lunch at this semi-formal French restaurant. I was absolutely pleased, as were the other two people in my party. My entree was trout, which I seldom turn down when I see it on a menu. I don't remember the details, but it was delicious. For dessert, I had a chocolate strawberry dish, which was fine, but I probably would pick something different next time. The prices were reasonable, especially compared to the other fine restaurants at the Venetian. Unlike many Vegas restaurants, which are mostly a large, noisy room, this one did a good job at making you feel like you are in a small French bistro, with several small rooms, as if you were in somebody's house.
Otto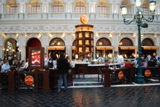 This Italian restaurant found in the second floor shopping area, known as the Grand Canal Shoppes, provided me with a wonderful dinner. My waiter was very friendly and helpful. Despite the restaurant being very busy, he never seemed rushed. I don't remember the name of what I ordered, but it was a green pasta dish, which was fantastic. For dessert, I had fried dates and gelato, which was among the best desserts I have ever had. The waiter said they get their dates from the nearby China Ranch Date Farm. I love dates, and it isn't every day you see them on a menu. Our table overlooked St. Marks Square, where two musicians were playing. The prices were quite fair. Other restaurants in the Grand Canal Shoppes looked good too.
Bouchon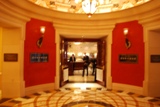 This is a large, quiet, out-of-the way French restaurant on the 10th floor of the Venezia Tower. I had breakfast there, which consisted of eggs, potatoes, bread, sautéed spinach, a fruit cup, and an apple pastry. It was decadent and good. I sat at the bar, and the bartender was very friendly and good company. Good food, a semi-formal atmosphere, and reasonable prices. My next time to the Venetian, if I'm tempted to go to the Grand Lux, I hope I remember to go to Bouchon instead. It is easy to forget about the Bouchon because you would never see the place unless you had reason to go to the 10th floor of the Venezia tower.
In prior visits to the Venetian, I have never been let down dining. Once I had dinner at AquaKnox, which was great, although on the pricey side. The Canyon Ranch Cafe, next to the fitness center, is a good choice for healthy eating. I have never heard anything but the highest praise for Delmonico Steakhouse, although it is expensive. When I was a bigger player, I asked my host for a comp, which I thought I easily earned, but he rebuffed me. One of these days I'll make it there.
To conclude, if good eating is a major reason for visiting Vegas, then you can't go wrong picking the Venetian for that reason.
Shopping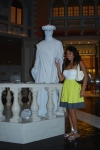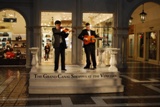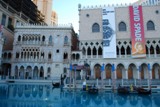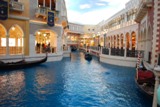 I usually can't stand shopping; however, even I find some pleasure in strolling the Grand Canal Shoppes. There are gondola canals between the stores, complete with gondoliers singing to riding tourists. At St. Marks Square, there is often some kind of entertainment, usually singing or juggling. The Living Statues take turns in various spots in the mall, so you can't miss them. Most of the stores are pricey, but there are some offerings like Banana Republic, for those more down-to-Earth needs. As I mentioned in the restaurant section, there are lots of good restaurants, plus a fast food area in the mall.
If you are in need of a conventional mall, the Fashion Show Mall is just across the street, next to the Treasure Island.
Madame Tussaud's Wax Museum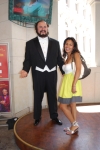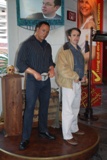 The Venetian hosts Las Vegas' ubiquitous chapter of Madame Tussaud's Wax Museum. I have been there before, but it was a few years ago. You pretty much know what you're paying for -- a lot of nearly perfect, designed to-scale, wax statues of celebrities. In some cases, you can interact with the figures; for example, you can line a putt up with Tiger Woods or throw on a gown and marry George Clooney. According to their web site, there were 36 statues as of January 2011. During my last visit, I left feeling old because I couldn't identify some of the younger celebrities. Since the eighties, I have been lazy about keeping up with pop culture.
The price is $25 for adults, $18 for over age 60, $15 for age 7 to 12, and free for age 0 to 6. Personally, I think the price is rather steep, considering it takes only about ten minutes to get through the place. It seems there are a lot of coupons floating around, on the Internet and otherwise, so keep you eyes peeled if you plan to go. The museum is conveniently located half way up the moving walkway leading from Las Vegas Blvd. to the Grand Canal Shoppes on the second level. It seems there are always two statues outside you may see for free at the entrance during open hours.
Casino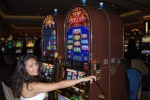 The Smell
Some people complain that the Venetian casino has an oppressive sweet smell, like an orange. Evidently this is in an effort to mask tobacco odors. Most of the time I don't consciously notice what it smells like. As a former supervisor of a janitorial company, I know it is almost an art form to cover up what you can't clean, so I applaud the effort. However, I know others find the smell annoying, so consider yourselves warned.
Poker
The Venetian boasts a huge poker area, close to the main entrance. According to the Gaming Control Board, there are 52 tables, which is a lot. If I'm not mistaken, the only casino with more is the Bellagio at 70. That surprises me, because it doesn't look like the Bellagio has that many. Maybe they have more in the back somewhere. I never actually played poker at the Venetian, but I see no reason not to.
Sports Book
For me, the sports book does not live up to the otherwise high standards of the Venetian. It is small, relative to the size of the casino, and it doesn't look as comfortable as sports books in other high-end properties. The sports book at the Palazzo is a lot better. Expiration on sports tickets is 60 days, which I think is too short.
Slots
According to the Gaming Control Board, the Venetian (including the Palazzo) has 3,118 slots, which I believe is the most in Las Vegas. The Venetian had the dubious distinction of finishing second-to-last in terms of looseness in my 2002 survey of nickel slots. Who was the stingiest, you might ask? The airport. Maybe things have changed in the eight years since then, but I doubt it.
Video Poker
I used to play a lot of video poker in the Venetian high limit room when they had 9-6 Jacks. However, those days are long gone. According to vpfree2, the most liberal video poker at the Venetian is 9-5 Jacks at 98.45%, which is outright stingy. The slot club is worth 0.2% to 0.3%, depending on your level, plus discretionary comps.
Table Games
According to the Gaming Control Board, the Venetian (including the Palazzo) has 245 table games, which is second only to the Wynn/Encore. Naturally, there is a good variety. To find the liberal blackjack rules, you have to go to the high limit room, which has a $200 minimum.
However, I have to give the Venetian some huge applause for having zero 6-5 blackjack games. I'm quite sure they are the only major Strip casino to not take advantage of mathematically-challenged players who don't know, or care, which is greater 3/2 or 6/5. For this, I say bravo to the Venetian!
Craps is 3-4-5x, which is standard for the Strip. There is single-zero and double-zero roulette on the main casino floor. The roulette in the high-limit room is also single-zero (but not European), and is seldom open.
Cocktail Service
I give the cocktail service a solid A. The frequency should satisfy all but the heaviest drinkers. The waitresses are generally very lovely and friendly. The quality of the drinks is above average. For example, the wine they serve is quite drinkable, as opposed to the vinegar most places serve. The outfits are not as revealing as some other places, but that would not be the Venetian's style to go for the cheap thrill.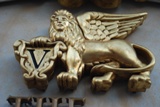 I like to annoy cocktail waitresses with trivia questions. If they are right, I tip $5, if not, $1. One question I asked repeatedly to different waitresses was what is the name of the kind of creature adorning the Venetian logo? It is all over the place, including the gaming tables. None of them knew. It seems I don't either. I told them it was a griffin, but a reader corrected me that a griffin is part lion and part eagle. The Venetian create is part lion, part eagle, and part man. I'm not sure what the Venetian creature is supposed to be called, or if it even has a name. The writer says it is the symbol for Mark, writer of the gospel of Mark. My apologies to the cocktail waitresses of the Venetian for misinforming them.
My Own Gambling
I played pai gow tiles for a little over seven hours at an average bet of $210, according to the Venetian's records, which I agree with. As usual, I played with all Asian players and dealers. Some complimented me on my knowledge of the game, but most didn't seem to give a damn.
In my seven hours of play, about half the dealers just dealt the game with barely a word uttered. The other half made a little small talk, but not much. Considering the Venetian is among the top casinos in Vegas, I would think they could cherry pick the most fun and entertaining dealers in town. However, what they have are a lot of cold, business-like dealers who seem bored and annoyed to be there. Before I get angry comments, I'm not saying all of them are like this. In the past, I have had some good ones, but they are the exception rather than the rule. If you are looking for a fun game with an engaging dealer, your odds are better at the Sahara, where they earn a fraction of what a Venetian dealer does.
I would also like to get a complaint off my chest. Pai gow normally allows for player banking, where one player bets against the other players, as well as the dealer. The Venetian adds a co-banking rule, which most other casinos don't have, allowing multiple players to bank as a team. For some time, I was doing this with another player going against the dealer only. All was good until a third player came to the table and made a bet when we were co-banking. I put up $200 against the dealer and the co-banking player put up $50. It was never addressed what would happen if the third player won or lost. I assumed the win or loss would be paid at the same 4-1 ratio.
What happened was the dealer won, and the third player lost, for a net loss of $200. Given that I had 80% of the action against the dealer, I thought the ratio would be the same against the third player. What actually happened is the dealer took the $250 she won and then just left the $50 the third player lost in the middle of the table. So I asked, "Who gets that?" expecting the dealer to say you split it $40-$10. She curtly remarked, "That is between you two." The other player said, "Let's split it $25-$25." Rather than argue over $15, I accepted the $25 in the interests of appeasement. However, I'm still angry that the Venetian would throw out some money between two strangers and say "divide this up yourselves." It is also a problem the dealer could have easily seen coming, but never uttered a word of warning.
The next morning I did complain to a supervisor about it. He said if I didn't like it then I should not have allowed the other player to co-bank. This is an option I never knew I had. It would have been nice to get the tiniest olive branch in the way of some sympathy, but nothing. Oh well. Again, it is just $15, and if somebody else can learn from this mistake, it will have been worth it.
Comps
As stated before, I played pai gow tiles for seven hours at an average bet of $210. By my theoretical house edge guide, hands per hour is 30, and house edge is 1.65%. So my expected loss would have been 7 × 30 × $210 × 0.0165 = $727.65.
Before leaving, I went to the player credit counter to see what that earned. The lady there looked at my history and remarked that I hadn't played for a while. At first she said she could take care of one hotel night. After some more chatting about my line of credit, she also deducted $100 in food from my room charges. Not counting tax, the value of the room was $201. With the food credit, $301 was deducted from my bill. That comes to 41% of my theoretical loss, which is right in the normal range of 1/3 to 1/2 for Las Vegas. So I found the degree of generosity fair and reasonable.
Lines
I've touched on this topic before, but on the whole the Venetian respects the time of its guests and doesn't make them wait in long lines right and left, as some other properties do. In past visits, I have had to wait in line at the Player Club desk and the Grand Lux cafe, but even on a bad day, the waits were not bad. This trip, I think the only line I suffered was queuing behind the one person at hotel registration. Had he been paying attention when he was called, I think I would have batted 1000 in terms of avoiding lines.
Bridges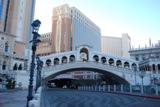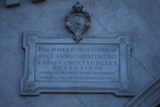 The Venetian has replicas of Venice's two most famous bridges. The first is the Rialto Bridge. The original and the replica Rialto Bridges have inscriptions. The following table shows two errors between the original in Venice and the copy at the Venetian.
Rialto Bridge Dedication
Venice
Venetian
Venetiar
Venehar
Conditae
Conditat
You can see pictures of the original inscription here and here. I'm working hard at getting a Latin to English translation, so keep coming back. That is what I'm here for, getting to the bottom of the issues that really matter.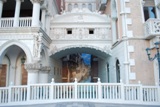 The other bridge is the Bridge of Sighs. As the legend goes, the Bridge of Sighs led to a jail and offered the condemned their last chance to see the free world.
Miscellaneous
Adjacent to the Venetian and the Palazzo is the enormous Sands Convention Center. I think it is the second largest in Vegas, second only to the Las Vegas Convention Center. If so, the Sands would be the largest within a casino.
The Canyon Ranch Spa I'm sure is worthy of mentioning, but I've never been there. I hear it is very big and luxurious. I'd like to try the rock climbing wall sometime, but I never seem to find the time for a visit.
Conclusion
Before this review, I have complained privately that I found the Venetian stingy when it came to comps and tournament invitations. However, this trip I left happy in that regard. Maybe the tougher economy has forced them to try harder to get, and keep, players.
My only suggestion would be to train the dealers to be more polite and to make the games more enjoyable, or find other dealers who can.
Links
Acknowledgement
The Wizard would like to thank Karina for modeling in the pictures.
Contact Information
Address: 3355 Las Vegas Boulevard South, Las Vegas, NV 89109
Phone: 702-414-1000
Web site: venetian.com
Resort and Parking Fees
| | |
| --- | --- |
| Resort fee | $13.50 |
| Parking fee | Free |
Games at Venetian
| Blackjack | Location | Decks | Min | Max | Soft 17 | DA | DAS | RSA | Surr | Tables | CSM | Party Pit | 6/5 BJ | Video | H. Edge |
| --- | --- | --- | --- | --- | --- | --- | --- | --- | --- | --- | --- | --- | --- | --- | --- |
| Blackjack | Strip | 8 | 5 | 500 | H | Yes | Yes | No | Yes | 3 | - | No | No | Yes | 0.56926 |
| Blackjack | Strip | 6 | 10 | 2500 | H | Yes | Yes | Yes | Yes | 32 | No | No | Yes | No | 1.84232 |
| Blackjack | Strip | 2 | 50 | 5000 | H | Yes | Yes | No | No | 5 | No | No | No | No | 0.45688 |
| Blackjack | Strip | 6 | 50 | 5000 | H | Yes | Yes | Yes | Yes | 3 | No | No | No | No | 0.48263 |
| Blackjack | Strip | 6 | 100 | 5000 | S | Yes | Yes | Yes | Yes | 4 | No | No | No | No | 0.28507 |
| Baccarat | # of Tables | Min Bet | Max Bet |
| --- | --- | --- | --- |
| Baccarat | 13 | 50 | 20000 |
| Craps | # of Tables | Min Bet | Max Bet | Odds | Field12 | Video |
| --- | --- | --- | --- | --- | --- | --- |
| Craps | 7 | 10 | 5000 | 3-4-5 x | Triple | No |
| Craps | 1 | 3 | 2000 | 2 x | Double | Yes |
| Roulette | # of Tables | Min Bet | Max Bet | Rules | Video |
| --- | --- | --- | --- | --- | --- |
| Roulette | 8 | 10 | 500 | 00 | No |
| Roulette | 2 | 3 | 1000 | 00 | Yes |
| Roulette | 1 | 100 | 500 | 0 | No |
| Roulette | 1 | 10 | 500 | Sands | No |
| Video Keno | Rank | Avg Return | Grade |
| --- | --- | --- | --- |
| Video Keno | 69 | 87.15% | F |