Introduction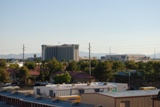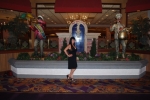 The Orleans Hotel and Casino is owned by Boyd Gaming Corporation. It opened in December, 1996 in the middle of the Las Vegas building boom of the 1990's. It was remodeled twice and currently has 1,885 rooms. The building façade gives the appearance of early 20-th century New Orleans and that theme caries to the interior with a faux French Quarter surrounding the main table game pit. The Orleans' "Mardi Gras" theme is half-hearted, especially compared to the Rio.
The Orleans has identity issues with its market niche, with three equally apparent personalities competing: a local's casino, a general tourist casino, and an Asian destination casino.
Tourists come because the Orleans is close to the strip (about a mile and there's a shuttle), full featured and much cheaper. It is about the same distance off the strip as the Palms or Rio. There are several billboards advertising the Orleans on the drive from Los Angeles on I-15 that drives tourist traffic.
The Orleans attracts locals from the west and southwest side of the valley. For the locals there is location, ease of parking, cheap food, headline entertainment, promotions targeted to specific days of the week, and activities for kids.
There is a significant marketing effort to the Asian population as well; the Orleans offers lots of Baccarat, Pai Gow Poker, large signage in Chinese ("Good Luck" and "Happy New Year" banners hang over the Baccarat area) and an exceptionally good Asian restaurant.
The typical local and non-Asian tourist patron is older with a low gaming budget and an even lower shopping and show budget.
The typical Asian tourist is financially well off, between the age of 25 and 40. A pit supervisor said: "They're the only ones with money right now, we're very glad to have them here."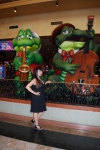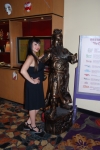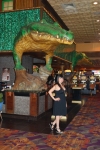 Location
The Orleans is located on the western side of the valley, about one mile west of the Strip, on Tropicana. There is a lot of easy and close parking, either in the parking garage or on the expansive lots. There is a bike rack on the ground level of the parking garage.
Gambling
According to the 2009 American Casino Guide, the Oreans has 137,000 square feet of gaming space. According to the Nevada Gaming Control Board, the Orleans has 66 table games and 2,870 slots.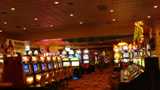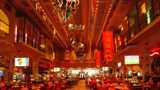 The table games I found were Roulette, Craps, Blackjack, Roulette (double-zero), Three Card Poker, Single Deck (6/5) 21, Double Deck Super Fun 21, Ultimate Texas Hold 'Em, Let it Ride, Pai-Gow Poker and Baccarat.
Slots included a large selection of three reel (old style) machines, video slots, video poker, and video keno. All slots are TITO (ticket-in/ticket-out).
Blackjack
I don't consider 6/5 or Super-Fun to be blackjack games. I found double-deck and six-deck blackjack, both with the same rules: double on any two cards, double after split, split aces get one card only, and the dealer hits soft 17. Neither game allowed surrender or re-splitting aces. The double-deck game has a house edge of 0.457%. The six-deck game has a house edge of 0.639%. There were no blackjack side bets on any of the tables.
There were always a lot of open tables and it was easy to find a game with as many people to play with as I wanted. On Thursday morning at 7AM there were 8 tables open with plenty of action, which is better than a lot of major strip casinos. There were lots of $5 minimum tables open during the day, and a $5 minimum table was still open at 9PM on Wednesday night. There were also $10 and $25 minimum tables, and a $100 minimum double deck game in the evening.
I found the dealers and pit to be mostly mindless, not really interacting with players or setting a positive mood at the tables. No one called me by my name during my stay (dealers, pit, hotel clerk, player's club, or cashier) and thanks for tips were muted. It is well known that using the player's name and making casual conversation at the table increases both playing time and tips.
Beverage service was prompt. I ordered an "Irish cream with a splash of whiskey" and was served about a table spoon of tasteless off-white alcohol. After that I drank only bottled water.
There were some very poor players, and an abundance of players who whined about how others played. Splitting 6-6 against the dealer's 4 is correct, unless you're at the Orleans and a guy with a beet-red face is having an anxiety attack. "He/she is an asshole" was his phrase of choice.
It was hard to find a table that was having a good time. I only heard one "hoot" while playing, and that came from a young woman at the craps table.
During my last session, I sat at a table at 7:30 AM with a go-go girl named "Natasha" who looked about 25 but said she had an 11 year-old at home with a nanny. She was drinking "kamikazes" and gambling away last night's tips as she pointed to a girl walking by and said "I was in jail with her." I suppose they represent another "locals" market demographic.
Roulette
The roulette wheels were the standard double zero, for a house edge of 5.26%.
Craps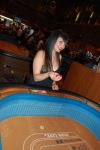 The Orleans offers the standard 3x-4x-5x odds and 15/30 hop bets. At 7:00 AM on both Thursday and Friday morning the one open craps table was full to overflowing.
Video Poker
I checked out a number of machines throughout the casino. The worst pay tables were at the bars and on the machines facing the table game area. Here is my sample:
8/5 — 97.30%
800-50-80-40-25-7-5-4-3-2-1 — 98.01%
800-50-160-80-50-9-6-5-3-1-1 — 97.81%
800-50-160-80-50-8-5-4-3-1-1 — 94.19%
800-50-400-160-160-80-50-9-6-4-3-1-1 — 98.98%
800-50-400-160-160-80-50-9-5-4-3-1-1 (by bar) — 97.87%
800-50-400-160-160-80-50-7-5-4-3-1-1 (facing table game pits) — 95.71%
800-200-25-15-10-4-3-2-2-1 — 94.82%
800-200-25-15-9-4-4-3-2-1 — 97.97%
800-200-20-12-9-4-4-3-2-1 (by bar) — 97.06%
The Wizard says to see the best video poker the Orleans has to offer, visit vpFree2.com
High Limit Rooms
The high limit room has only slot and video poker machines, although there is plenty of room for a table game if the Orleans wanted it. Video poker had a maximum $125 per pull; slots had a maximum $20 per pull. The video poker pay tables were no better in the high limit area than the best offered elsewhere in the casino. The VIP lounge can only be entered through the high limit room. There is no non-smoking area.
Race and Sports
I'm not a sports bettor, so I can only report the superficial things. There were 37 small plasma and one large plasma TV's, 96 booth seats, 20 betting windows and 30 standard seats. House tickets expire in 60 days and pari-mutuels in 120 days. There was a non-smoking area, and no smoking was allowed at the betting windows. I was told that Boyd makes its own lines (the "hub" is the Orleans) and shares them among the Coast properties.
Poker
The poker room is quite large with 35 tables. I arrived around 12:45 PM on Thursday; there were seven full tables and a tournament with 4 tables. I put my name on the waiting list for $4/$8 limit and $1/$2 no-limit. After about a 15 minute wait, I was seated at a no-limit game.
The rake is 10% up to $3 and an extra $1 per hand for the bad beat jackpot. The whole area was non-smoking, and there was no smoking while standing on the rail watching. They serve doughnuts in the morning. There were 22 TVs on the wall so there's always something to watch when you're dealt 7-2 off-suit.
The poker room has its own comp system and player's card. The player earns $1.25 per hour in comps for the first four hours every day, and 50 cents per hour for the next 8 hours, for a maximum value of $9 per day.
There is a convenient back route between the poker area and the hotel rooms. Also, the poker room is also a handy place to cash chips you have left over from your other play – they had no problem cashing 10 black for me.
The daytime players were mostly locals and knew each other. A player told me that the typical drunk tourist players come in late at night, but during the day it's tough. I'm on a mini-winning streak at poker, and managed to fumble my way to another winning session, even though I stupidly called a large bet holding an Ace with the board showing K-K-7-7-4.
There were $50 buy-in daily no-limit tournaments starting at noon and 7 PM (each taking about 4 to 5 hours). Players earn points for placing in these tournaments. There were special prizes for "Player of the Month" based on the total points. Such promotions are obviously aimed at the locals market.
The poker room is right across from the food court, so a quick snack is easy.
Bingo
There is no bingo.
Keno
There was a 30 seat keno area. Games were dropped every 5 minutes, 24 hours per day. The results were broadcast to the hotel room TVs. There are specials for locals, like the Sunday night keno contest.
Player's Club
I arrived early in the day and got a Player's Club card. The line was Wendy's style and I was second in line. There was no separate VIP line. When a player cut in front of me, I was told that VIP card holders were allowed to do this. After about 10 minutes I got my Player's card. The Orleans shares its Player's card with the Suncoast and Gold Coast casinos in Las Vegas and seven other Boyd properties nationwide.
Because the Player's Club gives food comps to slot players, there was a line most of the time, often long. No information was given about how comps worked for table game players, but for the slot player there was the usual encyclopedic documentation describing the point system, promotions, and the formula "x points = y stuff" together with "on day z earn w-times points!"
Some special perks were available to the locals market based on total points earned in a month spread over a period of days.
Cashier
The cashier's area was difficult to navigate. There were two Wendy's style lines, one of which was mainly for checks, the other for chips, and they merged towards the center, which made leaving the area a challenge. Unfortunately, the "chip" side will also take checks if no one else is in line. I had several very long waits to cash chips. Look carefully at the signage before standing in line and think strategically. Cashing out at the poker room may be a better choice.
Non-Smoking Areas
Bowling and poker were entirely non-smoking. The high limit slot area did not have a non-smoking area. There was only one dedicated non-smoking blackjack table. I was told that if every player at a blackjack table wants it to be non-smoking, the pit will put a sign on the table to make it non-smoking. The sports book had a small non-smoking area.
Hotel
I checked in around 6:00 PM. The line was Wendy's style; there were 3 windows open and one person waiting. When I got to the front, a 4-th window was opened and I was taken care of immediately.
I registered online at the casino web site and clicked on a link that said "Vegas room rates from $39.99." There was an additional $5.00 resort fee. With tax, the total was $47.56.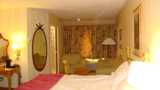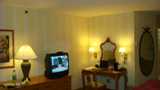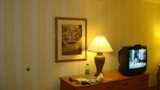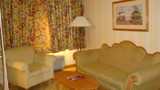 According to the receipt, the resort fee covered local calls, in-room coffee, access to the fitness center, use of the room safe, 10 minutes of Internet access in the business center, and free Wi-Fi at Seattle's Best coffee shop.
It seems to me that marketing just made this stuff up. There was a big sign that said "Free Wi-Fi to all Orleans patrons" in front of Seattle's Best coffee shop – so much for the resort fee. I tried and tried to connect to the Wi-Fi network, as did several other patrons, on several occasions over three days. No one could get the Wi-Fi to work and the front desk was no help. It is my conclusion that this represents the normal state of the "free" Wi-Fi.
The room was exceptionally nice for the price, about 450 square feet and organized like a suite. In addition to the in-room safe and coffee maker, there was a hair-drier, ironing board, iron, desk, couch, reading-chair, coffee table, and a decent view of the strip.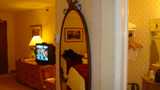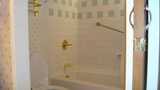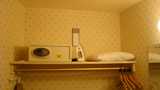 The TV station selection was very poor — about 20 stations, with no kid-friendly stations (e.g. Nickelodeon). The amenities for kids don't extend to the hotel rooms; tourists can't leave their kids back in the room watching cartoons.
I was given two coupon sheets — essentially worthless except for the $5 match play coupon (unless you consider it a deal to buy 3 caramel apples and get 1 free).
Comps
I always ask at the end of a session about my average bet. The first session they had me at $65. The second session, after an hour trying to fool the boss that I was flat betting $100 (using Max Rubin's methods from his book "Comp City"), I asked for my average bet. My boss told me she wasn't responsible for entering the information and was just going to ask the dealer. The dealer said $80 (which was about right). The third session they had me at a $50 average. I only bet $50 a couple of times, and was otherwise wagering $75 or $100. I asked to be rated at a $75 average and got it changed. Make sure you get the value you're worth! The last session I flat bet $50 (except for a couple of black chip bets when the pit was looking right at the table). Altogether I played about 4 ¼ hours with an average bet of about $75.
If the casino assumes 80 rounds per hour, and that I am an "average" player (so that the house has about a 0.80% edge), then the theoretical win for the house based on my play was:
Theoretical win = ($75)×(80 hands per hour)×(4.25 hours)×(0.80%) = $204.00.
I was told the comps dollars were allocated by a formula in the computer. The pit doesn't give discretionary comps (all the more reason to make sure you're rated right). I was comped $26 at the Koji Sushi Bar, $13.99 at the buffet, and I received one free night, worth $42.56. Altogether I received $82.55 in comps, or 40.5% of my theoretical loss.
I consider the comps reasonable, but not especially generous. The comps I was given are what are called "soft" comps (as opposed to "hard" comps like free play and cash back), which means that their value to the casino is not the same as the value to me. I'll make a wild guess that the meals at Koji and the buffet, together with my room, cost Orleans less than $40 in cash equivalent.
The comp system is automated and computer driven (similar to Harrah's). The pit has no discretion in the maximum value of the comps they are allowed to give. It was explained that there had been a lot of comp abuse by the pit. However, any time you take power away from people it can lower morale. Give the pit the power to say "free buffet for 2" and you give them a powerful marketing tool that has a very low soft cost, empowers the pit, increases morale, and makes the players happy they're getting recognized.
I was never assigned a host and never asked if I wanted a host. The last day, when I was checking out, I was told that I should have asked for a host (in other words, it was my fault).
Pool
The pool area is located in the northern shadow of the hotel tower, between the hotel and the event center. I overheard "but it's in the shade!" as a patron first caught site of it. A minute later I saw a guy puking by the poolside (last night's fun).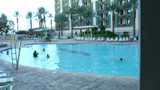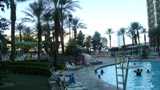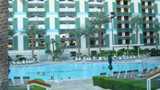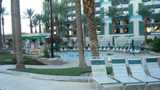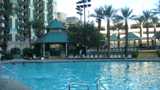 The main pool is small, but nicely designed and generally looked clean (except for the puking guy). There are lounge areas everywhere as well as a poolside bar. There is a large wading pool and a Jacuzzi. Comfortable, overly shaded, small, nothing special.
Restaurants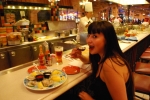 There are a wide variety of restaurants at all levels.
At the top is "Canal Street" – here are some prices:
20 ounce bone-in New York strip loin: $30
King crab legs: $42
12 ounce filet mignon: $32
There is a steak house, "The Prime Rib Loft" – here are some prices:
Land and sea: $29.99
Chicken Cordon Bleu: $14.99
I was given a $30 lunch comp to Koji Sushi Bar & China Bistro. I ordered a serving of sushi and a serving of sashimi. Between the two I was served enough food to feed a small poodle and the bill came to $26. On the other hand, the service was very fast. A decent lunch would have cost about $80. This restaurant was clearly aimed at the upscale Asian demographic: the food was expensive, exceptionally good and the service was lightening fast.
I also got a dinner comp to the buffet (normally $13.99 - $18.99 depending on the day). I would rank this buffet about 2 out of 10. A generous adjective is "Icky." Fortunately, they had apples.
There is a café, "Courtyard Cafe". The "food court" offers Fuddruckers, Sbarro, Baskin-Robbins, and Subway. There are also a number of bars and lounges.
Entertainment
The entertainment was C-list quality. Because there is no in-house act, the entertainment is targeted to the locals market, to keep them coming back for the new show. The typical Asian player doesn't care about the shows and the tourist will go to a show on the strip, so this marketing strategy makes sense.
During my visit, the following headliner events were being advertised:
Don Rickles
The Osmonds
The Coyote Country Fest (Tracy Byrd, Tracy Lawrence, Bomshel, etc.).
Britain's Top Talent, featuring "The Overtures," Ben Stone, and Paul Zenon.
Tuff-N-Uff amateur fighting championships.
Movies
There is an 18 screen theatre, with no I-Max. There were a couple of specials aimed at locals – Tuesdays is "$3 Senior Discount Day" and Wednesday is "Free Popcorn Day."
Bowling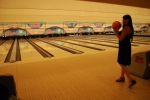 There is a 70 lane bowling complex upstairs. Unfortunately, access requires a trip through the casino, so it is not kid friendly. It sponsors a wide variety of leagues, another indication of the "locals casino" theme. It is not PBA rated.
Daycare / Kids
There is daycare through "Kid's Tyme". The rate was $6 or $7 per hour, depending on the day, and they take ages 3-12. Daycare is upstairs in an area that also has an arcade and the movie theatres.
Altogether kids can go to the movies; play in one of two arcades; go swimming or bowling.
Shopping
There is a small gift shop for tourists. However, the stand out shopping opportunity was the excellent liquor/wine store. They offer a wide variety of low to mid price wines (up to about $30 per bottle), Champagne (up to about $45 per bottle), and a huge variety of other alcohols. I haven't seen a shop like this at any other casino: a pure and simple liquor store with an emphasis on wines and exotic liquors. This store is clearly aimed at tourists (locals know better places to buy booze).
Spa/Salon
Yes. For example, a 50 minute "Tropical Sugar Wrap" cost $100, and a Vitamin C Facial (that doesn't sound quite right) was $105. A steam bath cost $10.
Exercise room
You have to go through the spa to get to the exercise room. It had about 20 machines, free weights, overhead TVs, and a great view of the pool area. It was in full use when I visited around 9 AM on Thursday.
My review
The Orleans does not measure up to casinos like Green Valley, Red Rock, or Sunset Station as a local's casino. It's also distinctly sub-par when measured against strip casinos. It apparently serves the Asian demographic well. It is not a dump, but it is well below many other casinos in any niche it targets. It is the spread of demographic targets that makes the Orleans unique.
I found the food either over-priced or sub-par. The table gaming was low energy, seedy, and unfriendly. The poker room was by far the best gaming area in the casino. The hotel room was above average for the price.
Figure out what you want from a casino – there is certainly a better choice for the price that will give you what you want.
Suggestions
Improve the pit and dealer demeanor.
Modify the comp system to give the pit the ability to offer discretionary comps.
Fix the "free" but non-operational Wi-Fi Internet in Seattle's Best.
Offer kid friendly TV stations in the hotel rooms.
Offer more non-smoking gaming, especially in the high limit area.
The parking lots were dirty and could use a good scrub.
Links
Official Orleans web site
Somebody needs to write a Wikipedia page for this casino.
Acknowledgement
The Wizard would like to thank E.J. for this review and Suzie for modeling in some of the pictures.
Contact Information
Address: 4500 West Tropicana Avenue, Las Vegas, NV 89103
Phone: 800-675-3267
Web site: orleanscasino.com
Resort and Parking Fees
| | |
| --- | --- |
| Resort fee | $13.50 |
| Parking fee | Free |
Games at Orleans
| Blackjack | Location | Decks | Min | Max | Soft 17 | DA | DAS | RSA | Surr | Tables | CSM | Party Pit | 6/5 BJ | Video | H. Edge |
| --- | --- | --- | --- | --- | --- | --- | --- | --- | --- | --- | --- | --- | --- | --- | --- |
| Blackjack | Off-Strip | 2 | 5 | 1000 | H | Yes | Yes | No | No | 22 | No | No | No | No | 0.45688 |
| Blackjack | Off-Strip | 6 | 5 | 1000 | H | Yes | Yes | No | No | 4 | Yes | No | No | No | 0.61563 |
| Blackjack | Off-Strip | 1 | 5 | 1000 | H | Yes | No | No | No | 3 | No | No | Yes | No | 1.69824 |
| Baccarat | # of Tables | Min Bet | Max Bet |
| --- | --- | --- | --- |
| Baccarat | 6 | 10 | 5000 |
| EZ Baccarat | 1 | 10 | 5000 |
| Craps | # of Tables | Min Bet | Max Bet | Odds | Field12 | Video |
| --- | --- | --- | --- | --- | --- | --- |
| Craps | 6 | 5 | 2000 | 3-4-5 x | Triple | No |
| Roulette | # of Tables | Min Bet | Max Bet | Rules | Video |
| --- | --- | --- | --- | --- | --- |
| Roulette | 4 | 5 | 200 | 00 | No |
| Roulette | 1 | 3 | 1000 | 00 | Yes |
| Video Keno | Rank | Avg Return | Grade |
| --- | --- | --- | --- |
| Video Keno | 46 | 90.45% | C+ |