Introduction
Palms is a locals casino in Las Vegas located on Flamingo Road. It is across the street from Gold Coast, just west of the Las Vegas Strip.
The Palms opened on November 15, 2001. It spreads 702 hotel rooms and 95,000 square feet of gaming space.
The resort used to be a hot spot. The days of Palms having the best nightlife in Las Vegas are long gone. It was home to numerous nightclubs, including the Playboy Club, Moon, and Rain. These clubs are now only open for private parties. These days, Palms offers little to differentiate it from other Las Vegas locals' casinos.
Gambling at Palms
The gambling quality and options have Palms are not what they used to be. There was a high limit salon that spread great blackjack games. It has been closed since 2013. The number of great video poker games is not as plentiful as they once were. The Palms is no longer the first choice for locals to find the best games.
There are 11 six-deck blackjack shoes with a $10 to $1,000 bet limit. Players may double down on any two cards and after splitting. Re-split aces is permitted on the shoe game. There is one single deck blackjack game that pays 6-5 with the same limits. There is a $25 to $2,000 double deck blackjack table where double down after splitting is permitted. Blackjack Switch is available with $10 to $1,000 limits.
There are two double zero roulette wheels with a $5 minimum. Four craps tables offer $5-$1,000 betting. The odds are 3-4-5 times.
There are two carnival games spread at Palms. Players will find Ultimate Texas Hold'em and Three Card Poker. Each has $5 to $200 limits.
There is an entire section dedicated to Pai Gow Poker and baccarat. There are two Pai Gow Poker tables with $10-$2,000 limits. There are 10 baccarat games with $25-$2,500 limits.
There are three video table games. Shoot to Win Craps allows $2-$250 betting with double odds. The Field pays double on this game. There is an Interblock video roulette machine with $3-$1,000 limits. There are two zeros on the wheel. A Dealers Angel video blackjack machine spreads $3-$500 action. The machine offers surrender and pays 3-2 on blackjack. The dealer hits soft 17.
According to VPFree2, there are still some 100% return video poker games. All are excluded from promotions. These include Full Pay Deuces Wild, 10/7/5 Double Bonus, and 10/6 Double Double Bonus.
The Club Palms players card awards one point for every $1 wagered. Players may redeem 400 points for $1. This returns .25%, although some full pay machines are excluded. Club Palms sends players valuable mailers that include free play, hotel rooms, and food vouchers.
Cantor Gaming operates the sportsbook at Palms. It is one of the nicest books in Las Vegas. Cantor spreads dozens of televisions across the book. Each seat also comes with one. A nearby video poker bar has a great view of the action. There is no poker room at Palms. The area of the former poker room was converted into VIP sportsbook seating.
Hotel at Palms
There are three hotel towers at Palms. The Ivory Tower offers base accommodations. The Fantasy Tower is the location of the higher end rooms. Palms Place is located across the parking lot from the casino. It is more of a condominium tower that offers standard amenities found in apartments.
The base room is the Superior room. It is available in one king or two queens. Rates start at $59 during the week and $119 on weekends. The Premier is the next step up. It is $20 more per night than the Superior room.
The Ivory Suite is a king room that measures over 1,000 square feet. It offers a separate seating area with one and a half bathrooms. It starts at $179 on weeknights and $239 on weekends. The Salon Suite is in the same price and size range.
There are also special one-of-a-kind suites. One is the Real World Suite, available in the Ivory Tower. There are also penthouse suites available only to high rollers.
Restaurants at Palms
The fine dining options at Palms are N9NE Steakhouse, Nove Italiano, and Alize, which is a French restaurant with a large cognac selection. The world's largest Hooters is at Palms. There is also a buffet and 24-hour café.
There is a food court on the west side of the resort. It includes Chinese, pizza, Mexican, Nathan's Famous hot dogs, Earl of Sandwich, and McDonald's.
Entertainment
The Pearl Theater is home to many performances. Musicians and comedians are scheduled several nights each month. Ghostbar is the only major nightclub still open at Palms. It is located on the 55th floor of the Ivory Tower. There is also a movie theater and several lounges.
Parking
Palms offers two parking garages and ample surface parking. There are three entrances on Flamingo Rd. There is a side entrance by Palms Place on Arville Street.
My Conclusion
Palms is no longer an exclusive casino. It has its perks. There are still reasons for locals and tourists to visit. Players must look closer to find the best games as these machines are not as plentiful as they once were. High rollers have little reason to play blackjack at Palms since the high limit salon closed.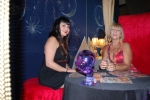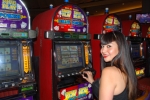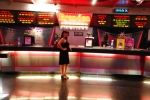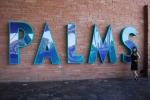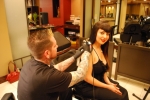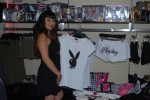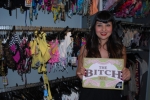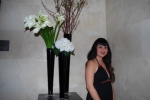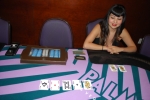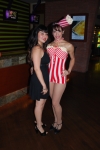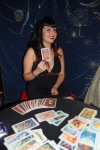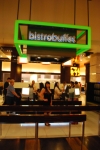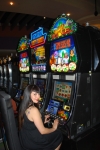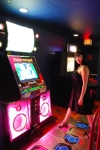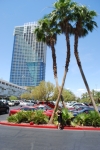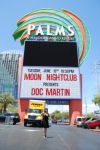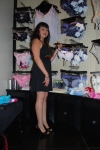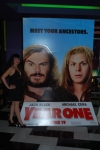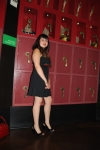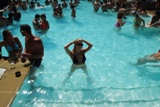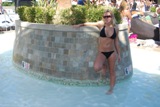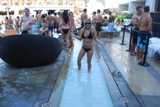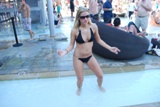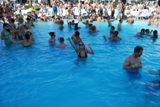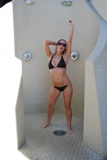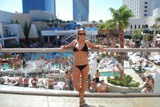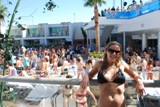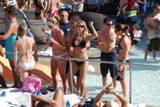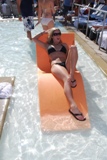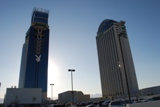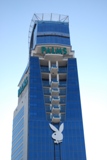 Links
Acknowledgement
I'd like to give a big thanks to Suzie for modeling in the casino pictures, and Holly for the pool pictures.
Contact Information
Address: 4321 West Flamingo Road, Las Vegas, NV 89103
Phone: 866-942-7777
Web site: palms.com
Resort and Parking Fees
| | |
| --- | --- |
| Resort fee | $13.50 |
| Parking fee | Free |
Games at Palms
| Blackjack | Location | Decks | Min | Max | Soft 17 | DA | DAS | RSA | Surr | Tables | CSM | Party Pit | 6/5 BJ | Video | H. Edge |
| --- | --- | --- | --- | --- | --- | --- | --- | --- | --- | --- | --- | --- | --- | --- | --- |
| Blackjack | Off-Strip | 8 | 3 | 500 | H | Yes | Yes | No | Yes | 1 | - | No | No | Yes | 0.56926 |
| Blackjack | Off-Strip | 6 | 5 | 1000 | H | Yes | Yes | Yes | No | 11 | No | No | No | No | 0.57085 |
| Blackjack | Off-Strip | 2 | 10 | 3000 | H | Yes | Yes | No | No | 1 | No | No | No | No | 0.45688 |
| Blackjack | Off-Strip | 1 | 10 | 1000 | H | Yes | No | No | No | 1 | No | No | Yes | No | 1.69824 |
| Baccarat | # of Tables | Min Bet | Max Bet |
| --- | --- | --- | --- |
| Baccarat | 10 | 10 | 2500 |
| Craps | # of Tables | Min Bet | Max Bet | Odds | Field12 | Video |
| --- | --- | --- | --- | --- | --- | --- |
| Craps | 4 | 10 | 1000 | 3-4-5 x | Double | No |
| Craps | 1 | 2 | 250 | 2 x | Double | Yes |
| Roulette | # of Tables | Min Bet | Max Bet | Rules | Video |
| --- | --- | --- | --- | --- | --- |
| Roulette | 4 | 10 | 300 | 00 | No |
| Roulette | 1 | 3 | 2000 | 00 | Yes |
| Video Keno | Rank | Avg Return | Grade |
| --- | --- | --- | --- |
| Video Keno | 10 | 92.37% | A- |