Overview
Laughlin is a small city of about 7,000 people located on the Colorado River near the southern tip of Nevada. Across the river is Bullhead City, Arizona, with a population of about 40,000. Laughlin's nine casino resorts (ten if you count the Avi) offer an inexpensive place to vacation and gamble that largely attracts senior citizens.
The close proximity to Las Vegas, about 90 miles away, makes it a welcome alternative to those who find Vegas too loud, too unfriendly, too expensive and sometimes too dirty or seedy. Laughlin is the opposite in almost every way. Overall, I think Laughlin is one of the best vacation values in the country. Where else can you get a room in a nice hotel for about $25/day?
History
Laughlin is very young as cities go, and much younger than the people who tend to go there. It was founded in 1964 by Las Vegas casino owner, Don Laughlin. He flew his helicopter over the site one day and saw potential in it. So he purchased some land and built the Riverside, a small motel and casino. It quickly became a huge success and went through various expansions. A city had to be named where it lay, so it was named Laughlin after its founder.
The 1980s saw huge growth in Laughlin as eight other large casino resorts rose up south of the Riverside. To accommodate the increasing traffic between Laughlin and neighboring Bullhead City, Don Laughlin spent $3.5 million to build a bridge between the two cities, which he donated to Nevada and Arizona.
Since the 1980s, the city of Laughlin has kept a low profile. Many of the resorts have changed names and hands, but things have been more or less the same for 20 years. Nonetheless, Laughlin did make the news a few times in the zeros decade:
2002: Two motorcycle gangs were involved in the "River Run Riot" at Harrah's Laughlin, which resulted in three deaths and many more gunshot and knife injuries.
2005: A controversial power plant in plain view of the casinos was closed. Before closing, many residents complained of the pollution it caused. It continues to be an eyesore, in this author's opinion.
2007: CBS aired the comedy/drama/musical Viva Laughlin. The show was so badly received by viewers it was canceled after only two episodes. Pretty embarrassing.
Speaking of the "River Run Riot," that is not a typical time in Laughlin. Normally the town is full of peaceful senior citizens. However, for River Run week, I think usually in April, the town is overrun by motorcyclists.
Gambling
The games and rules in Laughlin are much the same as in Las Vegas. There doesn't seem to be much of a sense of competition between Laughlin's casinos; each property sets their rules about the same. Given the elderly clientele, the emphasis is on slots. Casino gaming revenue from slots in 2011 was 90.0% in Laughlin. Compare that to 50.9% on the Las Vegas Strip (Source: 2011 Nevada Gaming Abstract). Keno and bingo are also prominent. In terms of table games, the old classics are popular in Laughlin: blackjack, craps and live poker. There are not as many novelty or Asian games as you find in Vegas. In all forms of gambling, Laughlin is very low-roller friendly. You will not have trouble finding legitimate $5 blackjack, for example.
The default blackjack rules in Laughlin are single- or double-deck, dealer hits a soft 17, and no double after a split. Usually doubling is restricted to 10 and 11 in the single-deck games (except the Pioneer allows it on any first two cards). Unlike Vegas, the dreadful 6-5 blackjack has fortunately not permeated Laughlin yet. The only casino to allow it is Harrah's.
Update: In late October 2012 I received an unconfirmed report that the Pioneer no longer has any 3-2 single-deck blackjack.
Video poker is pretty liberal in Laughlin for low-denomination games. The Aquarius is awarded the title of best video poker in Laughlin by vpfree2.com.
I didn't play, but Laughlin looks like an enjoyable place to play live poker. There are a lot of small rooms with 5 to 10 tables, some of which overlook the river. Note that this is an exception to the usual rule about casinos not having windows. It would not surprise me if the poker limits were generally low.
Activities besides Gambling
The Colorado river is right there, so it would be a shame to go to Laughlin and not enjoy it somehow. During warmer months, you'll see jet ski rental places on both sides of the river. There are also river cruise options. I've seen dinner boats that take it slow and easy and fast boats that race you all the way to Lake Havasu. At the least, you can stroll along the river between the Riverside and Colorado Belle. There is also a water taxi that shuttles between casinos. A single trip is $5 or an all-day pass is $15. There are private sandy beaches at Harrah's and the Avi. On the Arizona side, there are a number of public parks along the river, including one just to the north of the bridge.
Laughlin doesn't have long-running, permanent entertainment shows like Vegas, but it does get concerts on tour all the time. Naturally, the headliners that perform here tend to be names that haven't been popular since the seventies or before. Some of the celebrities being promoted for upcoming tours when I was visiting were Frankie Valli & The Four Seasons, Smokey Robinson, Merle Haggard and Engelbert Humperdinck. I didn't know they were still performing. To be honest, I didn't know some of them were still alive. If you're in Laughlin between big shows, there are a lot of lesser names coming through.
There isn't a lot to do outside of Laughlin. Some people will split a vacation between Laughlin and Vegas, to get the yin and yang of tranquility and excitement. My father kept telling me to visit nearby Oatman, Arizona, a former gold-mining town, so I finally did one day. I thought it was a tourist trap, but clearly some people like it.
In terms of dining, the operative word in Laughlin is still "cheap." If you want fine dining, go to Vegas. If you want to eat for under $30 a day, come to Laughlin. If you want to upscale it a bit, most casinos have a nice steak house, and I'm sure there are other good spots I don't know about.
Early Visits
I first heard of Laughlin in 1987, when I had a college job in Santa Barbara making deliveries for an insulation company. My boss and his wife would go to play video poker, exclusively at the Riverside. They absolutely loved it and came home happy every time, win or lose. Meanwhile, Las Vegas had zero appeal to them.
Shortly after I turned 21 and began to study counting cards, my mentor in blackjack told me Laughlin was single-deck blackjack heaven, with plenty of low-limit games and much less "heat" than Vegas. He was right. A red-chip player, such as I was, could aggressively spread from $5 to $50 and get little attention. That would quickly bring about the early shuffle in Vegas, if not being asked not to play blackjack at all.
Relative to my income, my best gambling trip ever was to Laughlin in 1989. For a solid weekend it seemed I could do nothing but win. Not just little wins, but every sitting seemed to rain money my way. Even teaching my friends craps resulted in a healthy profit. One of them remarked, "I made about $300 before I understood what was going on." I probably brought about $200 to play with, and I left about $1,400 up. At the time, that was a lot of money to me. I made a deal with the three friends from Orange County I went with that the one of us who made the most money would get thrown in the Colorado River. However, I conveniently forgot to remind them of that deal until we were half way home.
Between 1992 and 2011, I didn't visit Laughlin much. I got too busy with family, and there is not much for young children to do in Laughlin. Though during 2005 I did spend some time helping the Edgewater conduct a field trial of my casino game, Ties Win Blackjack.
2012
For this article, I returned to Laughlin for three days in January 2012. I found the city pretty much like it was that memorable visit in 1989. This latest trip was mid-week in the middle of January, which is a slow time. The winter months bring a lot of snowbirds to Laughlin -- retired people from the northwest United States and southwest Canada seeking out a warmer place.
This trip I played mostly video poker at Harrah's. Most of the time I played next to a very friendly single man of about 55 from Texas. He said he just loved Laughlin and happily lost money there about four times a year. The cocktail waitresses all seemed to know his name, and he knew all of theirs. He was very flirtatious with all of them, and they were happy to reciprocate the banter. It is a lot harder to get that kind of friendliness in Vegas, especially if you're a low roller.
This is the point in my articles where I normally add fun stories about my trip. However, nothing especially interesting happened. Don't expect Bachelor Party Part 3 to take place in Laughlin. I will say most of the people I came across were very friendly and I enjoyed my stay.
With all the generalities out of the way, let me address Laughlin's 10 casinos specifically, starting north and going south.
Riverside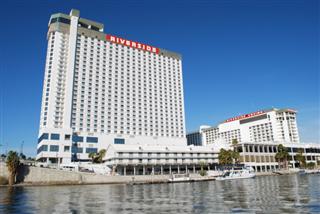 Table games: 32 (rank=2)
Slots: 1,400 (rank=1)
Hotel rooms: 1,405 (rank=5)
As mentioned above, the Riverside was the first casino in Laughlin. As far as I know, it is still run by Don Laughlin and maintains its small-business feel. In addition to feeling like a mom and pop business, there is a kitschy vibe to the place as well. If you're looking for a Rolex watch or Prada sunglasses, go to the Bellagio. If you're looking for a watch under $20, the most comfortable pillow on earth, or an antique slot machine, come to the Riverside.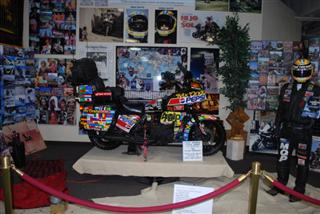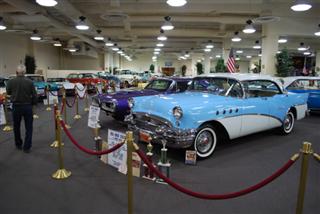 With the exception of the Colorado River, the best free activity in Laughlin is debatably the Riverside's impressive antique car museum, featuring about 40 cars and 10 motorcycles. If that isn't enough, there is also a 34-lane bowling alley and a six-screen theater. When I was last there (years ago), I recall the restaurant's menu saying that all the beef was fresh from Don Laughlin's own cattle ranch in nearby Arizona. The Watch Man claims to be the world's largest watch store. Perhaps in terms of number of sales, but there is a high-end store in the Forum Shops in Vegas that seems to me to be much larger. However, I'll bet your odds of finding a shaking Elvis watch are much better at The Watch Man.
As I write this, the Riverside is promoting concerts by the Kingston Trio and The Vogues in their Celebrity Theatre. However, what interests me more is the "Best Chest Contest" on ladies night in the Loser's Lounge. This is the kind of thing I would expect to see in Daytona Beach for spring break. You never know what to expect from the Riverside. I was there on a Wednesday (lady's) night but didn't know about this promotion until I got back and read about it in the local paper in preparation for this article. Dang!
When I won the World's Greatest Blackjack Player trophy at the 2011 Blackjack Ball (forgive the tooting of my own horn), one of the questions in the general knowledge portion was, "Which Clark County casino has the most 3-2 paying single-deck blackjack games?" The answer is the Riverside, and it isn't even close. Most of the Riverside's 15 blackjack tables are legitimate 3-2 single-deck games, significantly more than anybody else in Vegas or Laughlin.
Here is a quick gaming overview:
Blackjack: Lots of single-deck games (double on 10-11 only), with a house edge of 0.47%.
Craps: 3,4,5X odds.
Poker: 10 tables
Other casino games: Roulette, pai gow poker, Three Card Poker, Let it Ride, Deuces Wild Hold 'Em Fold 'Em
Keno: Yes
Bingo: Yes
Sports: Yes (South Point franchise)
Aquarius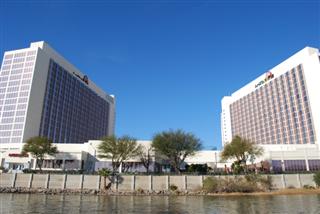 Table games: 46 (rank=1)
Slots: 1,400 (rank=2)
Hotel rooms: 1,900 (rank=1)
I stayed here a few times when it was formerly the Flamingo Hilton. During my last stay, there were enormous lines for everything, so I'm glad new hands took over. As I walked through for this review, I didn't notice a line for anything. In fact, many employees looked eager for a customer to break the boredom of a quiet Wednesday morning in January.
The Aquarius is the largest casino in Laughlin measured by hotel rooms and table games. It takes second in slots. Most of the other casinos in Laughlin have a cramped feel to them, with low ceilings and meandering floor plans. However, the Aquarius is the most Vegas-like casino in Laughlin in appearance. There are two symmetrical hotel towers on either side with an enormous, wide-open casino in between.
When I was there, signage indicated a dueling pianos show Friday and Saturday nights. They also have a venue for touring acts.
Blackjack: The best rules were a double-deck game at 0.60% house edge.
Craps: 3,4,5X odds.
Poker: 4 tables
Other casino games: Roulette, pai gow poker, Three Card Poker, Let it Ride, Crazy 4 Card Poker
Keno: Yes
Bingo: No
Sports: Yes (Stratosphere franchise)
Edgewater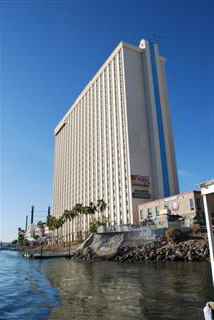 Table games: 25 (rank=5)
Slots: 855 (rank=7)
Hotel rooms: 1,420 (rank=4)
In the interest of full disclosure, the Edgewater was kind enough to field trial my own casino game in 2005. Besides going there for that, I have stayed there a few times in my younger days. I find the Edgewater to be a nice, no-nonsense property.
They have an events center that was promoting Frankie Valli and Smokie Robinson later that month. There is also a smaller venue that hosts various stand up comedians in the early evening and then transforms into a nightclub from 10 p.m. to 4 a.m.
Blackjack: One single-deck game with a 0.47% house edge.
Craps: 3,4,5X odds.
Poker: 4 tables
Other casino games: Roulette, pai gow poker, Three Card Poker, Let it Ride
Keno: Yes
Bingo: No
Sports: Yes (Leroy's franchise)
Colorado Belle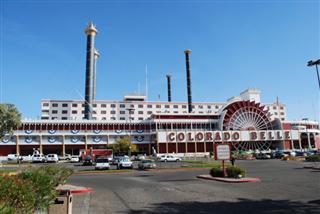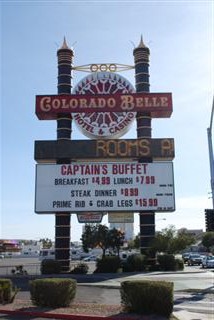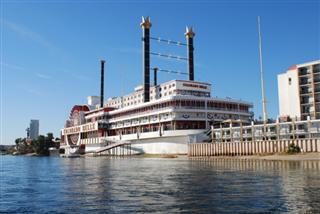 Table games: 28 (rank=4)
Slots: 870 (rank=6)
Hotel rooms: 1,124 (rank=6)
The Colorado Belle is a sister casino to the Edgewater next door and very similar in terms of quality and price. In case you have a bad impression of real riverboat casinos, as I do, don't worry, the Colorado Belle is just skinned to look like one. It appears to be floating in a lake of koi fish, but it's just a moat.
I'm not aware of any shows or non-gambling entertainment at the Belle. However, it is centrally located, making for a short walk to many of the other Laughlin casinos.
Blackjack: One single-deck game with a 0.47% house edge.
Craps: 3,4,5X odds.
Poker: 10 tables
Other casino games: Roulette, pai gow poker, Three Card Poker, Let it Ride
Keno: Yes
Bingo: No
Sports: Yes (Leroy's franchise)
Tropicana Express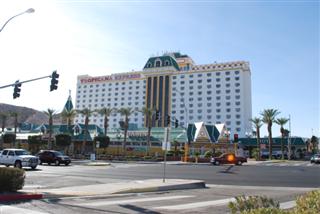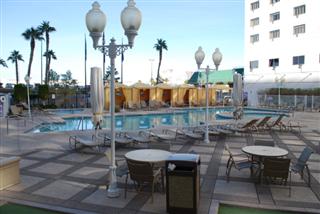 Table games: 21 (rank=6)
Slots: 1,000 (rank=4)
Hotel rooms: 1,501 (rank=2)
Formerly the Ramada Express, the Tropicana Express is the only casino in Laughlin on the west side of Casino Drive, away from the river. When it was the Ramada, the place had a patriotic theme. They also had a free train ride around the property and a show and exhibit honoring veterans.
When I returned for this review, it was my first time seeing the place as the Tropicana. The train was gone and so, evidently, was the show. At least the door was locked where the show used to be. The casino was sparsely filled but still maintained well. Signage indicated promotions for locals, like 15X points. However, the flip side of that coin is it makes tourists feel snubbed.
I'm not aware of anything else to do at the Tropicana other than the usual unholy trinity of eating, drinking, and gambling.
Blackjack: The best rules were a double-deck game at 0.60% house edge.
Craps: 3X odds.
Poker: No
Other casino games: Roulette, pai gow poker, Three Card Poker
Keno: No
Bingo: No
Sports: Yes (Leroy's franchise)
Pioneer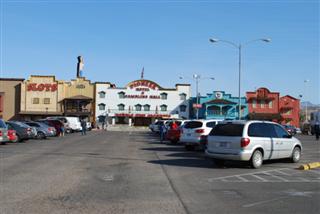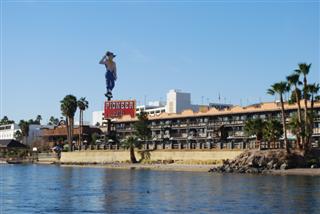 Table games: 11 (rank=8)
Slots: 510 (rank=9)
Hotel rooms: 416 (rank=8)
There can be little doubt the Pioneer has the smallest casino in Laughlin. The western theme seems a bit tacky -- in a nice way. It seems like the kind of place you would find in a one-casino town in the middle of Nevada. Friendly, rustic and slow.
Unlike the high-rise towers of the other casinos, the Pioneer's 510 rooms are all motel style, with outside facing doors. If you want to park close to your door, this would be the place to choose.
I'd like to put in a good word for the Pioneer as having the only full pay Three Card Poker table in Nevada, as far as I know. The Pioneer pays 4 to 1 for a flush on the Pairplus bet. Everybody else pays 3 to 1. That lowers the house edge from 7.28% to 2.32%.
More importantly, the Pioneer earns points for having the best blackjack game in Laughlin. While single-deck blackjack is not unusual there, every other casino follows the Reno rule of restricting doubling to 10 and 11. The Pioneer allows doubling in their single-deck game to any two cards. That lowers the house edge from 0.47% to 0.19%.
Update: Since this article was published the Pioneer sadly removed their single-deck blackjack game.
In terms of entertainment, the Pioneer offers ballroom dancing on Sundays, including lessons, and hosts Karaoke night on Thursdays.
Blackjack: Two single-decks game with a 0.19% house edge.
Craps: 3-4-5X odds.
Poker: No
Other casino games: Roulette, Three Card Poker, Let it Ride
Keno: No
Bingo: No
Sports: Yes (Lucky's franchise)
Golden Nugget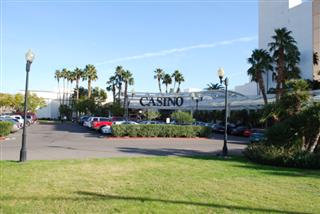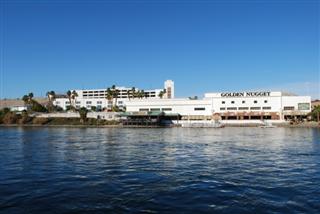 Table games: 18 (rank=7)
Slots: 1,016 (rank=3)
Hotel rooms: 300 (rank=9)
The Golden Nugget tries to be a mini version of the casino by same name in Las Vegas. However, the Laughlin property has more of a jungle kind of theme to it, and the decor probably hasn't changed much since the eighties.
Laughlin tends to have a lot of older slots and video poker machines, but Golden Nugget is king for those who prefer the small cathode ray screens that were the norm in the eighties. Yes, the place is like stepping back in time 30 years. You can always find some unusual, outdated video poker games there. This visit I spotted games I've never seen before, such as 6's & 9's, Wrap a Royal, and Pay the Aces -- No Faces.
Yet another bizarre thing about the Golden Nugget is that for a small casino and hotel, the place has an enormous 9-story parking garage. It is something the Venetian would be envious of. It would be like a 7-11 having a Costco-sized parking lot. The explanation I've heard is that they planned to build thousands of additional hotel rooms after the parking garage. However, the growth of the city hit the brakes suddenly, and all plans for the hotel expansion were scraped.
In terms of entertainment, the Golden Nugget has a nightclub featuring live jazz on Saturday nights. Otherwise, DJs play top 40 hits.
Blackjack: The best rules were a double-deck game at 0.60% house edge.
Craps: 3-4-5X odds.
Poker: 5 tables
Other casino games: Roulette, Three Card Poker, Let it Ride, Pai Gow Poker
Keno: Yes
Bingo: No
Sports: Yes (Golden Nugget franchise)
River Palms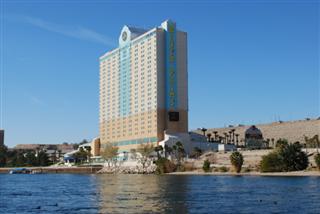 Table games: 6 (rank=9)
Slots: 600 (rank=8)
Hotel rooms: 995 (rank=7)
It was sad to pass through the River Palms. Earlier I mentioned a story from my youth when I had a great time and won a lot of money in Laughlin. Well that occurred at Sam's Town, which was later renamed the River Palms. When I walked through for this article 25 years later (seems like 25 days), the place was almost empty. The entire first floor casino was closed and apparently being renovated. However, on this Wednesday afternoon, there was not a soul down there and it didn't sound like much construction was taking place.
The second floor, which looks down on the first floor, was fully loaded with slots, which are on the same reward program as the Tropicana Express. There is also a six-table poker room and bingo.
Hopefully the River Palms will come back. When I was in Laughlin several years ago, it still seemed to be doing well. One thing it has against it is location. It lays half way between Harrah's and the Pioneer, but it is a long walk along the street to either one. The walk to Harrah's is also uphill.
No entertainment that I'm aware of.
Blackjack: None
Craps: None
Poker: 6 tables
Other casino games: None
Keno: No
Bingo: Yes
Sports: No
Harrah's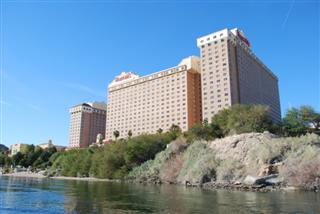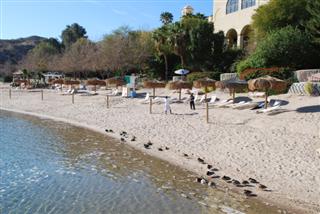 Table games: 30 (rank=3)
Slots: 910 (rank=5)
Hotel rooms: 1,451 (rank=3)
Although Laughlin in general seems to have fallen on tough times, you wouldn't know it from Harrah's. This is where I stayed for this article and the place was fairly busy and lively. The staff was all very nice, and there was never a line for anything.
One of my favorite things about Harrah's is they have a separate non-smoking casino. It is about half the size of the smoking casino but just as nice. Unfortunately, the good video poker game I was playing was in the smoking part.
In case you're wondering, the game was 9-5 Jacks or Better Super Times Pay. The return on that game is 98.72%. I know that isn't great, but for a Harrah's casino it is a good find. On that machine, Bonus Reward Credits were earned at a rate of 83% of Base Reward Credits. That makes the effective comp rate 0.183% on that machine at least. However, it doesn't take much to get offered free rooms from Harrah's, including this one, which was comped based on recent play in Las Vegas.
In terms of entertainment, there wasn't much going on when I was there. Posters indicated the Defending the Caveman show was coming in March. There is an outdoor amphitheater, but it is probably only used in warmer months.
I have to say the quality of the food in the Harrah's Diamond Lounge was better than par for Caesar's owned casinos. Plus, there was no line and it had its own balcony overlooking the river. It just goes to show there is a wide range in quality when it comes to Caesars properties, and I have to say that Harrah's del Rio is one of the nicer ones.
Blackjack: The best rules were a double-deck game at 0.60% house edge.
Craps: 3-4-5X odds.
Poker: 8 tables
Other casino games: Roulette, Three Card Poker, Let it Ride, Pai Gow Poker, High Card Flush.
Keno: Yes. Be warned to not play the pick 10. I document the low 50% return on that game in my Laughlin keno survey.
Bingo: No
Sports: Yes (Caesars franchise)
Avi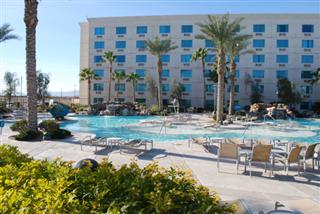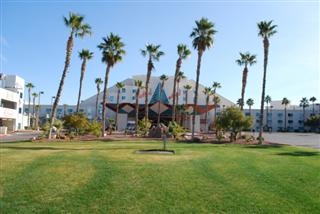 Table games: 34
Slots: Over 1,100
Hotel rooms: 484
I debated with myself about whether or not to include the Avi in this article. It is located about ten miles south of the other nine Laughlin casinos. The mailing address indicates the Avi is still in Laughlin. On the other hand, it is hard to find information about the place. It doesn't appear on the list of licensed casinos with the Nevada Gaming Control Board. Nor is it mentioned in the 2012 American Casino Guide. The figures above on table games, slots, and hotel rooms come from the Avi web site. I'm not including the Avi in the rankings because it is so removed from the other casinos.
Perhaps the reason for the mystery surrounding the Avi is that it is Nevada's only Indian casino. The tribal casinos in the U.S. enjoy more autonomy than the the non-tribal ones. How much state regulation they are under, I really don't know. However, for purposes of the average visitor, you would almost not know you were on a ... reservation (can I still say that word and not offend anyone?). I saw what looked like a Native American talking on a cell phone outside the front door, and there are pictures of tribe members on the way to the movie theater.
Otherwise, you'd think you were in any casino in America.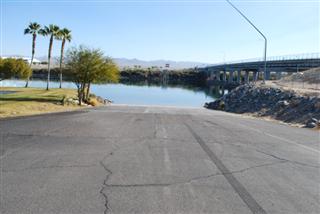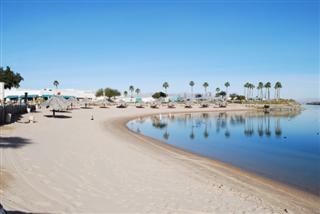 The size of the Avi is comparable with other large Laughlin casinos. In addition, the Avi has an 8-screen movie theater, it's own beach, a boat launching ramp and the ubiquitous Indian smoke shop.
In terms of entertainment, like other large Laughlin resorts they have a ballroom for big traveling concerts and a smaller lounge. Both featured bands I have never heard of.
I stayed at the Avi several years ago. A floor supervisor recognized my name and came over to introduce himself as I was playing blackjack. He was very nice. I assured him that I didn't want to cause any trouble by counting cards. In reply, he said "go ahead, I don't care." So, I did. As he watched, I told him exactly the count at every hand, when I was making any basic strategy deviations and why, and how I was betting in correlation to the count. He seemed to enjoy my lesson for about ten minutes and then wished me luck and let me continue to play. He was quite the gentleman, so I didn't want to abuse the permission granted to me. I kept my bet spread to about 4 to 1 and never more than $100. When I was done, I had made a nice profit.
Blackjack: The best rules were a double-deck game at 0.60% house edge.
Craps: 3X odds.
Poker: 7 tables
Other casino games: Roulette, Super Fun 21, Let it Ride, Pai Gow Poker, Deuces Wild Hold 'Em Fold 'Em, Ultimate Texas Hold 'Em
Keno: Yes
Bingo: Yes
Sports: Yes (Leroy's franchise)
Web site: Avi web site
Conclusion
I hope you enjoyed this article. As usual, it ran on a lot longer than I thought it would when I started.
In summary, Laughlin is a special kind of gambling spot. Most people seem to either love it or hate it. Your odds of loving it, I think, are positively correlated with your age. However, even in my early twenties, I enjoyed the friendliness of Laughlin and would generally alternate trips between Vegas and Laughlin. The city seems to be going through some difficult times, financially speaking, and I hope things get better for them. It would please me to know this review helped drive some visitors their way, although I fear I may have scared away just as many.
Map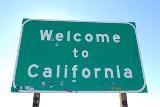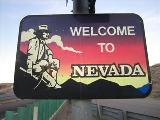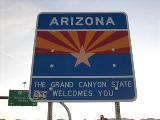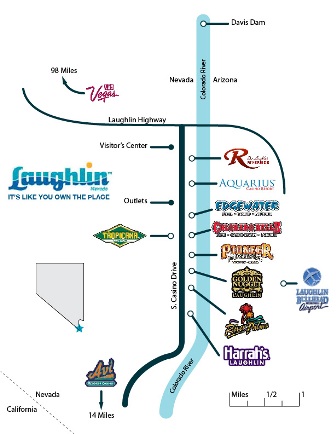 Map by Rev. David Miller. Click on it for larger version.