More First Impressions
What a crazy few days!
Over the past few days, I have had the opportunity to visit a good few casinos to which I had not previously been and will not be providing full reviews of them (as I did not stay in the hotels associated therewith) but will, once again, be providing a couple of, "First Impression,' Reviews of the properties. It should also be noted that, during this time, I had rooms at Rocky Gap as well as the Trump Taj Mahal and have submitted full Reviews of both of those properties which, if they have not been posted as of the time of the posting of this Article, will be posted sometime in the very near future.
With that said, I'm going to do the best that I can to get these casinos in the order in which I visited them, so please enjoy these First Impressions:
Rocky Gap Casino and Resort (Maryland)
Trump Taj Mahal Casino (Atlantic City, NJ)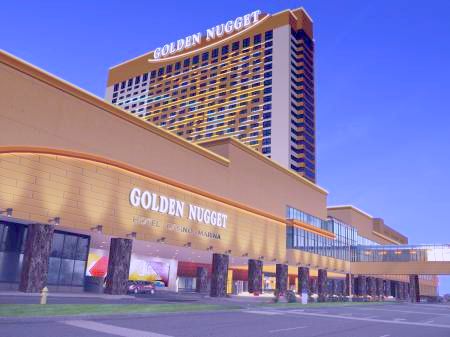 Golden Nugget (Atlantic City, NJ)
I had the opportunity to pay a brief visit (probably 2-3 hours) to the Golden Nugget in Atlantic City, NJ during which time I got to enjoy some Video Poker. The first thing that I noticed about this property is that, despite its size, all of the different areas that a person might need to get to are well-labeled and relatively easy to find. It can often be difficult, in properties of this size, for one to find one's way around. One such example that will be briefly detailed later on is the Foxwoods Casino which is an absolute mess for finding the area that you need to be!
The Golden Nugget features a sprawling selection of Video Poker titles that include many of the newest games on the market as well as some old favorites. During my visit at this casino, I enjoyed some Ultimate X Joker Poker (Kings) which is not an Ultimate X variation generally available in my neck of the woods (think Meadows Casino in Washington, PA and Rivers Casino in Pittsburgh, PA) but seems fairly popular in the casinos of Philadelphia and Atlantic City. Aside from that, I had the opportunity to play some fifty-play Jacks or Better and I would say that I ran reasonably well on that.
Again, the Golden Nugget Casino is fairly segmented and that makes it easy to find whatever one is looking for. Furthermore, Video Poker areas also tend to be segregated from the other areas in a way that makes them more distinct than they are in many other casinos that I have seen in which they are largely mixed in with the slots. With that said, one strange aspect of the Golden Nugget is that while they have multiple machines of various Video Poker games, same game types often do not tend to be next to one another as one might expect.
It's really difficult to describe the public areas of the Golden Nugget Casino other than to say, 'If you've been to one of them, you've been to all of them.' I will say that the music was generally at a fairly tolerable volume faintly reminiscent of the levels at the Golden Nugget in Laughlin while the Las Vegas Golden Nugget tends to be much louder, except in certain areas.
My visit to this casino took place in the late evening hours, and I would suggest that the machine areas seemed to be quite busy with perhaps as many as one out of every two machines (slots and VP) being occupied by a player, which tends to point to this being a popular casino among locals and visitors to Atlantic City alike. This is hardly surprising given Golden Nugget's bold push to collect former players of closed casinos such as Trump Plaza and the Showboat.
Cocktail service was prompt and friendly at this casino, however, we were playing in very close proximity to one of the bars, so that may have been a factor in the speed. Furthermore, it didn't really seem as though each individual waitress was relegated to specific banks of machines as we were served four different times by three different waitresses. I would typically not drink as many as four drinks in a three hour period and then drive, but the Rum & Cokes, I must admit, were extremely weak. In fact, the last one I ordered was a double, but it did not seem particularly strong, either.
Unfortunately, I did not have the opportunity to experience any of the eateries or avail myself of any of the other amenities of the property as I had many other things to do that night. In fact, upon getting the Player's Club cards, we proceeded pretty much directly to where we intended to play and did so. I guess I would close by saying that the Golden Nugget is fairly pleasing aesthetically and everything seemed pretty clean.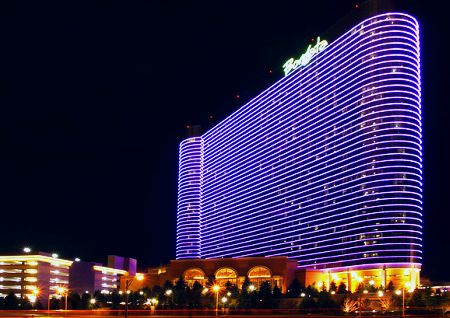 The Borgata
After visiting the Golden Nugget, we paid a visit to The Borgata which is a good place to pay a quick visit if you haven't been there before but play a good bit at other Atlantic City Casinos.
The Borgata is designed to give the appearance of being extremely opulent with ornate fixtures and vaulted ceilings throughout. I'm not sure to whom this appeals, (apparently plenty of people given that it is the highest grossing casino in Atlantic City, by far) but unfortunately, the Borgata is not aesthetically my cup of tea. It really just doesn't have the appearance of what I would consider a true casino, but it certainly has the uncomfortably loud music volume (even in the morning) and is undoubtedly one of the loudest casinos I have ever visited.
We played a little bit of Video Poker at this casino, but not nearly enough that I had the opportunity to do a full scan of the available Variations. However, I can say that the Borgata had Barnyard Poker, which is one of the newest Variations available, so I would imagine that is a trend that continues throughout the property and probably includes the slots.
The one thing that I would encourage smart, or even semi-intelligent machine players to consider is that the kind of opulence that one may enjoy at the Borgata does not come free, or even cheap, and that is quite likely to be reflected in the game returns.
While Borgata has several eateries that I did not experience, I did grab something from their deli near one of the entrances (close to the Starbucks on the casino floor) called the, 'Borgata Sloppy Joe,' consisting mainly of pastrami and corned beef on marble rye...it was absolutely awesome! Since I had a few comp dollars to spend I also got a, 'Pepperoni Roll,' to go along with it, but it was really poor and tasted like a Hot Pocket...Exactly like a Hot Pocket, but I can say that I highly recommend that Sloppy Joe!
Aside from that, Borgata (considering the size) is a fairly easy casino in which to get where one is going without getting lost, so that is certainly beneficial. There are many casinos of this size, and perhaps even a few smaller, in which it is difficult to find one's way around. In saying that, I'm thinking of some of the Las Vegas Strip casinos such as the Wynn and Mandalay Bay.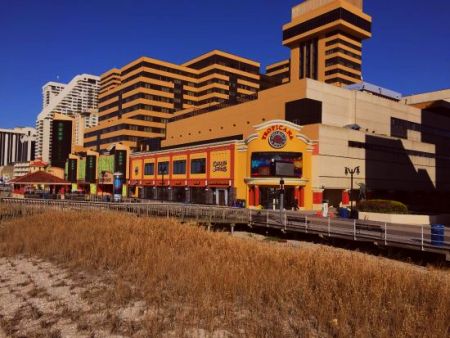 Tropicana Casino and Resort
I was only at the Tropicana briefly to enjoy lunch with two posters on the Forum here and my girlfriend, so I did not even sign up for a Player's Club or gamble at all on my visit to this casino. As a result, this Review is going to be extremely brief.
One thing that I will say is that this casino has the worst designed parking garage that I have ever seen in my entirely life. Not only are the spaces entirely too narrow, but furthermore, it is difficult as hell to even determine where one is supposed to be pulling into the thing...though it seems to have more than enough exits. The parking fee of $15 (advertised, even though they only charged me $10...I think they thought I stayed at the hotel and while I did not say it was so, I certainly wasn't going to correct them) also initially seemed ridiculous to me, but then again, they are right on the Boardwalk and one can practically walk from the back of the property directly onto the beach, so the parking fee is probably justifiable.
I am reasonably confident that we had lunch at a place called Chickie's and Pete's at which, probably due to the fact that the establishment had just recently opened for the day, we enjoyed seating on the second floor overlooking the ocean. Given that I had eaten shortly before that, I wasn't especially hungry, so I just ordered the Calimari, which was just fine.
My overall impression of the Tropicana is that it is a pretty good location for Ocean-goers and those travelling with kids due to its proximity to the Boardwalk and the fact that one can walk right out onto the ocean from the back of the property. In fact, I intend to plan a future visit to this property for exactly that reason, and a perusal of the website shows that there are many dining options available, many of them economical, that would also appeal to kids.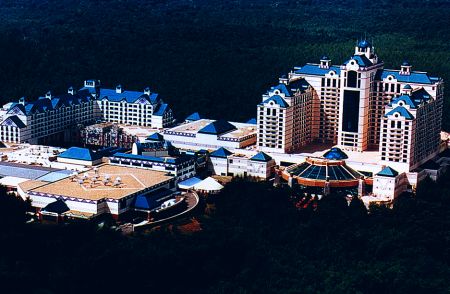 Foxwoods Resort Casino
The next visit took me up north to Connecticut to the Foxwoods Resort Casino. This is a sprawling property that also features a Tanger Outlets outlet mall within the property. I will say that Merritt Parkway is one of the most beautiful drives, if not the most, that I have ever experienced entering Connecticut from New York (and the Constitution State) also has no tolls! With that said, I-95 was a mess on this particular day and time, and from what I understand, that is hardly unusual unless one is travelling early in the morning or late in the evening.
The Foxwoods property was really nice, but the collection of shops and overall design of the property is such that it can be difficult to find one's way around. In fact, entering from the parking garage (assuming one is staying at the hotel) finding the check-in area is a tangled maze of crossing the casino floor, doubling back the other way, taking a few escalators, following signs upon which the arrows are somewhat ambiguous...and eventually finding one's destination. Fortunately, I did not actually have to find that as I was not staying there, but noticed it all the same.
Beyond that, the casino floor almost gives the appearance of being in two completely different areas as there are a few entryways to the casino, but then there are long stretches of solid wall and the casino floor cannot even be seen. Furthermore, the cages and Player's Club areas are essentially not particularly close to one another, although, the cage area is pretty easy to find as it is right near the Table Games.
I played a little bit of Video Poker during my brief visit and noticed that the casino has a few of the newer Video Poker Games and many that one would expect to find at State-Regulated Commercial Casinos. They also seemed to have a smattering of popular slot titles in addition to many newer machines, but it is hard to say what the returns may be set at on many of those games.
The parking garage is free, of course, probably because there is nothing outside of the property for which someone would be parking on the property. From the parking garage, one takes the elevator down to the casino area, but steps out (at least in the part that I parked in) in what seemed to largely be a traditional mall and in which I had to double-back a lot to ultimately find the casino.
I did not have the opportunity to take a look at all of the Table Game offerings, but I will say that on a weekday evening, the Tables that were open (many) seemed pretty full and there was probably about one player for every two or three machines depending on where one was in the casino.
Overall, I would say that the Foxwoods is a pretty nice property even if it is difficult to find one's way around. The music is at a reasonable level throughout, so if that is a concern for you, then you do not have to worry about oppressive volume levels. Given that the property is also home to a mall, there are a good number of eateries ranging from fast food to casual to fine dining. For our part, we had some quick bites at a Fuddruckers and it was pretty much as one would expect.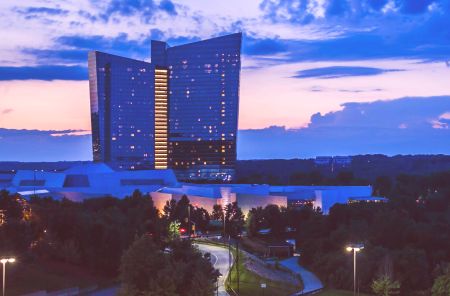 Mohegan Sun
If one is at the Foxwoods anyway, then there is almost no reason not to stop in for a quick visit at the Mohegan Sun. The first thing about the Mohegan Sun (and certainly the most convenient thing I've ever seen) is that the property itself actually has a gas station as soon as you pull out, so that's pretty fantastic. One offer they have going right now is that if you show a card from an Atlantic City casino, then they will give you $50 in Free Play just for visiting.
The Mohegan Sun is separated into separate, 'Casinos,' even though it is all one establishment. Among these are the Casino of the Sun, Casino of the Earth and the Casino of the Wind. While this may seem silly, the design is actually extremely helpful with respect to knowing where one is and with telling someone where to find you if you are looking for someone.
We did not spend too much time at this property, but based on the limited time we did spend there, I would absolutely prefer to take a return visit to Mohegan Sun rather than Foxwoods. In fact, if I am ever up in Connecticut (in that general area, anyway) again, I will almost certainly return to the property.
Another thing that I will say about the property is that all of the shops, eateries and check-in areas (as well as Player's Club desks) are relatively easy to find, especially when compared to other casinos of its size. Overall, the Mohegan Sun is simply an aesthetically appealing and enjoyable property. While there is no way I would design a trip specifically to go there, if for any reason I am going to be within 50-75 miles of it anyway, I would certainly stop back.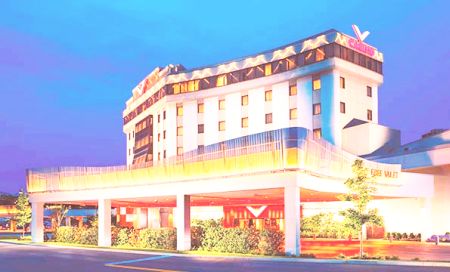 Valley Forge Casino Resort
With respect to casinos I had not previously visited, our final stop was at the Valley Forge Casino Resort. One nice Promotion they have for new sign-ups is that you will get a free hotel room within ninety days as well as $90 Free Play in three installments of $30 each in the event that one plays on one's Player's Card for at least a half hour. However, I am not sure whether or not that Promotion also applies to Video Poker because I can say that Free Play could not be downloaded on Video Poker on my visit.
One thing about this property, as is the case with other Pennsylvania Resort-License Casinos, such as Lady Luck Nemacolin, is that one must either pay an admission fee or purchase a membership to get in. The membership is $20 and enables an individual to bring in a guest at any time and is good for a year while a one-time admission is $10/person. However, if you do the $10/person option, you will receive a Gift Card in that exact amount that is good for anywhere on the property except for gambling activities.
From what I saw, the food there seemed to be somewhat overpriced for what you were getting, but that is hardly unusual for resort casinos of this nature and is also the case at Lady Luck Nemacolin. I decided to go for utility and used my Gift Card for $20 (paid for two people to get in) to get two packs of cigarettes at the bar. Normally, I would have purchased the $20 membership, but I'm not entirely sure whether or not I am ever going to go back to Valley Forge, so at the time, essentially getting my money back in the form of cigarettes was the most pragmatic choice.
As one would expect with most resort properties, the casino itself is more well-lit than many others and has a somewhat limited number of games, both slot and Video Poker alike. With that said, however, the property does have some newish slot titles as compared to larger casinos, but with exception to Ultimate X, the Video Poker offerings are pretty generic.
In any event, the casino is pretty nice, overall, and I would definitely not rule out a return visit if I was in the area anyway. Although, I will say that the only way that I will return is if I am availing myself of one of those free rooms or the Free Play associated with having played a half hour. This is certainly not a casino that I would ever return to just for the purpose of gambling as the options are extremely limited on Video Poker. In fact, I'm not even confident that they have as many as thirty Video Poker machines...it's probably a few fewer.
Overall, the property seems pretty nice aside from the overpriced eateries, and I would suggest that it might be worth visiting for those who look to enjoy an overall resort experience. Although, if given the choice between Nemacolin-Woodlands (Lady Luck) and Valley Forge, if looking for the better overall experience and things to do, I would probably select Nemacolin-Woodlands as it is, 'Out there,' more than the Valley Forge and has a calm and enjoyable feel.
Conclusion
Hopefully these, 'First Impression,' Reviews will help all of the readers out there decide whether or not they may wish to pay a visit to any of the aforementioned properties. For my part, I would refer to any of the Atlantic City properties, (though the Borgata is the least likely for me to return, unless I want one of those, 'Sloppy Joes) and Mohegan Sun (conditionally). I would also return to Rocky Gap, conditionally.
I would need a really good reason to return to Foxwoods as I do not like the layout of that property at all, and I find that there is not much in the way of distinction between the casino-related areas and the mall areas. Getting around was also somewhat confusing to me, though I must admit that my girlfriend had no problem.
I might return to Valley Forge to avail myself of one of those free rooms and Free Play in the event that I end up being in that area during the applicable times, otherwise, I seriously doubt I would return to that Resort-Casino without a good reason to do so. The casino-related amenities are, frankly, underwhelming and I do not think there is enough for me in the resort aspect of things to counter-balance the fact that the casino is hugely lacking.
Finally, as I mentioned in the full Review, I might return to Rocky Gap, but if I did, the casino would not be a priority at all. In fact, I would be extremely unlikely to visit the casino unless the best, 'Package,' in terms of value, somehow invoked the use of Free Play.
Posted by
Mission146