Introduction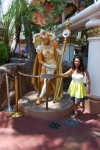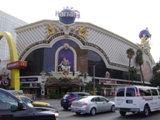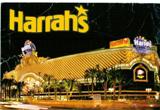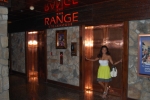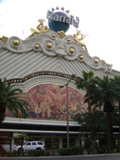 In 1973, Selby and Claudine Williams opened the steamboat-themed Holiday Casino. In 1983, Harrah's Corporation acquired the property. In 1992, it was renamed "Harrah's," and in 1997, the property was remodeled and the steamboat motif was removed. Today, it is one of many properties in Las Vegas owned by the Harrah's Corporation. To avoid confusion, for this review, "Harrah's" will refer to the specific hotel/casino and "Harrah's Corporation" will refer to the corporate owners.
Sources: www.a2zlasvegas.com, en.wikipedia.org
Personal Background
As I explained in my Four Queens review, I prefer not to review properties where I have some kind of existing relationship. It was originally my intent to not review any Harrah's Corporation properties because of some old play at their properties, friendships with some Harrah's employees, and the fact I was hired in 2001 by the Rio (a Harrah's Corporation property) to analyze proposition bets in baccarat. A few years ago I was friendly with a Harrah's host, whom I hiked across the Grand Canyon with (both ways). I have not spoken with her in about three years, and I don't know if she still works there. My prior play at other Harrah's Corporation properties is both small and dated, so I didn't think it would bear much influence during this stay.
As for the Harrah's, to the best of my memory, I have only played there a few times before, for short sessions and small bet sizes. I have made occasional sports bets there. About five years ago I made several sports wagers there, which were accepted and paid for. The total amount of the bets went over $10,000, which necessitated additional paperwork, and the supervisor's attention. He looked over the bets, and decided he didn't want to book about half of them, and gave me a refund for those bets, against my will. At the time, I didn't know there was any Gaming regulation prohibiting that. However, a few years later Harrah's was fined $100,000 for doing the same thing to another player, according to the Las Vegas Review Journal.
Due to the fact that this website is not doing well financially, I have decided to relax my conflict of interest standards and review Harrah's after all, as opposed to paying for someone else to do it. I personally feel this review is fair and unbiased review. Based on very little and dated play at other Harrah's corporate properties, I don't think I received any special treatment.
Location

Photo courtesy of Eric Chiarolanzio. Click on image for original (1583K).
Harrah's is centrally located on the Las Vegas Strip, between the Venetian and the Imperial Palace, and across the street from the Mirage. On the map, it is about midway between Flamingo Road and Spring Mountain Road. It is the northern most of a string of seven hotels on the east side of the Strip either owned or operated by the Harrah's Corporation, including the Planet Hollywood, which Harrah's corporation assumed management of in January 2010 (source: www.lasvegassun.com).
Harrah's is about equally distanced between the nearest two pedestrian bridges crossing the Strip, enticing pedestrians to use a Las Vegas Blvd. crosswalk between Harrah's and the Mirage. This crosswalk is the sight of frequent jaywalking. I have seen some close calls between pedestrians and taxis turning right from the Mirage, so please wait until you have the right of way to cross the street. Just because somebody else jaywalks doesn't mean everybody else should follow him/her like sheep.
Hotel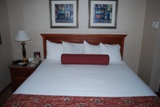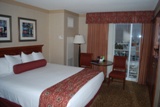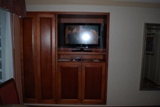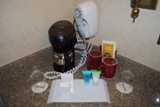 According to the 2010 American Casino Guide, Harrah's has 2,672 rooms and 94 suites. By way of comparison, the MGM Grand has 5005 rooms and 752 suites, according to the same source. The night I stayed at Harrah's, Thursday, January 21, 2010, my room was $115 plus the 12% Nevada hotel tax (and additional $13.80). There was no "resort fee," which I applaud Harrah's for. This may sound high, but I think there was some kind of event in town. For any Strip hotel, prices are like a yo-yo, depending on what convention or event may be going on. Judging by the lines and crowds, the property was very crowded during my stay.
After self-parking, I came down the escalator from the parking garage and walked toward the casino in search of the registration area. After schlepping my luggage around the entire casino, I finally found the registration towards the back, near where I started. In retrospect, I should have made a U-turn after getting off the parking garage escalator.
The line for the registration is Wendy's style, meaning one line serving many windows, as it should be. In fact, all the lines for everything in the casino and hotel were Wendy's style. The lines were often long, but at least there was no guessing game about which window to stand behind. There is also a separate and much nicer registration on the other side of the hallway from the general public registration for Diamond members, a status I lost several years ago. Although there were only a few people ahead of me in line, it was about a 10-minute wait, as the agents at the windows were taking ages to do whatever they were doing. I overheard somebody waiting for his friend at the window say, "What are you doing, buying the place?"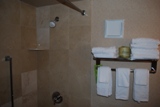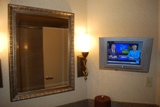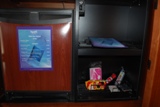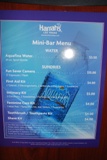 When it was finally my turn to check in, the agent was nice and asked if I was related to actor Ted Shackelford. She offered to upgrade me room to a suite for a fee of about $30 or $60, depending on the kind of suite, which I declined. From a business standpoint, I think that is a great idea, as opposed to letting the premium rooms go empty, or letting the front desk staff accept bribes for them. She also asked if I wanted a noisy or quiet room. I chose quiet.
With my key, I was given a coupon for 20% off at the Ghirardelli Chocolate Store and two tickets to the Mac King show with a one drink minimum ($9.95). I noticed an expiration date on the Mac King ticket over three months ago, but who knows if they enforce it. I was additionally given a sheet of coupons to other Harrah's Corporation properties, as follows:
Free frozen hot chocolate with $10 purchase at Serendipity (Caesars Palace)
2-for-1 drinks at the Tequila Bar & Grill (Bally's)
2-for-1 tickets to Donn Arden's Jubilee! (Bally's)
$5 off Paradise Garden Buffet (Flamingo)
Free t-shirt with 25 base points earned (Flamingo)
2-for-1 tickets to the Auto Collection or King's Ransom (Imperial Palace)
2-for-1 tickets to Matsuri or Diva's Las Vegas (Imperial Palace)
2-for-1 tickets to the Eiffel Tower Ride (Paris)
$5 off Le Village Buffet (Paris)
$5 off Carnival Buffet (Rio)
My room was number 1200 in the Mardi Gras Tower. Although it was at the end of the hallway, it was still not a great distance from the elevators, and I never had to wait long for an elevator. The room was small but clean and well furnished. Some of the amenities were a large flat screen TV, coffee maker (a rarity in Vegas), safe, small TV in the bathroom, real glassware, and ceramic coffee cups (as opposed to the paper or Styrofoam you might get at more economy places). I'm fussy about beds, often finding the mattresses too soft, but this one was fine. The cost for local and toll free calls was $1.25 for the first 20 minutes and $0.15 for each additional minute. If you're really cheap (ahem), and your call is expected to go over 28 minutes, you should hang up after 20 minutes and then call back. Internet via an Ethernet cable was $11.95/day. My only complaint about the room is the door was one of the self-closing kinds, but it did not close completely. It looked and sounded like it was secure, but the lock didn't quite engage by itself, so unless I pulled it shut, anyone could have pushed it open and helped himself to anything in the room.
The day I stayed at Harrah's it was pouring rain in Vegas. On the news, they said it rained more in that one day than all of 2009. Evidently, they have not been maintaining the casino roof well, because there were trash cans and towels capturing dripping water scattered all over the casino floor. Some slot machines were completely covered with trash bags. I could understand a leak here or there, but this was like the house on Sanford & Son on a rainy day. Considering the $115 I paid for a basic room, I think they could be spending more on maintaining the roof.
Getting back to the issue of lines, the line at the front desk was huge around 11:00 AM, the check out time. If you don't need to beg for a comp, I recommend using the self check out on the television, or just leave.
Restaurants
Following are the restaurants at Harrah's, with links to the Harrah's Las Vegas website.
I had only two meals during my stay, and one more a week later. For dinner, I wanted to try to the buffet, but the line was too long. Then I attempted the cafe, but the line for that was too long as well. Next I went to ' Toby Keith's I Love This Bar & Grill,' but it was crowded and I couldn't find an open spot at the bar. Finally, I settled on the ' Oyster Bar at Penazzi.' Lots of Vegas casinos have Oyster bars, and are always a good choice in my opinion. I managed to find a seat without waiting. A breadbasket was provided shortly after sitting down. I ordered the shrimp roast, which tasted fine, but the portion was a bit small. The free bread helped to make up the difference. Usually at oyster bars they ask how spicy you want your order, but I was never asked. If you like a spicy roast, be sure to request it, because mine was too mild. The prices were not unreasonable. With a soft drink and tip, my meal came to $28.
The following morning, at about 10:30 am, I tried the buffet. At earlier times, the line was too long, so I kept putting it off. At 10:30, there were only a few people ahead of me, and the line moved fast. The cashier asked me what drink I wanted, an efficiency I applaud. They still had the breakfast food out, but I could tell they were gearing up for lunch. The size of the buffet is fairly small by Vegas standards, and thus the selection was limited. They didn't have anything high-end, like shrimp or crab legs, but considering the price, I couldn't complain. They did have bagels and lox (which looked like they had been left out a bit too long) and a fruit tray with some scattered blackberries you had to pick up one by one with the tongs. Las Vegas is supposed to be famous for buffets, but this one was just satisfactory, at best. The one across the street at the Mirage is much better, although a tad more expensive. The adult buffet prices are as follows:
Breakfast: $14.99
Lunch: $15.99
Dinner: $21.99
Continental breakfast: $20.99
The price for children is $9.99 for all meals.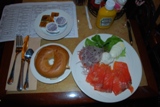 About a week later I returned to try the Café at Harrah's. This was at about 2:00 PM on Sunday, January 31. There was nobody in line, so I walked right to the hostess. I ordered the Lox Bagel ($13.99) and a soft drink ($3.59). Bagels and lox are one of my favorites, and Harrah's did not disappoint. The service was also friendly and efficient. With tax, the total was $19.00 exactly. When I went to pay, the cashier seemed very pleasantly surprised the check was an even dollar amount. I noted that it should happen once every 100 checks, on average. That did not seem to dampen her joy, as she went onto say enthusiastically something about recently getting three consecutive checks within a few cents of each other. I enjoy conversations about statistical aberrations, so that was fun.
Entertainment
Harrah's two permanent acts are stand-up comic Rita Rudner and comic/magician Mac King. I have been meaning to see Rita Rudner for years; she has been performing locally since I moved to Vegas in 2001. The tickets were $59.40 for "reserved" seat and $99.00 for VIP. I chose reserved. As a local, it was painful to pay full price for a ticket, but Rita's show is not one you see discounts for often. After sitting down, an usher asked me and the guy sitting next me if we wanted to move to the VIP section. We both said yes, so the usher led us to nice seats in the third row. I was expecting this to be a hustle for a tip (something I've encountered at other Vegas shows), but one was never requested nor given.
Rita's material began with jokes about living in Las Vegas but was mostly about gender differences. A common theme was helping the men in the audience understand a woman's mind. Many female comics love to beat up on men, but Rita was more than fair, with many self-effacing jokes. Here is an example, and I'm paraphrasing, "When men wear out a pair of shoes they get them resoled. But what happens when women wear out a pair of shoes? Nobody knows, it has never happened yet." Toward the end, she did something I've never seen a comic do before: she opened it up to questions from the audience. All the questions were ones she has probably heard many times before. I was very tempted to throw her a curve ball by asking what piece she prefers to play in Monopoly (I think you can tell a lot about a person by what he/she chooses), but I couldn't get up the nerve. I'd bet good money that Rita would have chosen the shoe, because she told a few jokes about her enormous shoe collection.
Rita's act is very clean; it would be safe to take grandma to, which is not something you can say about most Vegas shows. The audience seemed to enjoy it, judging by the laughter. At the end, she plugged her books, which she offered to sign, and DVD's. It would be easy to say the humor is more geared towards women. There are several videos of Rita on youtube to get a sample. Personally, when it comes to female comics, I'm a fan of Lisa Lampanelli, which is about as opposite from Rita's style as you can get. So, while Rita's act is not exactly my cup of tea, her unique style has been enjoyed by over a million people in Las Vegas (source: en.wikipedia.org). I think those of you who would like her show know who you are already.
Pool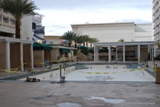 The pool was closed and evidently under renovations when I was there. However, it was easy to tell it was quite small, especially for a property of its size. Maybe it will look better in time for the summer season, but this picture shows that when I was there it was in terrible shape.
Free Photo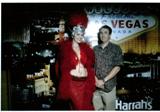 By the north entrance is the "free photo" opportunity. I've done it a few times through the years, including this trip. It is quick and easy. You get your picture taken with a woman in a showgirl outfit. It is ready in about ten seconds. Sometimes somebody tries to get you to do a time share pitch, sometimes not. A good way to get out of those conversations is to say you're leaving in a few hours.
Parking Garage
The parking garage is located to the east of the property. Many turns are necessitated to get into it from any direction. However, once you're in the garage, it is pretty simple and easy to navigate. The elevators will drop you off at the back of the property, so you'll have to walk a little ways to get to the casino.
Gambling
According to the 2010 American Casino Guide, Harrah's has 90,041 square feet of casino space. By way of comparison, the MGM Grand has 73% more at 156,023. According to the Nevada Gaming Control Board, Harrah's has 108 tables and 1,463 slots. By way of comparison, the MGM Grand has 172 table games and 2,340 slots. Table games offered were blackjack, craps, roulette, baccarat, big six, pai gow, Pai Gow Poker, Three Card Poker, Triple Shot, Let it Ride, Ultimate Texas Hold 'Em, Mississippi Stud, and Crazy 4 Poker. Following are some specific comments about the various games offered.
Blackjack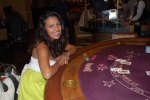 The number of tables with what I call "liberal Strip blackjack rules" (the dealer stands on a soft 17, the player can double after a split, surrender is allowed, and re-splitting aces is allowed) is zero. Not even in the high-limit room, which I find to be stingy. According to the Current Blackjack Newsletter, the best rules are six decks, dealer stands on soft 17, double after split allowed, surrender and re-splitting aces not allowed, for a house edge of 0.41%. According to the same survey, 59% of blackjack tables at Harrah's are the dreadful variety that pay 6 to 5 on blackjacks. I can forgive a few 6-5 tables for low rollers, but to have it as the dominant game is not competitive at all. Then again, they say there is a sucker born every minute, and Harrah's has plenty of tables to accommodate them.
Craps
The odds allowed are 3-4-5x, which is standard for the Strip. However, all Harrah's Corporation properties offer stingy rules on the field and hop bets. To the best of my knowledge, everywhere else in Vegas pays 3 to 1 for a 12 on the field bet, for a house edge of 2.78%. The Harrah's Corporation properties pay only 2 to 1 on the 12, for a house edge of 5.56%. That isn't so bad, but what is really cheap is the short pays on the hop bets. It is standard to pay 15 to 1 (or 16 for 1) on easy hops (like a total of 3 or 11), and 30 to 1 (or 31 for 1) on hard hops (like a total of 2 or 12). This results in a house edge of 11.11% on the easy hops and 13.89% on the hard hops. However, these house edges are evidently not high enough for the Harrah's Corporation properties, so they pay 14 to 1 (or 15 for 1) on the easy hops and 29 to 1 (or 30 for 1) on the hard hops. That increases the house edge to 16.67% on both. Ouch!
Pai Gow Poker
The turn to bank zigzags between the players and dealer. If a player chooses not to bank, then the opportunity will revert to the dealer. It is beneficial to players to have the turn to bank rotate around the table, skipping players who don't wish to bank.
Roulette
Only double-zero wheels.
Video Poker
According to VPfree2, the best video poker at Harrah's are a few 9-6 Jacks or Better machines in the high-limit room, which return 99.54% with optimal strategy. Otherwise, the video poker at Harrah's is pretty stingy. Here are the games and pay tables offered at a few machines I randomly selected. The returns in parentheses are based on optimal strategy.
25¢, 50¢, $1, $2, and $5 Denomination
$1, $2, $5 Denomination
$5, $10, $25 Denomination
Slot tickets are valid for 30 days, the state minimum, which is too short in my opinion.
Keno
Harrah's is one of the few casinos left on the Strip to still offer live keno. I have never seen so many types of keno games as I did at Harrah's. I'm not sure it was the best use of my time, but I analyzed everything I saw. Here are the returns for the games I found.
Harrah's Keno
Game
Picks
Return
Basic
2
72.15%
Basic
3
72.15%
Basic
4
71.00%
Basic
5
68.45%
Basic
6
68.75%
Basic
7
67.49%
Basic
8
68.85%
Basic
9
67.91%
Basic
10
67.62%
Basic
11
67.35%
Basic
12
68.67%
Basic
13
68.30%
Basic
14
67.08%
Basic
15
68.19%
5 Spot Dinner Special
5
69.98%
$3 Catch All Specials
3
69.38%
$3 Catch All Specials
4
66.37%
$3 Catch All Specials
6
64.49%
$3 Catch All Specials
7
65.07%
Crazy Fours
4
67.76%
Little Xtra Five
5
53.14%
Favorite Six
6
62.12%
Just 7777's
7
49.02%
Top/Bottom/Left/Right
40
67.46%
The Edge
32
61.48%
Special 20 Spot
20
68.38%
Play all 80 Numbers
80
68.85%
"15 Way"
8
70.56%
"7 Way"
6
71.17%
"King's Ticket"
5
72.31%
Win $400
8
49.47%
Win $20,000
8
50.74%
Stimulus
10
3.37%
Stimulus
9
13.04%
Stimulus
8
43.46%
Stimulus
7
48.81%
Stimulus
6
51.59%
100 Dimes
7
56.08%
2-Bit Menu
5
64.82%
2-Bit Menu
6
56.87%
2-Bit Menu
7
59.06%
2-Bit Menu
8
62.89%
2-Bit Menu
9
58.40%
2-Bit Menu
10
53.52%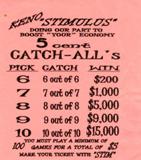 What stands out is I have a new record for the worst bet I have ever seen. It is the pick-10 "Stimulus" ticket. It costs 5¢ (with a minimum purchase of 100 games), and catching all 10 wins $15,000. There are no consolation prizes for catching 9 or less. Maybe that doesn't sound bad to the mathematically challenged, but the probability of catching 10 out of 10 is COMBIN (20,10)/COMBIN(80,10) = 0.0000001122. So the expected return is $15,000*0.0000001122/0.05 = 3.37%, or a house edge of 96.63%. Jeez!
In case you're wondering, my previous "worst-bet" record was held by a $20 pick-20 parlay card at the Golden Nugget, where catching all 20 won $1,000,000, with no consolation prizes. Assuming a 50/50 chance of a correct pick the expected value was 4.77%.
Harrah's also offers six progressive jackpot games, picking 5 to 10 numbers. The following table shows the the number of picks in the first column, the return of the fixed consolation prizes in the second column, the return per $1,000 in the meter in the third column, and the jackpot breakeven point in the fourth column.
Harrah's Progressive Keno -- Table 1
Picks
Fixed Return
Return per $1,000 in Meter
Breakeven point
5
42.99%
0.0006449247
$2,176.59
6
8.60%
0.0001289849
$9,291.76
7
1.63%
0.0000244026
$48,503.14
8
0.29%
0.0000043457
$268,710.37
9
0.05%
0.0000007243
$1,343,483.47
10
0.01%
0.0000001122
$10,192,775.55
The next table shows the jackpots on January 31, 2010, and the return at those amounts.
Harrah's Progressive Keno -- Table 2
Picks
Jan 31, 2010 Jackpot
Return
5
$1,345
67.45%
6
$3,411
59.48%
7
$16,725
58.85%
8
$66,753
52.57%
9
$117,916
58.39%
10
$1,002,176
43.12%
Sports Betting
The Harrah's race and sports book has 8 windows, 12 tables with three chairs each, and 7 table games. If you want to gamble two ways at once, this is your chance, because I've never seen a casino put table games in the sports book before. Otherwise, it is pretty small and cramped. Not the best place to enjoy watching a game in my opinion.
Harrah's gets some well-deserved praise, however, for offering a one-year expiration date on sports tickets. Most casinos are anywhere from 30 to 120 days. Giving a winner every chance to get paid is something I respect. Why they don't have the same philosophy about slot tickets, I don't know.
Poker
The poker room is next to the sports book. It has a total of 12 poker tables. On the Thursday night I counted, two of them were in use.
Harrah's Total Rewards
Besides conducting this review, a major goal of mine when I was at Harrah's was to once and for all understand how their Total Rewards player incentive program works. Despite bothering at least a dozen employees in the casino, I still do not understand all of what should be available to the public, but I'm a lot closer than I was before. If any of this is in error, I welcome correction.
Like many casinos, there are different levels of status at all Harrah's Corporation properties, as indicated by the player card tier. Just about everywhere in which a line may form, there is a short line for the higher levels and a long line for the lower ones.
The levels are as follows, from lowest to highest:
Gold: The entry level.
Platinum: This second level affords some perks above gold, but usually you still have to stand in the same lines as the common folk.
Diamond: This third level is the first one that affords any kind of respect. The brochure indicates additional perks, but in my opinion, the best are the shorter lines and access to the Diamond Club lounges, which are stocked with basic munchies.
Seven Stars: For all intents and purposes, this is the highest level. I know several people who have attained it, and they all seem to indicate you get treated very nicely.
Chairman: A little-known level that is only available to a small number of the highest rollers. The first player to attain the Chairman level was Terrance Watanabe, who is also famous for later suing the Harrah's Corporation for unehtical business practices. (sources: Wikipedia, Wall Street Journal)
Total Rewards has three kinds of points:
Base Reward Credits: These are earned by playing just about anything in the casino. The exception is live poker. The ratio of points earned per dollar bet varies from game to game, which I get to below. The redemption rate is 100 credits for $1 in comps. Base reward credits never expire, as long as you earn at least one point every six months.
Bonus Reward Credits: These are basically the same as Base Reward Credits, except they accumulate at different (and often unknown) rates.
Tier Credits: These are only used to advance in the tier system. They are earned at the same rate as base reward credits, except in live poker. Following are the number of points required to attain each level:

Platinum: 4,000
Diamond: 11,000
Seven Stars: 100,000 and be in "good standing."
Chairman: Unknown
There is a shortcut for attaining Platinum or Diamond status in a single day: earn 2,000 points for Platinum and 3,000 for Diamond. I achieved Diamond status several years ago at Harrah's in Laughlin with just a few hours of playing $5 video poker.
Every January 1st, tier credits reset to zero. An earned level in one year will carry over to the next year. So, if you plan to make one of the higher levels, you will enjoy it longer if you reach it early in the year. For example, if you made Diamond status on January 1, 2010, it would last until December 31, 2011. Be warned that keeping an expired Diamond card will not fool many employees at Harrah's. For example, they will swipe it when you try to get into the Diamond lounge, and if it is not current, you will be rebuffed and sent out. When I tried to use my old Diamond card to check out in the Diamond lounge, the attendant still processed me but said my card was expired, as she folded it and threw it into the trash.
The big mystery is at what rate Base and Bonus Reward Credits are earned. The brochure only addresses slot and video poker players, so it took a lot of bothering people to get at accumulation rates for other games. The following is what I found. Any of this is subject to error, because some employees didn't sound particularly confident in their knowledge as they answered my questions.
Slots: Every $100 bet earns 20 Base Reward Credits. Bonus Reward Credits may also be earned, but at an unknown rate.
Video Poker: Every $100 bet earns 10 Base Reward Credits. Bonus Reward Credits are also mysteriously earned, but other players say it depends mostly on how liberal the pay table is and the player's per-trip theoretical loss.
Table Games: Nobody I spoke to had any idea how fast table game players earned any kind of points. The only thing I learned was one dealer said that craps and roulette were the best to play for earning points. However, after playing pai gow tiles for 2 hours and 14 minutes, at an average bet of $210, I was told I earned 448 Base Reward Credits and 0 Bonus Reward Credits. Assuming 30 hands per hour (an industry norm), that would make the earnings rate equal to 3.18 Base Reward Credits for every $100 bet.
Sports: Every $100 bet earns a sum of 25 Base Reward Credits and Bonus Reward Credits. I do not know how they are split between the two.
Racing: Every $100 bet earns a sum of 200 Base Reward Credits and Bonus Reward Credits. I do not know how they are split between the two.
Keno: Every $100 bet earns 60 Base Reward Credits and 90 Bonus Reward Credits.
Poker: 28 Tier credits are earned for every hour of play.
"Entertainment purchases": Every $100 spent earns 20 Base Reward Credits and 80 Bonus Reward Credits.
My Own Gambling
I played pai gow tiles at a $210 bet every hand for 3 hours and 46 minutes, by Harrah's records. Normally, I try to get to at least four hours of play if I'm close to it, because that is a threshold many other casinos like to see. However, based on anecdotal evidence, Harrah's Corporation properties tend to be more by the book and just look at points. My play earned me 756 Base Reward Credits and 0 Bonus Reward Credits. At their ratio of 100 points per $1 in comps, that would entitle me to $7.56 in comps. It should be noted that comps must be redeemed in even increments of $1.
It is an industry norm to comp back to players about 40% of their "theoretical loss." I don't know exactly what they assume at Harrah's, but it is an industry norm to assume 30 hands per hour in pai gow tiles and a house edge of 1.65% (source). At 3 hours and 46 minutes of play and $210 per bet, that would make my theoretical loss 3.7667 × $210 × 30 × 0.0165 = $391.55. If I were to get 40% of that back in comps, I should have had $156.62 deducted from my bill. Although, my Bonus Reward Credits entitled me to only $7.56, I was hoping to get a discretionary comp for much more. When K.M, my reviewer of the Paris (another Harrah's Corporation property), played pai gow tiles for 2 hours at the same average bet, they comped a $75.45 dinner off her room charges.
When I was ready to check out, I asked the woman at the front desk what she could do. She looked at my play and said I had enough points to take off $12 in charges. Besides the $7.56 earned this trip, I also had some blackjack play at Harrah's Rincon near San Diego. I was shocked, to say the least. So I asked for a discretionary comp, and she flat out said that they only go by points and I only had $12 worth.
Never in my entire life have I played so hard to get so little in return. It was the biggest display of chincyness I have ever witnessed in any casino. As I wrote earlier, it is par for the course to get back 40% of expected losses, and by my math, I got 2% back. If I were a legitimate player, I would never return after that insulting experience.
Summary
I was a bit of a pain as a guest, as I bothered lots of people for information on the Total Rewards program. Most employees were helpful. Two questioned why I was asking so many questions. However, one employee really stood out for being friendly, cheerful, and helpful, and that is Mary Ann at the Total Rewards counter. I must have bothered her with questions for at least 20 minutes, and she never grew impatient with me, and she always asked someone else when she didn't know an answer.
Normally at this point in my reviews, I indicate my suggestions for improvement. However, I wouldn't even know where to begin, between the tight game rules, stingy comps, long lines, and leaking roof. Maybe I hit them on a bad day, but if I didn't live here already, I would be very unlikely to return.
Links
Acknowledgement
I'd like to give a big thanks to Karina for modeling in the pictures.
Contact Information
Address: 3475 Las Vegas Boulevard, Las Vegas, NV 89109
Phone: 800-214-9110
Web site: harrahs.com
Resort and Parking Fees
| | |
| --- | --- |
| Resort fee | $13.50 |
| Parking fee | Free |
Games at Harrah's
| Blackjack | Location | Decks | Min | Max | Soft 17 | DA | DAS | RSA | Surr | Tables | CSM | Party Pit | 6/5 BJ | Video | H. Edge |
| --- | --- | --- | --- | --- | --- | --- | --- | --- | --- | --- | --- | --- | --- | --- | --- |
| Blackjack | Strip | 8 | 5 | 1000 | H | Yes | Yes | No | Yes | 13 | No | Yes | Yes | No | 1.92724 |
| Blackjack | Strip | 8 | 5 | 1000 | H | Yes | Yes | No | Yes | 9 | No | No | Yes | No | 1.92724 |
| Blackjack | Strip | 6 | 10 | 2000 | H | Yes | Yes | No | Yes | 8 | No | No | No | No | 0.55051 |
| Blackjack | Strip | 1 | 10 | 2000 | H | Yes | No | No | No | 4 | No | No | Yes | No | 1.69824 |
| Blackjack | Strip | 2 | 25 | 3000 | H | Yes | No | No | No | 2 | No | No | No | No | 0.60225 |
| Blackjack | Strip | 6 | 100 | 10000 | S | Yes | Yes | No | Yes | 2 | No | No | No | No | 0.35361 |
| Baccarat | # of Tables | Min Bet | Max Bet |
| --- | --- | --- | --- |
| Baccarat | 5 | 15 | 10000 |
| Roulette | # of Tables | Min Bet | Max Bet | Rules | Video |
| --- | --- | --- | --- | --- | --- |
| Roulette | 9 | 10 | 200 | 00 | No |
| Roulette | 1 | 3 | 8900 | 00 | Yes |
| Video Keno | Rank | Avg Return | Grade |
| --- | --- | --- | --- |
| Video Keno | 57 | 88.81% | D+ |