Introduction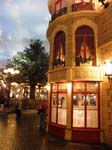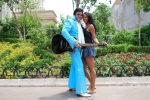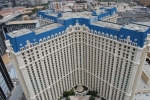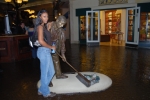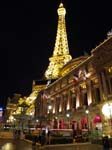 Paris Las Vegas Casino & Resort, part of the Harrah's Entertainment conglomerate, opened in September 1999. As its name suggests, Paris's theme is, well, Paris. Between the 5/8ths scale replica of the Eiffel Tower dominating the outside of the property, the street sign modeled after the Montgolfier Balloon, and the 2/3rds replica of the Arc de Triomphe in the portico, you have no question as you approach Paris as to the feel they are going for.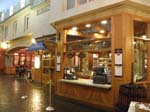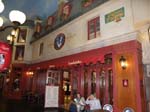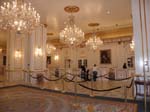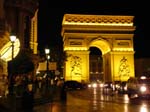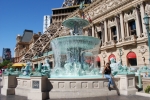 The Paris theme continues strongly inside the property. From the crystal chandeliers in the lobby to the Eiffel Tower legs in the casino to the quant Paris street scene along the shopping and restaurant row, the theme's details are attended to. Now some people might view the heavy theme as overkill, but I dig it. It feels charming to me. I like the sky-painted ceiling above the casino and the cobblestone pathways around the perimeter of the gaming floor. I also appreciate the very tall height of the ceilings in the casino, tall enough for some impressive, probably fake, trees and classic looking streetlamps. The fountains interspersed here and there throughout the casino and non-gaming areas make me smile, and the beauty of the reception area simply floors me.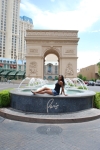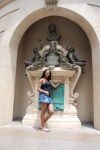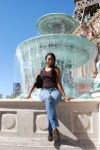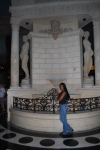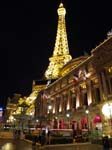 Casino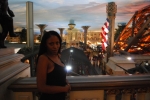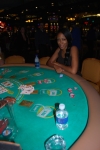 Besides being, in my opinion, stunningly beautiful and comfortably airy, Paris's casino is medium in size — big enough to keep your interest but not so huge that you feel overwhelmed. Instead of sprawling endlessly like the MGM Grand or sister property Rio, Paris seems compact, easy to get around. From the middle, you can almost see every corner of the gaming floor. For size comparison, the MGM Grand has 156,023 square feet of gaming space, while Paris boasts 95,195 square feet.
The bottom line for me is that I would much rather gamble in the Paris's open, airy, classic Parisian environment than in a place with low ceilings, dim lights and dark colors.
As for the gaming, Paris is interested in attracting all players it seems, as is evidenced by the diversity of games and the variety of table/machine limits. The list of table games in the casino is long. During my visit on Thursday, October 9, 2009, I found blackjack, craps, roulette, baccarat, Pai Gow Poker, Three Card Poker, Asia Poker, War, Ultimate Texas Hold 'Em, Blackjack Switch, Chuck-a-Luck, Asia Poker, Texas Hold 'Em Bonus Poker, Caribbean Stud Poker, Let it Ride, Crazy 4 Poker, Pai Gow, EZ Baccarat, and Mississippi Stud Poker.
I found the employees in the casino to be friendly and proficient. The Wizard joined me the evening I did my review to teach me about what to look for in the casino. The dealers we stopped and asked questions of were helpful, eager to give us the answers we were seeking and inclined to elaborate, even when we didn't ask for more information.
The Wizard showed me how to play Pai Gow that night. We encountered three dealers during the two hours we were at the table, and all three were happy to help me learn the ropes and make good strategy decisions. They seemed to dole out solid advice. Part of why I think they were so helpful with my training is that most of the time the Wizard and I were the only people at the table. The couple times another play sat down, the dealers were quieter.
About 40 minutes after we sat down at the Pai Gow table, the Wizard nudged me and said, "Have you noticed we haven't seen a cocktail waitress yet?" My reply was, "I can't blame them. If I had to wear that hideous costume, I'd stay hidden too." Seriously, the cocktail waitress uniforms at Paris have to among some of the worst in Vegas…and that's saying a lot. And what a shame, since I think the rest of the details of the property are so beautiful and tasteful. These poor girls wear the equivalent of a 1980's one-piece bathing suit, with the always-unflattering, super high-cut leg openings. Over the one piece, they have half of a skirt – it covers their rear end but is open in the front. The servers have the option, it appears, of wearing an arm piece — picture a jacket that is really only two sleeves connected by a strip of material across the back. Now, I don't know if my description drew much of a picture for you, but the bottom line is the outfit is bad, really bad. It seems haphazardly put together, and it probably adds 5-10 lbs. to the very attractive young girls wearing it.
Anyhow, it was another 10 minutes or so before our cocktail server found us, and a few minutes more before she returned with our drinks. I had a glass of Merlot, which I thought was decent. The Wizard ordered the same on a subsequent round but turned his nose up at it. I'll agree with him…the wine selection could be better.
Poker
One thing missing at Paris it appears, though, is a poker room. As I sat down to write this review, I was scratching my head, trying to remember if I saw a poker room…there was no mention of one in my notes. There's no mention of one on their website either.
Blackjack
From what we could tell, the blackjack rules are pretty standard throughout the casino, even in the high-limit room. You're mostly going to find games where dealer hits on soft 17, doubling after a split is allowed, and resplitting aces is not allowed. For the single deck games, Paris is paying the pitiful 6-5 on blackjack; otherwise, 3-2 appears to be the norm.
Craps
Paris is offering the usual 3x-4x-5x odds. As for the field, you're looking at 2-1 on the 12. The hop bets come in at the standard 15 and 30 to 1.
Roulette
The roulette wheels all sport the house-friendly double zero.
Race and Sports Book
Paris has a pretty large Race and Sports Book. My count reflects 11 windows, 93 booths/terminals, 20 or so lounge-type chairs, and a few tables with bar stools. You'll find 29 TVs (11 big screen and 18 small screen). There's a bar located in the book with an additional 17 small TVs; however, there doesn't appear to be a deli or any kind of quick-bite dining option nearby.
The expiration for race tickets is 120 from purchase or 30 days after the close of a meet. For sports tickets, they offer an impressive, rarely-heard-of, one year expiration. Good for them!
Player Club
Since Paris is part of Harrah's Entertainment, they honor the Harrah's player card. I already have one, so I did not have to stop by the player club.
During a brief cruise of the casino floor, I noticed a lot of slot machines but not that many video poker machines.
My Play
As I mentioned above, the Wizard taught me how to play Pai Gow that evening. We played for two hours with bets of $210 per hand. I dropped in on a host on my way to check out the next morning, and after reviewing my play, she comped the dinner we'd had the night before and my breakfast from that morning. The amount totaled $75.45.
Hotel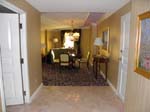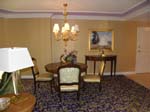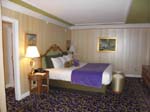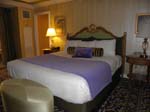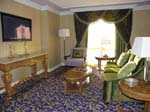 I booked my hotel room over the Internet, about three or four weeks before my stay. I was aiming for the basic room, which they denote as "Luxury." When I was perusing the options, though, I noticed the "Luxury Red Room," which can be as much as $60 higher than the "Luxury" room for any given day, was only going to run me $10 more. So, I reserved that Red Room at a fabulous rate of $85. On top of that, I paid the 12% Nevada room tax, but no annoying Resort Fee.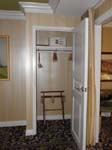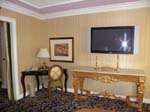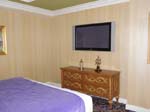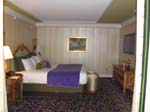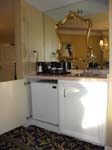 During check in, I got to chatting with the desk clerk. She asked if it was, "Just you and the baby in the room?" (I was pushing my two-year old in his stroller.) I replied, "No, just me. My husband will be picking the baby up on his way home from work. This is my little getaway." Apparently this desk clerk is a mom herself and knows how precious little getaways are, since she told me she wanted to see if she could get me a better room before she disappeared behind the scenes. When she returned to her post a few minutes later, she said she had secured me an upgrade to a suite with a strip view. Score!!!
The room was gorgeous, all decked out in the frilly French décor I love. It was a big room at 935 square feet. The Red Room I reserved is much smaller at, according to a reservationist, 390 square feet. The suite boasted a large entry way leading to a generously sized main room with a dining table and four chairs, a wet bar, a writing desk, a couch, a comfy chair, plenty of lamps, and a couple occasional tables. Behind a curtain, I found the sleeping quarters, which included a king sized bed, a bench at the foot of the bed, two side tables, and a small dresser. In both the main room and the bedroom, I was pleased to discover 42" wall-mounted, flat screen TVs.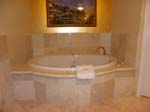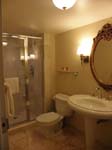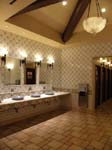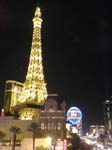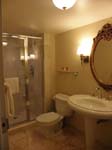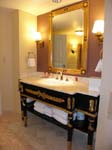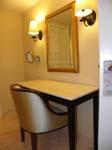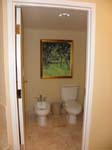 There were also two bathrooms in my suite, described on the Internet as "his and hers bathrooms." The first and smaller of the two, clearly for "him," offered a glass-enclosed shower, toilet and a pedestal sink. The second, larger bath, obviously for "her," had a make-up vanity, a solid surface sink vanity, a whirlpool tub, and a small WC with both a toilet and a bidet. A hallway connects the bedroom with the two bathrooms.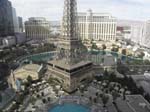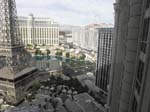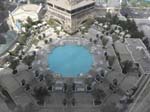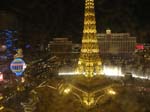 As for the view, it was lovely! I was on the 25th floor, looking toward Bellagio. I could see Paris's pool, on the 3rd floor deck below, as well as the Eiffel Tower and the fountain show at Bellagio. Parts of Las Vegas Blvd. were visible, as well as some of City Center and Caesar's Palace. There were two issues I noticed, though. First, the window was pretty small, and it was the only window for the whole room. The suite is kind of triangular in shape, and the only exterior wall is at the top of the triangle. So, there is little natural light in the room. No window at all in the sleeping quarters. My second issue was the filthiness of the window. My spectacular view was distorted due to a thick covering of water spots and dust. Disappointing. During the late part of the day, when the sun was in the west and coming straight in the window, the dirtiness was particularly noticeable. It was better at night and in the morning, when the sun was behind the building.
The main area of the room is plenty big for entertaining, and the bedroom is a cozy size. I found the furnishings attractive and the bed itself comfortable. High quality sheets and perfectly soft pillows adorned the plush mattress. On the bedside table, I found an alarm clock with an MP3 docking station. I encountered the same unit in a previous hotel, and on both occasions, the clock was displaying the wrong time. Both instances I searched the unit for a way to correct the time, but I never did figure it out. Such things frustrate me!
The bath was a nice mixture of marble surfaces and black and gold veneer furniture. I thoroughly enjoyed relaxing in the whirlpool tub after dinner and gambling, and I found plenty of room to spread out when I got ready in the morning.
The toiletries were quite nice: shampoo, conditioner, shower gel, hand lotion, bath bar, facial bar, vanity kit, bath salts, and shower cap. With the exception of the vanity kit, bath salts and shower cap, there were two sets of everything, since there were two bathrooms. Gilchrist & Soames® makes the subtly fragranced "White Tea" line exclusively for Paris Las Vegas.
Two wonderful surprises in the room were a coffee maker and a refrigerator, both a part of the wet bar. I cannot think of the last time I saw a coffee maker in a Las Vegas resort. After my stay, I called and inquired as to whether all rooms have coffee makers and refrigerators. Turns out neither are in the standard rooms, but for a fee of $15.00 a day, you can request a fridge be brought to your room.
Some miscellaneous details:
Local and 800 calls run $1.25 for the first minute and $.20 for each additional minute.
I found a soda vending machine on my floor, but there wasn't a machine with water. No water in my room, either. I guess they expect people will drink coffee instead!
The closet housed an iron/ironing board, a safe and a luggage rack.
Internet comes in at a steep $14.99 for 24 hours.
Restaurants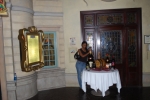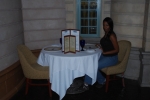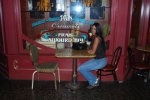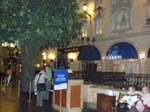 The majority of Paris's restaurants follow the French theme, and even when they don't offer French food, they mostly stick with French names.
In general, it's pricy to eat at Paris. Even breakfast seemed expensive to me. I ended up grabbing an egg sandwich at JJ's Boulangerie, which I review later. I figured it would be my most economical choice, but by the time I added on a coffee, I could've spent about the same for a sit down, comprehensive breakfast at Café Ile St. Louis or at Mon Ami Gabi.
The upscale dining options include:
Eiffel Tower Restaurant (French)
Ah Sin (Pan Asian)
Le Provencal (Tuscan)
Mon Ami Gabi (French)
More middle-of-the-road options are:
Café Ile St. Louis: 24-hour coffee shop
Café du Parc: American, at the pool
Le Burger Brasserie
Paris also has a buffet, of course, called Le Village Buffet. Its focus is on regional French cuisine, and it is open for breakfast, lunch and dinner. I have a separate full buffet review. In short, I think it's a disappointment. This particular buffet used to be one of my favorites, but in the past few years, cost cutting efforts have become noticeable.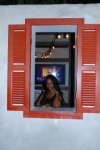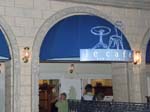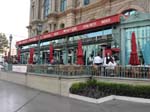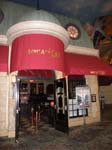 There is no traditional food court at Paris, but there are a couple quick bite options. JJ's Boulangerie, a working bakery, offers salads, sandwiches, soups, pizza and an array of pastries. Le Creperie is well known in Vegas for its freshly made dessert and savory crepes. A last option is Lenotre, a gourmet food shop that sells fresh pastries, chocolates and ice cream.
One quick word on Le Creperie: Over the years, this has been a favorite stop for my husband and me. We particularly like the Fruits de Mer savory crepe, which is made up of shrimp, scallop, mushrooms, mozzarella cheese and fresh basil and topped with Béchamel sauce. We can easily make a meal out of one of these crepes, since they are generously filled and decadently rich.
A few years ago, while at a party, we were talking with a food and beverage manager from Paris and remarking on how much we love those crepes and their cheap price tag (at the time, one crepe cost just $6.99). He giggled a bit and said, "That little shop is our biggest money maker. Would you believe each crepe costs us less than $1.00 to make?"
Well, since that party, the price of the crepes has gone up to $9.99. Talk about a profit margin!
Buffet Pricing
as of October 29, 2009, Le Village Buffet charged:
Breakfast 7 days a week, 7:00 – 11:00 am: $14.99 for adults and $9.99 for children
Champagne Brunch Saturday – Sunday, 11:00 am – 3:30 pm: $24.99 for adults and $14.99 for children
Lunch Monday – Friday, 11:00 am – 3:30 pm: $17.99 for adults and $10.99 for children Dinner 7 days a week, 3:30 – 10:00 pm: $24.99 for adults and $14.99 for children
Café Ile St. Louis
I've had many meals at Café Ile St. Louis, this casino's requisite coffee shop, over the last few years. When I find myself on the strip and in need of a solid, reasonably priced meal, I often head there. I usually get soup or salad (all of which are great), and I've had a pretty good Reuben sandwich there. I have to admit, though, that the quality of the food may have slipped. The last time I was there, my Cobb salad didn't live up to my expectations. Perhaps it was a bad day, or maybe they're cutting costs.
One of the best parts of a meal at Café Ile St. Louis is the bread. They used to automatically bring a basket with a variety of fresh breads to each table during lunch and dinner service, but as an apparent cost-saving measure, they deliver the bread only if you ask for it. I'm telling you, ask for it!!
This café has long been one of my parents' favorite haunts when they come to town. They crave the Seafood Crepes made there. I don't know how to tell mom and dad this, but it appears the crepes are no longer on the menu. What a shame, as they were outstanding. Another cut in an effort to save money maybe?
As of October 29, 2009, the prices for some common items at Café Ile St. Louis were:
Eggs Benedict, served with hash browns: $12.99
Buttermilk Pancakes: $9.99
Cobb Salad: $11.99
Reuben, served with one side: $11.99
Fish and Chips: $16.99
Mon Ami Gabi
For dinner during my recent visit, the Wizard joined me on the patio at Mon Ami Gabi. This French bistro style steakhouse is probably one of my favorite restaurants in Vegas. I'd only been to it once before, years ago for a birthday dinner with a friend.
Now the food is very good, but I think the setting is what I really like. I'm a sucker for al fresco dining, and this al fresco spot is off the charts due to its location: right across the street from Bellagio's fountains and a few feet above the sidewalk on Las Vegas Blvd. Between the people watching and the fountains, you're definitely entertained.
To get to the food, we ordered two entrees, seared salmon and trout grenobloise, and two vegetables, garlic spinach and whipped cauliflower, and shared our plates. I found the salmon to be perfectly cooked with a divinely crusty outer texture. The whipped cauliflower was light and creamy. The spinach was good but perhaps too garlicky for my palate. But in my opinion, the best item, hands down, was the trout. The buttery, flaky, delicate fish topped with salty capers and tangy lemon was well balanced and succulent. All meals come with a crusty French baguette and a big bowl of creamy butter.
The service at Mon Ami Gabi was outstanding, too. We were well attended to, and our food came out in a timely fashion. All in all, it was a great meal.
The dinner bill, which included one glass of chardonnay, was $63.57 before tip. It's certainly not a budget night out, but I feel like it's worth the money. Between the service, the food and the surroundings, this is a place worth splurging on.
JJ's Boulangerie
For breakfast, I wanted to do something quick, easy and cheap. I figured JJ's would fit the bill. It was easy and relatively quick, but it really wasn't all that cheap. My cup of coffee and bacon, egg and cheese croissant sandwich ran me $12.88 in all ($11.88 for the food and tax and $1 for the tip cup). For about the same money, as I mentioned above, I could have had a nicer, more complete meal at Mon Ami Gabi or Café Ile St. Louis.
JJ's is a cafeteria-style restaurant – you place your order at a counter and they call your number when it's ready. Beverages are self-serve. The line moved fairly quickly the busy morning I was there, and the establishment was clean, but the service was less than friendly. I couldn't help but overhear two different employee conversations, during both of which one employee was complaining about their job/their manager to the other. The cashiers and food handlers didn't seem all that happy – not a smile among the crowd. I'd eat there again I guess, but I sure wouldn't work there!
As for my food, I have to admit that my bacon, egg and cheese croissant was big enough. With a side of fruit or yogurt or something, you'd probably have enough food for two. Speaking of a side of fruit, that was on the menu but not available when I was there. From a flavor standpoint, the sandwich was okay. The cheese and croissant were very good, but the bacon was limp and undercooked and the egg was flavorless. My coffee was just fine.
Over the years, I've been to JJ's a few times. A decadent piece of chocolate cake on my birthday some years ago sticks out in my mind, and I have a vague memory of breakfast one morning with a visiting friend. I'm somewhat hazy on the details, but I do remember getting a large breakfast platter that included a sandwich of some sort and some fruit. It was pretty inexpensive, I believe. My instinct is the value has diminished at JJ's, particularly since the items are now charged a la carte.
Pool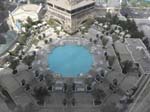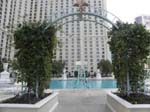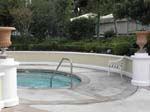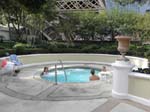 The pool at Paris is, like the rest of the property, attractive and classic. They've skipped the gimmicks (like wave pools, beaches and lazy rivers) and aimed for a relaxing, elegant environment.
The pool itself is octagonal in shape and absolutely huge. Surrounding the pool is plenty of deck space with comfortable looking lounge chairs, large planters with shade trees and seasonal flowers, and trellises with lovely vines. Towering over everything is the Eiffel Tower. Tucked away in a corner on the far side of the pool area are two 12-person hot tubs.
On one side of the deck, you'll find a café with sandwiches, beverages and the like. On the other side, I noticed a poolside massage building. That sounds divine!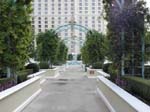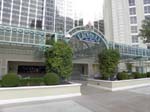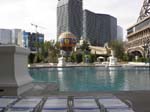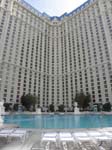 Paris rents both cabanas and private poolside villas. The cabanas are big enough for eight people and include ceiling fans and misters, a TV and phone, various seating options, a fridge stocked with soda, juices and water, and two raft rentals. Cabanas start at $200 per day. The Villas, which start at $250, include all of the above plus A/C, an LCD TV and a radio/CD player.
Entertainment
Shows: Paris has a surprisingly (and disappointingly) slim show menu. The only show when I was there was risqué hypnotist Anthony Cools. I haven't seen his show, and I don't intend to.
Lounges: There are several lounges/bars at Paris. The one that appeals to me the most is the one that is hardest to find: Napoleon's. It's close to the parking garage and the backend of the convention area but a fair distance from the casino floor. I've hung out at Napoleon's before, enjoying the dueling pianos and the swank atmosphere. I recommend hunting it out.
Bowling: No
Cinema: No
Bingo: No
Shopping: Le Boulevard and Bally's-Paris Promenade offer some pretty decent shopping. The two are attached and serve as a walking link between Paris and sister property Bally's. You'll find specialty shops and boutiques, along with a newsstand and some souvenir shops. The best part of this shopping area is the décor. The designers did a great job of recreating a quaint Paris neighborhood via the storefronts. A larger and more traditional mall, called the Miracle Mile, is located next door to Paris in Planet Hollywood.
Golf: Paris's website lists four Harrah's Entertainment owned golf courses as options. None of them are directly on the property, however.
Spa: Paris Spa by Mandara is on the hotel's second floor. Hotel guests can gain entrance with a $25/day fee. Non-guests are charged $35.
Childcare: No
Odds and Ends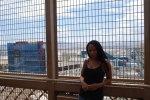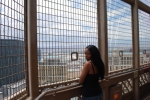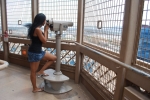 What's a trip to Paris without going to the top of the Eiffel Tower? It's been years since I did it, but I have to admit, it's a pretty cool experience. You can buy tickets in a gift shop off the casino. That ticket gets you an elevator ride up (and down, of course) and all the time you want on the observation deck to take in the views and preserve them with your camera. I recommend going around sunset, since you'll not only be in a great position to watch the sun go down, but you'll also get to experience Vegas coming to life as the lights on the strip come up. It's definitely romantic.
If you have an urge to jaunt over to Rio from Paris, you can take a free shuttle bus. It leaves from near the valet parking pick-up area.
Another way to get around is via Monorail, and there just happens to be a station in Bally's. You'll find the walkway to Bally's along the restaurant and shopping row. Once you get in Bally's, turn right and walk and walk and walk and walk....
The public restrooms at Paris are, in my opinion, the prettiest on the strip. Don't ask me why, but I make a point of checking out the bathrooms at all the properties. Some of them are stunning, some of them are ugly, and some of them are swanky.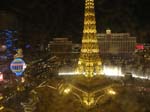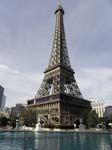 My Conclusions
Paris has long been one of my favorite strip properties. Due to its stunning, creative décor and overall airy feel, it's one of the places I prefer to gamble and dine. After spending a night there, it is still one of my favorites. I found the room to be as beautiful and comfortable as the public areas I fell in love with. It probably didn't hurt that I got a sweet upgrade!
It's not all rosy, though. It breaks my heart that, in some cases, the value and quality of the restaurants at Paris has diminished. I feel like the prices have gone up while the quality has gone down. This is most apparent at Le Village Buffet, but it also seems to be the case at Café Ile St. Louis, Le Creperie, and JJ's Boulangerie. Fortunately, from what I can tell, Mon Ami Gabi is still first class.
Some suggestions for improvement:
Redesign the costumes you make those poor casino cocktail waitresses wear.
Serve better wines to the players.
While nearly all the employees I encountered were professional and fabulous, it appears you have a morale issue at JJ's Boulangerie. See what you can do about that. At a minimum, tell the workers to gripe behind the scenes.
Reconsider the cost-cutting measures you've taken at some of the eateries, particularly the buffet. I know you've lost my business, and I doubt I'm the only one.
Develop a less-confusing player club point program. The one you have now hurts my head!
For the love of a great view, keep up with the window washing.
Perhaps you don't have the space, but why aren't there more shows? Just Anthony Cools is not enough.
Location
Paris is centrally located on the strip, near the intersection of Las Vegas Blvd. and Flamingo. A short walkway connects Paris with neighbor and sister property Bally's. Planet Hollywood is Paris's other neighbor, and across the street you'll find Bellagio. Additional large properties within walking distance include: Caesar's Palace, Flamingo and City Center (opening December 2009).
Getting There
If you arrive by plane, you shouldn't have trouble finding a shuttle or a taxi to take you to Paris.
If you pick up a rental car from the airport or drive in, you'll want to exit I-15 at Flamingo then turn right on Las Vegas Blvd. Paris is on the left side of the road, between Bally's and Planet Hollywood.
Second Visit
Since my review of Paris in fall 2009, I've received numerous offers from Harrah's to come back. Apparently, the gambling the Wizard and I did that evening was enough to spark their interest. Among the offers was one I decided to act on — two consecutive complimentary nights on specified dates during March and April along with $300 cash. I decided to stay on Friday, April 16 and Saturday, April 17, 2010, and I brought my husband and two-year-old son along with me.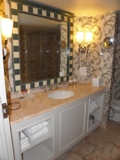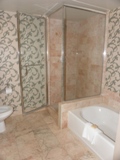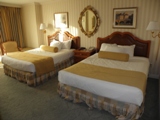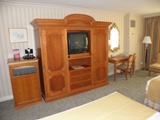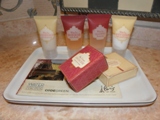 We were assigned a standard room on the 19th floor with a great view looking out toward the front of the property. This meant Paris's pool, the Eiffel Tower and the Fountains of Bellagio were in our line of sight. The room itself was big enough but not huge. Given there were three of us, we opted for two queen size beds. In addition, the room came equipped with two chairs, a table, an armoire, one night stand, a desk and a wet bar. It seemed to me the wet bar was an afterthought, added after the setup of the room had been determined. I say this because it protruded in a way that made it a little cramped getting out of the hallway and into the main area of the room. Speaking of cramped, the hallway that leads from the room's door to the sleeping quarters felt tight. It was narrow, and the ceiling was pretty low.
The bathroom, however, was nice sized. It included both a glass-enclosed shower and a soaking tub, as well as a tall, large vanity with ample storage.
A nice feature we found in the room was a large shelf within the wet bar's mini fridge designated for personal storage. Just be careful if you use this shelf, though, since it could be costly if you accidentally remove any of the items on the other shelves in the mini fridge.
Gambling
To claim my $300 cash, all I had to do was present my ID and players club card at the main cashier window in the casino. It took just a couple minutes for the cashier to double check the data and hand me three crisp $100 bills. I found it kind of refreshing that this offer included actual cash, as opposed to a match play or something similar. I was free to spend my newfound loot anywhere I pleased.
I decided to spend a little time at the blackjack table that day, and though the cocktail service was a little sparse, the two dealers and the supervisor I chatted with were very friendly, making for a pleasant experience.
Restaurants
During our visit, my husband, son and I ate a dinner at Le Burger Brasserie and brunch at Mon Ami Gabi.
Le Burger Brasserie
There is little in this world that makes me happier than a thick, medium rare, high-quality hamburger smothered in crumbled blue cheese. This is what I ordered at Le Burger Brasserie, and I was not at all disappointed. I was especially pleased with the fact that my burger came out with a whole lot of pink in it. It seems a lot of restaurants are leery of E. coli and refuse to give you a burger that is anything less than medium. But not Le Burger Brasserie. In addition to the Burger, my plate included a hearty serving of french fries and a crisp pickle. The restaurant offers three varieties of fries, or you can get a combination of all three cuts on your plate.
My husband opted for a salmon burger -- the menu offers a variety of different burger types, including salmon, turkey and chicken burgers. Since there was not a children's menu, we ordered my son the sliders off the appetizer menu. For him, they were perfect, but for an adult I think they would have been a little disappointing. The meat was very thin and the flavors were just okay.
I really liked the atmosphere in this restaurant. It was comfortable and warmly decorated yet airy. It had a fun but classy vibe. Throughout the dining room were televisions, including one enormous screen over the bar. This would be a great place to watch sports.
Mon Ami Gabi
Mon Ami Gabi continues to be one of my favorite restaurants in Las Vegas. As I stated in my previous review, I love the atmosphere, the service and the food. My family decided we'd try brunch on Saturday morning at Mon Ami Gabi. The restaurant serves brunch on the weekends, and the menu is a nice collection of breakfast and brunch favorites. Additionally, they have a Bloody Mary bar set up. Personally, I'm not a Bloody Mary drinker, but I liked the concept. You pay separately for your vodka of choice, which is delivered by your server, and you help yourself to everything else you need to mix up your concoction.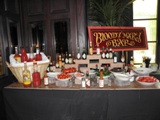 My choice for the meal was a seafood crepe, comprised of shrimp, scallops, peas and a creamy sauce, while my husband selected quiche Lorraine with mixed greens on the side. Both were freshly and expertly prepared, as well as very satisfying. My son's grilled cheese off the children's menu came with some spectacular french fries. Neither my husband nor I could keep our hands off of them.
Odds and Ends
Since my previous review, Paris has added Barry Manilow as its headlining entertainer. They needed a bigger act, and though I, personally, am not a Fanilow, I'd say Barry is a good get.
Lenotre, the chocolate shop I mentioned in my initial review, is now called Café Belle Madeleine. The shop continues to sell pastries, ice creams and beverages.
I noticed Le Village Buffet has a new, second entrance line for people willing to spend $10 extra so they don't have to wait in the general line.
The shuttle to Rio no longer stops in Paris's valet area. Instead, the only stop is on the north side of Bally's.
Conclusion
I have to say, Harrah's has been really generous with me. During my first stay at Paris, I was given a sweet upgrade to a suite during check-in and then all my restaurant charges were comped when I checked out (based on two hours of pai gow play with bets of $210 per hand). Then, they started sending me great offers left and right. I feel like I'm being courted – and I like it!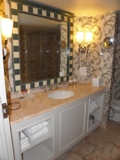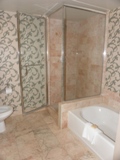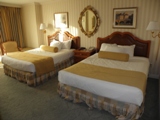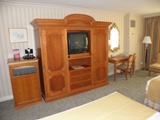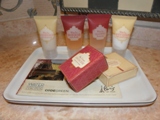 Links
Acknowledgements
The Wizard would like to thank K.M. for the review and Nikkia Carter for modeling in some of the pictures. Nikkia invites you to visit her MySpace page.
Contact Information
Address: 3655 Las Vegas Boulevard, Las Vegas, NV 89109
Phone: 877-603-4386
Web site: parislasvegas.com
Resort and Parking Fees
| | |
| --- | --- |
| Resort fee | $13.50 |
| Parking fee | Free |
Games at Paris
| Blackjack | Location | Decks | Min | Max | Soft 17 | DA | DAS | RSA | Surr | Tables | CSM | Party Pit | 6/5 BJ | Video | H. Edge |
| --- | --- | --- | --- | --- | --- | --- | --- | --- | --- | --- | --- | --- | --- | --- | --- |
| Blackjack | Strip | 8 | 10 | 2000 | H | Yes | Yes | No | Yes | 13 | No | No | No | No | 0.56926 |
| Blackjack | Strip | 2 | 25 | 5000 | H | Yes | No | No | No | 6 | No | No | No | No | 0.60225 |
| Blackjack | Strip | 6 | 100 | 10000 | S | Yes | Yes | No | Yes | 6 | No | No | No | No | 0.35361 |
| Baccarat | # of Tables | Min Bet | Max Bet |
| --- | --- | --- | --- |
| Baccarat | 11 | 25 | 15000 |
| Craps | # of Tables | Min Bet | Max Bet | Odds | Field12 | Video |
| --- | --- | --- | --- | --- | --- | --- |
| Craps | 6 | 5 | 5000 | 3-4-5 x | Double | No |
| Roulette | # of Tables | Min Bet | Max Bet | Rules | Video |
| --- | --- | --- | --- | --- | --- |
| Roulette | 7 | 10 | 2000 | 00 | No |
| Roulette | 1 | 3 | 200 | 00 | Yes |
| Video Keno | Rank | Avg Return | Grade |
| --- | --- | --- | --- |
| Video Keno | 62 | 88.57% | D |