Introduction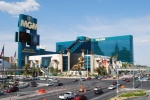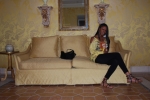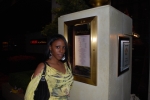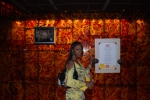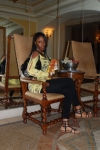 The MGM Grand is a huge hotel and casino, ranked second only to the Venetian / Palazzo in terms of the largest hotels in the world with over 6,500 rooms. The complex is located at the intersection of Tropicana and Las Vegas Boulevard and is linked by overhead pedestrian bridges to the neighboring Tropicana and Hooters to the south, and across the Strip, to the west, to the New York-New York. The hotel is owned and operated by MGM Mirage (NYSE: MGM), a publicly traded company.
The MGM Grand opened in late 1993 with an extensive Wizard of Oz theme. This theme did not work well nor did its theme park – intended to attract more of a family crowd – which closed in 2000. The hotel now incorporates an Art Deco theme consistent with its storied movie history. This is both a more subtle and upscale approach, in my view. Its current campaign, "Maximum Vegas" is meant to convey what I think is its emblematic Vegas attractions so as to define the MGM Grand as an extraordinary yet prototypical Vegas destination.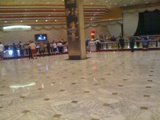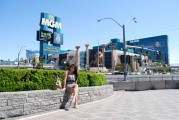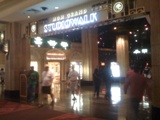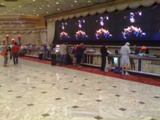 One can sense the enormity of the MGM Grand as soon as you enter the lobby. It has a bit of a factory feel, as do some of the other huge casinos on the strip since they cater to so many visitors. Further, there are so many people walking through the massive lobby that the place tends to initially give you a strong depersonalized feel. However, the check-in lines were not bad and the receptionist could not be friendlier. I cannot say I was pleased about its strict check-in time of 3 pm; I suppose that being a VIP at other casinos has enabled me to check in whenever I arrive. It's clear that the MGM's 'inventory turn', its moving people in and out of its rooms, is carefully monitored and followed.
Since my girlfriend and I had a few hours to kill, we thought we would take a tour of the property and acquaint ourselves with what there was there to do so as to better plan our visit. As I said, its very size gave us an initial feeling of uncertainty: it was yet to be determined if would we be able to feel comfortable here, not feel diminished by the immensity of the place. We're used to smaller properties where the stay feels both more manageable and more intimate. But as we were to see, the MGM has an array of entertainment, dining and gambling options that quickly offset this initial uneasiness. All that was needed was a good tour and a sense of adventure.
Restaurants, Bars and Non-Gambling Diversions
The gaming area is huge and one has to walk through it in any direction in order to get to the large number of restaurants, stores and other activities that are available to you. I guess that's the idea, to weave you through what must be hundreds and hundreds of slot machines and a large variety of table games so as to tempt you to play. But for now I was intent on getting to know the property.
The main thoroughfare is The Studio Walk, where several restaurants are situated along with a couple of non-descript retail stores – men and women's clothing stores, an eyeglass store, a souvenir shop. It was clear on the Walk that the MGM has restaurants that appeal to every budget and taste. It was somewhat surprising to find the upscale Craftsteak just a few dozen feet and around the corner from the ever-familiar McDonald's. But this likely reflect the hotel's general lack of pretense and its strategy to cast a large demographic net, I suppose. There are upscale Mexican and Japanese restaurants along the Walk accompanied by a few additional fast-food types. We later went to Crafsteak for dinner, a favorite of ours, and the food and service was excellent. We made a reservation ahead of time but it didn't seem necessarily as the restaurant was only half-filled when we later went down to eat. In the days that followed, we mostly had lunch at the poolside Cabana for its convenience, which offered very average salads and burgers for the most part. I did like the lunch at 'wichcraft, on the Walk and close to the entrance to the pool, as it was fast and easy and way better than McDonald's.
As mentioned, the Art Deco design used in interior design and signage is a unifying concept for the MGM Grand. Along the Studio Walk one can find substantial exhibits of the TV show CSI as interactive exhibits for ET (Entertainment Tonight) and the CW and MTV networks. They also have Television City viewer opinion ratings center where you can watch various TV dramas and comedies and then respond to specific questions posed to you, entered at your own computers station. All these things seemed popular for some people but they seemed pretty cardboard and tame to us.
The Studio Walk ends at an escalator that descends to the pool, but more about that in a moment. There is also a top-flight spa / gym and hair salon to the right and left of the escalator, respectively, both of which are somewhat pricey and likely caters to a somewhat affluent clientele. We checked out both and they appeared not very busy at all.
Walking back up the Studio Walk and bearing right led us to other restaurant and entertainment options. There is the Crazy Horse Paris show, which I made a mental note to see (but alas, did not), as well as the long-running David Copperfield magic show. There is also the popular Cirque de Soleil KA production playing, which my girlfriend really wanted to see. I got great seats for the next night and she raved about the performance. However, despite its splendor of color, motion and sound, I dozed off during a good portion of it, exhausted from a late night at the gaming tables followed up by a hot day at the pool.
There is also a Wolfgang Puck restaurant, a Rainforest Café, and bars called Rouge and Centrifuge, which we stopped in on in subsequent nights. The drinks were very expensive but it's what you have to expect; the music was good and the crowd was young, rowdy, and attractive. It helps to be amped to get into the flow and party in these places. The bartenders and cocktail waitresses at both places were friendly enough but also intentionally cool as if this somehow optimizes tipping. We did not brave the club Tabu and the familiar sounding Studio 54, where we saw lines and it would surely help to be on their VIP lists. I know that I'm forgetting one place or another, but the number and variety of eating and drinking establishments is dizzying.
The Hotel Room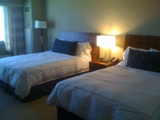 The room was fine, though not perfect, with almost all the furniture nicked in places. Also, the TV was not a flat screen which I've become accustomed to at the more upscale casinos. Further, our view was not great. It did have a nice marble bathroom, though, with decent amenities and it was plenty large for our needs. We did have room service on a couple of occasions during our stay and the wait was only a half an hour or so – though the food was nothing to write home about. The food runners were officious and pleasant, though. We never stay in the room much during our travels and so we quickly unpacked and dashed off to the pool for an hour or two diversion before dinner.
The Pool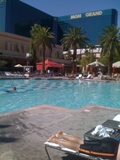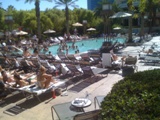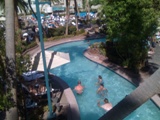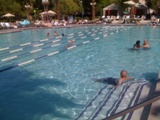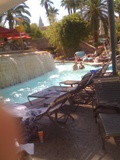 To simply label this section "The Pool" is an understatement: it's an outdoor complex of several pools, each with its own allure. The MGM seems justifiably proud of the large acreage devoted to its pools; as indicated, the pool area is walking down the Studio Walk and descending the escalator. Each of the pools have different names and once there, you can make your decision based upon your preferences.
We selected the Academy Pool on the first day since it was closest to the entrance. It's more of a free form pool with easily 100 or more lounge chairs set up around it. Once in the perfect 85 degree water with a drink in hand (not inexpensive beer and tropicals) brought to you by a friendly pool waitress, it's easy to melt into a state of near total relaxation. There is no real swimming here, just guests drinking and talking and hanging in the pool. There were a lot of couples and some small groups of friends who were hanging out on that afternoon, mostly guys but some girls, too. It was a fun, friendly crowd and we met and chatted with some fellow guests.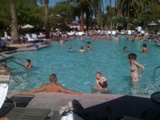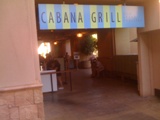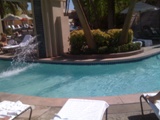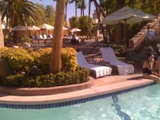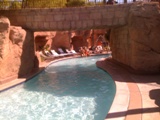 On the second day, we chose the Director's Pool since it has three swimming lanes and we wanted to get some exercise. This pool is off to the right somewhat and is much less crowded than the Academy pool. There are easily 100 or more lounge chairs set up around this pool as well but plenty of room to navigate for just the right angle to the sun as well as the best proximity to the cool tracks being piped in via mounted speakers. None of the pools are necessarily sleep inducing given the loud music though we really didn't mind.
The largest pool complex is the Backlot River Pool, so called because of its winding 'river', a pool with narrow stretches of waterway where a gentle current slowly moves waders along. There is also a resplendent waterfall and a series of private cabanas for rental. There must have been over 300 lounge chairs set up along the winding perimeter of the pool. As the pool winds around there are certain nooks and crannies create more private areas to sit relative to the first two pools described. It's more of a fun environment and understandably drew families with kids who you could see had rented tubes for their wading river ride.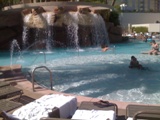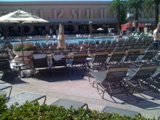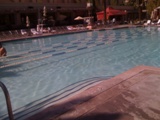 There are also whirlpools around the pools, though I didn't see anyone in them. In sum, the pool complex is extensive and very nicely done, especially relative to other casinos. One note, the extensively advertised Wet Republic pool area, its exclusivity implied with lines formed by ropes like a club's, was closed for unknown reasons.
Fitness Center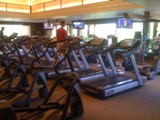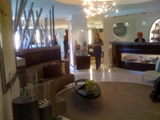 Gambling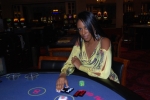 The MGM Grand is a gambler's paradise. There are an inordinate number of slots, a wide variety of table games and a great craps pit, if that's your thing. But be forewarned. There are lots of novices about and if you're distracted by people making betting mistakes, better to gravitate toward the high-end tables where the minimum bet per play will discourage neophytes. On every night I played the place was filled with a high level of energy and enthusiasm. There was lots of screaming and yelling — what you typically hear when people win — but exacerbated, no doubt, by vodka red bulls.
To begin, there is huge Race and Sports Book area. There is plenty of seating and the toke board looked to me to include a large variety of sporting events. There are 46 TV screens stretched along a curving wall to follow the action. This gives you a feeling of enormity and coverage. It wasn't particularly crowded given its large proportions with both lounge seating and individual bettor stations nearly empty. This was not the case with the large poker room where there were 18 tables fully filled, with only three or so tables wanting for players.
I mentioned that there must be thousands of slot machines throughout the complex. There's even a high roller area for slots where the minimum bet is $100. Slots aren't my thing but if they're yours, I have no doubt that whatever machine that you're looking for is there.
In terms of table games, which are my thing, I counted seven separate pits. That's right, seven! Most contain blackjack and roulette but some had a variety of table games. This is nothing short of amazing. It enables you to move not just from table to table, as you might at any casino where might encounter a dead table, but from pit to pit.
The pits vary in size. The largest has ten tables and has games such as Let It Ride, Three Card Poker, Crazy 4 Poker, Texas Hold 'Em and Pai Gow. Most of the other pits contained a mix of single-deck and multi-deck (6 deck) blackjack and were anchored by roulette tables. The blackjack games at most of the pits had a $15 minimum bet though at some the minimum was $25. The single deck blackjack pays 6:5 on a player's blackjack. In contrast to the high roller pit, all of the blackjack games hit on a soft 17 at these tables and stick on a hard 17. All of the blackjack games at the MGM also have a surrender option for the player though few people seem to avail themselves of it. Also, there was a variation on the standard blackjack game called Blackjack Switch which I understood was somewhat new to the MGM. The minimum on play was $20, $10 per the two hands that are required to be played. The roulette tables had the standard two zero spots, a single zero and a double zero on its board.
The high roller pit is out on the floor, unlike how it is in some other casinos. There are both multideck (6 deck) and single deck games with $50, 100 and $200 minimums per hand. The tables in this pit stick on a dealer soft 17. Not surprisingly, the pit raises its minimums during prime time and drop them again as the action quiets down. There is also a roulette table with a 50 minimum bet with only a single zero digit for a total of 37 numbers.
On the nights I was there, during prime time – 9 pm to midnight or so – the table games were jammed with players. Nonetheless, I was able to find places to squeeze in. As indicated, some players at the tables know how to use basic strategy better than others. There seemed to be a spirit of fun, enthusiasm and camaraderie on the part of players. This was also manifested at the large craps pit as it was fairly frenzied with eight of them in action. The cashier's window was easy to find with sufficient cashiers so that there was no wait whatsoever.
I was comped for our two-night stay as I had availed myself of a free stay offer. I was rated at $115 per hand for a total of ten hours. Our restaurant and room service bill of close to $250 was comped as well. My stay occurred in September 2009.
Finally, there is a secluded baccarat room that is spacious and quite obviously upscale. There is a lounge adjacent to it and a buffet. It did not look crowded. There seemed to be some blackjack tables in there as well but they were empty and likely reserved for the occasional whale.
Summary
The MGM Grand really is a 'grand' place to stay at with great gambling, restaurants and a large variety of entertainment options that appeal to people of varying economic means and tastes – and which only a mega-resort like the MGM can supply. In my view, their only real bane is their retail shopping options which leave a lot to be desired. The few stores along The Studio Walk were mediocre and the gift shop in the lobby and the one adjacent to the Rainforest Café seemed very touristy. I suppose that the shopping mall at the Planet Hollywood casino is not that far away for people who seek a decent selection of things to buy.
In terms of transportation, the cab stand outside the main lobby can get very busy, especially on weekends, so I recommend allowing for extra time if you have to get somewhere at a certain time. Vegas cab prices aren't too bad unless you're going a serious distance in which case they can really surprise. I understand that the self-parking lot is among the worst on the Strip. It doesn't have quick access to the upper levels so you have to drive in circles for ages to find a space. Then, when you do, it's a long haul to the casino.
The casino attracts people from everywhere as evidenced by the accents I heard, many of which I recognized and quite a few that I did not. The resort attracts a diverse crowd who is interested in letting loose, having fun and finding escape in a true Vegas experience.
Links
Acknowledgement
I'd like to give a big thanks to Nikkia Carter for modeling for all the pictures and to D.R. for the review. Nikkia invites you to visit her MySpace page.
Contact Information
Address: 3799 Las Vegas Boulevard South, Las Vegas, NV 89109
Phone: 877-880-0880
Web site: mgmgrand.com
Resort and Parking Fees
| | |
| --- | --- |
| Resort fee | $13.50 |
| Parking fee | Free |
Games at MGM Grand
| Blackjack | Location | Decks | Min | Max | Soft 17 | DA | DAS | RSA | Surr | Tables | CSM | Party Pit | 6/5 BJ | Video | H. Edge |
| --- | --- | --- | --- | --- | --- | --- | --- | --- | --- | --- | --- | --- | --- | --- | --- |
| Blackjack | Strip | 6 | 5 | 500 | H | Yes | Yes | No | No | 3 | - | No | Yes | Yes | 1.99842 |
| Blackjack | Strip | 8 | 10 | 5000 | H | Yes | Yes | No | No | 32 | No | No | Yes | No | 1.99842 |
| Blackjack | Strip | 6 | 25 | 10000 | S | Yes | Yes | Yes | Yes | 8 | No | No | No | No | 0.28507 |
| Blackjack | Strip | 2 | 100 | 10000 | S | Yes | Yes | No | No | 5 | No | No | No | No | 0.25532 |
| Craps | # of Tables | Min Bet | Max Bet | Odds | Field12 | Video |
| --- | --- | --- | --- | --- | --- | --- |
| Craps | 7 | 10 | 5000 | 3-4-5 x | Triple | No |
| Craps | 1 | 5 | 500 | 2 x | Double | Yes |
| Roulette | # of Tables | Min Bet | Max Bet | Rules | Video |
| --- | --- | --- | --- | --- | --- |
| Roulette | 11 | 10 | 500 | 00 | No |
| Roulette | 3 | 3 | 500 | 00 | Yes |
| Roulette | 2 | 25 | 1000 | Euro | No |
| Video Keno | Rank | Avg Return | Grade |
| --- | --- | --- | --- |
| Video Keno | 7 | 92.55% | A- |