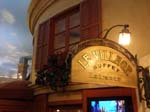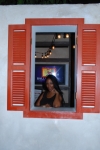 When my husband and I moved to Las Vegas five and a half years ago, we began a quest to eat at all of the strip buffets. We told people that we wanted to test them all out so when friends and family came to town, we could offer them valuable, informed advice on where they should spend their money and fill their tummies. While this was true, we also had an underlying desire to pig out. And pig out we did! So after exhaustive, no-holds-barred research, we concluded the best buffets were at The Bellagio and Paris, Las Vegas.
Over the past few years, we hadn't indulged in Paris's buffet very often. Actually, we hadn't been going to many buffets at all. (I guess we were finally full.) Just a couple weeks ago, however, we made a trip to Le Village Buffet at Paris for dinner with my husband's parents who were in town. I must admit I was pretty psyched about going. My mind drifted back to how succulent the food was and how decadent the desserts were. Yep, I was drooling.
It was a Friday night in May 2009 that we made our way to Le Village Buffet. I expected to wait in a long, hungry line, but we virtually walked right in. They sat us in the least desirable section of the restaurant -- a back-corner room that lacks character, instead of in the main area where the decorators had done their magic so you feel like you are sitting in an outdoor café in a quaint Paris neighborhood.
I was disappointed by our table location, but I still harbored high hopes regarding the food. For my first pass, I grabbed some grilled vegetables, some cheeses, a roll and a pile of peel-and-eat shrimp. Unfortunately, the vegetables were cold, and the cheese and bread selection was minimal (bordering on pathetic given this is French food). The shrimp were small, but they were cooked perfectly and the accompanying cocktail sauce had just the right amount of sweetness and zing.
My second pass involved heartier fare: prime rib, mashed potatoes, corn on the cob and creamed spinach. I would call this plate mediocre at best. The meat was tough and dry, the spinach lacked something that would've made it special, and the corn, I fear, had been swimming in its butter bath for an hour or more too many. I was starting to feel disappointed, and a little embarrassed, since I had assured my in-laws the food at this particular buffet was great.
My last stop was the dessert island, and this part of the meal fully met my expectations. I had an éclair that melted in my mouth and a wedge of lemon pie that made me pucker with joy. I couldn't stop there, so I savored a tiny, perfectly crusted cup of crème brulee before declaring the meal complete.
So, after it all was said and done, my meal was satisfactory. My husband and my in-laws felt the same. It wasn't as good as we'd hoped for, but it wasn't terrible either. I wonder if we hit them on a bad night, or maybe my palate has changed, become more discerning, since I fell in love with Le Village Buffet so many years ago. There is another possible answer: perhaps these tough economic times have led the chefs and management at Le Village Buffet to cut some corners. Maybe they are buying lesser-quality ingredients and/or keeping items out on the food line longer than they should so they can avoid waste. I'll give them one more try, but a second mediocre meal is likely to keep me from going back for a third, potentially disappointing, visit.