Introduction
Cromwell Las Vegas is one of the newest hotels on the Las Vegas Strip. It was once known as Bill's Gamblin' Hall. Before that, the property was owned by Boyd Gaming and called Barbary Coast.
Barbary Coast was opened by Coast Casinos in March 1979. It leased the four acres that the casino occupied. Boyd Gaming acquired the casino in July 2005. It bought the land in September 2005.
Harrah's Entertainment, now known as Caesars Entertainment, swapped 24 acres that once housed Westward Ho on the north end of the Las Vegas Strip for Barbary Coast. The deal valuated the former Westward Ho property at about $15 million per acre.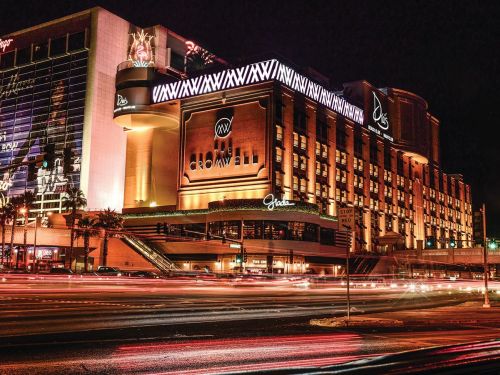 This gave Boyd Gaming land adjoining its now-defunct Echelon project. It gave the company now known as Caesars Entertainment the only missing piece in its monopoly on the east side of the Las Vegas Strip from Harrah's down to Paris Las Vegas. The company would later buy Planet Hollywood to move its contingency further.
The Barbary Coast was shuttered on February 27, 2007. It reopened two days later as Bill's Gamblin' Hall. This was a tribute to the founder of the company, Bill Harrah.
Bill's Gamblin' Hall closed on February 4, 2013. It reopened on April 21, 2014 as The Cromwell. The original name was to be Gansevoort, but a Massachusetts Gaming Commission investigation revealed alleged ties between the Gansevoort owners and organized crime. Caesars Entertainment abandoned the agreement upon this finding. Gansevoort adamantly denies the findings.
Cromwell Restaurants
Giada is the only dining option available at The Cromwell. It specializes in Italian food. Guests will also find a full lunch menu available, as well as breakfast. The Cromwell's hotel guests may order Giada for room service. Giada suggest business attire for its restaurant.
Entertainment
Drai's After Hours is the only entertainment option at The Cromwell. It is a full service nightclub that includes a rooftop pool. This club was temporarily located at Bally's during the property's remodel. It is a popular party establishment for locals.
Parking
The Cromwell's parking situation is far from ideal. Guests will find parking and valet off Flamingo Rd just east of the Las Vegas Strip. The parking lot is small, even for Las Vegas Strip standards.
Cromwell Casino
The casino floor at Cromwell is small. It consists mostly of slots, although there are three table game pits. There are 24 6-5 blackjack tables that should be avoided. Only four tables on the main floor pay 3-2. These have a $15 minimum bet. These tables offer double down after spitting and surrender, but hit soft 17. Eight decks are used.
Two blackjack tables in the high limit area use six decks. The dealer stands on all 17's. The minimum bet is $100 at these tables. Players may double down after splitting and surrender is offered.
Other table games at The Cromwell include Three Card Poker, High Card Flush, Mississippi Stud, Let it Ride, and Double Zero Roulette. These games have a $10 minimum bet. Pai Gow Poker is spread with a $15 minimum bet. Baccarat players will need to play $25 to get action.
Video poker at The Cromwell is what serious players consider unplayable. There is a $1 craps machine and $3 Roulette Revolution game.
Cromwell Hotel
The Cromwell is a boutique hotel. Its small hotel offers rooms starting at $139 during the week and $289 on weekends. There are no suites at The Cromwell. All recently remodeled rooms are nearly identical.
My Conclusion
The only reason to stay at The Cromwell is if you plan on partying at Drai's and want an easy walk back to the hotel. There are more affordable options located within an easy walking distance, even at Caesars Palace, located just across the Las Vegas Strip. Players willing to play at least a $15 minimum bet will receive a decent blackjack game. The other games are standard compared to competitors on the Las Vegas Strip.