Introduction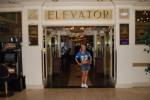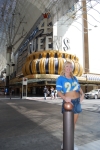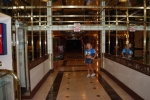 The Four Queens opened in downtown Las Vegas in 1966. For years I assumed it was named after the four queens in a deck of cards. On the contrary, the casino is named after the four daughters of the casino builder, Ben Goffstein. The casino expanded in 1976. Currently, the property is owned by TLC Enterprises, who also own Binion's across the street.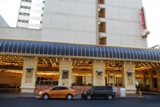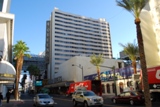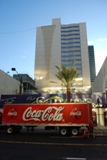 The Four Queens is centrally located on the south-east corner of Fremont Street and Casino Center Drive. It occupies an entire city block between Fremont, Carson, Casino Center, and 3rd Streets. In my opinion, the Four Queens is the second most fancy casino downtown, second to the Golden Nugget next door. I stayed at the Four Queens November 12-13, 2009. This review is about my experience.
Personal Background
Normally I don't like to review casinos where I have some history, for fear of not being able to be unbiased. Additionally, I worry about being given special treatment based on old play. In the case of the Four Queens, I stayed there a few times about 15 to 20 years ago, long before I moved to Las Vegas. Shortly after I moved to Las Vegas, in 2001, I played quite a bit of video poker there on their $1 10/7 Double Bonus game. I think in 2003 they lowered the cash back on the 10/7 games from 0.5% to 0.125%, making it no longer worth my time to play (not that it was before). That pretty much ended my relationship with the Four Queens.
My history with the Four Queens is pleasant overall. The only story of interest, from about 2004, was that I was once playing $1 10/7 Double Bonus video poker side by side with a friend. At one point, my friend asked me to watch his machine while he went to the restroom. I was admittedly doing a poor job at my task, as somebody else sat down at his machine, bet $1 of his own money (which he lost), and then attempted to cash out all my friend's credits (which were about $40). When I heard the dollar tokens hitting the tray, I turned around and saw what looked like a vagrant scooping up the tokens. At that point, I stopped him and flagged down a slot attendant. She called somebody on the radio and somebody in a suit quickly showed up with security. By this time, my friend had come back. The guy in the suit let both sides tell their version of events one at a time. The vagrant's version was, "I didn't notice the coins on the meter, and I thought I won." The cards he left on the machine were garbage. After hearing both versions, the guy in the suit had security escort the vagrant out the door, where I'm sure they read him the trespass act. In my opinion, security handled the situation perfectly.
Other than a few sports bets, I have not played at Four Queens in five years, and I don't know anybody who works there, so I feel I can give an unbiased review.
Casino
According to the 2009 American Casino Guide, the Four Queens has 37,389 square feet of casino space. By way of comparison, the MGM down on the strip has about 4.2 times as much at 156,023. According to the Nevada Gaming Control Board, the Four Queens has 31 table games (although I only counted 26) and 1,026 slots. The tables games offered were big six, blackjack, craps, roulette, Three Card Poker, Pai Gow Poker, Texas Hold 'Em bonus, Blackjack Switch, and Let it Ride.
The service in the casino was fine overall. The pit supervisors do an outstanding job. I'm one to ask a lot of questions about game rules, and they seemed happy to answer them. Often they volunteered additional useful information I didn't specifically ask for. I had a nice chat with one floor supervisor about Chinese food restaurants in Vegas. We agreed that the Orchids Garden on Sahara and Lindell had outstanding dim sum. The dealers I would grade from a B to C, depending on the dealer. They dealt the cards fine and fast, but they could have been more sociable overall. However, the downtown players are a friendly bunch, making most sittings fun and enjoyable.
The cocktail service was very timely. The waitresses came by about once every 10 minutes. The time between order and delivery was very quick. I noticed the waitress sometimes only had my own drink on the tray to deliver. Once I ordered a glass of wine, which was drinkable, but nothing outstanding. From other reviews, I often complain that the wine served at the tables is not much better than vinegar, so grading on a curve, the Four Queens did okay.
One thing that merits a warning is that like all downtown casinos, the Four Queens casino is very smoky. These are all old buildings that probably don't have the costly air filtration systems used in the more modern Strip casinos. I have sampled air quality at casinos all over Las Vegas, and I found the Four Queens to be about average for downtown but much worse that most Strip casinos. Not only is the casino crowded, but it seems a higher percentage of players downtown smoke than on the Strip. When I was there, the Four Queens had only about one third to one half of their tables open, causing the tables that were open to be crowded. There was nowhere on the casino floor that was set aside for non-smokers.
Following are some comments about the casino game rules.
Blackjack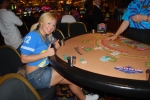 The Four Queens is one of only five casinos in Las Vegas to still offer 3 to 2 paying single-deck blackjack. The other casinos are the El Cortez, Poker Palace, Hacienda, and Lucky Club. Unfortunately, the Four Queens restricts doubling in the single-deck to totals of 10 and 11, a rule which costs the player an extra 0.26% in house advantage. This restriction was added within the last year, I believe. The other rules are also player unfriendly: no double after split, no surrender, and no re-splitting aces, for a house edge of 0.58%. The other blackjack games are even worse. The following table shows all of them.
Four Queens Blackjack
Decks
BJ Pays
Soft 17
Double on
Double after Split
Surrender
Resplit Aces
Num Tables
House Edge
1
3 to 2
Hit
10 to 11 only
No
No
No
1
0.58%
2
3 to 2
Hit
Any two cards
No
No
No
1
0.60%
8
3 to 2
Hit
Any two cards
Yes
Yes
No
1
0.57%
8
6 to 5
Hit
Any two cards
Yes
Yes
No
8
1.93%
The house edge in this table was based on my blackjack house edge calculator, which assumes proper basic strategy and a cut card.
You see right that 8 out of the 11 tables paid 6 to 5 on a blackjack. If I'm not mistaken this is the highest percentage of dreaded 6 to 5 tables in Las Vegas, to which I say to the Four Queens, "shame on you." In all fairness, many of the 6 to 5 tables were closed when I was there, and the 6 to 5 tables had low minimum bets of $3 or $5. I think the Four Queens would argue that it isn't profitable to offer a 3 to 2 game to a $5 player, and they are giving a choice to low rollers, who otherwise might not be able to play blackjack at all. Still, even in downtown, to have 73% of tables paying 6 to 5 seems excessive to me.
Blackjack Switch
The Four Queens offers the stingy version, where if you switch to a blackjack it only counts as 21 points. This increases the house edge from 0.18% to 0.58%. At some casinos, it is an immediate winner. A floor supervisor overhead me asking the dealer about it and volunteered that they changed the rule about six months ago. For more information on Blackjack Switch, visit my companion site Wizard of Odds.
Craps
The Four Queens allows 5X odds in craps. Like all downtown casinos, they pay 15 and 30 to 1 on hop bets and pay 3 to 1 on the 12 on the field.
Roulette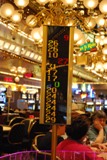 Double-zero wheel. Note in this picture that the number 26 hit four times in a row. The probability of any number occuring four times in a row on a 15-number board is about 1 in 4,570.
Keno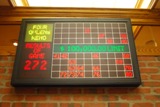 I did an exhaustive analysis of Four Queens' live keno. Here is the return for each type of game offered, assuming the minimum bet. Sometimes the larger bets have a lower return, due to a maximum win of $100,000.
Four Queens Keno
Game
Pick
Return
Basic
1
75.00%
Basic
2
72.15%
Basic
3
72.15%
Basic
4
69.47%
Basic
5
70.55%
Basic
6
70.06%
Basic
7
69.84%
Basic
8
68.51%
Basic
9
68.52%
Basic
10
69.92%
Basic
11
70.06%
Basic
12
68.39%
Basic
13
68.95%
Basic
14
68.84%
Basic
15
69.51%
Super Special
3
69.38%
Super Special
4
67.03%
Super Special
5
67.18%
Super Special
6
66.60%
Royal Special
4
67.15%
Royal Special
5
67.46%
Royal Special
6
69.97%
Royal 20's
20
61.94%
In general, in Las Vegas, live keno tends to return about 70%. Due to the many games below 70%, I have to say the Four Queens keno is not very competitive. The Four Queens scored near the bottom of my 2001 keno survey.
Video Poker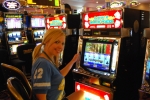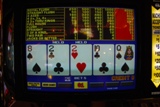 The Four Queens is a generous casino for low-level video poker play. They have had 10/7 Double Bonus games at the 25-cent, 50-cent, and $1 denomination for years. With perfect play, the return is 100.17%. In my younger and less financially endowed days, I played that game a lot. Back then they also had 0.5% cash back, which has been cut in recent years. The 25-cent 9/6 Jacks or Better games play extremely slowly.
VPfree2.com is a good source for the current video poker inventory.
Race & Sports
The Four Queens hosts a branch of the Cal Neva race & sports book. As I wrote in my Tuscany review (/casino/tuscany), I give Cal Neva a lot of credit for taking big bets and offering generous odds on parlays and teasers. As far as I know, they pay the best on an 8-team parlay at 180 to 1. They are one of only three groups to pay 10 to 11 on a 2-team, 6-point NFL teaser, the other two being the Wynn and M.
Sports betting is a bet-and-run affair at the Four Queens; it is just a betting counter. There is no place connected to the sports book to sit and watch a game. There is also no player reward program for race and sports bettors.
Poker
None
Bingo
None
Free Pull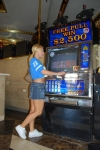 At the Four Queens' entrance on the east side of Fremont Street, there is a promotional video poker machine. It is a misnomer to call it a free "pull," because you press a button, there is nothing to pull on. You are dealt five cards with the following possible wins:
Four queens and one ace pays $2,500
Four queens and a 2-K pays $500
Three queens and any two other cards wins you a piece of "logo merchandise." I asked the attendant what it was. He said at the moment it was a sun visor for your car. The probability of the $2,500 prize is 1 in 649,740, and the $500 prize is 1 in 59,067. The expected return from the two monetary prizes is 1.2 cents. The probability of getting the promotional item is 1 in 576. All losers get a strip of coupons with the following:

Free deck of cards for new members to the players club.
$10 free slot play once 10 points are earned. Good for new members only. It takes $50 to earn 10 points in slots and $80 in video poker, so this is a pretty easy $10 to earn.
Free gift for earning 50 points. This is also good for new player club members only. I forgot to ask what the free gift is.
2 for 1 entree at Magnolia's restaurant -- limited to one per account. I happily used this one for breakfast Friday morning with my Webmaster J.B.
15% off a purchase at the gift shop.
Player Incentive Program
The "Royal Players Club" works like most other clubs, where slot and video poker players earn points based on play. $5 in slot play or $8 in video poker play earns one point. 40 points can be redeemed for $1 in cash back. That equates to a 0.5% rebate for slots and 0.3125% for video poker. However, according to VPfree2.com, it takes $20 in play to earn a point on their 10/7 Double Bonus games, for a rebate of 0.125%. For table game players it is the usual mystery where you earn comps according to the game you play, your average bet, and the amount of time you play.
I should add that signage in the casino indicated they were running a promotion that they would match up to $100 in free play per day with comps. That is pretty generous. However, I didn't participate because they don't have good pay tables at the higher denominations.
My Own Gambling
The evening I arrived, I had my heart set on playing the single-deck blackjack game. However there were two smokers at the table puffing away and only one empty spot, so I deferred to the double-deck game, which had just a single player, fortunately a non-smoker.
The following morning, I went down to hit the single-deck game, but it was closed until 11:00 AM. So, I played pai gow poker to kill some time before switching to the single-deck game. Overall, between the two days, I played for three hours at a $100 average bet. Despite playing on a Friday the 13th, my win was $1,700.
When it came time to ask for my charges to be comped, I had on my tab a $25 hotel room, about a $12 charge to Magnolia's restaurant, and a $99 charge from Hugo's Restaurant. Casinos tend to assume about 70 hands per hour in blackjack and a house edge of around 0.75%. Given my three hours of play at an average bet of $100, the value of my play to them should have been 3*100*70*0.0075 = $157.50. I thought I would get treated like a king, because most players at the Four Queens are low rollers, with an average bet of about $20.
When the casino host looked up my play, she offered to comp my room and my breakfast at Magnolia's. The two combined would normally have cost $37. I was hoping to have my $99 meal at Hugo's covered, but my play didn't justify it. Casinos usually comp back about 25% to 40% of the expected loss. I only got about 23% back. However, casinos never comp part of a charge. The host said that they like to see at least four hours of play at $150 average bet or more to cover Hugos. I've encountered this four-hour policy at other casinos. It seems you're not considered a loyal player unless you play at least the four hours per day. I can see some merit to that, but I think a player who plays at a $200 bet for three hours should get treated better than a $100 player for four hours. Still, the next time I do a review, I'll try to hit the four-hour mark.
Hotel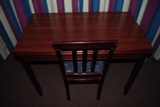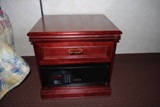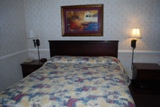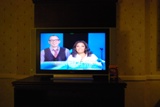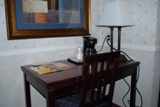 My room on the 11th floor of the north tower was darn nice. The cost that Thursday night was $25, plus the 12% Nevada room tax. There was no ridiculous "resort fee" like many other properties charge. The room was small but well appointed with new furniture, and it was very clean. I'm a stickler for clean windows, and mine looked like it was cleaned within the last month. The furniture was made from cherry, or at least had cherry veneers. The bathroom was pretty small and plain, but it was scoured to military perfection, and the towels were plentiful and fluffy. It was the perfect room for downtown Las Vegas. It felt like I stepped back in time to an old hotel in New York City.
The amenities of the room were pretty strong. They offered a safe, a large flat-screen TV, a couch, a small desk, and -- get this -- a coffee maker! Almost nobody in Vegas gives you a coffee maker, even the best properties on the Strip. While the safe was free, Wi-Fi was $8.99 per day, and local and toll-free calls were 75-cents, which isn't bad. My room overlooked the "Freemont Street Experience." For the unfamiliar, it is a canopy that covers four blocks along Freemont Street. At night, they play music while millions of light bulbs along the canopy display synchronized videos. My room was a bit higher than the canopy, so I only saw the top of it. For better or worse, during the show hours, the music is pretty loud. For this kind of situation, I bring earmuffs (the kind people using pneumatic drills wear) to every hotel I visit. You just never know what kind of noise you'll have to deal with.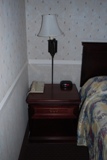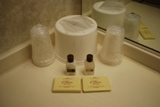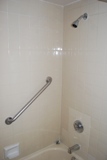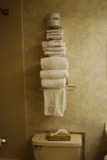 I should also mention that my room came with a Strip of coupons. Many were the same as those you get for the "free pull" I wrote about already. Actually, I didn't get my hotel coupons until I checked out. When I turned in my key, I noticed a stack of them on the counter, so I asked for one. The hotel coupons contain the following:
2-for-1 lunch or dinner entree at Magnolia's Veranda. Must show room key.
$10 match play.
$10 in free slot play for new Players Club members.
Free gift when 50 points are earned within 24 hours for new Players Club members.
View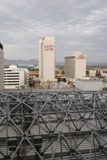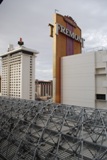 Here are the nice views I had of the top of Fremont street.
Pool
The Four Queens has no pool. The hotel information in my room said guests were welcome to use the pool at Binion's (their sister property) by presenting a room key. Binion's is across Freemont Street and one block west. I forgot to check it out.
Entertainment
The Four Queens' entertainment venue is the "Canyon Club." At the time I was there, they were hosting a comedy show. From the web site, I see that later in November they will feature the "Las Vegas Rock and Roll Game Show." I have never been to this venue, so can't comment on it. Of course, the "Freemont Street Experience" is free for all downtown visitors.
Lines
Front desk: The line at the hotel front desk was Wendy's style, meaning one long line leading to multiple windows. There was no rope, but patrons seemed to form their own line. There was nobody queued up when I checked in about 2:30 PM, but when I left at the checkout time of noon, the line ran fairly long. To be fair, any hotel can encounter a line surge at checkout time.
Player Club: The line for the player reward desk was also Wendy's style. That line was usually short, often with nobody waiting.
Cashier: The cashier, unfortunately, has the McDonald's format of one line per window. It was confusing at times, because it wasn't clear if some players were trying to straddle two lines, in one of them, or simply standing around for no reason. As I was cashing my chips, I noticed somebody at the next window cashing several hundred collectable chips. He lamented he couldn't even get face value for them on eBay, so he was taking them all back.
Food
The Four Queens has some pretty good restaurants to choose from. Briefly, here are the choices:
Magnolia's Veranda: Basic coffee shop
Chicago Brewery: Beer and American food
"Queen's Coffee and Deli": Subway sandwiches, Noble Roman's pizza, and Dryers ice cream.
Hugo's Cellar: Steakhouse
Here are my specific comments:
Magnolia's Veranda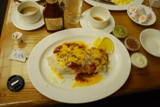 This is what a Vegas coffee shop should be: good variety, reasonable prices, and fast and friendly service. I tried Magnolia's Friday morning with my Webmaster J.B., using the 2-for-1 coupon obtained from my "free pull" on the video poker game. I ordered the breakfast burrito (pictured), which was fine. The service was very friendly and timely. I might add the breakfast burrito came with guacamole on the side for free. Normally, you have to pay extra for that at other restaurants. While there was no line on Friday morning, I did notice the line ran rather long on Thursday evening. Here is the online menu (PDF).
Chicago Brewery
I have never eaten at the Four Queens' Chicago Brewery location, but my office is within walking distance of the Chicago Brewery on Sahara near Fort Apache. I have eaten at that one several times, and I have always left happy and a few pounds heavier. They offer a nice selection of microbrews and very tasty bar-type food. I have to summon my will power to stay away, because it isn't the place to pick if you are trying to watch your weight.
Queen's Coffee and Deli
I don't know why they call it that. It is just a collection of three fast food franchises, none of which I would call a "deli." I've eaten at the Subway here a few times when I was downtown betting sports and just wanted a quick bite. The place is clean, and I've never had trouble finding a seat. The Subway itself is the same as every other Subway.
Hugo's Cellar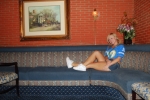 I ate at Hugo's on Thursday night with a friend. This place is a Las Vegas classic. For old Las Vegas ambiance and service, it is hard to beat Hugo's. The restaurant is small and located a half flight of stairs below the casino level. I'm told that ladies get a free rose, but I didn't have a lady with me to confirm that. Unlike most steakhouses, you don't need to order everything separately. Other than drinks, one entree is all you need to get. That makes Hugo's also a respectable value. The meal starts when the salad cart comes by, on which each salad is custom made. There are lots of topping to choose from, including nice big anchovies, which I love. If I have ever had a better salad, I can't recall it. Then we were given a small sherbet cone to cleanse the palate. Next, the entrees came, with choice of potato. I ordered a seafood combination, which was fine. My friend had the roast beef, which we both thought was a bit fatty and perhaps slightly undercooked. Although we declined to order dessert, we received a small tray of sweets, including chocolate covered strawberries. Overall, here is my report card on Hugo's:
Food: B
Atmosphere: A
Service: A
Prices: A
In my opinion, Hugo's is the best restaurant downtown, and one of the best anywhere in Vegas.
Parking Garage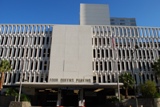 The Four Queens has a spacious, clean, and easy to navigate parking garage. The entrance is on Carson Street, one street south of Fremont Street. The elevator is on the west side and not very conspicuous. If you end up walking east (which I did), there are stairs that will take you to the street, right by the hotel's lobby entrance. They also offer free validated parking. The validating machine is at the casino cashier; just punch your own ticket. No need to play or beg anybody for the stamp.
Summary
Downtown Las Vegas isn't for everybody. However, if you like it, the Four Queens makes a good choice. They keep the place up very nicely, and the staff, overall, is pretty friendly. I just have two suggestions for improvement:
Add ropes to form a single line at the cashier.
Fewer 6 to 5 blackjack tables.
Links
Acknowledgement
I'd like to thank to Lisa Furman for modeling in some of the pictures. Lisa invites you to visit her page at ModelMayhem.com.
Contact Information
Address: 202 Fremont Street, Las Vegas, NV 89101
Phone: 702-385-4011
Web site: fourqueens.com
Resort and Parking Fees
| | |
| --- | --- |
| Resort fee | $13.50 |
| Parking fee | Free |
Games at Four Queens
| Blackjack | Location | Decks | Min | Max | Soft 17 | DA | DAS | RSA | Surr | Tables | CSM | Party Pit | 6/5 BJ | Video | H. Edge |
| --- | --- | --- | --- | --- | --- | --- | --- | --- | --- | --- | --- | --- | --- | --- | --- |
| Blackjack | Downtown | 8 | 5 | 500 | H | Yes | Yes | No | Yes | 10 | No | No | Yes | No | 1.92724 |
| Blackjack | Downtown | 8 | 10 | 500 | H | Yes | Yes | No | Yes | 1 | No | No | No | No | 0.56926 |
| Blackjack | Downtown | 2 | 10 | 500 | H | Yes | No | No | No | 1 | No | No | No | No | 0.60225 |
| Blackjack | Downtown | 1 | 15 | 500 | H | 10 | No | No | No | 1 | No | No | Yes | No | 1.69824 |
| Craps | # of Tables | Min Bet | Max Bet | Odds | Field12 | Video |
| --- | --- | --- | --- | --- | --- | --- |
| Craps | 2 | 5 | 500 | 5 x | Triple | No |
| Roulette | # of Tables | Min Bet | Max Bet | Rules | Video |
| --- | --- | --- | --- | --- | --- |
| Roulette | 2 | 5 | 25 | 00 | No |
| Video Keno | Rank | Avg Return | Grade |
| --- | --- | --- | --- |
| Video Keno | 53 | 89.45% | C- |