Introduction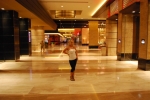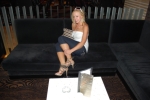 According to its Wikipedia page, the M is short for Marnell, as in Anthony Marnell III, the developer of the casino. The property opened on March 1, 2009. It is not part of any casino chain, which in my opinion, is a good thing. The hotel has 400 rooms and 92,000 square feet of casino space. By way of comparison, the MGM Grand has 5,044 rooms, and 171,500 square feet of casino space. The M is the southern-most casino in the Las Vegas valley. It is literally on the south edge of town, and that means it is a 10-15 minute drive to get to the Mandalay Bay at the south end of the "strip." If you're driving northbound on the I-15 from California and have passed Primm and Jean, it will be the first building you see larger than a house. Trust me, you won't miss it.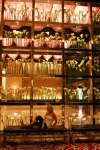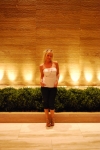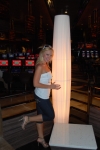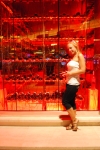 Gambling
According to the M website, the casino has 64 table games and 1,847 slot machines. I found blackjack, craps, roulette, pai gow poker, Three Card Poker and Let It Ride tables. The high limit room offered one roulette, two baccarat and two blackjack tables.
A unique feature to the M casino, at least to Las Vegas, is free beverage stations. I've seen these at casinos outside Nevada, especially ones that don't serve free alcohol, but never inside Nevada. So kudos to the M for the free soft drinks, without having to ask.
Blackjack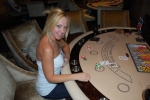 More bravos for the M: they have a double-deck blackjack game where the dealer stands on soft 17. As far as I know, they are the only off-Strip property to have that rule. Before half my readers write to correct me, I do not consider the M to be a "Strip" casino, although it technically is on Las Vegas Blvd., which is known as the Strip. The M is about 9 miles south of the Mandalay Bay, what I consider to be the southern-most Strip casino. That said, the following table shows their blackjack offerings.
M Blackjack
Decks
BJ Pays
Soft 17
Double after Split
Surrender
Resplit Aces
Minimum Bet
House Edge
1
1.2
Hit
Yes
No
No
$5
1.55%
2
1.5
Stand
Yes
No
No
$25
0.26%
6
1.5
Hit
Yes
No
No
$5
0.64%
6
1.5
Stand
Yes
Yes
Yes
$100
0.28%
The house edge is taken from my blackjack house edge calculator and assumes the player is using total-dependent basic strategy and the dealer uses a cut card, the way basic strategy is usually played.
Roulette
In the main casino, the roulette was the standard double-zero, for a house edge of 5.26%. In the high-limit room, there was one single-zero wheel, for a house edge of 2.70%.
Craps
The craps games allowed the Vegas standard 3-4-5X odds for a combined house edge between the pass and odds of 0.37% and 0.27% between the don't and laying odds. The field paid 3 to 1 on a 12. Hop bets paid 15 to 1 and 30 to 1.
Video Poker
According to vpFREE2, the M offers various 100%+ games at the 25-cent denomination and two over 99.5% at high denomination. However, when I was there I couldn't find them. Here is what I did notice, which was based on a random sampling of several machines.
The expiration on slot tickets is 60 days.
Race and Sports
The M's race and sports book has 14 betting windows, 30 comfortable lounge chairs and 50 cubicle seats. There are two large screens and six small ones. It is also conveniently located next to the vig deli.
I visited during baseball season. The M offers 10-cent money lines, which is as good as it gets with baseball. As usual, the run lines, totals, and 5-inning lines were 20 cents. Bets on total NFL wins for the 2009-2010 season were 20-cent lines. Futures on the 2010 Super Bowl carried a house edge of 30.46%, assuming all bets had the same house edge. The following table shows what NFL parlays and 6-point teasers pay, which are more generous that most places.
M Parlays & Teasers
Picks
Parlay
Teaser
2
13 to 5
10 to 11
3
6
8.5
4
11
14 to 5
5
22
9 to 2
6
42
6.5
The M sports book is independent, meaning they set their own lines. If you like to compare lines between casinos, the M should be on your lists of places to check. Race and sports tickets expire in 120 days.
Poker
The poker room touts 12 tables, all non-smoking. The rake is 10%, up to a maximum of $4 per pot.
Player Club
The "Wendy's style" line at the player club — one long line leading to multiple windows — was pretty long the day I was there, so I used one my favorite tricks: I sat down to play blackjack and asked the pit supervisor to make a card for me.
As a club member, players earn 1 point for every $1 bet in slots or video poker, except "optimum play" video poker takes $4 to earn a point. I guess that implies there is 100%+ video poker somewhere, but again, I couldn't find it. 333 points earned garners $1 in free play or $1 toward purchases made on the property. That equates to a 0.3% rebate, except 0.075% for "optimal play" video poker.
I grabbed a flyer from the Player Club that listed various 2X points days for video poker and 5x to 10x for reels. The only 10X day for reels was July 1.
Cashier
The cashier is McDonald's style, so each window has its own line. If you get stuck behind someone doing a marker or cashing a check, you're probably going to stand there and fume while people in the other lines come and go quickly. Whenever I switch lines in such a situation, the moment I abandon my line, the guy in front of me finishes, and I invariably choose a new line with an equally long transaction just getting started. Murhpy's Law in action. Fortunately, there was always an open window the day I was there.
Non-Smoking Areas
The poker room is entirely non-smoking. Of the 1,847 slots in the building, 120 (6.5%) at my count were in a non-smoking area, near the Red Cup Cafe.
Comps
During my stay I played for 2 hours and 15 minutes, by the casino's accounting. I estimate my average bet to be $175. The casino industry tends to assume 60 hands an hour, and a house edge of 0.8% for blackjack. Under those assumptions, the value of that play to the casino would be $189. In return I received a $40 discretionary comp to the café, and $65 deducted from my room charges, for a total of $105. That is a 56% rebate, which is quite generous. I played proper basic strategy on the M's double-deck game, for a house edge of 0.26%, which equates to an actual expected loss of $61.42.
Hotel
My mountain view room on Monday, June 8, 2009 cost me $99, which includes a $25 resort fee. Tack on another 9% for Nevada's room tax. (Note: Nevada's room tax is 12% as of July 1, 2009.) A strip-facing view would've run me another $20. The resort fee gave me entrance to the spa and fitness center, Internet access, shuttle service to the airport and Fashion Show Mall/Strip, free local and toll free calls, and a copy of USA Today in the morning.
My room was comfortable and modern. It reminded me of the Novotel Hotel, near the Hong Kong airport. Some people are particular when it comes to the bathroom or the view, but I'm picky about mattresses. I felt the M mattress was the optimal combination of firm and soft. I can't describe the rest any better than what was sent to me on my confirmation e-mail:
Resort mountain view rooms are 550 square foot — designed with a rich color palette and tasteful furnishings. The beds feature a pillow top mattress and the finest linens. The executive desk is spacious — equipped with convenient outlets and high-speed internet access — as well as a comfortable executive chair. Each resort room offers a living space that includes high technology features such as a Bose Sound System, iPod Docking station and 42" HD LCD flat screen television.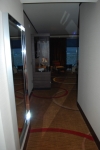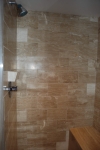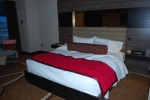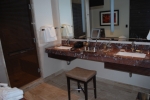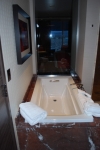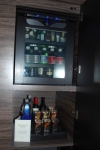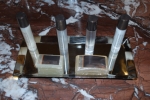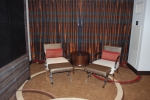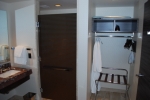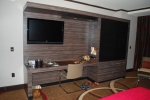 Restaurants
Here is a list of the dining options at the M. They offer the usual mixture of cuisines and price points found in Vegas resorts. You can get details and menus for the various eateries at the M web site.
Baby Cakes: Bakery
Marinelli's: Italian
Red Cup: Cafe
Studio B: Buffet
Terzetto: Steaks and seafood
Veloce Cibo: Miscellaneous
Vig: Deli
I ate at 3 of the restaurants and offer my brief reviews to you.
Studio B Buffet
Buffet prices were as follows:
Breakfast: $10.95
Brunch: $24.95
Lunch: $14.95
Dinner: $22.95
Seafood Dinner: $25.95
A $2 discount is applied anytime of day if you have a player card.
I enjoyed an early morning breakfast. Relative to the pricing, I thought the meal was very good. There was a nice variety to choose from on the buffet line, and everything I tried was very fresh and tasty. My wife and daughter had the buffet for lunch a few days later. Both gave it high marks. My 11-year old daughter said it was best buffet she has had in Vegas, and she has been to several of them.
The design of the room was round, with the food in the middle, so there is never a long walk between your table and the eats. Why did it take so long for somebody to think of this? The service was fast and courteous. The waitress checked on me every 10 minutes or so, and she always kept my coffee cup topped off. There were lots of screens showing a bizarre assortment of videos, including a Betty Boop cartoon.
Red Cup Cafe
The Red Cup is your basic eatery, perhaps on par with The Cheesecake Factory. I had the fish tacos, one of my mainstay choices, which were your basic Americanized version. My pursuit of the perfect fish taco, north of the border, continues. For more on that topic, please see my blog about my trip to San Felipe. Lisa, who you see in my poolside pictures, said the fries were outstanding. My masculinity was impugned when she ate about twice as much as I did.
Vig Deli
I had the bagel and lox plate, another mainstay when I'm in doubt about what to get. I have to say, it was about the best I've ever had. The bagel was hearty yet fluffy, accompanied by plenty of smoked salmon as well as the ubiquitous tomatoes, onions, and capers. All the ingredients were fresh. I was feeling cheap, so got my beverage from a nearby free beverage station.
Pool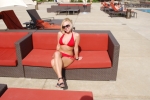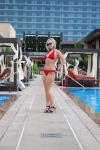 I have to confess: I paid much more attention to Lisa, pictured below, than to the pool itself. The design is somewhat unique. From the deck, it looks like one pool with island cabanas in the middle. Actually, though the water is divided into two pools by the island cabanas and the pathways that connect them. There are also two large spas and, to the side, a guarded entrance to a separate over-21 pool. If European (topless) sunbathing is part of the deal, I, unfortunately, didn't notice any women invoking that right. However, I did enjoy games of ping pong and foosball.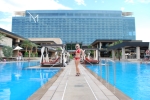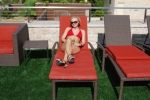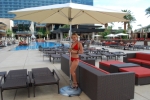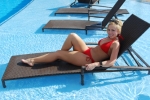 Entertainment
Shows: The M web site mentions a series of concerts by the pool
Bowling: No.
Bingo: No.
Shopping: Just the basics. Hotel guests have free use of a shuttle to the Fashion Show Mall.
Child care: No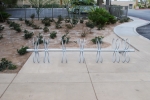 Bike Rack
Kudos to the M for having a bike rack in a prominent, convenient location. The only other casino I have seen with a bike rack placed anywhere near the door is the Suncoast. Las Vegas is a very bicycle unfriendly city, so it is nice to see the bikers have something go their way. It is not lost on me that the rack was empty, but keep the faith, the bikes will come.
The Wizard's Review
It is said new Las Vegas casinos open with a bang — full of enthusiasm and great values for guests. As time goes by, they usually start cutting costs and the quality and service goes downhill. M had only been open for 3 months when I visited. Who knows what the future will hold, but so far I have to say they are off to a fantastic start. The entire property was extremely clean, the amenities were as good as anything on the Strip, and the staff was consistently very friendly and attentive.
I do have some suggestions for improvement, however:
Single line for the cashier (They really don't want their gamblers fighting Murphy's Law, do they?)
More than 60 days expiration on slot tickets
I couldn't get the little TV in my bathroom to turn on, which I presume is in the mirror.
Acknowledgement
I'd like to give a huge thanks to Lisa Furman for modeling in the casino and pool pictures. Lisa invites you to visit her page at ModelMayhem.com.
Contact Information
Address: 12300 Las Vegas Boulevard South, Henderson, NV 89044
Phone: 702-797-1000
Web site: themresort.com
Resort and Parking Fees
| | |
| --- | --- |
| Resort fee | $13.50 |
| Parking fee | Free |
Games at M
| Video Keno | Rank | Avg Return | Grade |
| --- | --- | --- | --- |
| Video Keno | 22 | 91.74% | B |