Introduction
Whiskey Pete's is located just west of I-15 in Primm, the first exit inside Nevada on I-15 when entering the state from California. Whiskey Pete's is named after a local bootlegger known as Pete MacIntyre.
There is little reason to drop by Whiskey Pete's, even if Primm is your final destination. It has a small casino floor with games that most will find unplayable. There are four $5-$200 blackjack tables that pay 6-5. There is a Face Up Blackjack game that pays 3-2, but the dealer wins all pushes except on blackjack. Naturals pay even money and players cannot double down after splitting.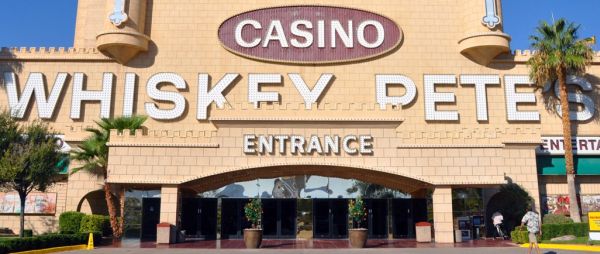 Whiskey Pete's offers $5-$500 craps with 3-4-5 times odds. The Field pays double on 12. The other tables are Big Wheel, Casino War, Roulette, and Three Card Poker. The pit is only open noon to 8pm during the week. It is open 24 hours on Friday, Saturday, and Sunday.
I was unable to find any playable video poker during my visit on February 23, 2015. VPFree2 confirms that there are no video poker machines that return 98% or better. This should also be a clue about how poor the slot machines are within the casino. The players club pays $1 for every $400 wagered for a return of .25%. This is the same players club used at all Primm casinos.
Whiskey Pete's does not offer a real sports book. There is a William Hill kiosk that takes sports bets. Mobile deposits may also be made on the William Hill kiosk.
A small pool and bar area offers televisions to watch events. Keep in mind that Nevada sports betting apps will not work in Primm as it is too close to the California border.
Restaurants
Whiskey Pete's is not a dining destination. The only options for food are McDonald's and the International House of Pancakes. Both are open 24 hours a day. Guests looking for more food choices will need to visit Buffalo Bill's or Primm Valley Resort.
Hotel
There are two hotel options available at Whiskey Pete's. Guests may choose between two queens or one king. All rooms at Whiskey Pete's are 310 square feet. Rates start at $28 during the week and $50 on weekends. There is also a $6 per night resort fee.
Entertainment
The Star of the Desert offers a 6,500-seat arena. There are two golf courses available. Buffalo Bill's offers an amusement park on weekends. The Primm Valley Outlet Mall offers a wide array of shopping options. Primm Valley Resort offers a spa Thursday through Sunday. A tram connects all Primm resorts and the outlet mall. It only operates on Fridays, Saturdays, and Sundays. A shuttle runs during the week.
My Conclusion
Whiskey Pete's is the worst option among the three casinos located in Primm. The table games close at 8pm during the week. The video poker is unplayable. The sports book is nothing more than a kiosk with a couple of TVs and a few pool tables. Serious gamblers stranded in Primm should stay at Primm Valley Resort or at least find a ride over there.
A better option is to drive one exit up the highway to the Gold Strike in Jean. This casino offers full-pay Deuces Wild and a video blackjack game that returns 100% with a players card.