OVERVIEW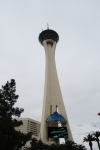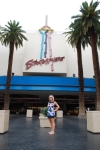 In 1979, Bob Stupak, a rather colorful coupon mogul and museum proprietor, opened the Vegas World Casino near the corner of Las Vegas Blvd. and Sahara Ave. It became known for its many quirky games and promotions. Stupak closed and tore down Vegas World in 1995 to make way for his new project: the Stratosphere, a much larger hotel-casino that would include a 1,815-foot-high observation tower. After numerous delays, a fire, and budget overruns and concerns about air traffic interference that shrank the tower's height down to 1,149 feet, the Stratosphere opened for business on April 30, 1996. After filing for bankruptcy not long after opening and several confusing (and boring) corporate maneuvers and ownership changes, the casino eventually came under the control of famed corporate raider Carl Icahn, through his American Casino Entertainment company.
Although the Stratosphere isn't really a name or a hotel that will impress anyone, it is usually available for booking at a reasonable price at the last minute on the Internet, which is why I began my Vegas trip by staying there for two nights, from Friday, January 14 to Saturday, January 15. This review is based on that stay.
LOCATION
One surprisingly hard-to-pin-down aspect of the Stratosphere is what kind of casino it is. Most people would reasonably classify it as a "Strip casino," since it is on Las Vegas Blvd. However, it is also the northern-most of all the casinos on the Strip—so far north, in fact, that it is the only Strip casino actually located within the city limits of Las Vegas. This means that the Nevada Gaming Control Board actually classifies it as a downtown casino in their statistics and reports. Hmmm…
When I mentioned to other people that I was staying at the Strat, many would often warn me about the surrounding area, characterizing it as very dangerous. "There's a reason it's so cheap," was one frequent comment. After walking outside the hotel a bit I found these claims exaggerated—slightly. I definitely would not recommend walking around the back of the hotel, particularly at night, or around the parking garage. That area consists mostly of vacant lots and looks pretty dangerous. The main entrance of the hotel, however, is right on Las Vegas Blvd., which is well-lit and populated at just about all hours, with plenty of 24-hour fast food restaurants and motels nearby. So as long as guests stay on the main drag I think they'll be fine.
The hotel is at the extreme north end of the Strip, though, which means it can be a long walk to the more hopping central and South areas. Fortunately, the "Deuce" bus stops right in front of the Strat and provides fairly frequent service to the rest of the Strip. A cab ride down to the Encore on a Saturday evening cost me about $10.
HOTEL
The Stratosphere Hotel consists of 2124 rooms in three different towers, the Regency, World, and Millennium, in order of age from oldest to youngest.
The Cheapo Vegas review of the Stratosphere says that check-in can be "a long and trying wait," but I waited less than 15 minutes at 3:30PM on a Friday, which I thought was pretty good. The line was Wendy's-style, meaning one line leading to multiple windows. I wasn't offered any upgrades at check-in, and didn't ask although I have heard from other sources that, since this is a budget-minded hotel, a "$5" or "$10 trick" will work quite well here, as opposed to the $20 trick at more expensive hotels.
I was assigned a room in the World I section, on the 17th floor. My initial charge for the room came to $150—about $60 per night, plus tax and a $7.50/night "resort fee" (more on this in a moment).
Overall I found my room to be very acceptable, but nothing to rave about — the equivalent of what one would expect at an Airport Holiday Inn, perhaps. The décor was kind of plain, with white walls and no pictures, which I thought was a strange contrast from the rather flamboyant décor of the hallway outside. The bathroom was also plain, but large, with the sink in the same room as the toilet. I do applaud the Stratosphere for having excellent water pressure in their showers, something that has been a problem in many other hotels I've stayed at. I have less praise, though, for the bathroom towels—too thin and slippery to properly dry off. They provide you with the basics in the bathroom—body wash, shampoo and conditioner. In the bedroom, the mattress was on the soft side, though not outrageously so, and the TV was a new-ish flat screen. There was an iron and ironing board, but no in-room safe, which I found disappointing—I expected that to be standard in all Vegas hotels. There is a room service menu in the room, which I found surprising for a hotel at this price level.
My room did not face the Strip, which meant I had a rather mediocre view of the parking garage and the aforementioned vacant lots on the other side of the property. Downtown was visible in the distance.
The dreaded "resort fee" includes admission to the tower and a sheet of 2-for-1 coupons for American Superstars and Bite, the two shows at the Strat. Since I was traveling alone, the coupons were useless, and they're pretty easy to find even if you're not staying there (they're also in the 2011 American Casino Guide). The tower admission sounds like a good deal, until you consider that full-price admission is $15. So on a two-night stay, if you only go up to the tower once, you're still paying the exact same price as everyone else. So I give a big thumbs-down to the Stratosphere's resort fee.
POOL
Alas, this being mid-January, the Strat's pools were closed for maintenance. Everything I've read, though, seems to indicate that both pools—the main one on the 8th floor, and the smaller one on the 25th—are rather small and family-oriented, rather than party-oriented.
CASINO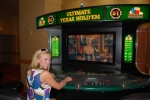 According to the Nevada Gaming Control Board, the Stratosphere casino has 1150 slots, 53 table games and 8 poker tables. There is no high-limit room.
I found the gambling experience at the Stratosphere to be a bit of a mixed bag. I started out playing craps, and generally the atmosphere was pretty fun for 6PM on a Friday. Matthew, the dealer on my base when I first started, was friendly but obviously new to the job; the boxperson was constantly correcting his payouts and he slowed the game down at times. The other dealer, who took over after about 40 minutes and whose name I unfortunately cannot recall, was obviously a veteran dealer and very sarcastic in an entertaining way. She poked a little fun at the two guys on my end who were playing for the first time, but helped them out as well, which is how all good dealers should be.
Later that evening, I switched over to blackjack and Ultimate Texas Hold'em, and encountered both great and terrible dealers. There was one blackjack dealer, in particular, whom I did not find very pleasant. When an older man sat down at the table and had to be told about proper hand signals, not touching his bet after the cards have been dealt, etc. the dealer became very easily exasperated with him, and basically scared him off. Admittedly, this was a $25 table, where players usually know these things, but I still would've appreciated more patience. Other dealers would just deal the game quietly, without comment, but there were still a few, like the craps dealer mentioned earlier, who enjoyed their jobs and made it a fun experience—appropriately, since it's mostly a younger, low-rolling crowd who just wants to have some fun. Cocktail service was also a bit mixed, with the waitress generally being quite friendly, but taking a long time between ordering and being served, even with tipping.
Details on the game rules:
BLACKJACK
It's never too hard to find $5 or $10 minimums for a 6-deck shoe game, with H17, double after split, and resplitting of aces allowed but no surrender. There were also several double-deck games available with otherwise the same rules; minimum on these was $25.
For the suckers among us, there are also some single-deck 6:5 games for $5. I say if you're going to play one of these games, at least play them in the party pit with scantily-clad dancers and dealers. At the Strat this pit is surprisingly tucked away near the poker room and buffet. Usually I've seen such party pits placed near the entrance of the casino, to draw people in. The dancer/dealers did look pretty easy on the eyes.
CRAPS
Bob Stupak was known for his strange gimmicks, and one of them survives today at the Stratosphere in the form of Crapless Craps. The Wizard's own page offers a thorough explanation of the game, and as he says, it's definitely a worse bet than plain-vanilla craps. Still, that didn't stop the crapless table from being completely filled up at times, mostly, I imagine, because of the curiosity factor.
Aside from that crucial change, both the regular and crapless games have otherwise the same rules: $5 minimum, a fairly generous 10x odds, a fairly stingy 2:1 on the 12 in the field, and the vig on buy bets is charged when making the bet.
ROULETTE
Only double-zero wheels.
BACCARAT
The Strat does not have any Baccarat tables that I saw. I guess that, like the Sahara down the road, they feel the game doesn't really fit with their low-rolling clientele.
OTHER GAMES
The Stratosphere does offer a full complement of carnival games, including all the standards: Three-Card Poker, Let It Ride, Ultimate Texas Hold'em, and Fortune Pai Gow Poker.
DINING
For such a large casino, Stratosphere has surprisingly few dining options—only three sit-down restaurants plus the buffet. I was able to try out the buffet and one of these restaurants during my stay.
THE BUFFET
I ate dinner at the incredibly imaginatively-named buffet at the Stratosphere, which for me was comped but normally would cost $19.99 per person. It was pretty small compared to other buffets I've seen in Vegas, with lots of different stations (Mexican, Pan-Asian, Italian, etc.) but only a few selections at each one. Nonetheless, what was there tasted pretty good, and the table-clearing service was some of the fastest I've ever seen at a buffet.
TOP OF THE WORLD
This is the flagship restaurant of the Strat, and easily the most incongruent feature of the entire complex. As the name suggests, this restaurant is at the top of the Tower, two floors below the observation deck, and the dining floor rotates slowly around, giving patrons a fantastic 360-degree panorama of the entire Vegas Valley.
While most of the Stratosphere aims squarely for the middle, Top of the World aims upscale, with dinner for two easily approaching $200 in price. Lunch is more reasonable, with soups, sandwiches, and brunch choices available starting at around $20 each. However, the view isn't quite as spectacular during the day.
I ate here for lunch on Saturday, January 15. Despite a sign at the reservations desk saying reservations are required, I asked the host about walk-in seating shortly after they opened (11:15AM) and they took me up and seated me immediately. I ordered a salad and a lobster omelet, one of the brunch specials. The salad was presented well and tasted very fresh, and the omelet was a bit dry, but still pretty good. Total price of the meal, plus a glass of wine, came to about $54, which I thought was a bit overpriced for what I got. I do commend the waitstaff at Top of the World, however, for good service, especially given that the kitchen doesn't rotate with the rest of the dining floor—so the staff has to come out of a different entrance each time to serve the same table. If I worked there that would confuse me to no end.
OTHER RESTAURANTS
There are two other restaurants at Stratosphere which I did not try: Fellini's, a dinner-only Italian restaurant, and Roxy's Diner, a Johnny Rockets knock-off. The walkway leading to the Tower on the second floor also has many different fast-food options including McDonald's, a pretzel shop, and a pizza stand.
ENTERTAINMENT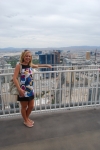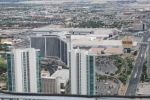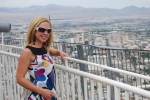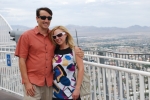 The biggest attraction is, of course, the tower, which costs $15 per person. It's pretty easy to find discount coupons, though, and as mentioned it is "free" (sort of) to hotel guests. Guests must pass through a metal detector before boarding the elevator to the top, which means taking all metal objects out, but no shoes being taken off or anything else as intrusive as airport security.
Once past the metal detector, guests board the double-decker elevators to the top. Each elevator has an operator, all of whom are very pleasant and make conversation with the guests on the way up, telling them various interesting facts about the tower and just general small talk. One of them later revealed to me that there is a practical reason for doing this: the pressure on guests' ears isn't as painful as long as they are talking. I tested this out myself and found that she was definitely right.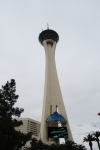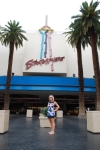 At the top of the tower are two observation decks, indoor and outdoor, and four thrill rides, none of which I had the stomach to try. Insanity is like a typical spinning carnival-style ride, except of course for the fact that the spinning takes place 109 stories off the ground. X-Scream is a seesaw-like contraption that hurls passengers over the side, and Big Shot shoots them up in the air and back down again. The newest ride is the Sky Jump, where, for $100, guests are strapped to a bungee cord and make a controlled leap over the edge. I really didn't have the stomach to try this, but I talked with some folks who had done it before on the way up (doing it their second time!) and they said the adrenaline rush was well worth it. Overall I think the tower is something everyone should experience on their first trip to Vegas, but it kind of loses its luster the second time around.
In addition to the tower, Stratosphere also has two shows available: "American Superstars," a tribute show with lots of current and not-so-current acts, and "Bite," a topless vampire revue set to classic rock, which sounds like a unique experience if nothing else. Since it looks like I will be returning to the Stratosphere in the future (see below) I may get a chance to review these shows at a later date.
PLAYERS CLUB AND MY OWN GAMBLING
The Stratosphere players club is the acePLAY card, which links together all of the properties owned by the same company, including both Arizona Charlie's locations in Vegas and the Aquarius Hotel/Casino in Laughlin.
I will give the Stratosphere a great deal of credit for treating me very well—and I don't consider myself a high-roller by any means. After my first night in the casino, playing craps for $10 with full 10x odds for about 2 hours, then double-deck blackjack at $25/hand for about 1 ½ hours, I asked Mariel, the floor manager, about getting something to eat and she gave me a buffet comp with no problems at all. The next day, I found a message on my in-room phone from Ron, the executive host at the casino, who invited me down to the VIP room to get in touch with Donna, who would be my host. I was definitely not used to being given a host for my level of play! In any case, I made my way down to the VIP lounge. Donna wasn't there, but Christine said she was at a cocktail party at the bar at the top of the tower and said I was welcome to head up if I wanted.
Christine escorted me up to the bar, which turned out to be a very nice party—an open bar and a very large spread of hors d'oeuvres. I met Donna there, who was very pleasant and thanked me for my patronage. One thing I found odd was Christine's comment to me as she went back downstairs—"I KNOW we'll see you here again." I wondered if this was possibly because I had been winning over the last couple days. Nonetheless, I enjoyed the party and so far was very pleased with the level of service.
The next morning, the day I was checking out, I again was invited down to the VIP lounge. Donna wasn't there, again, but another host looked over my account and happily credited my account for one night's stay, the resort fee for both nights, and my lunch at Top of the World. She asked if there was anything else they could do for me. I asked if it would be too much trouble to get a ride to the airport (I wasn't leaving Vegas until next week, but needed to go out there to rent a car), and she said it was no problem at all and their limo(!) was waiting out front. Overall, to say I was pleased at getting the royal treatment would be an understatement!
CONCLUSION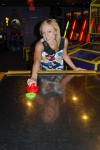 The Stratosphere turned out to be a pretty good starting point for my Vegas vacation. It's not the nicest or coolest place on the Strip, by any means, but if all you need is a clean, comfortable room and are willing to sacrifice a little on location, the Strat is just fine. Moreover, if you're a medium-roller like me, and if my experience is any indication, you'll be treated very nicely, certainly much better treatment than the same level of action at a big-name hotel would garner. (Caesars Palace, I'm looking at you.) The rules on their table games aren't too terrible, either. Overall, I would stay at the Stratosphere again, and it looks like they look forward to having me back as well.
Links
Acknowledgement
The Wizard would like to thank OneAngryDwarf for the review and Lisa for modeling in the pictures.
Contact Information
Address: 2000 Las Vegas Boulevard South, Las Vegas, NV 89104
Phone: 720-380-7777
Web site: stratospherehotel.com
Resort and Parking Fees
| | |
| --- | --- |
| Resort fee | $13.50 |
| Parking fee | Free |
Games at Stratosphere
| Blackjack | Location | Decks | Min | Max | Soft 17 | DA | DAS | RSA | Surr | Tables | CSM | Party Pit | 6/5 BJ | Video | H. Edge |
| --- | --- | --- | --- | --- | --- | --- | --- | --- | --- | --- | --- | --- | --- | --- | --- |
| Blackjack | Off-Strip | 6 | 5 | 1000 | H | Yes | Yes | Yes | No | 14 | No | No | Yes | No | 1.93054 |
| Blackjack | Off-Strip | 1 | 15 | 1000 | H | Yes | No | No | No | 2 | No | No | Yes | No | 1.69824 |
| Blackjack | Off-Strip | 2 | 25 | 2000 | H | Yes | Yes | No | No | 3 | No | No | No | No | 0.45688 |
| Craps | # of Tables | Min Bet | Max Bet | Odds | Field12 | Video |
| --- | --- | --- | --- | --- | --- | --- |
| Craps | 3 | 5 | 1000 | 10 x | Double | No |
| Roulette | # of Tables | Min Bet | Max Bet | Rules | Video |
| --- | --- | --- | --- | --- | --- |
| Roulette | 5 | 5 | 100 | 00 | No |
| Video Keno | Rank | Avg Return | Grade |
| --- | --- | --- | --- |
| Video Keno | 44 | 90.56% | C+ |