Introduction
Turtlehead Peak offers novice and occasional hikers a challenging day hike. More experienced hikers may find it rather easy, but still enjoyable. The route is fairly easy to follow, and there is little danger to it. On weekends, you will probably be one of many on this particular trail; it's not the best choice if you are looking for solitude. I would estimate an average of about 30 people make it to the summit any given Saturday or Sunday. The round-trip distance is five miles, and the elevation gain is 2000 feet.
The hike can be divided into three legs. The first leg is an easy to follow trail leading to the base of the mountain. It is starts out almost level and gradually develops a slight incline. The second leg is the tough part, a steep ascent up limestone to the west of Turtlehead. In several spots you will need to use your hands. The third leg is a short section going east along the ridge and then up a steady incline to the top. The latter part has the more vegetation, and is noticeably cooler and windier.
For any hike in southern Nevada, including this one, remember to bring plenty of water, at least two liters per person when the temperatures are hot and one liter per person on a cool day. It's also wise to wear sunscreen and a wide-brimmed hat, especially on hot days. Be prepared for wind at the summit any time of year, and don't attempt this hike during a thunderstorm.
I, personally, have summited Turtlehead many times, and I have, subsequently, become bored with it. However, on January 2, 2010, I felt my 7-year old son, Aidan, was strong enough to attempt it. With a submarine sandwich and snacks for motivation, we made it. My son, wearing tennis shoes, slipped in a few places, particularly at the top where it was a bit icy. Still, he made it with flying colors.
The latitude and longitude figures that follow were taken from my Magellan Meridian GPS. I found they differ from figures at other sites; however, I compared my results with Google Earth, and I come within yards. So, I stand by them.
The Turtlehead trailhead is located along the scenic loop at Red Rock Canyon. The entrance to Red Rock is located about 16 miles from the Stratosphere. It may not be the fastest way, but to get there from anywhere on the Strip, head west on any major avenue. Then turn right at any light, except don't turn on Valley View if you are south of Flamingo, because train tracks divide it into two parts. Then turn left onto Charleston. About four miles past the edge of town you will come to the entrance station on your right. Alternatively, take a freeway.
The entrance fee to Red Rock Canyon is $5 per carload for a one day pass or $20 for an annual pass. The park features a visitor center and a 13-mile scenic drive that weaves amoung sandstone and limestone peaks. When Tony came to Las Vegas on the Sopranos, he went there. The show doesn't specifically mention Red Rock, but you can tell he was there from the views. The movie Stuey shows Stu Ungar visiting the Red Rock overlook. For the Turtlehead trailhead, park at the Sandstone Quarry parking area, a few miles past the entrance along the scenic loop.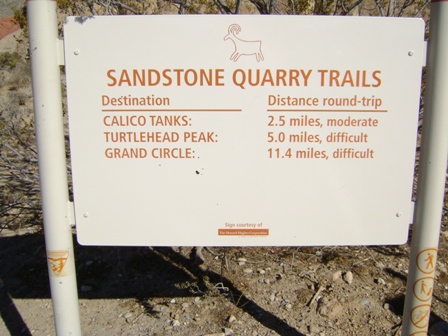 Latitude = 36.09.474 N
Longitude = 115.27.016 W
At the trailhead.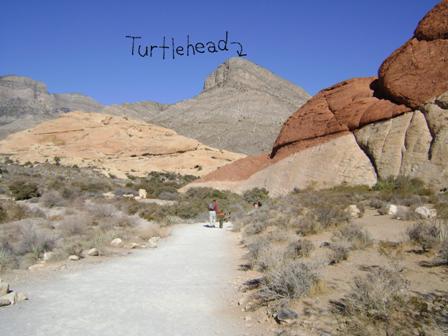 Latitude = 36.09.474 N
Longitude = 115.27.016 W
At the beginning, the trail is shared with the Grand Circle and Calico Tanks trails and is wide and well worn.
Latitude = 36.10.530 N
Longitude = 115.27.224 W
The first leg of the hike requires only a slight gain in elevation. The trail becomes thinner as you progress, but, until you reach the steep section, it remains easy to follow. While I have hiked Turtlehead probably 20 times, I doubt I have ever taken the same route twice. As long as you stay between the two red paths on the photo, you should be fine. Not that I endorse stomping on the plant life, but there are dozens of paths spiderwebbing up this part, with no obvious correct way.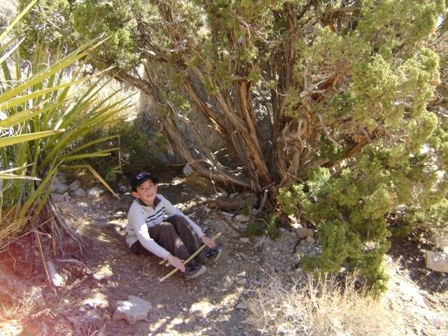 Latitude = 36.10.846 N
Longitude = 115.27.017 W
This hike can be extremely hot in the summer, and there is very little shade. This juniper tree, about 1/3 of the way up the steep section, is one of the few places to catch some much-needed shade when it is over 100 degrees.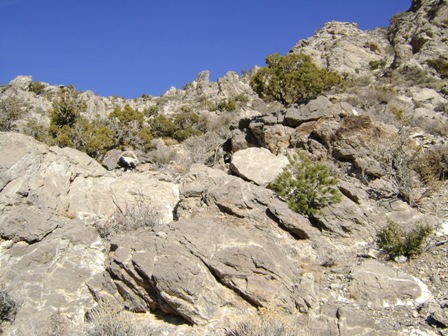 Latitude = 36.10.950 N
Longitude = 115.26.901 W
This is almost to the top of the "steep part," which ends once you have gained the ridgeline. Your next move is to turn right and walk along the ridge until you can turn right again and continue toward the top. It is still steep the rest of the way but not as steep and rocky as what you have just completed.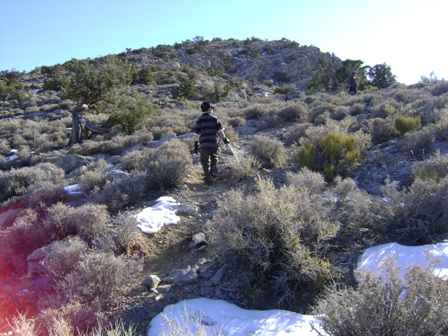 Latitude = 36.10.978 N
Longitude = 115.26.807 W
This is the beginning of the last leg of the hike, a gradual slog up the turtle's head. It is not unusual to see patches of snow during the colder months.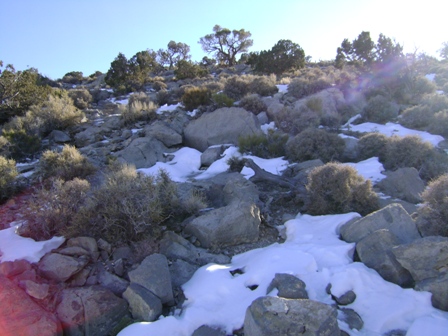 Latitude = 36.10.894 N
Longitude = 115.26.778 W
This is towards the end of the last leg of the hike. The ice was very slippery. I was glad I brought a ski pole.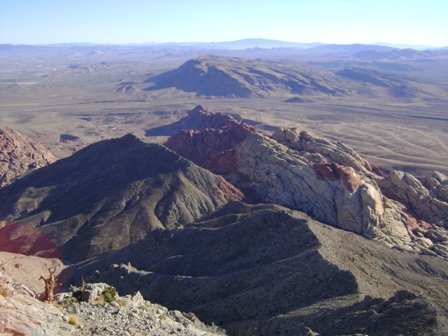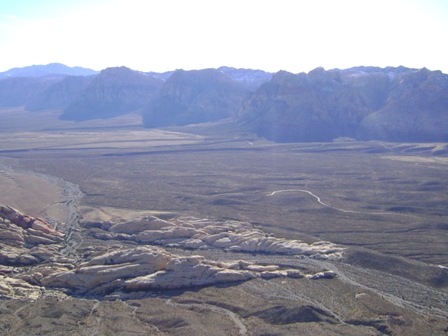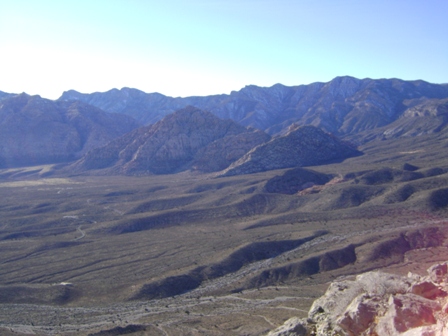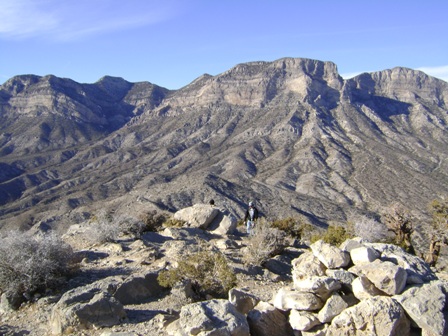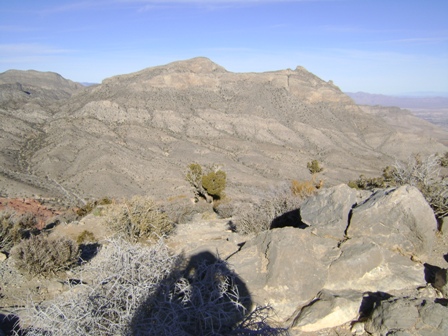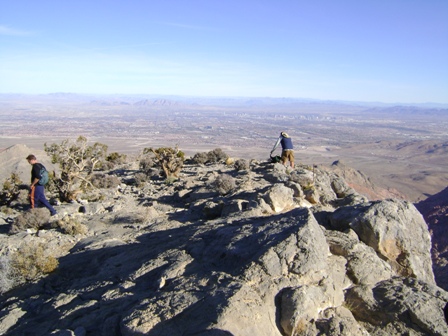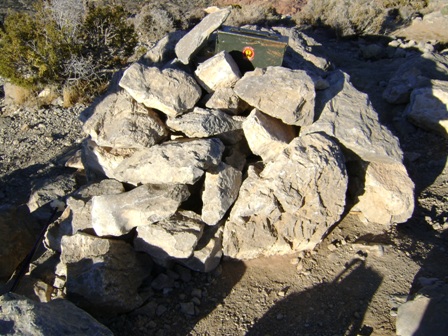 Latitude = 36.10.813 N
Longitude = 115.26.761 W
Pictures from the top. The ammunition box two pictures up has a sign-in register.
I always hate it when mountain climbing guides say this, but to return, retrace your steps. On more difficult hikes, often you can't locate your original steps, unless you were walking in snow. However, with Turtlehead it isn't hard to find you way back down. On the rocky steep section, I recommend using a walking stick or ski pole.
Links