Introduction
36.09.912N, 115.26.617W
Red Cap, a.k.a. Turtlehead Jr., is a short but sweet hike/scramble in the Red Rock National Conservation Area. The rock formation may look prohibitively steep in the picture above, but it is not as bad as it looks. The sandstone, which tends to be a static surface, makes for easy scrambling, and in few tricky spots, there are handholds to help as you ascend. Total mileage is about two miles (four miles round trip), and the elevation gain is about 650 feet (4280'-4925'). (source: summitpost.org). My seven-year-old son reached Red Cap's summit easily in January 2010. He liked the hike so much we returned a month later, on Valentine's Day, which is when I took the pictures in this article.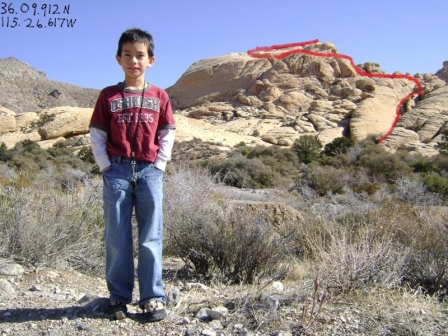 36.09.912N, 115.26.617W
I have never seen the same route described twice in literature about Red Cap/Turtlehead Jr. I also have never seen the one I describe here anywhere else. Evidently, most adventurers prefer more challenging and more vertical routes. However, I don't trust myself to avoid trouble climbing steep rocks (unless being led by someone with a better sense of direction), so I found my own, easier route. It is roughly outlined in red in the picture above.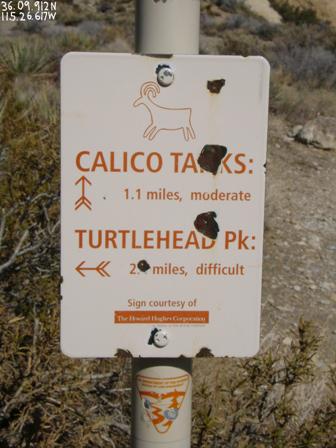 36.09.912N, 115.26.617W
To begin, find your way to Red Rock National Conservation Area, located about 16 miles west of the Stratosphere on Charleston Blvd. Park at the Sandstone Quarry parking lot, a few miles past the park's entrance along the scenic loop. On a busy weekend, you may not find a parking spot, especially in the afternoons, in which case just park along the Red Rock loop.
To get to Red Cap, follow the trail signs for Calico Tanks. Before long, you will see Red Cap. The Calico Tanks trail goes right alongside Red Cap. At times, you may be tempted to turn left and start heading up prematurely. However, my route doesn't leave the Calico Tanks trail until you have about passed Red Cap.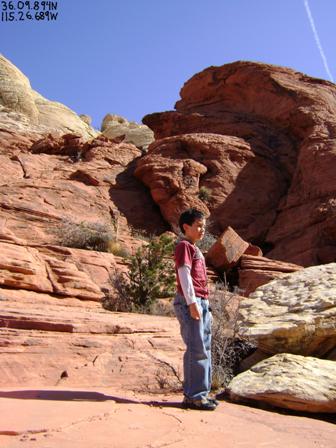 36.09.894N, 115.26.689W
The picture above shows where I suggest getting off the Calico Tanks trail. You'll want to turn left and start heading upwards. There is nothing marking this spot, which is why I took pictures and GPS measurements.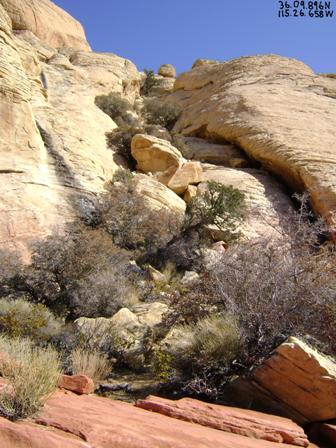 36.09.896N, 115.26.658W
After a short and easy scramble upward, the rocks change in color from red to cream. Look for the chute pictured above, and climb up it. For extra credit, go up the rock face to the right.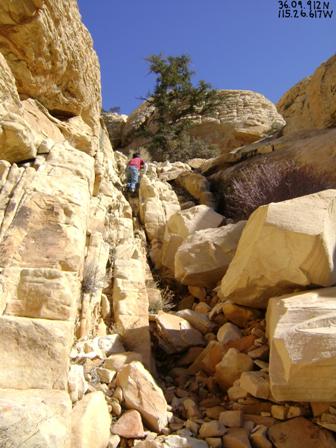 36.09.912N, 115.26.617W
Keep going up the chute until you get to the tree pictured above. Turn right at the tree.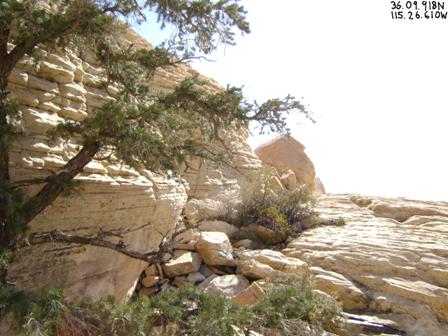 36.09.918N, 115.26.610W
Above is what it looks like to the right of the tree. Go this way a very short distance, like 20 feet, and then you will go up another chute.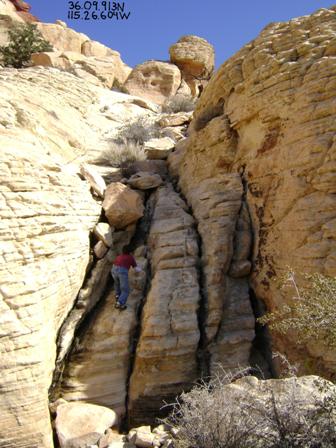 36.09.913N, 115.26.604W
This the second chute, to the right of the tree. It is shorter and more fun than the first chute.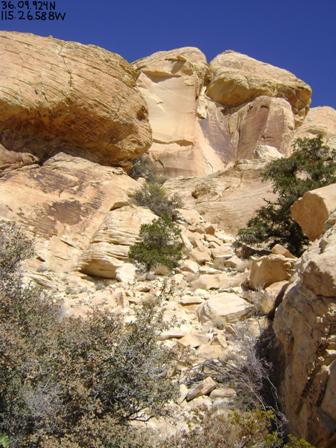 36.09.924N, 115.26.658W
After reaching the top of the second chute, turn to the left, and look for the sheer rock face in the picture above. Climb towards it, up what my son and I refer to as "avalanche alley."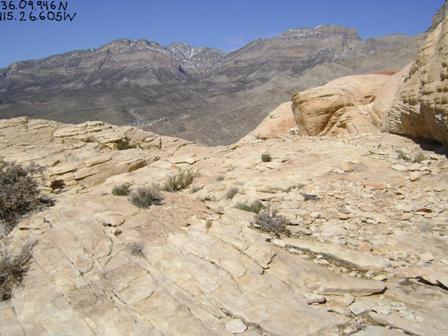 36.09.946N, 115.26.605W
Just to the left of the sheer face two pictures up is a nice flat plateau you will follow north, along the side of Red Cap.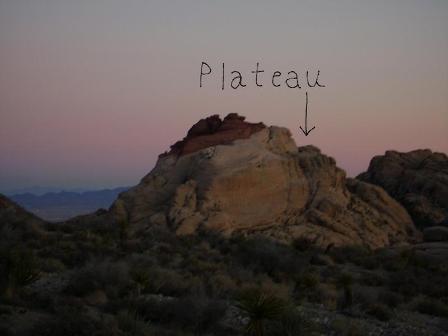 The above picture was taken returning from Turtlehead Peak a different day, and obviously at a later hour. However, I include it to show the plateau you will be on at this point.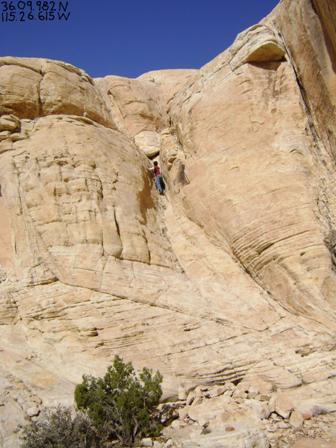 36.09.986N, 115.26.615W
Follow the plateau as far as it goes, until you get to this fun little alley going up the rock. It was a bit tight for me to squeeze through, but I've managed through much smaller spaces.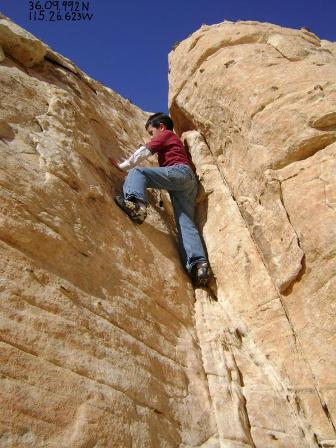 36.09.992N, 115.26.623W
After making it through the tight squeeze, there will be a shorter but steeper climb up a nearly vertical rock face. However, there are plenty of reliable handholds. Depending on how you look at it, this is either the most difficult or the most fun maneuver. For extra credit, there are two other cracks in the rock to the right that look even harder. Next time I'm going to try one of them.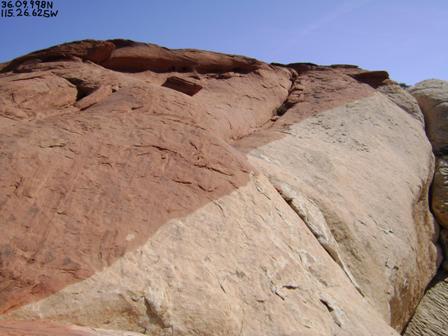 36.09.998N, 115.26.625W
Once you have made it up the crack, suddenly your entire perspective changes. You are now at the flat top of Red Cap, but not the tippy top yet. Here is where the cream-colored rock changes back to red (the red cap of Red Cap). From here, it is a nice, easy stroll to the nub at the top.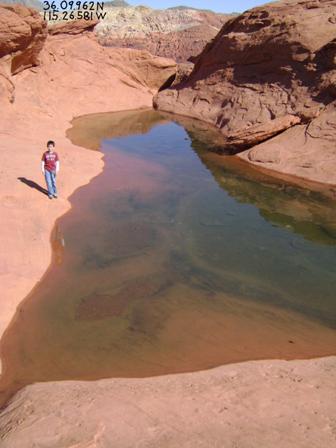 36.09.962N, 115.26.581W
Near the nub, there is a lovely little water tank. I bet this would feel refreshing to dip in, should you attempt this in the middle of summer. However, when we were there in February, the water was icy cold, so no thanks.
This is the nub at the top. If you're tall, you may be able to lift yourself up on the left side. However, we went up a short crack in the middle. It looks worse than it is.
At the top, you'll be rewarded with 360-degree views of Red Rock and Las Vegas. There is also a sign-in notebook inside a Skippy jar, which my son enjoyed adding his name to and reading through.
To return, "retrace your steps." Remember to turn left once you get back to the cream colored rock, to find the top of the steep crack. The place where you are most likely to lose the route is probably at the bottom of avalanche alley. Look for the tree at the top of the second chute. There is another chute closer to the face of Red Cap, but I have not tried it and am not sure where it leads. That is what I fear you may accidentally do if you are not careful when retracing your steps.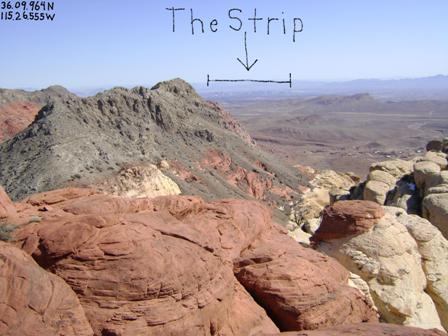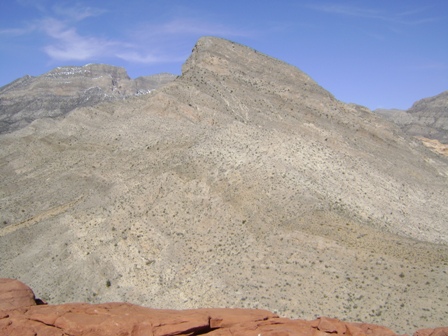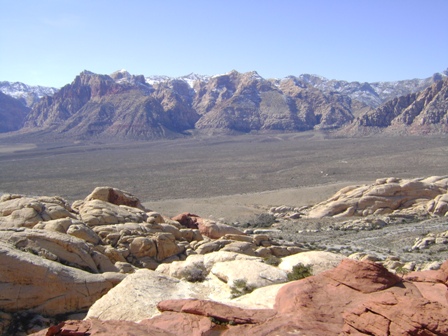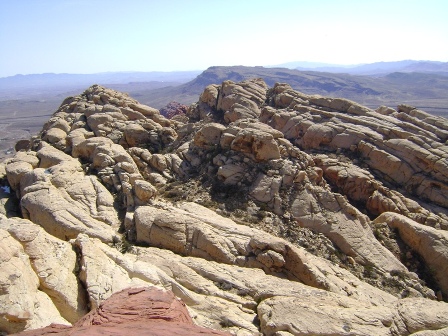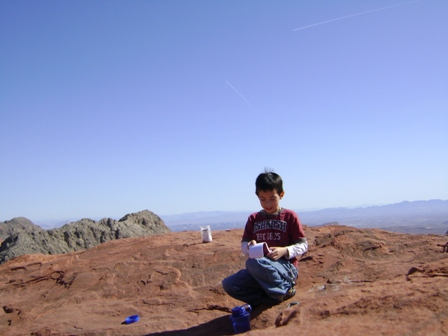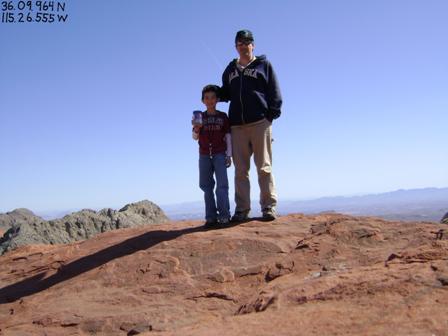 I would like to close by giving a little rant against calling this peak "Turtlehead Jr.," as is done in some guidebooks and on some web sites. Turtlehead is a much larger peak to the north of Red Cap. However, naming Red Cap after Turtlehead is quite a misnomer. Turtlehead is a long hike up sharp limestone. Red Cap is a more of a climb than a hike, up sandstone. While close together geographically, they are nothing alike in terms of the experience getting to the peaks. Plus, Red Cap is the perfect name. Nice, short, and to the point. So please joining me in putting an end to "Turtlehead Jr."
Links