Introduction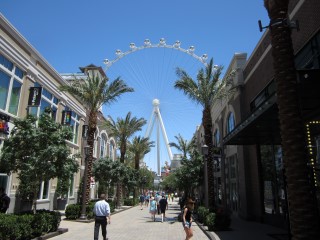 The High Roller is the world's largest ferris wheel, at least as of this writing. It is located in the Linq shopping/dining area between the Flamingo and Quad casinos, across the Strip from Caesars Palace. It achieves a height of 550 feet. To put that in comparison, the Bellagio is 508 feet high, and the Stratosphere tower observation deck is about 900 feet high.
As of this writing (May 2014), ticket prices are as follows:
Day time (12:00 PM - 5:50 PM) : $14.95 (children), $24.95 (adults)
Night time (6:00 PM - 11:50 PM) : $24.95 (children), $39.95 (adults)
A child is defined as ages 4 to 12. Under 4, I assume, is free. Guests of the Flamingo and Quad, as well as Las Vegas locals, are entitled to $5 off.
Tickets can also be purchased online and at vending machines in the Linq area. Through these advance purchases, a ride time must be selected in increments of ten minutes. I assume that means the longest the wait will be is ten minutes long.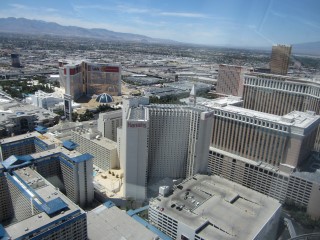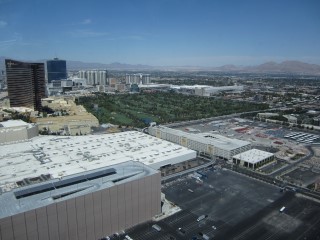 The High Roller opened to the public on March 31, 2014. Two months later, I finally gave it a try on a hot Thursday afternoon. There was absolutely no wait and I got my $5 locals discount by presenting my Nevada driver's license. Much like on Space Mountain, they set up rooms for a line to snake around, but I walked right up to the platform. In fact, I had to wait a couple minutes for more guests to show up, as I wasn't allowed to ride by myself. As I waited, many of the cabins went by empty.
Finally, two couples arrived and we boarded one of the 28 spherical cabins. Each can accommodate up to 40 people, so with just five of us, there was plenty of room. While signage says you have to be able to stand for half an hour, there is room for about six people to sit down. Given that it was about 105 degrees that late May afternoon, I was grateful that the cabins were very well air conditioned.
Hopefully these pictures give an idea of the views you get on the ride. If taking in those views for 30 minutes bores you, video screens show a young, blond, curly-haired guy talking about the ride and later posing trivia questions about Vegas.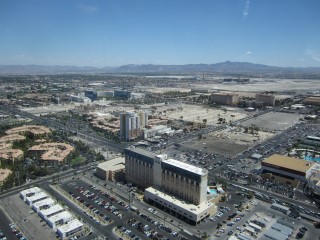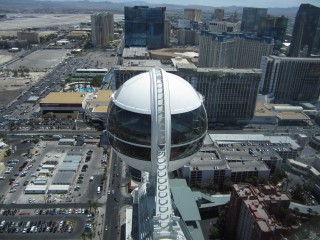 I also took a GoPro video of the whole experience. To keep the video from being too boring, it is shown in time elapse, at 2.5 time normal speed. My camera ran out of power about a minute before I reached the bottom, for which I apologize. After exiting the ride, you go through the gift shop, of course, and then walk back through the Linq shopping area.
In conclusion, the experience itself was very efficient and comfortable. What little interaction I had with staff was pleasant. My only complaint is the cost, especially at night, was kind of steep. I'm not saying the experience is for everybody. After seeing my pictures and video I hope I've helped you decide if the Higher Roller is something you might do your next trip to Vegas.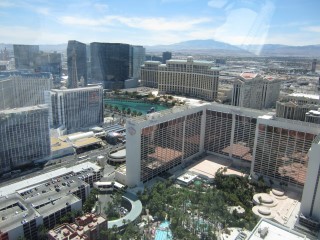 If you're wondering how I kept the camera so steady, here is how I affixed the camera to the hand rail. Rules normally prohibit using tripods, but they made an exception in my case, because it was small.
Links