From the moment you get off an airplane at Las Vegas's McCarran Airport or the second The Stratosphere comes into sight as you come North on the I-15 out of California, you're bombarded with advertisements for Las Vegas's hotels/casinos, shows, restaurants, nightclubs, shopping malls, etc.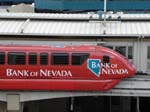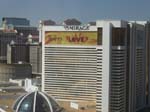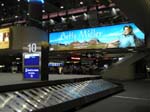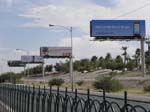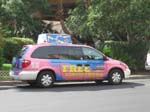 Billboards are everywhere, but that isn't the only way advertisers are grabbing your attention. During a recent day on the strip, I found myself keenly aware of all the ads. And I found myself giggling at the creative placement of many of them.
Now, of course, the cabs are covered with ad placards. On the taxis' roofs are three sided boxes and on their rears are another billboard. I even saw a cab with a special paint job, or maybe it was a decal, that turned the whole vehicle into a bright pink, moving ad for Circus Circus's free circus shows.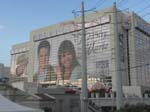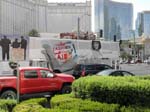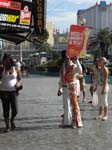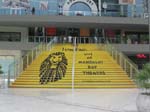 The double-decker city buses, known as The Deuce, that troll up and down the strip are usually covered in ads, too. So is the Las Vegas Monorail; each train is wrapped with a different logo.
The Fashion Show Mall is no exception when it comes to gratuitous displays of advertising. Beyond the information cubes that house a mall directory and ads like you find in every mall in America, Fashion Show offers some creative advertisement options as well. There are 20' tall billboards hanging from the ceiling and decals attached to the sides of escalators. My personal favorite, though, is a Lion King ad built into the rises of the giant staircase in front of the mall, along the Strip. Who came up with that? And couldn't that kind of ingenuity be used to eradicate world hunger instead of selling show tickets?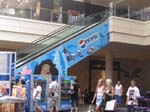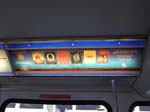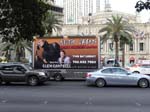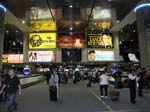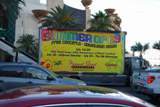 Getting back to the airport. Between my own trips in and out of town and greeting arriving family and friends as they make their pilgrimages to Sin City, I find myself hanging out at McCarran's baggage claim about once every six weeks. No matter how often I am there, the scene always overwhelms me. Forget the masses of weary travelers, dragging their luggage and confusedly trying to find a cabstand, it's the enormous video screens flashing scenes from various shows and belting out a sales pitch at obnoxious decibels that overwhelms me. And then there are all the backlit billboards hanging overhead. I feel like Bette Midler is looking down on me to make sure I don't swipe someone else's bag off the luggage carousel.
The barrage of ads continues as you drive out of the airport and toward the strip. One billboard after another, plus you're probably looking at the backside of a taxi decked out with a smirking Penn and a pensive Teller. Oh, and don't be surprised if a billboard on wheels pulls up next to you at a stoplight.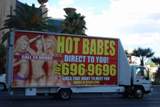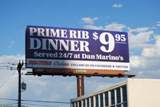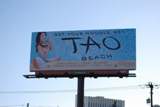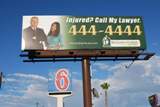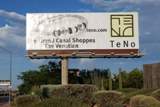 At your hotel, the barrage continues. At check-in, you'll receive your room's key card, which will probably be an ad for one of the property's shows or clubs or spa. And that key card comes with some flyers and, if you're lucky, coupons touting more of the casino's offerings. Next, your elevator may have placards highlighting the property's, or its sister properties', dining options. You might find more flyers in your room, and when you turn the TV on, it'll probably take you directly to the casino/hotel information screen, which is code for advertising channel.
In the casino, banks of slots and video poker machines are often covered with more billboards, as if anyone is paying attention to that as they're trying to win Megabucks.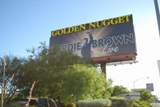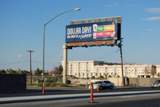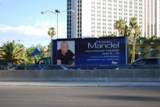 Outside of the casino, in the air, blimps and biplanes with a message to spread and hotel towers with 20-story stickers touting the headlining show catch your eye. Then there are the salespeople. Around nearly every corner you'll find a timeshare representative promising something great if you come to his/her seminar. And, the cherry on top of it all, the infamous rows of day laborers clicking stripper cards on Las Vegas Boulevard. A good share of those cards end up tossed away, so even the sidewalks have their chance to advertise.
I don't know about you, but I'm feeling overloaded! What's next, a 200-foot banner with Terry Fator and one of his puppets hanging from Hoover Dam?
Posted by
Mission146