Can Our New Partner Site be Beaten?
I am excited to announce the WoO/WoV partnership with a new Wizard of Odds APPROVED casino, Vegas2Web, "Where Winners Play!" Even more than the partnership, of course, I am excited to determine whether or not the new player promotion(s) offered by this casino can be beaten.
Before I do that, however, let me take a moment to remind everyone what it means for a casino to be Wizard of Odds APPROVED.
The Wizard of Odds Approval simply means that any player that creates an account via clicking through any Wizardofodds.com or Wizardofvegas.com link is going to be protected to the extent that the Wizard is going to go to bat for you in the event that you have a dispute with the casino and are not able to resolve it with them. Of course, we do ask that you attempt to resolve it with the casino yourself first and only use our advertising guarantee as a last resort.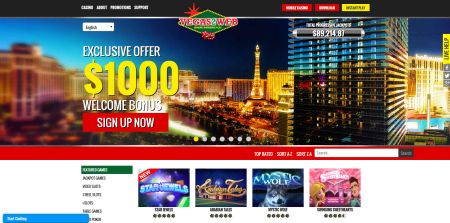 The Bonus touts itself as being a Bonus of up to $1,000, but it's not quite that straightforward. The Deposit Bonus aspect of it is a three-part Bonus by which a player may make an initial deposit of up to $150 and get a 100% match, ($300 total bankroll) the player can then receive a 30% Deposit Bonus of up to $225 by making a deposit of $750 ($975 total bankroll), finally the player can receive a Deposit Bonus of 50% up to $105 by making a $210 deposit. ($315 total bankroll)
This is one of the most unusual structures that I have seen for Deposit Bonuses in terms of how much must be deposited, particularly with respect to that second 30% Bonus.
We also see that the total Bonuses add up to $480 rather than $1,000, and that's why I said it's not quite that straightforward. The reason why is because new players also receive a Bonus spin once a week for a year provided they are active depositors. The site states that the value of the Bonus is $10/week, which, when added to the $480 total bonuses on the first three deposits would add up to the $1,000 total Bonus.
However, in order to get the Weekly Free Spin, the player must have made a deposit of no less than $100 within seven days of doing the Free Spin. Effectively, this is, at best, a 10% Match Bonus (in terms of Expected Value).
In addition to the unusual bonus structure, they also have a few Terms & Conditions that might give me pause:
12. The Company reserves the right to cancel your account for any reason whatsoever at any time without notice to you. Any balance in your account at the time of such cancellation may be credited to you, however, the Company reserves the right, in its unfettered discretion, to void any winnings and confiscate any balance in your Casino account in any circumstances including.
H. If you have not played at the Casino on an individual basis for personal entertainment only (that is, you have played in a professional sense or in concert with other player(s) as part of a club, group, etc.
J. If you have been designated as a bonus abuser, playing no or low-risk strategies in order to withdraw promotional money.
K. If the Company should become aware that you have played at any other on-line casino under any of the circumstances set out at 10.a to 10.k above
Basically, if the casino decides that you are playing on a, "Professional basis," (Whatever the Hell that means) they can close your account, void your winnings and confiscate your balance. Furthermore, if they determine that you have done that at any other online casino, then they reserve the right to cancel your account and confiscate your winnings and deposits on that basis.
In terms of other Terms I don't like, you also consent to the use of your name for promotional purposes, other than where prohibited by law, if you accept any prize or winnings from the company.
Vegas2Web is powered by Rival Casinos, so I would suggest that I would be hesitant to attempt any form of advantage play at Vegas2Web if you have done such at any other Rival Casino.
You MUST claim the Bonus Before Making the Deposit!
Another outrageous term is that you essentially MUST win in order to be able to make a withdrawal:
Following the redemption of a bonus, if the player wishes to make a withdrawal which is greater than their deposit, they must have an amount greater than the sum of the deposit + bonus. For example, if a player makes a purchase US$100 and receives a bonus of US$100, then requests a withdrawal of US$190, this will result in US$190 being returned to the player's casino account. The player will only be able to withdraw again once their balance either exceeds US$200 or when the promotion is removed.
Unfortunately, there is no way I can recommend playing this Bonus to anyone who wishes to play Table Games, so I'm not even going to delve into the math on this one. In fact, I wouldn't even recommend this casino to slot players due to the rule that a player must have an account balance greater than the deposit + bonus in order to make a withdrawal.
The casino has the fundamental right to have any Terms and Conditions it wants to, don't get me wrong, but that particular term is patently absurd. It basically puts the player in a, "Must-win," situation in order for the player to even be able to withdraw their money. In my opinion, once the player completes the Wagering Requirements of a Bonus, win or lose, the player should be allowed to play or withdraw whatever funds remain (exception for ridiculously low amounts) at the player's discretion.
Unfortunately, I must retract my statement that I am excited to announce this new partnership. I'm glad that we have a new partner, but excited is way too strong of a word to describe my feelings towards this partner.
Final Determination: NOT Recommended.
Posted by
Mission146