Why This (and Others) Are Potentially Not Beatable
In looking around WoO for some more Promotions to suggest, I ran across the Black Diamond Casino Bonus that looked absolutely fantastic.
For those that wish to play, (but not Advantage Play) this is a Wizard of Odds APPROVED casino, and as such, any players that have a conflict with the casino in which the player and casino cannot come to a resolution are entitled (if you sign up through the Wizard of Odds link) to have the Wizard himself act as a mediator between the player and the casino in an attempt to reach a satisfactory resolution.
As always, here is the advertising policy.
After clicking the link from the Getting Started with Online Gambling Page I wrote.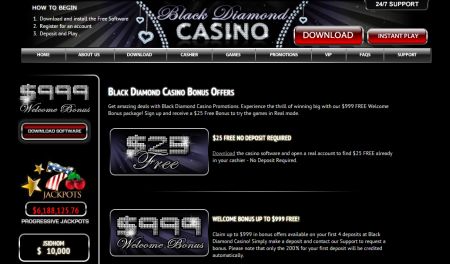 Everything looked fantastic.
In addition to a $25 No-Deposit Bonus, there is an up to $999 Bonus in which the player can make a first deposit of $100 and get a 200% Bonus, a second deposit of $100 and get a 100% Bonus, a third deposit of up to $100 with a 200% Bonus, and finally, a deposit of up to $1000 which would get a 50% Bonus.
Reviewing the Terms & Conditions, I determined that this is, in fact, a Phantom Bonus in which the Bonus amount is itself not cashable, but that's really no big deal. The main reason why this wasn't a big deal is because a varied assortment of Table Games are allowed to be played with this Promotion. It was time for me to do some math!
Or, was it?
This Promotion is just another example of how important it is to peruse the Terms & Conditions if you intend to attempt to Advantage Play at online casinos. In many cases, they expressly forbid any such attempt. Let's have a look at the Bonus Rules.
8.7.1 Bonus abuse takes place when the Member has no intention to use the casino Bonus for entertainment but instead utilizes systematic-betting, advantage-betting techniques or betting at later extent, in order to manipulate the casino Games in her/his favor. Free Bonus abuse and Bonus betting systems shall not be tolerated at Black Diamond Casino. Members found using these methods shall be immediately blacklisted, and their original deposit amount refunded, unless the Member receives a total payout that exceeds her/his initial deposits amount. In such cases, no further refund shall be initiated. Any winnings made using methods of systematic-betting or advantage-betting shall be considered fraudulent and shall immediately become void.
8.7.3 Black Diamond Casino shall not tolerate abuse of free Bonus Money in advantage play. Free Sign-Up Bonus casino accounts and free Bonus credits are closely monitored by gaming specialists to avoid this practice. If a Member is found placing advantage bets with free Bonus Money, all associated casino accounts in the entire network of sites managed by the same company shall be immediately blacklisted and closed. All winnings shall be voided.
As we can see, they are pretty much directly stating (but, at least it's in there!) that my technique for pursuing these types of Bonuses is strictly forbidden. As anyone who has followed my methodology for beating these promotions knows, my method usually involves staking the entire amount on a longish-shot bet and then grinding out the playthrough requirements after having significantly improved the, "Cash," portion of the bankroll.
I have no doubt whatsoever that I would end up being blacklisted if I used any of my methods at this casino. The only thing I could even see a player possibly getting away with is to try to use a longish shot bet to drastically improve the bankroll, but then continue to bet high amounts so that the amounts bet remain relatively consistent. I'm not recommending that practice because they might even consider that a violation of those Rules, but if you wanted to try it, the Expected Value would end up being the same...you would just have a lot more Variance given the large bet amounts.
The reason why I am even publishing this Article in the first place is because I think that it serves as a very important reminder to always read the Terms & Conditions prior to signing up for a Bonus. As previously stated, I do tip my hat to Black Diamond Casino for its forthrightness in directly stating that any attempts at advantage play will not be tolerated.
In fact, given this upfront honesty, I'm even going to go as far as to say that I highly recommend Black Diamond Casino to any of our readers out there who are casual online gamblers and do not have any intention of attempting to beat the casino via Advantage Play.
The one interesting question that brings up is how do they cash out someone who wins money on the No Deposit Bonus without violating their own Terms & Conditions? Think about it, regardless of what game you play or how much you bet, No Deposit Bonuses are fundamentally an Advantage Play because the player is risking zero with a non-zero (as in, positive) Expected Value! In any case, I seriously doubt the casino will come back with, "No, we are not cashing that out because it violates our Rules on Advantage Play!"
The moral of the story is to ALWAYS read those Terms & Conditions, and it's a point that I cannot possibly stress enough. Even if you have read the Terms & Conditions for a certain casino, read them again, they can change anytime. Read them before you make a deposit and if you do not understand something, use the Chat Support and have a chat log sen to your E-Mail.
Posted by
Mission146