Introduction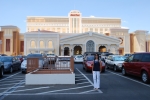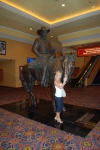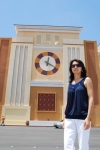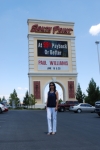 The South Point is a large casino in the south part of Las Vegas that caters to economy-minded visitors and neighborhood locals. It opened in December 2005 and was known at first as the South Coast. When it opened, it had a striking resemblance to its sister property at the time, the Suncoast. Shortly after that opening, in October 2006, South Point was acquired by the Gaughn family, owners of the El Cortez. However, don't let that fact scare you away; the South Point and El Cortez are as different as night and day.
Besides housing a large casino and hotel, the South Point offers bingo, a 60-lane bowling alley, a 16-screen movie theatre, and a large equestrian arena/events center. I stayed there January 7-8, 2010. This review is about my stay.
Location
The South Point is located on Las Vegas Blvd., about five miles south of the Mandalay Bay. It has convenient access to the I-15 via Silverado Ranch Road. A free airport shuttle is available to hotel guests. Be warned that there is little to do within walking distance of the property.
If you do drive north along Las Vegas Blvd. to get to the "Strip" portion (what I would define as Las Vegas Blvd. from Mandalay Bay to the Sahara), you may wish to take a picture at the famous "Welcome to Las Vegas" sign. It is located about a half mile south of the Mandalay Bay. There is now a parking lot in the center divider by the sign.
Hotel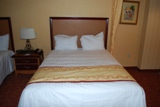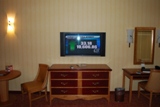 According to the 2010 American Casino Guide, the South Point has 1,325 rooms and 25 suites. By way of comparison, the MGM Grand has 5005 rooms and 752 suites. For a basic room, as of January 2010, the prices were $70 on weekdays and $120 on weekends, plus the 12% Nevada sales tax. I applaud the South Point for not tacking on a mandatory "resort fee."
The registration check-in line was Wendy's style (one line for many windows) and only took about one minute. There were plenty of comfortable chairs and couches next to the check in, which I think is a nice touch if you have more than one person in your party. There is no reason everyone should have to wait in line or just stand around.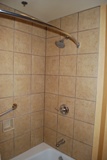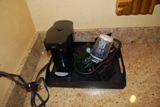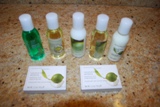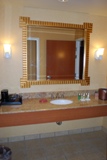 My room was large, nicely decorated and comfortable yet practical. It featured a large flat-screen TV, coffee maker (which you seldom find in Las Vegas), a better than average selection of freebees in the bathroom, and a computer keyboard. My only complaints were that the bed was a bit too soft, and there was a humming sound that came on for about five minutes every 30 minutes or so. I think it was associated with the heater. For these kinds of annoyances, I try to always sleep with a set of earmuffs (like the kind construction workers wear that use loud machinery) within arms reach, even at home.
When I checked in, I received two coupon books. Unfortunately, they didn't have any gambling coupons in them, but I managed to use two of the offers anyway. Here is what each book included:
Free well drink or domestic beer at specified casino bars.
Free breakfast or lunch buffet.
Free bottle of house wine with purchase of two dinner or brunch buffets.
Free dessert (up to two) with purchase of each entree at Don Vito's
Free margarita with purchase of dinner entree at Baja Miguel's.
15% off a $10 or more purchase at the Del Mar deli.
Up to three free games of bowling when three are purchased at the regular price.
10% off at Seattle's Best coffee.
Free junior popcorn with purchase of a matinee movie ticket.
"Save up to 50%" at Prestige Travel. Based on the small print, I think it refers to Las Vegas show tickets.
Pool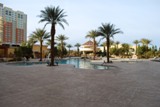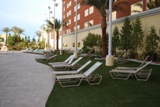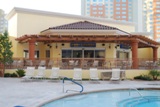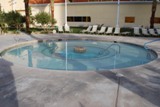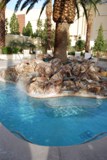 I checked out the pool on a chilly Friday morning in early January, so the area was, not surprisingly, quiet. The pool had a meandering configuration, kind of like the shape you get if you spill milk on a table. There was plenty of space around the pool for sunbathing, along with some palm trees and fake grass. A smaller, shallow pool was there for the kiddies. The spa was very large with an island in the middle. I tested the spa's water temperature, and I found it was not too hot and would probably be agreeable to children when the pools are frigid. A large bar is to the side of the deck for libations.
Dining
The South Point has a nice variety of restaurants. Based on where I ate, and at looking at posted menus, they all seem to be reasonably priced. Here is a quick list of what they offer, with links to descriptions at the South Point web site.
Restaurants
Quick Bites
Del Mar Deli (by the sports book)
Kate's Korner (ice cream)
Seattle's Best Coffee
Snack Bar (by the bowling alley)
Here are comments about the two places I had a chance to try.
Garden Buffet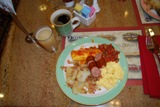 I used the coupon in my fun book to get a free buffet for breakfast. The line took about a minute, which was pleasantly and surprisingly short. Often neighborhood casinos get lots of locals that come in for the buffet only, causing the lines to be long, but that wasn't a problem the morning I was there. The inside of the buffet is large. As soon as I sat down, a waitress took my drink order. She came by often to make sure I didn't go thirsty. They didn't have anything especially high end (like shrimp, crab legs, or blackberries) on the food line, but there were many things to choose from and considering the price they normally charge, I couldn't complain. Speaking of which, the prices are as follows:
Breakfast (Mon-Fri) $6.95
Lunch (Mon-Fri) $9.95
Dinner (except Monday and Friday) $14.95
Brunch (Sat & Sun) $13.95
Monday steak night $15.95
Friday seafood night $18.95
Primarily Prime Rib
I love a restaurant with a simple non-pretentious name. At ate here with two friends on Thursday night and had my free dessert coupon from my fun book in hand. The restaurant has big tables that are spaced nicely apart. Upscale furnishings and soft dinner music gave the place a high-end feel. The service was frequent and efficient. I ordered the "South Point" cut of Prime Rib for $14.95, and it included soup or salad and choice of potato. In my opinion, the food was fine but not outstanding. My friends pretty much agreed. However, the check for three people was only $55, so for the money, it is a good value.
Casino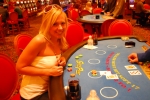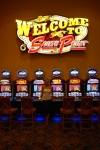 According to the 2010 American Casino Guide, the South Point has 96,433 square feet of casino space. By way of comparison, the MGM Grand has 62% more at 156,023. According to the Nevada Gaming Control Board, the South Point has 63 table games (although I only counted 60) and 2,282 slots. The casino is well lit with nice wide aisles, making it a comfortable and enjoyable place to play.
The casino was quite crowded when I was there. It was during the week of the Consumer Electronics Show, which I believe is the biggest convention to come to Vegas every year. However, the South Point is so far from the convention center, I doubt they were getting much convention business. It is possible the high prices on the Strip that week enticed some non-convention visitors to stay further out. Judging by signage in the casino, there was a motorcycle auction going on, and I noticed some people dressed in biker attire. However, for the most part, it seemed like a young and friendly crowd.
Most bets were low, in the $10-$25 range. I think the players were playing more for the fun than actual gambling. I had great fun playing next to a young woman who looked like Brittany Spears. However, when I made that comparison to her she seemed a little annoyed, remarking "I'm not white." Oops, it just goes to show that it is hard to tell sometimes.
Table Games
The South Point is not big on novelty games and therefore pretty much offers the basics: blackjack, roulette, craps, baccarat, pai gow poker and Three Card Poker. Here are some specific comments on the game rules:
Blackjack
The blackjack rules are 2 or 6 decks, dealer hits a soft 17, and double after a split is allowed. No surrender or re-splitting aces. The South Point is one of the few casinos that doesn't peek under a ten for blackjack. However, if the dealer does get a blackjack, you'll only lose your original bet. No bets are taken or paid until the dealer flips over the hole card after all players have acted. According to my house edge calculator, the house edge is 0.46% on the double-deck game and 0.64% on the six-deck game. Kudos to the South Point for no dreadful games that pay 6 to 5 only on blackjack.
Craps
The South Point is surprisingly stingy in craps, offering only 2X odds. They still pay 15 and 30 to 1 on hop bets and 3 to 1 on a 12 on the field.
Roulette
Just double zero.
Pai Gow Poker
The turn to bank rotates around the table. Empty seats are skipped. However, if a player declines to bank, the option reverts to the dealer. When you do bank, the dealer will bet as much as you bet the last hand, regardless of whom you played against. Usually the rule is the dealer will bet as much you as bet against the dealer the last time the dealer banked. If you are playing with friends, depending on the situation, you should carefully consider who sits where, so that whoever wants to bet the most is not inconvenienced by the South Point's unusual banking rules.
Video Poker
There can be no debate that the South Point is one of the best casinos in Las Vegas for video poker, especially for low to medium limit players. In particular, they have 99.73% single-line Deuces Wild at the 25¢, 50¢, and $1 denominations all over the place. Here are some other strong games the South Point offers according to VPfree2:
9-5 Super Double Bonus (99.73%)
9-6 Bonus Deluxe (99.64%)
9-7 Triple Double Bonus (99.58%)
9-6 Jacks or Better (99.54%)
Signage indicates that they have the most games in Las Vegas paying over 99%. However, only 99% is not very good in video poker. Almost every machine in the casino has games over 99.5%, which is the level you have to beat to have bragging rights, at least in my opinion. South Point could legitimately toot their own horn a lot louder regarding their generous video poker. My only complaint is that the full pay games disappear when you enter the high limit slots area.
All slot tickets expire after 60 days, which is better than the 30 days most places offer.
Race & Sports
The South Point has a very large area for watching and betting horse races and sports. I counted about 200 seats on the racing side and 200 on the sports side. There were two jumbo screens, one for racing and one for sports, and about 50 regular screens. In addition, there was a large lounge area with tables and chairs with plenty more screens to watch the games. A bar and deli are nearby in case you get hungry or thirsty. Plus, they have the same kind of hot dog stand as found at the Coast Casinos, selling big, tasty hot dogs for just 75¢, one of the best values anywhere in Vegas.
The comp rebate offered via the reward program is 2% for race bettors and 0.2% for sports bettors. Race tickets are valid for 120 days, and sports tickets for 60 days.
Poker
The poker area at South Point seems like an afterthought. It features 10 tables in a corner of the casino near the buffet. When I passed by on Friday morning, there was only one active table, which had one spot open.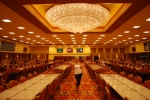 Bingo
The South Point has a big bingo room on the second floor, featuring a game on odd numbered hours from 9AM to 11PM. I would recommend the 7:00 pm session, which offers a $2,500 coverall. Buy plenty of bonus coverall cards and otherwise only the cheap blue cards, because the premium cards do not pay extra on the coverall, and that is where most of the money is.
Cocktail Service
During my five hours of playing in the casino, I found the cocktail service to be friendly and sufficiently frequent. The drinks were mixed well and served in large glasses, which is a welcome change compared to the dinky glasses most casinos use. My only complaint is the wine they serve is terrible. I ordered a glass when I was there previously with Lisa, my model, and she agreed it tasted like vinegar. When I returned for this review, I gave them another chance, but it was still just as bad.
I would be remiss in my duties if I did not address the lovely cocktail waitresses and the skimpy outfits they wear. Even if you don't get much pleasure out of gambling, the many beautiful and well-endowed ladies make it easy to kill hours at the tables. The outfits do not leave much to the imagination. Much like the Playboy bunny outfits, they are cut about as low as decently possible on the top and bottom and are very tight around the waist.
Player Club
The player club at the South Point is both simple and generous, just the way I like it. Each $1 bet in slots or video poker earns one point. 1000 points can be redeemed for $3 in cash, free play or comps, for an effective rebate of 0.33%. Other casinos make things complicated by having different rates for slots, video poker, and sometimes full-pay video poker, as well as lower redemption rates for cash or free play.
Signage in the casino and the local newspaper often favorably compare the South Point's program to competitors Station Casinos and Coast Casinos. They make a valid point, because the Station and Coast casinos pay 0.10% in cash back, and 0.17% on some kinds of comps. Station Casinos also reduces the point accumulation rate by 75% on full pay games.
Holidays are sometimes double point days at the South Point. For example, in January 2010, when I was there, they had double point days on New Year's Day and Martin Luther King Jr.'s birthday. Counting the cash back via the player club, playing the 99.73% perfectly would result in a return of 100.40% on double point days.
When I was there, the South Point was running a promotion on Sundays, Tuesdays and Thursdays in which if you earned 100 points on any machine (slots or video poker) you could spin a virtual prize wheel next to the player club desk. It is pretty easy to run $100 through the machines, so it is almost like getting a free spin for showing up. So I played a little video poker to get my spin. My prize was 500 bonus points, which has a value of $1.65.
High Limit Areas
There is a small, seperate area for high-limit slots but not for table games.
Non-Smoking Areas
As far as I could tell, the only part of the casino where smoking is prohibited is the poker room. When I sat down to play blackjack I was the first at the table, so requested to make it non-smoking. A request the floor supervisor complied with.
Comps
I can only look at my own experience to address comps. My room was $67.20 including tax, and I charged about $55 in food for a total of about $122. When I asked a floor supervisor to see what he could do about my charges, he said he showed 3.8 hours of blackjack play, at an average of $150 a hand, which I agree with. This did not include one hour of pai gow poker play I had just finished, which evidently had not made it into the system yet. The floor supervisor called somebody who said, "everything was taken care of."
It is par for the course to get back about 1/3 of the expected loss in comps. I don't know what figures they use at the South Point, but another Las Vegas casino assumes 70 hands per hour and a house edge of 0.75% in blackjack. That would make my expected loss for 3.8 hours at $150 a hand 3.8 × $150 × 70 × 0.0075 = $299.25. Covering all $122 in charges amounted to getting 41% back, which is pretty generous. I don't know if they would have comped more had I charged more, since they already covered everything. I should also point out that with correct basic strategy and an actual house edge of 0.46%, my expected loss was really only $183.54. In case you are wondering, I had a small win.
Other Entertainment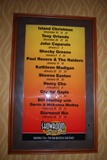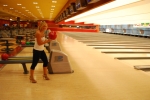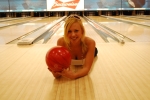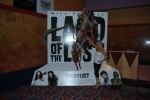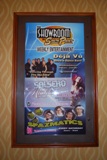 There is plenty to do at the South Point besides gamble. Here is a list:
Century Theatres: 16 screens
Bowling: 64 lanes with a lounge, snack bar, arcade and pro shop.
Showroom: When I was there, they had live music on Wednesdays, Fridays and Saturdays. The Saturday band is the Spazmatics, which is a fantastic 80's music band I have seen at another casino.
Events Center/Equestrian Arena: I've not been in it, so refer to the website for details.
Lines
The lines for the hotel registration, cashier, and player club are all Wendy's style, meaning one line for multiple windows, as it should be. I stood in all three of these lines but never encountered a long wait to be served. The only time delay in a transaction was when I cashed about $2,000 in chips at the cashier. It is normal to get approval for such an amount. However, the cashier called two different people in the pit, neither of which would approve the redemption. Then a supervisor in the cage was called over who looked at my play and called somebody who approved it. This all took about three minutes, but the cashier was very apologetic about the delay, although it really wasn't that long of a wait.
Parking
The South Point has a spacious, clean, easy-to-navigate parking garage. The elevators lead right to the east side of the casino. There is also lots of outdoor, surface parking.
Summary
Overall, I was very happy with my experience at the South Point. The service was friendly, and the prices for everything seemed reasonable. I didn't avail myself of the non-gambling forms of entertainment, but if I lived closer, I would probably go there on a weekly basis to do something other than gamble. Here are my suggestions for improvement, which are pretty minor:
Harder mattresses.
Fix the buzzing sound in room 2209.
Offer more than 2X odds in craps.
Serve better wine in the casino.
Links
Acknowledgement
I'd like to give a huge thanks to Lisa Furman for modeling in the casino pictures and Onalisa for the exterior pictures. Lisa invites you to visit her page at ModelMayhem.com.
Contact Information
Address: 9777 Las Vegas Boulevard South, Las Vegas, NV 89183
Phone: 702-796-7111
Web site: southpointcasino.com
Resort and Parking Fees
| | |
| --- | --- |
| Resort fee | $13.50 |
| Parking fee | Free |
Games at South Point
| Blackjack | Location | Decks | Min | Max | Soft 17 | DA | DAS | RSA | Surr | Tables | CSM | Party Pit | 6/5 BJ | Video | H. Edge |
| --- | --- | --- | --- | --- | --- | --- | --- | --- | --- | --- | --- | --- | --- | --- | --- |
| Blackjack | Off-Strip | 6 | 5 | 1000 | H | Yes | Yes | No | No | 14 | No | No | No | No | 0.63873 |
| Blackjack | Off-Strip | 2 | 10 | 2000 | H | Yes | Yes | No | No | 24 | No | No | No | No | 0.45688 |
| Baccarat | # of Tables | Min Bet | Max Bet |
| --- | --- | --- | --- |
| Baccarat | 4 | 10 | 5000 |
| Craps | # of Tables | Min Bet | Max Bet | Odds | Field12 | Video |
| --- | --- | --- | --- | --- | --- | --- |
| Craps | 6 | 5 | 2000 | 2 x | Triple | No |
| Roulette | # of Tables | Min Bet | Max Bet | Rules | Video |
| --- | --- | --- | --- | --- | --- |
| Roulette | 6 | 1 | 50 | 00 | No |
| Roulette | 1 | 3 | 1000 | 00 | Yes |
| Video Keno | Rank | Avg Return | Grade |
| --- | --- | --- | --- |
| Video Keno | 15 | 92.18% | B+ |