Introduction
The Seven Magic Mountains is a public art instillation located about 10 miles south of the southern edge of Las Vegas. It is a convenient stop on the way to Las Vegas on the northbound I-15 or leaving town going the other way. It opened in May 2016 for a limited 2.5-year run. However, it was so popular that it's stay was extended until December 31, 2021.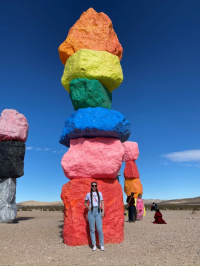 What you can expect to see is 33 enormous boulders, weighing 10 to 25 tons each, in seven towers of 3 to 6 boulders each. Each boulder is painted, many in fluorescent bright colors. Pictures of it speak for themselves. The project is the idea of artist Ugo Rondinone, who is known for large sculptures that evoke memories of Stonehenge and the Moai of Easter Island.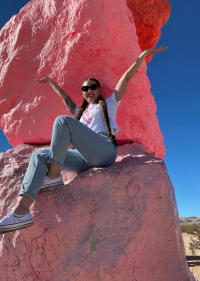 At the installation site you can expect a large dirt parking lot with no restrooms nor anything for sale. From there it is about a 100-yard walk to the Magic Mountains. I hear that some vehicles traveling north bound incorrectly park in an unofficial parking lot south of the appropriate one and have to scale barbed wire and trample over desert vegetation to get close. Please don't do that.
Depending on when you arrive, you will probably be one of 50 to 200 other visitors. Tour busses are starting to make stops there too.
I've taken friends to the Seven Magic Mountains several times. Based on their responses and other comments on my forum, there are two distinct groups of people -- those who love it and those who think it is stupid and a waste of taxpayer money, although private enterprise has pitched in too towards the $3.5 million cost. Personally, I love it and would not keep taking people there if I didn't. However, some I've taken there looked at it for 30 seconds from a distance and were ready to leave.
It is probably a good bet to pay a visit if traveling the I-15 anyway between Las Vegas and Los Angeles. It is a bigger gamble to take the trouble if visiting Las Vegas and you have no other reason to go that direction. My advice would be to look at the pictures and see if you feel called to go.
To reach it going southbound, take the Sloan exit, make a left and then a right to Las Vegas Blvd. (yes, it is called that), which parallels the I-15 on the right side. Going northbound, take the Jean exit, turn right and then left onto the same highway. There is pretty good signage.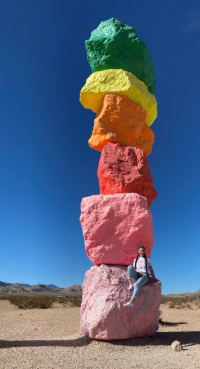 If you want an additional activity, consider visiting the nearby Pioneer Saloon. I plan to write a future article on that specifically later.
Internal Links
Forum entry about the Seven Magic Mountains
External Links