Introduction
On Tuesday April 9th, 2019 prior to the start of the Lakers last regular season game Magic Earvin Johnson publicly announced that he is stepping down as the president of basketball operations for the Los Angeles Lakers. He made this decision and announcement to the media without notifying anyone in the Laker's organization as he thought the Laker's executives would persuade him to stay in his role as president.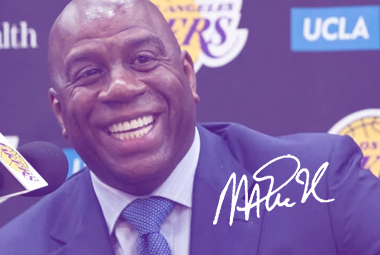 Magic Johnson seemingly made this decision in order to be happy and free once again as there was a lot of turmoil surrounding the Laker's franchise over the last year. After acquiring super star forward LeBron James Los Angeles went 37 and 45, and they missed the NBA playoffs once again. In fact, the Lakers only won 2 more games with LeBron than they did the previous season without James on the team. Head coach, Luke Walton may be fired as a result of the disappointing 2018 / 2019 campaign.
Magic's Public Statement
"It's a difficult decision. I cried before I came here," Johnson said as he choked back tears while making the announcement before the Lakers' regular-season finale against the Portland Trail Blazers, a 104-101 loss. "I am about to cry now. It's hard when you love an organization the way I love this organization. It's hard when you love a person like I love Jeanie [Buss]. I don't want to disappoint her."
"I want to go back to having fun,'' he said. "I want to go back to being who I was before taking on this job."
"We love Luke [Walton], so I got to make a decision and that's a tough thing," Johnson said. "I'm good with where I am. I'm happy. I want to do the things I used to do, so I had to weigh both situations, so this is better for me."
"I'm going to be around whenever she needs me," Johnson said. "Trust me. ... It's going to be hard for her to come and hear this right now. I get it. Because it was hard for me to go do that, to make this decision and come to this conclusion. But she's going to be fine, and I'm going to be fine."
"But you know ... it was going to be tough for her, because she loves him, loves me," Johnson said of the dynamic with Buss, Walton and himself. "And I was already saying, you know what? Really, Earvin, are you really happy? So when I decided I wasn't, I didn't want to put her in a position like this. And so this was the right move to make. And I've never been so relieved."
"Sometimes as a president you have to have a tough meeting with the coach," Johnson said. "After that, it was fine. And it's been fine. I haven't had any problems with Luke. People think we had problems, but we haven't had any problems. ... If I had come back, we all had to be better. I made mistakes myself. But also, everybody had to be better, and that is what it is all about."
"I don't like a lot of things that went on that didn't have to go on," Johnson said. "So I hope that, after tomorrow, the Lakers can head in the right direction, which we are. Injuries really hurt us."
"Do I think Rob is the right GM? That's a decision Jeanie has to make," Johnson said. "I worked well with him. I had no problem with him.
"Jeanie has to make all the calls. That's not the calls for me to make. This is her organization."
"Her and I? No. No. She trusted me," he said. "She already knows I'm the most loyal person she got. She's loyal to me, I'm loyal to her. Trust, we had that down. Even before I got here [as president]. Because I would always tell her the truth about the organization. I think that was about some other people, but you would have to ask her. But she gave me what I needed. When I first got here some people wasn't up to excellence, so I had to fire some people and she was OK with that."
"We [the Lakers] are halfway there with LeBron coming. Think this summer, with that other star coming in, whoever is going to bring him in, I think this team is really going to be in position to contend for a championship with the growth of the young players."
"I'm a free bird and I've been handcuffed," Johnson said. "And I don't like that. ... This is the right time. The right move. The right decision. I'm so happy. I'm a guy who always knows when things are right, and this is right. It feels good."
What's Next for the Lakers
The Los Angeles Laker's organization has a lot of very tough decisions to make regarding their future in the NBA. They will obviously need to hire someone to replace Magic Earvin Johnson as the president of basketball operations for LA. This job may go to the current general manager, Rob Pelinka. It seems as if he is not going anywhere and may assume more power and control over this messy franchise.
The Lakers will also need to figure out if they are going to keep their head coach, Luke Walton, or if they are going to fire him and bring in another person to manage the team. Los Angeles will also be in the market to pick up a big name super star free agent in order to give LeBron James some additional help in turning around the play of the Lakers. After this season players such as Kevin Durant, Anthony Davis, and Paul George have all been mentioned as possible suiters for filling that void.
It is apparent that there are many factors that will influence the future of the Los Angeles Lakers, and it will be truly interesting to see how everything unfolds. Now that the season is over things should start happening soon but look for the Lakers to take some time to digest this huge piece of sports news before making these crucial decisions.
Source:
"Magic abruptly steps down as Lakers president", Ohm Youngmisuk and Dave McMenamin, espn.com, April 10, 2019
Posted by
DavidGreen