Introduction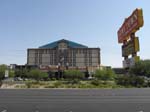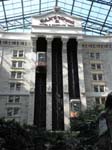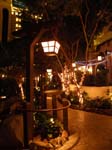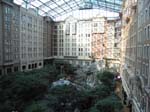 Sam's Town Hotel and Gambling Hall opened in 1979, so when I stayed there in September 2009, they were celebrating their 30th year. Sam's Town is considered one of Vegas's first "local's casinos."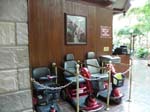 You tend to get an older crowd at Sam's Town and the other Boulder Strip properties. Evidence of this hit me as I checked in, since located right next to the registration counter I found a bank of motorized wheelchairs/carts ready to be loaned out to desiring patrons. The Boulder Strip casino/resorts tend to be slower in pace, the rooms are generally cheaper than comparable rooms on the strip, and the prices for food seemed a little more reasonable than what you find at strip properties.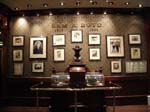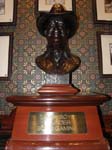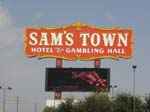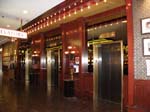 Sam's Town does a pretty good job of drawing in the locals as well. Given the current economy, however, the place was far from busy when I was there on a Thursday night. The east side of Las Vegas is home to blue-collar, working class people who may not have a lot of money to play with these days. Probably only 25% of the gaming tables were in use, and there were plenty of empty slots as well. The restaurants were also under populated, and I watched a movie in a nearly empty theater.
Location
Sam's Town is on the corner of Boulder Highway and Flamingo Blvd., on the east side of the valley and at least 6 miles from the Strip. Along with a few other properties, Sam's Town is considered part of the Boulder Strip. Within easy walking distance is the new Eastside Cannery. It's also reasonable to walk to Boulder Station. Guests of Sam's Town can take advantage of a free shuttle that runs from the property to downtown and to the strip.
Gambling
According to literature I found in my room, Sam's Town has nearly 3,000 slots. It seemed to me they are more interested in drawing in the slot and video poker crowd than the table game crowd. They proudly boast they have more than 1,100 penny games. They also highlight Keno and Bingo in their advertisings.
As for table games, the literature lists blackjack, craps, roulette, pai gow poker and SuperFun 21. I noticed all of those the night I was there. They had one single deck Blackjack game going, and since it was a $5.00 minimum, there were people waiting to get a seat. There is not a high-limit room at Sam's Town.
One thing I liked about the Sam's Town casino was the nonsmoking areas. In addition to the Poker Room, which is all nonsmoking, there is a dedicated area of slots near the Poker Room where you can't light up. I also noticed a couple more banks of nonsmoking slots on the other side of the casino, near the Cineplex.
Poker
Sam's Town's non-smoking poker room is pretty large in size. During my visit, there was never more than three tables going, out of the 11 I counted .
They have various tournaments and giveaways going on year round. This link will give you the most current info.
Race & Sports Book
My room literature states the race & sports book is all new, but it looked pretty dated to me. As for screens, there are two 10' projector screens and a large volume of smaller TVs. The chairs looked comfortable enough, and nearby there is a deli.
Player's Club
Sam's Town is part of Coast Casinos, so they use the Club Coast card. There was no line at the counter, and when I was issued my brand new Club Coast card, I also got a free gift….wait for it….it's a biggie….a deck of retired Sam's Town playing cards!!!
Hotel
I spent my evening in a king, nonsmoking, mountain view room at Sam's Town. I was on the fourth floor, looking south. My mountain view was partially obstructed by the upper reaches of the property's Cineplex. The other option besides a mountain view room is an atrium view. In those rooms, you look out over the nine-story atrium that houses Mystic Falls Park and is arguably the best feature at Sam's Town. In the park, you'll find live trees, lovely waterfalls, babbling brooks and some rather sad animatronics animals. They probably went too far with the moving bear, deer, eagle, etc. There's also a bar and a coffee cart. The area is rather enchanting at night, with its lighted pathways and water features. Around the atrium's edges are a gift shop, a steak restaurant, a food court and, of course, slot machines. Four times a day, there is a free water and laser light show named Sunset Stampede.
Checking in at Sam's Town was a breeze, once I found the registration area. I parked in garage 2, and I ended up having to walk most of the casino. I followed signs all the way, but suddenly the signs disappeared. I ended up asking an employee (something I rarely do), and he directed me into Mystic Falls Park. There I found a charming registration desk that tastefully reminded me of the old west. The staff was helpful and courteous, and I was quickly given my key card and easy directions to my room.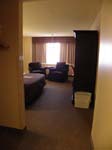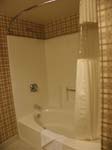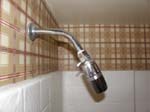 The hotel elevators are glass and shoot you up through Mystic Falls Park. I was delivered to the fourth floor and made my way to my room. If I were to describe my room at Sam's Town in one word, it would be practical. There really weren't any luxurious touches, but that's not surprising, since my night stay ran me a mere $33.24 before taxes and fees. I had everything I needed: a comfortable bed, a clean shower/bathroom, a TV, a clock radio and a couple soft chairs. There was also a desk and chair, luggage rack, iron/ironing board and hair dryer. The TV was tube and small, though, and the bathroom, which had a rather low ceiling, was finished in ceramic and vinyl instead of more contemporary, expensive materials.
The room's towels were good quality, as were the sheets. I was happy to find a digital thermostat, and overall I thought the room's décor was attractive yet simple, predictable, homey.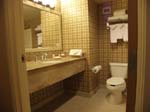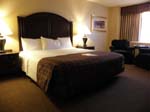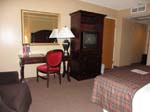 My biggest disappointment with the room was the shower -- more specifically, the showerhead. The low-mounted, bullet-shaped device delivered an unforgiving, harsh flow of stinging water. If I were about two inches taller, and I'm only 5'6", I would've had to squat to get my head wet. Additionally, the water temperature fluctuated noticeably, which is always annoying. While I was having breakfast, I heard a guy in the booth behind me complaining about the shower, too. He had the same problems I had. Ending on a positive note, I have to say the room was very quiet. I saw people coming in and out of the rooms on either side of me, but I never heard a peep from them. The room was very clean, as well. Apparently housekeeping takes pride in the work they complete. They aren't necessarily all that observant, though, as I found some old gal's housecoat on the back of the bathroom door. Wonder how long it's been hanging there? I wasn't about to remove it.
Here are a couple miscellaneous details in regards to the room:
A $4.50 resort fee per night covers local calls, 800 calls, faxes and shuttle bus rides.
The toiletries – body lotion, conditioning shampoo and bath soap – are made for made by Essential, and they strike me as pretty common (i.e. cheap).
Restaurants
If my memory serves me, I've only eaten at Sam's Town once before. It was about three years ago, and I met some friends there for dinner and a movie. I recall the four of us having a long, drawn-out discussion about where we would eat. We ended up roaming around the property reading the menus and debating the pros and cons of each establishment. There were a lot of choices, and ultimately we selected Billy Bob's Steakhouse and Saloon. There seem to be fewer choices now. In particular, I remember an Italian restaurant in Mystic Falls Park, and now it is an empty space.
The dining options as of September 2009 were:
Billy Bob's Steakhouse & Saloon: Steakhouse
Firelight Buffet: Buffet
TGI Fridays: American
Willy & Jose's Cantina: Mexican
There is also a long list of fast food/quick bite options:
McDonalds
Subway
Dunkin Donuts
Sports Deli
Java in the Park
Sbarro
Panda Express
Calamity Jane's Ice Cream Parlor
I had dinner at Willy & Jose's Cantina, and I ate breakfast at TGI Fridays.
Willy & Jose's Cantina
My dinner at Willy & Jose's Cantina was satisfactory. The highlight was probably the fresh, warm tortilla chips, bean dip and homemade salsa, and usually when you get good chips and salsa, you can expect a solid meal in a Mexican restaurant. My entrée of seafood enchiladas was only decent, however. It was advertised as shrimp and scallop, but there were only two small scallops in the entire dish. I did find plenty of shrimp; however, they seemed under seasoned and their flavor was overpowered by too many undercooked green peppers. The tomalito sauce lacked zip. Were it not for the sides of refried beans and Mexican rice on the plate and the fresh cilantro inside the enchilada, I wouldn't have known I was eating Mexican food.
On the plus side, the restaurant was quaint. They've successfully pulled of an outdoor cantina feel by using exposed wood beams and supports and an array of Mexican hats, pottery and tapestry adornments. The staff was very friendly, but the service was slow, especially considering how not busy the restaurant was. I think I was one of only 8 tables at about 6:00 pm.
TGI Fridays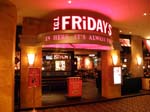 From what I can tell, TGI Fridays is acting as Sam's Town café, since there is not an actual café. I want to say there used to be, but it was probably a casualty of the recession. I had breakfast at TGI Fridays, and breakfast is not a TGI Friday's specialty. They are apparently serving a breakfast menu at Friday's locations in Vegas neighborhood casinos, but their website doesn't even list breakfast as a menu option. In truth, they should probably stick to lunch and dinner.
I ordered coffee and pancakes with a side of bacon. The coffee was passable, the pancakes were heavy and a little overcooked, and the rubbery bacon seemed to have taken on the flavor of something else when it was on the grill. I couldn't identify that something else. All in all, it was a total disappointment. On top of that, my server had to try three times to get my bill right, and in the end, as I found out later, she still messed it up by not adding her tip to my room charge. Well, I guess she didn't get a tip.
I selected TGI Fridays for breakfast that morning because I didn't feel good about the buffet. In fairness, it looked safe and even inviting, but I've had bad luck at buffets lately. I have to believe the Firelight Buffet would've been a better choice than TGI Fridays, though, and at least it would've been cheaper at $5.49. My sit down breakfast at TGI Fridays (without the tip) ran me $12.02. The only other breakfast options at Sam's Town are Java in the Park (very small pastry selection), Dunkin Donuts and McDonalds.
Firelight Buffet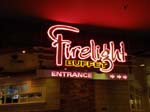 As I mentioned above, I've had a bad run lately at buffets, so I wasn't really up for trying Firelight.
The regular prices for Firelight Buffet are listed below. If you show your Club Coast card at the register, you get $1.00 off the regular price all day long.
Breakfast Monday – Friday (7:00 am – 11:00 am): $6.49
Lunch Monday – Thursday (11:00 am – 3:00 pm): $8.49
Lunch Friday (11:00 am – 2:00 pm): $8.49
Dinner Saturday – Thursday (4:00 pm – 9:00 pm): $10.99 – $13.99 depending on menu
Dinner Friday (3:00 pm – 9:00 pm): $16.99
Champagne Brunch Saturday and Sunday (8:00 am – 3:00 pm): $10.49
Café
There isn't a café at Sam's Town. Here are some prices from TGI Friday's menu:
Cold cereal and fruit: $4.69
Two eggs, ham steak, hash browns and toast $7.29
Burger with fries $8.99
Club Sandwich with fries $8.99
Baby Back Ribs with sides $17.99
TGI Fridays serves breakfast from 6:00 am – 10:00 am and offers their whole menu from 10:00 am – 3:00 am.
Pool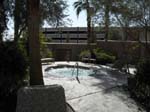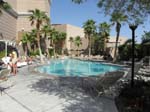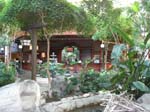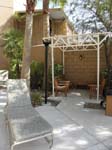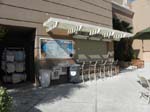 Okay, the biggest disappointment I faced at Sam's Town was the pool. It was a sad, sad excuse for a pool. First, the pool and the hot tub were both small, which can be okay. Second, the lounge chairs and seating options were weathered, really weathered. Third, there was not a single employee around. There was no one welcoming you and handing you a towel, no one keeping the area clean, and, most importantly, no one sitting in a lifeguard chair. It was more like a pool at a Holiday Inn off the highway than a Vegas resort. It didn't strike me as a place I would want to spend more than 15 minutes at.
Perhaps it gets better as the day goes on. Maybe once the snack bar opens (it was closed at 10:30 am when I visited the pool) things start to hop. Maybe the trash smell is less obvious if the wind shifts. Maybe the empty beer cans I found discarded in the landscaping finally get picked up by lunchtime. Or maybe it's always a bad pool.
I saw some cubbies that probably used to be cabanas around the pool, but cabanas are apparently no longer available.
Entertainment
Shows: Sam's Town has rotating acts in a theater called Sam's Town Live. Check their website to see who is coming and when. Inside Mystic Falls Park, there is a free laser light and water show daily, called Sunset Stampede. The show is a combination of animal sounds, music, dancing fountains and laser lights. It's worth checking out if you find yourself at Sam's Town, but I wouldn't make a special trip across town to take it in.

Clubs: No
Lounges: Sam's Town's lounge is called Roxy's, and it is located just off the casino floor. The night I was there, the band playing was getting a lot of attention from the gamblers. The seats in Roxy's were full, and people were gathered outside the lounge's boundary listening to and dancing along with the live music.
Bowling: In the basement, you'll find 56 lanes of bowling open 24/7. On Friday and Saturday nights, they have extreme bowling that turns the lanes into a nightclub-like atmosphere.
Cinema: Century 18 Sam's Town offer first run movies with digital sound and stadium seating. Since I too quickly lost my money in the casino, I decided to spend a couple hours watching a movie. I found the theater seats to be comfortable, and the picture quality was very good. The sound was continually fluctuating during the show, however, and that was pretty annoying. From one moment to the next, the volume would go from barely audible to excessive.
Bingo: Yes
Shopping: There are minimal shops at Sam's Town. The big deal appears to be Shepler's Western Wear.
Golf: No
Spa: No
Childcare: No
Wedding Chapel: No
Odds & Ends
Right next door to the casino/resort, you'll find am's Town RV Park.
I paid a $4.99 resort fee, which among other things, allowed me to use the Sam's Town Shuttle. The shuttle moves guests between Sam's Town and the strip (Riviera and Harrah's) and downtown (California/Fremont and Main Street Station).
Sam's Town sponsors the popular Sam's Town 300 NASCAR event each February. During that weekend, the property is exceedingly busy.
There is not a coin-operated laundry.
My Conclusions
Outside of NASCAR weekend, Sam's Town focuses on a specific clientele (retirees), and they serve that clientele well. It's a great option for bargain hunters, low-denomination slot players, and for people who want to avoid the fast pace and glitz of the strip. The rooms and property in general are clean and well kept up. The staff is friendly and helpful. Mystic Falls Park is a lovely oasis that is definitely the highlight of the property.
That being said, it was not my kind of place. I like more luxury and more glitz, and I'm willing to pay for it.
My recommendations for improvement are as follows:
Make an effort to build business in the few sit down restaurants you have left. It'd be a shame if the only dining options ended up being the buffet and the fast food restaurants.
Change out the showerheads, and if possible, raise them up a little higher.
Staff the pool area, and make sure that staff keeps the area clean.
Getting There
From the airport, take I-215 east. Exit onto US93/US95/I-515 North. Exit Flamingo Road, and go east. Sam's Town is on the southeast corner of Flamingo and Boulder Highway.
Contact Information
Address: 5111 Boulder Highway, Las Vegas, NV 89122
Phone: 800-897-8696
Web site: samstownlv.com
Links
Resort and Parking Fees
| | |
| --- | --- |
| Resort fee | $13.50 |
| Parking fee | Free |
Games at Sam's Town
| Blackjack | Location | Decks | Min | Max | Soft 17 | DA | DAS | RSA | Surr | Tables | CSM | Party Pit | 6/5 BJ | Video | H. Edge |
| --- | --- | --- | --- | --- | --- | --- | --- | --- | --- | --- | --- | --- | --- | --- | --- |
| Blackjack | Off-Strip | 6 | 3 | 500 | H | Yes | No | No | No | 2 | No | No | No | No | 0.63873 |
| Blackjack | Off-Strip | 2 | 10 | 1000 | H | Yes | No | No | No | 16 | No | No | No | No | 0.45688 |