Introduction
The Planet Hollywood took over the facility from the financially troubled Aladdin in 2003. If I'm not mistaken, they kept the Aladdin name until renovations were completed in 2007. The PH is one of the few properties on the Las Vegas Strip that is not owned by either MGM-Mirage or Harrah's. According to the Wikipedia page, the Planet Hollywood is owned by a partnership between Robert Earl, Bay Harbour Management and Starwood Hotels & Resorts Worldwide.
Note: Since this review was published, Harrah's obtained complete control of the property.
I checked in on Monday, June 15, 2009 for one night. The following is my review.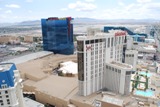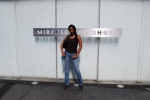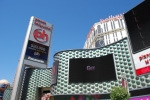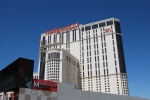 Location
The Planet Hollywood is well located between Flamingo and Tropicana on the Strip, between the Paris and MGM Grand. It is right next door to the Paris, but you have to suffer some strip malls and cross Koval Blvd. to get to the MGM. Across the street is the Bellagio.
Gambling
According to the 2009 American Casino Guide and the Nevada Gaming Control Board, the Planet Hollywood has 93,322 square feet of casino space, featuring 82 table games and 1,800 slot machines. By way of comparison, the MGM Grand has 156,023 square feet, with 178 table games and 2,470 slots. The table games I found were blackjack, craps, roulette, pai gow poker, Three Card Poker, Ultimate Texas Hold 'Em, Crazy 4 Poker, Mississippi Stud, and Let It Ride. The high-limit room offers roulette, baccarat and blackjack.
Blackjack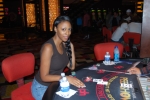 Planet Hollywood has the standard liberal Strip rules (six decks, dealer stands on soft 17, double after split, surrender, re-split aces) only in the high-limit room, at a $100 minimum. The following table from the Current Blackjack Newsletter shows the rules for Planet Hollywood blackjack at the time I was there.
Planet Hollywood Blackjack
Game
Decks
Soft 17
DAS
Surrender
RSA
DR
BJ Pays
Tables
Minimum
Maximum
H. Edge
6-5
1
Hit
Yes
No
No
Yes
1.5
10
$5
$2000
1.45%
BJ
2
Hit
No
No
No
Yes
1.5
4
$500
$5000
0.53%
BJ
6
Stand
Yes
Yes
Yes
Yes
1.5
6
$100
$10000
0.26%
BJ
6
Hit
Yes
Yes
Yes
Yes
1.5
12
$25
$5000
0.46%
BJ
6
Hit
Yes
Yes
Yes
Yes
1.5
18
$10
$3000
0.46%
BJ
6
Hit
Yes
No
No
Yes
1.5
2
$5
$2000
0.63%
Roulette
In the main casino, the roulette was the standard double zero, for a house edge of 5.26%. In the high-limit room, there was one single-zero wheel, for a house edge of 2.70%.
Craps
The craps games allowed the Vegas standard 3-4-5X odds for a combined house edge between the pass and odds of 0.37% and 0.27% between the don't and laying odds. The field followed the stingy 2 to 1 on a 12 rule, for a house edge of 5.56%. Hop bets were also stingy at 14 and 29 to 1, for a house edge of 16.67% on both.
Video Poker
According to vpFREE2, the best video poker at any denomination on the property is 8/5 Bonus Poker, with a return of 99.17%. I checked one single-line game, and here is what I found.
The Planet Hollywood can be somewhat forgiven for the tight pay tables because of a generous slot club (see below).
The expiration on slot tickets is the state minimum of 30 days, which is much too short, in my opinion.
Race and Sports
The Planet Hollywood has a small and oddly shaped sports book, with 5 windows and about 40 chairs. It is near a bar, should you get thirsty, and the Earl of Sandwich, if you get hungry.
The PH sports book is independent, meaning they set their own lines. If you like to compare lines between casinos, the PH should be on your lists of places to check.
Race and sports tickets expire in 120 days.
I visited during baseball season. The PH offers 20-cent money lines, which is high. Futures on the 2010 Super Bowl carried a house edge of 34.49%, assuming all bets had the same house edge.
The following table shows what parlays and 6-point NFL teasers pay.
Planet Hollywood Parlays & Teasers
Picks
Parlay
Teaser
2
13 to 5
10 to 12
3
6
1.4
4
10
2.5
5
20
4
6
40
6
Poker
The poker room has 9 tables, all of which are non-smoking. The rake is 10%, up to a maximum of $5 per pot.
Pleasure Pit
In the evenings the Planet Hollywood brings out a bevy of beautiful, lingerie-clad, young women to deal and pole dance in their "Pleasure Pit." I played for an hour, and I enjoyed myself until a smoker sat down at my table. It isn't often you can sit three feet away from pretty, half-naked girls for as long as you want. Other casinos have done similar things, but either the dealers were not as pretty or the only game was the horrible 6 to 5 single-deck blackjack, which I refuse to play on principle. At the Pleasure Pit, the rules are the same as the rest of the casino, except the high limit room. So kudos to the Planet Hollywood for letting players enjoy the women with some of the tables having legitimate, 3 to 2 paying, blackjack rules. There were some 6 to 5 tables for the suckers too.
Player Club
The "Wendy's style" line at the player club -- one long line leading to multiple windows -- was extremely long my entire trip. There were not many agents working the line, which probably explained why it seemed to be moving at a snail's pace.
According to VPfree2, the slot club has three levels. All of them have a high cash back rate, but they should, given that their best video poker is 8/5 Bonus Poker. Every $20 played earns one point. At the entry level, one point is worth 10¢ in cash back, for a rebate of 0.5%. At the gold level, one point is worth 13.33¢ in cash back, for a rebate of 0.67%. At the platinum level, one point is worth 15¢, for a rebate of 0.75%.
Cashier
The cashier is "Wendy's style" as well, as it should be, with one line leading to the many windows. I, fortunately, did well in the casino; I cashed out about $4,000 in chips. My cash out required two phone calls and a visit by somebody in a suit. After at least five minutes, I was finally paid. Such a transaction is usually handled in under a minute at other casinos.
Non-Smoking Areas
The only non-smoking part of the casino I could find was the poker room.
Comps
I estimate I played for two hours at an average bet of $150. Fortunately, I won about $2,000. When I called a host in the morning to see what she could do about my charges, she noted my short period of play and my win. When begging for comps, it helps if you lose. Still, she reversed the $97.01 deposit I put on my credit card. In addition, another host upgraded my room for free, as I mention later.
One hour of my blackjack play was at $200 an hour in the high-limit room, which has a house edge of 0.28% with basic strategy. The other hour was at a $100 average bet in the Pleasure Pit, with a house edge of 0.48%. Assuming 60 hands an hour, my expected loss was 60×200×0.0028 + 60×100×0.0048 = $62.40. Casinos tend to assume an actual house edge of about 0.8% in blackjack, factoring in player errors, which would equate to a theoretical loss of $144. Based on that theoretical loss, the Planet Hollywood gave me a rebate of 67% when compared with the original room cost. Assuming my upgraded room was worth $200, I received well over the perceived value of my play.
In addition, she invited me to take advantage of a promotion they are running. This promotion is for two free nights, plus a rebate of 5% of actual loss or 10% of theoretical loss, whichever is more. I have heard of this offer through word of mouth before. It is a generous offer that, as far as I know, nobody else is doing in Vegas. I think you need to pre-qualify, and they probably expect you to be a black chip player.
Hotel
According to the 2009 American Casino Guide, the Planet Hollywood has 1,878 standard rooms, 466 "parlor rooms," and 223 suites. When I booked my room, I paid $89, plus Nevada's 9% room tax, and a $4.99 "resort charge."
For me at least, it was an exhausting and frustrating journey from my car to check-in. After the long trek through the mall, carrying all my luggage, and two tours of the casino, I finally found the registration desk downstairs. If you remember just one thing from this review it should be how to find the check in. From the casino level, look for an escalator going down, underneath a big, spherical-shaped, chandelier. This is should not be confused with the escalator going down to the buffet.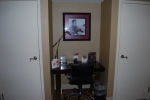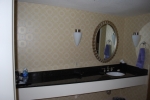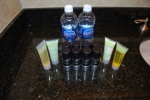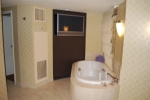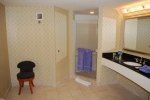 When I finally arrived, I was horrified to see a long line snaking back and forth. There didn't seem to be many agents working the line, so I decided to start gambling and deal with check in later. Things got much better when I took a seat in the high-limit room. I was the only player in the room, so I got plenty of welcome attention. A host was called over, and she was apparently in a generous mood. She got me a much larger room, as I would later find out, and she said I could check in at the VIP office upstairs.
The VIP check in upstairs was a little hard to find but well worth the effort. There was no wait at all, so I whisked right through. My upgraded room in the north tower was very nice. It had two large flat-screen televisions, a huge bathroom, plenty of closet space, a bidet and a close but partially obstructed view of the Bellagio fountains. The bed was not pillow-top, but it was still comfortable and was dressed with very soft sheets. My only gripe is the clock radio next to the bed made a brief vibrating noise about once an hour, which sometimes woke me up.
A word to the wise -- when using a bidet, test the water temperature with your hand first.
The $4.99 "resort charge" on my bill covered free local calls, morning newspaper, two waters and the coupon book. I can confirm I received the newspaper and waters, but the "coupon book" was a single sheet of paper with the following offers:
$40 in free play, $25 table match play, and $15 slot play. To use the free play coupon, one must redeem it at the player club, which I found to always have a huge line. It was not worth $40 to me to stand in it.
10% discount at the Planet Dailies café.
$50 off at Ultra Diamonds
Coupon book worth "$3000 in savings" to the Miracle Mile shops.
$5 off Spice Market Buffet. I forgot to bring this coupon when I went.
Two for one spa admission.
Internet service is $13.99 per day.
Pool
For a Strip casino, I have to give the Planet Hollywood pool a low rating. There are two pools on the sixth floor, on the casino's roof. Between the two pools is a large open space. The pools were plain, with little greenery or special features. A "VIP only" sign roped off the hot tub, but everybody, including Nikkia (pictured below) and me, were sneaking past.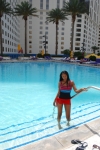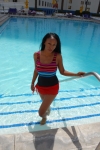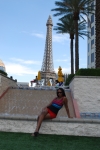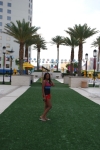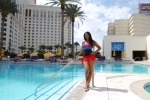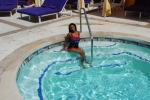 Restaurants
Here is a list of the dining options at the Planet Hollywood. I have included links to the Planet Hollywood Web site for more information.
Fine Dining
Casual Dining
Quick Bites
In addition to the casino/hotel restaurant offerings, there are many more eateries on property in The Miracle Mile Shops.
Following is what little experience I have with the restaurants of Planet Hollywood.
Spice Market Buffet: This is a holdover from the old Aladdin, the predecessor of Planet Hollywood. The buffet is in a large room with lots of different stations reflecting different parts of the world. I was there for breakfast. They had all the usual stuff for a breakfast buffet, but a couple nice surprises were stations for crepes and fruit smoothies. The service was fine, and the line was short, at least at 7:30 in the morning. I've seen the line look much longer around dinner. If you stay in the hotel, don't forget to bring your coupon if you have one, which I forgot to do. Here are the buffet prices:
Breakfast: $14.99
Lunch: $18.99
Dinner: $27.99
Brunch: $22.99, plus optional $3 extra for champagne
Planet Dailies: I never ate there, but noticed there was never a long line to get in. Here are the prices of a few items:
Mushroom Swiss burger: $13
Western omelet: $13
Turkey Club: $12.50
Coffee: $2.75
Earl of Sandwich: I don't remember what kind of sandwich I ordered, but I wolfed it down because I was very hungry. It tasted fine, but it wasn't all that noteworthy.
P.F. Chang's: I have been to various P.F. Chang's lots of times, including the one at Planet Hollywood a few years ago. They are basically all the same. Personally, I'm not a big fan of P.F. Chang's. The food tastes too Americanized, at least for this veteran of four trips to China. However, I know people who love P.F. Chang's, including my kids. On one of my daughter's birthdays, she got to choose any restaurant to eat at, and she chose Chang's.
Entertainment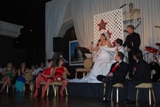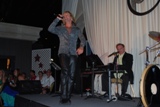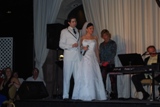 When I was there, the big shows were Peepshow and Tony and Tina's Wedding. The Miracle Mile Shops also offer a variety of other shows at the V Theatre. I saw Tony and Tina's Wedding shortly after my stay at the PH. Based on people who have seen it, this seems to be a show you either love or hate. You can put me firly in the love column. I thought it was lots of fun, and the food was quite good. Before dinner Lisa, my model, told the watier she had a nut alergy. Towards the end of the show a waiter gave Lisa something wrapped in a napkin, and said it was a gift from the groom. It was a bag of nuts!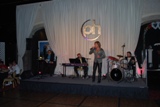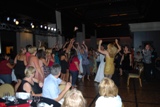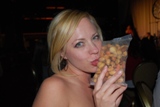 Other Features
Bowling: No.
Bingo: No.
Shopping: The Miracle Mile is a huge shopping mall, surrounding the casino on three sides. Nikkia, my model for the pictures, says she loves shopping there. I am by no means a shopping mall critic, but the Miracle Mile seems like a happy medium between the practicality of the Fashion Show Mall and the extravagance of the Forum Shops.
Spa: Yes
Wedding Chapel: Yes.
Summary
The Planet Hollywood is obviously marketing itself towards a young crowd. I'd say the target age is 21 to 35. The Monday night I stayed there it was crowded, as it usually seems to be. The music and the décor are both loud. This 44-year-old man enjoyed the respite of the high-limit room. That being said, the Pleasure Pit was titillating enough for me to suffer the noise and crowds. If you're looking for a well-located, fun, and energetic property, you may like the PH.
I do have some suggestions for improvement, however:
Have a heart, and let the slot tickets last more than 30 days.
Hire more people to work the hotel check in and the player club, or figure out a way to reduce the time per transaction.
I know you can't easily do anything about the distance between the parking garage and hotel, so how about a luggage transport service at the entrance to the shopping mall from the parking garage?
Spice up the pool area.
Links
Acknowledgement
I'd like to give a big thanks to Nikkia Carter for modeling for all the pictures except Tony & Tina's wedding. Nikkia invites you to visit her MySpace page. I'd also like to thank Lisa Furman for the Tony & Tina's wedding pictures. Lisa invites you to visit her page at ModelMayhem.com
Contact Information
Address: 3667 Las Vegas Boulevard South, Las Vegas, NV 89109
Phone: 866-919-7472
Web site: planethollywoodresort.com
Resort and Parking Fees
| | |
| --- | --- |
| Resort fee | $13.50 |
| Parking fee | Free |
Games at Planet Hollywood
| Blackjack | Location | Decks | Min | Max | Soft 17 | DA | DAS | RSA | Surr | Tables | CSM | Party Pit | 6/5 BJ | Video | H. Edge |
| --- | --- | --- | --- | --- | --- | --- | --- | --- | --- | --- | --- | --- | --- | --- | --- |
| Blackjack | Strip | 8 | 15 | 5000 | H | Yes | Yes | No | Yes | 27 | No | Yes | No | No | 0.56926 |
| Blackjack | Strip | 8 | 15 | 2000 | H | Yes | Yes | No | Yes | 9 | No | Yes | Yes | No | 1.92724 |
| Blackjack | Strip | 2 | 25 | 3000 | H | Yes | No | No | No | 3 | No | Yes | No | No | 0.60225 |
| Blackjack | Strip | 6 | 100 | 10000 | S | Yes | Yes | No | Yes | 4 | No | No | No | No | 0.35361 |
| Baccarat | # of Tables | Min Bet | Max Bet |
| --- | --- | --- | --- |
| Baccarat | 10 | 25 | 15000 |
| Craps | # of Tables | Min Bet | Max Bet | Odds | Field12 | Video |
| --- | --- | --- | --- | --- | --- | --- |
| Craps | 6 | 10 | 5000 | 3-4-5 x | Double | No |
| Roulette | # of Tables | Min Bet | Max Bet | Rules | Video |
| --- | --- | --- | --- | --- | --- |
| Roulette | 9 | 10 | 200 | 00 | No |
| Video Keno | Rank | Avg Return | Grade |
| --- | --- | --- | --- |
| Video Keno | 60 | 88.75% | D+ |