Introduction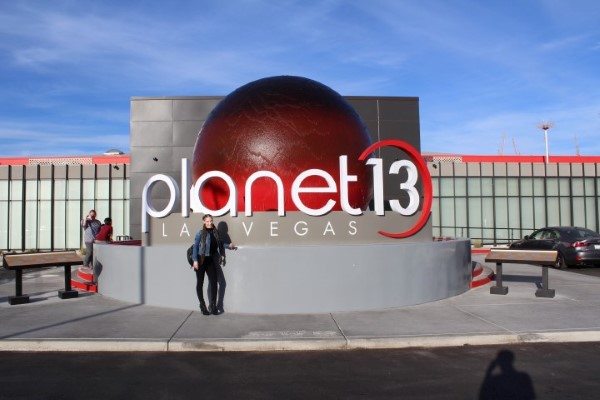 When I heard the world's largest marijuana dispensary recently opened in Las Vegas, I was curious to have a look. The name is Planet 13 and it is located on Fashion Show Drive, which is that big shopping center across the Strip from the Wynn. Walk past the shopping center, the Trump International, cross Sammy David Junior, pass the Erotic Heritage Museum (yet another article idea) and you can't miss it.
The first thing you encounter at Planet 13 is the parking lot, which was a confusing mess at the time of my visit. There was a shortage of parking spaces so I ended up parking in a small dirt lot adjacent to the paved section of the parking lot. Meanwhile other cars were just lingering, waiting for someone to leave a normal parking space and a host of Uber and Lyft drivers dropping off and looking for their next passenger. There were also a host of security guards, some just standing there and others trying to direct traffic.
The building itself is enormous. I'm not sure what they do with it all, as I would say the entrance and store occupied only about 25% of it. Directly in front of the main entrance is an enormous red shere in a pool of water. On top of the building are large glass flowers, which illuminate at night. Through the front doors there is a desk where visitors must present identification to enter. At the time I entered there was no clear line and a confusing mess of people waiting. I won't even get into that, but I would recommend they adopt one long line leading to multiple stations, like they do at Wendy's. After clearing the Planet 13 security and registering, they give you an entrance ticket.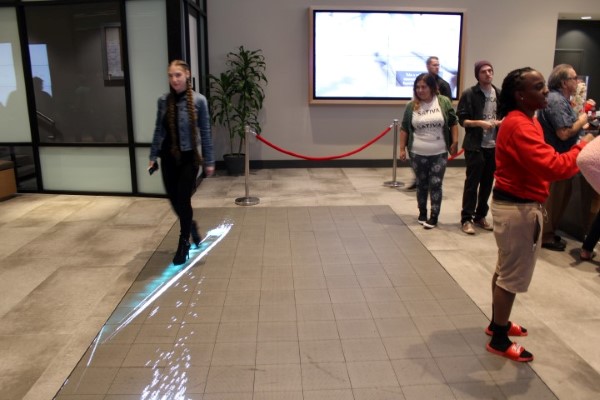 After getting past the gatekeepers, you step on an illuminated floor. It is hard to describe but the colors changed according to where you stepped and how fast you moved. This picture below does not do it justice, it is usually much more colorful. Past that there are a couple places to buy souveneirs and to the right it is a system like the Las Vegas Monorail, where you put in your ticket and a little flap moves to the side to let you pass.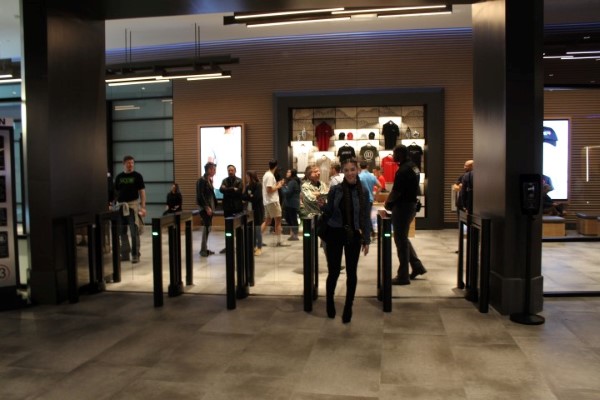 Then, at last, is the weed. All presented in nice glass tables. It reminded me of the Apple store. The customer can't touch anything as it was all under glass. Prices were clearly marked as well as the product name, weight, and levels of the pertinent chemicals. Meanwhile, music plays and sometimes toy blimps cruised around near the very high ceiling.
There were some salesmen floating about, but not enough of them. Many customers, including me, seemed confused about how to actually buy anything. Fortunatley, my companion on this trip easily got the attention of somebody just coming on duty and knew the parlance of cannabis terms and products much better than I did. Suffice it to say our salesman was very helpful in answering my many novice questions and providing choices for what we were looking for. The prices were a bit higher than the smaller dispensary (the Source on Rainbow and Sahara) that I'm used to, but with a Nevada 20% discount, they came to about the same.
Yes, you can still buy marijuana by the eighth of an ounce, just as everybody had to before the wave of legalization. I find it kind of interesting and sad that sizes are in both the metric system and U.S. customary units (if that is the right term). As a reminder, there are 28.35 grams in an ounce. The following table shows the range of prices on raw buds I observed based on a small sampling. It goes without saying that the more expensive product is probably higher in quality.
Raw Buds
Weight
Minimum
Maximum
1 gram
$15
$20
1/8 oz.
$52
$60
1/4 oz.
$80
$110
1/2 oz.
$140
$200
1 oz.
$260
$380
When I was in high school, in the early 80's, if you wanted to smoke weed, you either put some buds in a pipe, preferably a big water bong, or rolled it into a joint, which is not as easy as it looks. Being able to roll a good J got you immediate respect at my old Los Alamitos high school, a skill I never got past abject beginner in. Unfortunately for me, being able to program an Apple II computer or solve a Rubik's Cube got you absolutely no points with the ladies, but I'm getting off topic.
Fast forward 35 years (it goes by in the blink of an eye) and you can enjoy cannabis in a host of ways I never heard of until recently and many I still don't know what they are. The following table shows a number of ways to you can smoke it other than the raw product or pre-rolled joints. Also, don't call the device you vape with a "pipe," as I did before this review, it is a "vaping pen." My friend seen in these pictures kindly corrected me on that.
Processed Forms of Cannabis
Product
300 mg.
500 mg.
1,000 mg.
Disposable vaping pen
$45
$55
Vaping cartridge
$55,$65
$99
Pen
$40
Syringe
$50,$60
Resin
$30
$60,$70
Shatter
$25
$50
Rosin
$45
Badder
$30
$50
Crumble
$25
$50
Finally, if edibles or skin applications are your thing, then there are a whole host of ways you can consume them. In my experience, the effect of edibles lasts but longer and is stronger, but is not as pleasant. The following table shows a host of products and prices. I know it doesn't address quantities and concentration, so please consider this information just a general guide.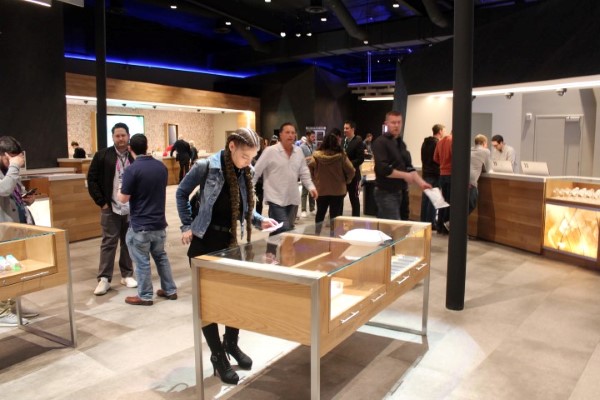 Edibles and Skin Applications
Product
Price
Gummies
$30
Chews
$25
Dried fruit
$36
Drops
$30
Hard sweets
$32
Brittle bar
$18
Chocolate bar
$30
Cookie
$12
Dutch waffles
$25
Syrup
$30
Elixir
$30 - $95
Dew drops
$30
Drops
$60
Body lotion
$36
Balm
$40
Cream
$68
Patch
$10 - $15
Before leaving, I took a few more pictures and couldn't resist the two for $20 t-shirt deal. As I left the line to get in was through the door and half way past the red sphere outside the door. However, everybody seemed very well behaved and amused. The parking lot was even more of a crowded mess. I thought it would take a while to navigate my car through the chaos, but I guess I got lucky and was out about five minutes later.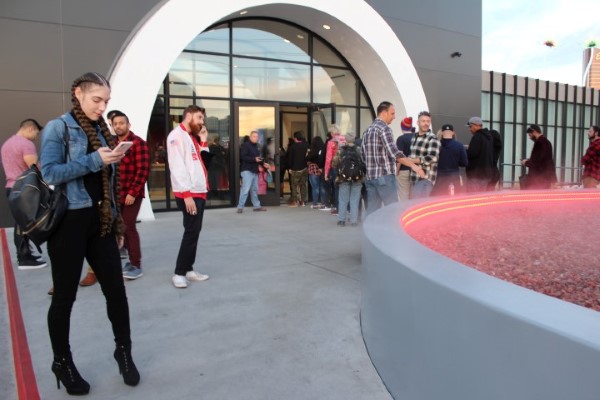 Note the line out the door.
Location