Introduction
(previously aka Westgate Planet Hollywood Tower)
Date of Stay
03/25 – 03/20/2012, 5 nights
Introduction
A couple of years ago, I booked a 1BR suite at the Hilton timeshare next door to the Las Vegas Hilton (now LVH). It was very nice, with lots more space than a regular hotel room and some neat amenities, including a WII game console in the lobby area.

BUT the downside there was the location at the North end of the strip, not really walking distance to ANYTHING BESIDES the LVH.

IF ONLY THERE WAS AN UPSCALE HOTEL WITH SUITES LIKE THIS IN THE CENTER OF THE STRIP AT A REASONABLE PRICE....
ELARA REVIEW
As much as we liked the Hilton Grand Vacation Suites (Convention Center), we have found the ELARA to be newer and nicer, much trendier (in a good way), possess a higher "WOW" factor, AND it has the big advantage of being located in a prime center strip location, just behind Planet Hollywood and connected to the Miracle Mile shops.

Elara used to be the Westgate Planet Hollywood Tower. Now it is managed by Hilton Grand Vacations Club and can be booked like a hotel. It is NOT Planet Hollywood.

According to the Las Vegas Sun, this property first opened in December, 2009.

ACCOMODATIONS – What you Get
We booked a 1 Bedroom King suite, which consisted of 900 square feet of space (yep, I stepped it off using my calibrated size 9 shoes), a Jacuzzi tub in the bedroom, a full kitchen, 5 Flatscreen TV's and 1 ridiculously huge screen for the projection TV unit, and floor to ceiling windows. I could see the projection TV being a nice feature to have during Football season or the NCAA basketball tournament.

The bedroom was separate from the living room. The bathroom was also huge, and had separate entrances from the living area and the bedroom. There was also a full kitchen with a GE stainless steel refrigerator and dishwasher, as well as a sink, microwave, coffee maker, cupboards and place settings.

They also have some smaller suites available.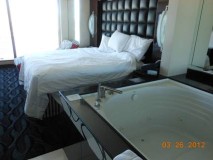 Jacuzzi in Bedroom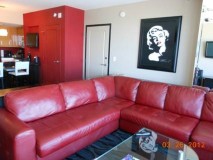 Sectional in Living Room with Sleeper Sofa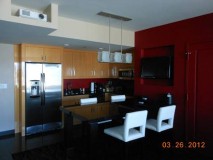 KitchenElara was definitely a huge step up compared to a typical strip hotel room, and it actually seems much more like a very upscale 1BR apartment. I know everybody says they don't spend much time in the room in Vegas, but it certainly made the time we did spend in the room feel much less claustrophobic.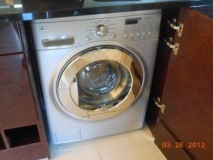 The itty bitty combination washer/dryer unit was tucked under the bathroom counter. It was fine for doing a small load, but it didn't seem like it could dry heavier cotton shorts very well. I assume that was because it is not vented, so there can't be much airflow to speak of.
$$$'s & VALUE
We have stayed at the ELARA twice, once when it was still called Planet Hollywood Tower.

If you are willing to do a little on-line searching, with any luck I think you should be able to find deals for a 1 BR suite with a separate living room and full kitchen for $ 90 to $ 110 per night. We did. I ended up using BOOKIT.COM for both of my reservations, but be advised that they have an $ 18 cancellation fee.

For competitive rates like this, we were pleasantly surprised by all the extra amenities.
CHECK-IN
The desk staff was courteous. I checked in around noon on a Sunday, and they had a suite ready for me. The early check-in was nice, and so was the fact that there was no line at the time. In fact, during the next 5 days, I never saw a line at the registration desk of more than a few people.

I am a member of the free Hilton hotel travel program, and I think that entitled me to a suite on a higher floor with a better view.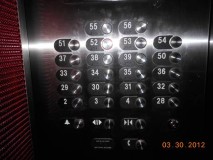 Like most high rises, there were 2 sets of elevators, one for the lower floors, and one for the higher floors. But don't be too impressed if you get a room on the 50th floor. I've heard of not having a 13th floor, but nothing about not having ANY floors in the 40's !

There was a security person at the entrance to the elevators at all times, which I liked.
GAMBLING
ELARA is a non-gaming hotel, so that makes this part of the review kind of easy ! However, it is less than a 5 minute air conditioned walk to Planet Hollywood through the Miracle Mile shops. That was reasonable as far as I was concerned.

I also made it from "Lobby to Favorite Video Poker" machine at Ellis Island (EI is not everyone's cup of tea, I suppose) in 12 minutes, walking semi-briskly but waiting for walk signals at most intersections. My route was out the side of ELARA by the valet area and down Harmon and over on Koval. I felt very safe making this walk day and night. The streets are fairly busy, so you don't ever feel too isolated.

I did most of my gambling at Ellis Island on a 99.7 % Dueces Wild machine, but wasn't able to get any quad deuces there. The sirloin steak special there was excellent as usual. We did drive out to Green Valley Ranch, and much to my pleasant surprise, I was able to hit quad deuces 3 times in about an hour (3 x $ 250). That made my day.
VIEWS
Our view was to the North, and we could see the Eiffel tower, Bally's, Paris, and even part of the water show at Bellagio. There are floor to ceiling windows in both the living room and the bedroom. You operate the blinds with a push button on the wall, and the blind in the living room doubles as a screen for the projection TV ystem. I didn't measure it, but my guess is that the width of the TV picture was about 8 feet.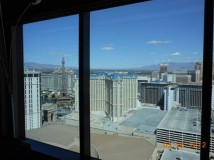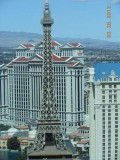 POOL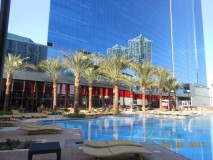 I didn't get around to using it, but it looked nice enough, complete with Palm trees.
RESTAURANTS
Nothin. The gift shop had some food, maybe even some microwave type crap. But this is Vegas ! We usually just walked to the Spice Market Buffet in Planet Hollywood. There are also several restaurants in the Miracle Mile Shops.
MISC
There was a charge for Wi-fi, which I think was about $ 35 for the entire week. But this was free for Hilton Honors club members, so that free membership may be something you want to consider.
PARKING
Parking can be a little confusing at first. They do have an entrance off of Harmon, but there was not a lot of space there, especially if you should arrive when several other people are trying to load or unload.

I found it much easier to pull into the Miracle Mile Shops parking garage off of Audrie (1 block off of and parallel to the Strip). From the 3rd floor level, there is a convenient outdoor walkway that leads right into the Lobby of Elara. Maybe 50 yards total. Nothing could be easier (if you know to do this).

I didn't use the bellman or valet (off Harmon), but when I walked by that never seemed too busy.
SUMMARY
I've started giving condo type places more consideration when looking for a place to stay. The ELARA is the best I have found so far, taking everything into account. Nicer than Rio, nicer than Tuscany. And nicer location than either of those.
CONTACT
Elara, a Hilton Grand Vacations Hotel-Center Strip

Address: 80 East Harmon, Las Vegas, NV
Posted by
Mission146