Introduction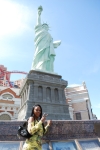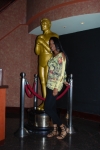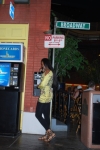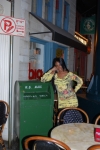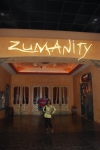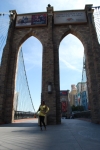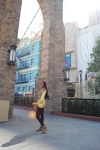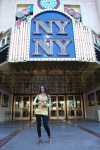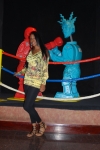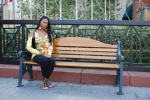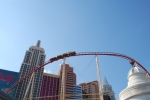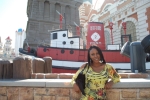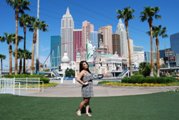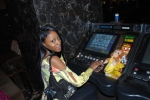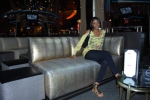 New York New York (NYNY) opened to huge fanfare on January 3, 1997 during last decade's glory days of theme casino strip development.
NYNY is owned by MGM and sits on the corner of Tropicana Ave. and Las Vegas Blvd. The four corners are completed by the MGM, Excalibur, and Tropicana. Just to the north is the Monte Carlo. There is a convenient walkway between the second floor of NYNY and the MGM, as well as walkways between the other casinos on the four corners.
The easiest entry by car is from Tropicana Ave., just west of Las Vegas Blvd. The entrance on Las Vegas Blvd is mainly a utility and taxi road, but some visitors use it. I parked in the free parking garage. There was a security check point to enter the structure and when I parked I saw two security guards on bicycles. There is 24-hour bicycle patrol of the structure, and I was told by one of the guards that (according to the local Fox television affiliate) the parking garage at NYNY was voted the safest in Las Vegas. Based on my experience, I agree.
From the NYNY website: "After the September 11 attacks, people spontaneously sent various tributes to NYNY, especially T-shirts from police, fire and rescue departments around the country." I saw the memorial at that time; it was tremendously moving. This has morphed into a permanent memorial consisting of glass encased T-shirts from various affected fire and police departments and other personal items related to the tragedy. It is intermixed with solemn quotes from prominent historical figures. It is a tough line to have a permanent memorial to 9-11 at a casino and not look like you want to profit from it as an attraction. The 9-11 memorial succeeds; it is not to be missed.
Gambling
According to the Nevada Gaming Control Board and the casino web site, NYNY has 84,000 square feet of gaming space, with 70 table games and 1,740 slots. The hotel has 2,024 hotel rooms. NYNY is relatively small by strip standards. For example, the MGM has 5,044 hotel rooms and 171,500 square feet of casino space.
The table games I found were blackjack, craps, Three Card Poker, Crazy 4 Poker, Let it Ride, Progressive Texas Hold 'Em, Roulette, Pai Gow Poker, Wheel-of-Fortune, Mini-Baccarat, Sic Bo, Chuck-a-Luck, and the electronic game Rapid Roulette. The high limit room offers blackjack, slots and video poker. There is no bingo or keno at NYNY.
Blackjack
In the high limit room, NYNY has liberal six deck rules (dealer stands on soft 17, double after split, double on any two cards, surrender, re-split aces) with a house edge of 0.285%. The double deck game in the high limit room is also quite good, with a house edge of 0.202%. The following is a full list of their blackjack games:
High Limit:
Six decks, Dealer stands on soft 17, Double after split allowed, Surrender allowed, Re-splitting aces allowed
Two decks, Dealer stands on soft 17, Double after split allowed
Low Limit:
Six decks, Dealer hits on soft 17, Double after split allowed, Surrender allowed
Two decks, Dealer hits on soft 17, Double after split allowed
One deck, dealer hits on soft 17, blackjack pays 6 to 5
A few games in the low limit area were $5 minimum during the morning and went up to $10 and $15 minimums towards evening.
In the low limit area drink service was quick and consistent, about every 20 minutes. The drinks were watered down, in small glasses with a lot of ice. In the high limit area a central bar (between the slots and blackjack) means quick service and top shelf drinks. In two minutes I had a delicious Bailey's with a splash of Jameson in a large glass.
Roulette
Roulette was the standard double zero, for a house edge of 5.26%. There was no single zero roulette available as a table game. There were several single zero roulette slot machines scattered throughout the floor. It was the first time I had seen these machines and I thought there had to be a gimmick (for example, blackjack slots pay 1-to-1 for a blackjack). They are the real deal and have a 2.70% house edge. No one was playing them. Go figure!
Craps
Craps allowed the Vegas standard 3-4-5X odds for a combined house edge between the pass and odds of 0.37% and 0.27% between the don't and laying odds. Hop bets paid 15-to-1 and 30-to-1.
Video Poker
The pay tables for video poker at NYNY are inconsistent geographically but consistently weak in the main casino. The good video poker machines are in the high limit area, $5 minimum. There are also weak video poker pay tables in the high limit area, so pay attention.
Here are some pay tables from the sampling I did of their video poker. The percentages in the parenthesis are expected returns based on perfect play.
800/50/25/9/6/4/3/2/1 (High Limit room only) (99.54%)
800/50/25/8/5/4/3/2/1 (97.30%)
800/50/25/7/5/4/3/2/1 (96.15%)
800/50/80/40/25/8/5/4/3/2/1 (99.17%)
800/50/80/40/25/7/5/4/3/2/1 (98.01%)
800/200/20/12/9/4/4/3/2/1 (97.06%) (High Limit)
800/200/25/15/10/4/3/2/2/1 (99.42%)
800/200/25/15/9/4/4/3/2/1 (98.91%)
800/200/25/16/13/4/3/2/2/1 (96.77%)
800/50/160/80/50/9/6/5/3/1/1 (Main area and High Limit) (97.81%)
800/50/160/80/50/9/6/4/3/1/1 (96.38%)
800/50/160/80/50/8/5/4/3/1/1 (94.19%)
800/50/400/160/160/80/50/9/6/4/3/1/1 (High Limit) (98.98%)
800/50/400/160/160/80/50/9/5/4/3/1/1 (97.87%)
800/50/400/160/160/80/50/7/5/4/3/1/1 (95.71%)
2000/239.8/120/18/15/10/4/3/2 (96.69%)
For current video poker pay tables at the NYNY, the Wizard recommends vpFree2.com
The expiration on slot machine tickets is the state minimum of 30 days.
Sports Book
The NYNY sports book is quite small, consisting of 24 chairs, 12 cushioned seats and 8 betting windows. Race and sports tickets expire in 120 days. It is next to "New York New York Stadium Snacks." A little further away is the large restaurant/bar complex known as the ESPN Zone that serves mainly bar food.
Poker
There is no poker room at NYNY.
Player's Club
I arrived early in the day and got a Player's Club card. Their lines were McDonald's style. I checked back a couple of times and noticed that people sometimes spontaneously ordered themselves into Wendy's style lines, but NYNY took no effort to create this.
I asked for a coupon book or some other benefit for being a first time member of the Player's Club. It was a bust. There were no match play or free play coupons. There were no discounts at the restaurants or discount coupons for shopping. There were no deals at the shows, the spa, or anything else.
At slots, the player earns one point per $1.50 played. At video poker, one point is earned per $4.50 played. It takes 1000 points to get a food comp of some sort, or 100 points = $1 cash back.
Finally, I was told that if I played table games at an average wager of $25 for 4 hours then I would get (at least) a food comp.
Cashier
The main cashier area is confusing. There was no roped area and the way the area was designed it was very difficult to see how it could work any way other than McDonald's. If two adjacent windows were open then people might spontaneously form a Wendy's style line. When I was there, two windows were open, but at some distance apart. I chose the wrong line and waited about 10 minutes. I wanted to change $5000 cash into ten $500 chips. The cashier refused, saying she didn't have $500 chips. She sent me to the high limit window and they took care of me right away. A good lesson learned: I used the high limit cashier for every transaction after that.
Non-Smoking Areas
There are no non-smoking gaming areas in NYNY. As a non-smoker, all I can say is "that's bad."
Table Game Comps
My first session, I played for two hours at a six deck shoe game in the main casino, flat betting $75 per hand. When the new shift came on at 3:00 PM, I asked what time they had me starting and what they had as my average bet. They told me I had started at 1:40 PM (correct) and that I was spreading $25 to $75 (incorrect). They were low-balling my wagers, which is a great way to not give as many comps. I asked them to fix the ticket, and then asked if I could get a meal for my play. I was told by a reassuring boss to bill the meal to my room and "Don't worry, we'll take care of you." I get worried when someone tells me not to worry.
NYNY used the old fashion rating slip method of entering player data into their system. Most modern casinos use a terminal at each table and swipe the player's card. Rating slips are a throwback and are easily open to comp abuse. I asked for the time it takes for play to be entered into the system and was told that depending on the crowds, table game play appears in the player's account about 1-2 hours after play.
For my second (evening) session, I flat bet $100 per hand for just over an hour and then asked the pit about comps. I was told it was based on my average bet and the length of time played, but they would get me a host. In a few minutes my host came. I said that I was staying there and wanted to know what it took to get my room comped. She said "4-5 hours of play with an average bet of $100 to $150, but it depends on whether you won or lost." I asked what she could do for me (about 4 hours total play at an average bet of about $80), and she said to bill my expenses to my room, that I shouldn't worry, and that she would call the desk and "take care of me." I assumed my room would be comped.
I finished the evening playing 30 minutes in the High Limit room at the $100 minimum table. The high limit room is one of the most important features of any casino. The placement and décor must be just right. At NYNY it is stylish, away from the crowds, easy to find, with a bar/lounge separating the high limit slots from the table games (blackjack only). I checked in on four occasions and never saw more than two players at the blackjack tables.
In getting comps, it is important to get play on two separate "days" in the system. At NYNY, the "comp day" turns over at 3:00 AM, so play a session both before and after 3:00 AM to maximize your return. Most casinos don't give this information out, but if you ask politely, sometimes you get this gem. I played one slow shoe early the morning a few hours before I checked out.
Overall, I played at least 4 ½ hours at an average bet of $80 (my estimate). If the casino is using 1.0% as their theoretical edge (typically casinos use even a higher amount, 1.2% to 1.4%), and assuming I played 60 hands per hour (an underestimate), NYNY won at least a "theoretical" (4.5)×($80)×(60)×(.01) = $216.00.
When I checked out of the hotel, my bill showed a $29 comp to the room charge, and my meal ($23) was comped, for $52 in total comps. The total cost to me was $57.99. I asked that they double check; I was under the impression my room would be comped. The clerk called marketing and confirmed with my host that my play was worth $52, or 24.1% of my theo.
In my opinion, NYNY was at best incompetent and at worst deceptive with my comps. They underrated my play, told me they would "take care of me," encouraged me to spend more by putting expenses on my room, and didn't live up to the comp promise made by the Player's Club and my host. If my experience is in any way typical, then don't expect much.
Hotel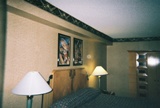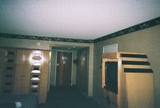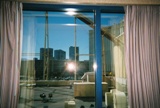 When I arrived at 1:00 PM, there was a line for early check in and only two clerks; it didn't look good. I left my bags at the Bell Desk and went off to play blackjack, hoping my play would get me some sort of VIP treatment, a room upgrade, or something worth the time. As described above, that didn't quite work out.
I came back around 4:00 PM. The line was just about as long, but there were 6 clerks. There was about a 15 minute wait.
I booked the Broadway Deluxe room, 450 square feet, at $79.99 plus Nevada's 9% room tax. There was also a $3.00 mandatory phone service charge. The phone charge bugged me when I made the registration online. I tried to opt out (I have a cell phone), but this was not allowed. Internet access was an extra $14.99 per day (I didn't get it). The room was mid-level in quality on their website. Cheaper were the Skyline, Park Avenue, and Park Avenue Premium rooms. More expensive were the Spa Suite and Player's Suite rooms.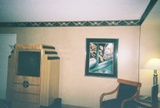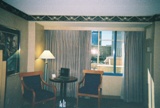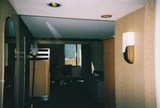 I asked the clerk if there was any place in the casino that had free wireless access. I was told to check the second floor, outside the convention meeting rooms ("but don't tell anyone I told you"). I found the wireless network up there but couldn't get connected.
The hotel room was comfortable but uninteresting. The interior had a generic art deco feeling to it. The room had an old-style T.V., and no sofa, hair dryer, desk, coffee maker, or refrigerator. The T.V. got 32 channels, several of which were casino channels. The room had a lot of closet and drawer space. I like a lot of pillows, there were three thin pillows included with the King sized bed.
Like the Player's Club, my hotel reservation did not come with coupons or discounts.
Pool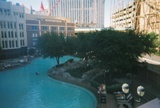 The medium-sized pool is located in the back, between the casino and the parking garage and is in the shade most of the day. It is visible above from the walkway between the parking garage and casino. The only amenities are a water mister area and a few private tented enclaves. Children are allowed in the pool area, with supervision. The pool is substandard compared to other strip casinos.
Restaurants
NYNY does not have a full buffet. They point to their patrons to MGM. There is a "breakfast buffet" at Chin Chin which is a mid-level Chinese restaurant. I had dinner at Chin Chin, beef with broccoli, with as much broccoli as they could put on the plate. The broccoli was overcooked and covered with beef fat. Although the service was quick, the meal, tax, and tip came to $23. That's just too much. However, the waiter was nice.
I scanned some restaurants for typical items:
Starbucks
Small Coffee: $3.50. Doughnut: $1.25. (opens at 7:00 AM)
Greenberg's
They had a wide variety of lunch foods at low prices. If you want to get soup, salad, or a drink, don't wait in line, there is a separate line for these items. A large "Chef's Salad" cost $5.99. The roller coaster runs right over head, so you may hear some screaming. (next to Starbucks)
Chin Chin
Overpriced and average tasting Chinese food. Entrees $15 to $30.
ESPN Zone
Classic Burger ($10.99), BBQ Chicken ($20.99), Angus NY Strip ($25.99), and the Ultimate Tailgate ($39.99) which feeds 2-3 people.
Gallagher's (steaks)
Dry Aged NY Sirloin ($39.00), Porter House ($42.00), King Crab Cocktail ($16.00).
H Fornaio (Italian)
Entrée prices ranging from $15.99 to $35.99.
Entertainment
The anchor show is Cirque du Soleil's "Zumanity" which bills itself as the sexiest of the Cirque franchise. I've seen Mystere and Ka, but not Zumanity. It's hard to put Cirque shows in the framework of a review — superlatives don't do them justice. I'll keep it simple: I highly recommend any Cirque show, take your pick, but see one.
There is nightly Irish music at the pub "Nine Fine Irishmen." I've played Irish music for almost 30 years, at festivals, pubs, and large concerts. No "real" Irish band has a drum set, electric bass, guitar, and fiddle. The band mostly sang bawdy bar songs (e.g. "Whisky in the Jar"), and a couple of easy fiddle tunes. There was also an Irish dancer. Irish dancers peak in their early twenties. This dancer was over 30 (by appearance) and couldn't keep the beat while executing easy steps. If you really love Irish music, this is no place to go out of your way for. If you want to get drunk at an Irish pub, it's great.
On the second floor is a large arcade area for the kids and the entrance to the famous NYNY roller coaster. This area dates back to the short lasting "Las Vegas is for kids and families" era before the more seductive "What you do in Vegas stays in Vegas" era. The arcade has an array of nostalgic games with the "Coney Island" feel and not many modern ones.
There was no day care at NYNY and the arcade is no place to leave a child. In my opinion, don't bring kids to a casino. If you must, then at NYNY you get the arcade, roller coaster, pool, and the hotel room with Nickelodeon and the Disney channel.
Other entertainment includes "Rok Vegas" and the Coyote Ugly bar.
Wedding Chapel
No — they send you to MGM if you ask.
Shopping
There were a few low to mid-level shops and stores, but there are far better places to shop on the strip.
Spa/Salon/Exercise room
I was directed to the 3rd floor. I quickly found the spa and salon. Both were full featured and upscale. For example, a 50 minute "Intoxicating Sugar Scrub" cost $130.
I couldn't find the exercise room even though I walked the 3rd floor twice. I'm telling you they told me it was there, but that's the best I can do.
Bowling
No.
Overall Review
NYNY has its niche; it is family oriented (by Las Vegas standards) with relatively low priced rooms and is well located. It is not a high-roller casino and doesn't pretend. It lives up to its efforts to maintain the nostalgia and feeling of New York. I stayed on a Monday night and it was not especially crowded. The music was loud if you got close, but overall the noise level was low. It was comfortable to play anywhere. The right number of tables were open for the crowds each time I checked. The staff was friendly. My hotel room was mediocre. My negative experiences with comps, inefficient lines (and broccoli) lead to a few stressful moments. I would not recommend playing for comps at NYNY. However, their blackjack has excellent rules in the high limit room, so if you just enjoy playing blackjack, it's a good bargain.
Suggestions
Slot tickets should last longer than 30 days.
The check-in line should have more staff early in the day.
Get rid of the mandatory $3 phone fee.
Organize the lines at the Player's Club and cashiers into clearly marked Wendy's style.
Create non-smoking areas.
Get rid of the "rating slips," and make the comp system for table games modern, generous and transparent.
Links
Contact Information
Address: 3790 Las Vegas Boulevard South, Las Vegas, NV 89109
Phone: 702-740-6969
Web site: nynyhotelcasino.com
Resort and Parking Fees
| | |
| --- | --- |
| Resort fee | $13.50 |
| Parking fee | Free |
Games at New York, New York
| Blackjack | Location | Decks | Min | Max | Soft 17 | DA | DAS | RSA | Surr | Tables | CSM | Party Pit | 6/5 BJ | Video | H. Edge |
| --- | --- | --- | --- | --- | --- | --- | --- | --- | --- | --- | --- | --- | --- | --- | --- |
| Blackjack | Strip | 8 | 5 | 1000 | H | Yes | Yes | No | No | 34 | No | No | Yes | No | 1.99842 |
| Blackjack | Strip | 6 | 10 | 1000 | H | Yes | Yes | Yes | Yes | 2 | No | No | No | No | 0.48263 |
| Blackjack | Strip | 2 | 25 | 2000 | H | Yes | Yes | No | No | 2 | No | No | No | No | 0.45688 |
| Blackjack | Strip | 2 | 100 | 5000 | H | Yes | Yes | No | No | 2 | No | No | No | No | 0.45688 |
| Blackjack | Strip | 6 | 100 | 5000 | H | Yes | Yes | Yes | Yes | 1 | No | No | No | No | 0.48263 |
| Baccarat | # of Tables | Min Bet | Max Bet |
| --- | --- | --- | --- |
| Baccarat | 4 | 10 | 5000 |
| Craps | # of Tables | Min Bet | Max Bet | Odds | Field12 | Video |
| --- | --- | --- | --- | --- | --- | --- |
| Craps | 5 | 10 | 3000 | 3-4-5 x | Triple | No |
| Craps | 1 | 2 | 250 | 2 x | Double | Yes |
| Roulette | # of Tables | Min Bet | Max Bet | Rules | Video |
| --- | --- | --- | --- | --- | --- |
| Roulette | 6 | 10 | 100 | 00 | No |
| Roulette | 2 | 3 | 1000 | 00 | Yes |
| Video Keno | Rank | Avg Return | Grade |
| --- | --- | --- | --- |
| Video Keno | 59 | 88.80% | D+ |