Introduction
On Monday, April 5th, 2021 the New York Jets have decided to trade their young starting quarterback, Sam Darnold, to the Carolina Panthers in exchange for a 6th round pick in the 2021 NFL draft as well as a 2nd round pick and 4th round pick in the 2022 NFL draft. This seems to be a good trade for both the New York Jets as well as the Carolina Panthers.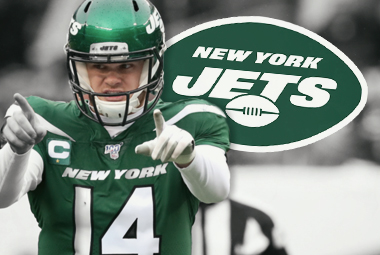 The New York Jets' general manager Joe Douglas had this to say regarding Sam Darnold, "I want to publicly acknowledge the commitment, dedication, and professionalism Sam displayed while with the Jets. He is a tough – minded, talented football player whose NFL story has not been written yet. While all these things are true, this move is in the short – and long – term best interests for both this team and him. We thank Sam for all of his work on behalf of this organization and wish him well as he continues his career."
The New York Jets are looking to rebuild their roster for the future as they have been stock piling draft picks from previous trades, and the Jets are looking to move on from Darnold at the quarterback position as he has not panned out for New York over the first three seasons of his career in the National Football League. The Carolina Panthers are looking to bring in competition at the quarterback position as they are not sold on the play of Teddy Bridgewater. This way the Panthers have two possible starting caliber quarterbacks in Carolina as they enter the 2021-2022 NFL season.
They may look to trade Bridgewater down the road if Darnold fits in better with their offensive scheme as they predict he will. Ultimately, the head coach of the Carolina Panthers, Matt Rhule, will make the final decision on who will start at quarterback for their team. Darnold is hungry for a fresh start in the NFL, and although he did not work out well in New York with the Jets he may be a better fit to the Carolina Panthers' offensive who possesses more quality weapons for Darnold to utilize while moving the ball downfield.
The New York Jets Future Starting Quarterback
The New York Jets currently hold the number 2 overall selection in the 2021 NFL draft which will be held on April 29th, 2021 from Cleveland, Ohio. The majority of sports analysts and draft experts of the National Football League are confident that the New York Jets are projected to select the quarterback out of Brigham Young University in Zach Wilson with the 2nd overall pick in the first round of the 2021 NFL draft. If the New York Jets do select a quarterback with their second overall pick in the 2021 NFL draft, they would become the first NFL franchise in the common draft era (since 1967) to take two quarterbacks within the top 3 overall selections in a 4-year span.
Bridgewater vs. Darnold for Carolina Panthers
­­­­­­­Over the course of his 6-year career playing professional football in the National Football League Bridgewater has thrown for 11,385 yards on 1,038 completions while racking up 53 passing touchdowns, and he has rushed for 713 yards as well as 9 rushing touchdowns. Darnold has thrown for 8,097 yards on 729 pass receptions while throwing 45 touchdowns as well as 39 interceptions over the course of his 3-year NFL career. Sam has a career passer rating of 78.6, and Bridgewater has a career passer rating of 89.5. It should be a tough decision on who Rhule decides to start at the quarterback position for the Carolina Panthers for this upcoming 2021-2022 NFL season.
Darnold's Career Achievements, Honors, and Awards
First – Team All – Pac – 12 (2017)
Archie Griffin Award (2016)
Pac – 12 Offensive Freshman of the Year (2016)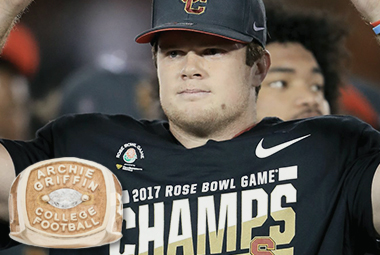 Bridgewater's Career Achievements, Honors, and Awards
NFL Pro Bowl Selection (2015)
Pepsi NFL Rookie of the Year (2014)
PFWA All – Rookie Team (2014)
Art Rooney Award (2020)
Second – Team All – AAC (2013)
Big East Offensive Player of The Year (2012)
First – Team All – Big East (2012)
Big East Rookie of the Year (2011)
Odds to Win Super Bowl LVI
According to Intertops sportsbook these are the odds to win Super Bowl LVI as of Monday, April 5th, 2021.
Team Odds
Kansas City Chiefs +450
Tampa Bay Buccaneers +700
Green Bay Packers +1000
Buffalo Bills +1100
Los Angeles Rams +1200
San Francisco 49ers +1400
Baltimore Ravens +1800
Indianapolis Colts +2000
New Orleans Saints +2200
Cleveland Browns +2200
Seattle Seahawks +2500
Miami Dolphins +2500
New England Patriots +2800
Los Angeles Chargers +2800
Dallas Cowboys +2800
Tennessee Titans +2800
Pittsburgh Steelers +3300
Arizona Cardinals +3300
Chicago Bears +4000
Minnesota Vikings +5000
Carolina Panthers +5000
Atlanta Falcons +6600
New York Giants +6600
Denver Broncos +6600
Las Vegas Raiders +6600
Washington Football Team +6600
Philadelphia Eagles +8000
New York Jets +8000
Jacksonville Jaguars +10000
Cincinnati Bengals +10000
Houston Texans +15000
Detroit Lions +15000
Sources:
"New York Jets trade QB Sam Darnold to Carolina Panthers for 3 draft picks", Rich Cimini, espn.com, April 5, 2021.
"Sam Darnold", pro-football-reference.com, April 5, 2021.
"Teddy Bridgewater", pro-football-reference.com, April 5, 2021.
"United States, NFL Futures, NFL 2021 / 22 Super Bowl LVI: To Win Outright", intertops.eu,. April 5, 2021.
Posted by
DavidGreen