Introduction
On Thursday, September 23rd, 2021 the Carolina Panthers young and explosive starting running back, Christian McCaffrey, came up limping after a play during the Carolina Panthers Thursday Night Football game against the Houston Texans from NRG Stadium located in Houston, Texas.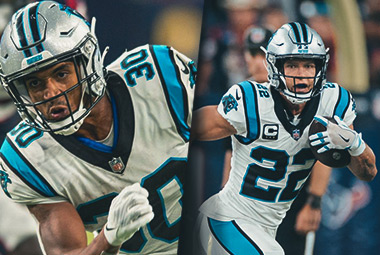 The Carolina Panthers defeated the Houston Texans in that match – up with a final score of 24 to 9, and up to this point the Carolina Panthers have gotten off to a great start with an overall record of 3 and 1 to the beginning of the 2021 – 2022 season of the National Football League.
McCaffrey was forced to leave that Thursday Night Football game vs. the Houston Texans early in the second quarter after he pulled up limping following a 2 – yard rushing attempt due to a strained hamstring injury. On Friday, September 24th, 2021 the Carolina Panthers and their head coach Matt Rhule expressed to the sports media outlets that Christian would have to miss at least a few weeks of football activities while he recovered from his most recent injury.
Now on Tuesday, October 5th, 2021 McCaffrey may be ready to play this weekend against the Philadelphia Eagles. Christian is currently listed as hopeful to play this Sunday, October 10th, 2021 when the 3 and 1 Carolina Panthers host the 1 and 3 Philadelphia Eagles at 12:00 p. m. CST from Bank of America Stadium located in Charlotte, North Carolina.
The Carolina Panthers are 2 and 0 at home this season, and they are 3 and 0 when McCaffrey has started the game for the Carolina Panthers. In Christian's absence last weekend, the Carolina Panthers lost on the road with a final score of 36 to 28 against the Dallas Cowboys.
Currently there are only two players in the entire National Football League that produce close to 40 % of their team's offensive output while playing, and they are Derrick Henry of the Tennessee Titans and Christian McCaffrey of the Carolina Panthers. Look for the Carolina Panthers to quickly remove Christian from the game if there seems to be any signs of tightness or any other setbacks in McCaffrey's return from this hamstring strain.
How the Carolina Panthers Replaced Christian McCaffrey at Running Back
Previously the Carolina Panthers utilized mostly the rookie running back, Chuba Hubbard, as well as the veteran rusher in Royce Freeman at the running back position for the Carolina Panthers over the past week or two. Hubbard came out of Oklahoma State University, and he was a fourth – round draft selection of the Carolina Panthers earlier this year in the 2021 NFL Draft. Chuba started the last game for the Carolina Panthers when they matched up against the Dallas Cowboys last Sunday from AT&T Stadium located in Arlington, Texas.
The Carolina Panthers also had previously worked out the former Cleveland Browns and Houston Texans free agent running back, Duke Johnson, following the time when McCaffrey had to leave the ball game vs. the Houston Texans a couple of weeks ago. Johnson never ended up signing with the Panthers, and I believe he is still out on the NFL's free agent market – place. Hopefully for both the Carolina Panthers as well as Christian McCaffrey he can play this Sunday against the struggling Philadelphia Eagles and not aggravate his injured and recovering leg muscle, but only time will tell.
Media Statements
"They are still doing a bunch of diagnostic testing, so I can't tell you if that is one, two, three or four weeks," the Carolina Panthers head coach Matt Rhule explained when the injury to Christian McCaffrey first happened multiple weeks ago. He goes on to say, "It breaks my heart seeing these guys work so hard and get hurt. We're a better football team (this year). I'm going to get to Wednesday and see. In talking to Christian -- he's going to come out to practice and see exactly where he is football - wise."
When asked if the Carolina Panthers are able to sustain their success without Christian McCaffrey, the Carolina Panthers left tackle Cameron Erving stated, "We're a football team. We're not the Carolina Christian McCaffreys."
"Obviously, we want him back," the Carolina Panthers starting quarterback Sam Darnold expressed. "But I want him to take his time right now and make sure he's good for the end of the season."
Christian McCaffrey's Football Career Achievements, Honors, and Awards
Although it is fairly early on during his long and promising career in the National Football League, these are the achievements, honors, and awards that Christian McCaffrey has already accomplished as of Friday, September 24th, 2021: he was named to the NFL's First - Team All - Pro in 2019, he was named to the NFL's Second - Team All - Pro in 2018, he was selected to the NFL Pro Bowl in 2019, he won the Paul Hornung Award in 2015, he won the Jet Award in 2015,
He was named the Associated Press College Football Player of the Year in 2015, he was a Consensus All - American in 2015, he was named the Pac - 12 Offensive Player of the Year in 2015, and he was named 2 - times to the First - Team All – Pac - 12 in 2015 as well as 2016.
Sources:
"Carolina Panthers RB Christian McCaffrey out a few weeks with hamstring injury", David Newton, espn.com, September 23, 2021.
"Matt Rhule, Carolina Panthers hopeful Christian McCaffrey can play against Philadelphia Eagles", David Newton, espn.com, November 4, 2021.
"Christian McCaffrey", pro-football-reference.com, September 24, 2021.
Posted by
DavidGreen