Introduction
On Wednesday, October 18th, 2023 the NFL veteran wide receiver, Mecole Hardman Jr., who was a proud member of 2 - Super Bowl - winning teams with the Kansas City Chiefs, will now return to the Kansas City Chiefs through a trade with the New York Jets.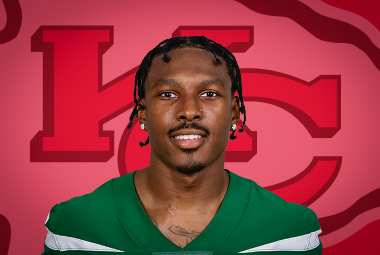 Trade Details
The Kansas City Chiefs are giving the New York Jets their 2025 6th - round NFL draft pick to the for Hardman as well as a 2025 7th - round NFL draft selection.
The Kansas City Chiefs Struggles with their Wide Receivers
The Kansas City Chiefs have mostly struggled with their wide receiver offensive play so far during this current 2023 - 2024 NFL season. Their leader at the wide out position in catches, receptions, and yards is a rookie in the Kansas City Chiefs' 2nd - round NFL draft pick in Rashee Rice.
The Kansas City Chiefs veteran wide receivers in Marquez Valdes - Scantling, Kadarius Toney, and Skyy Moore have not produced as the Chiefs have hoped for this year. Those 3 - underachievers have combined for a total of only 35 - catches, 353 - receiving yards, and just 2 - touchdowns.
Mecole Hardman Jr.
Hardman Jr. was the Kansas City Chiefs' 2nd - round NFL draft choice back in 2019. Mecole had his most productive season at the wide receiver position as an NFL rookie, when Hardman Jr. scored 7 - touchdowns, including 1 on a kickoff return, and he had a per - catch average of 20.7 yards as well.
Mecole had NFL career highs of 59 - catches and 693 - receiving yards back in 2021, but his production highly - decreased last season, when Hardman Jr. had to miss a total of 8 - games due to a combination of various injuries.
The New York Jets happened to sign Hardman Jr. to a 1 - year contract worth up to approximately $4 million over the past 2023 NFL offseason, but Mecole has played only 28 offensive snaps for the New York Jets and has only 1 - catch over the 5 - NFL games that he has participated in for the New York Jets.
Hardman never made any publicly known statements in which he complained about his lack of involvement in the New York Jets offense, but Mecole did express some frustration during a recent interview with the major sports news agency in ESPN.
"I'm probably the best in the league in space," the newly acquired wide receiver of the Kansas City Chiefs in Mecole Hardman Jr. explained. "Maybe [the coaches] see something different."
At the time, Hardman Jr. wondered why he was not being used more on screens as well as gadget - type offensive running plays.
Mecole, who received his $3.6 million in total guaranteed money from the New York Jets, was leap - frogged on the depth chart by the New York Jets rookie in Xavier Gipson, who became the organization's 4th - wide receiver.
Gipson also won the New York Jets' special team's punt - returning job from Hardman Jr. during their 2023 NFL training camp. In the NFL's week - 5 regular - season game, Mecole was in fact a healthy scratch from the team's roster. Irv Charles was made the New York Jets' 5th - wide receiver versus the Denver Broncos that week due to his ability on their special teams unit.
Hardman Jr. had some interest in free agency from the Cleveland Browns as well as several other NFL franchises, but he ultimately decided to sign his 1 - year deal with the N. Y. Jets in part because of the potential to play with Aaron Rodgers which obviously was not possible due to Rodgers' Achilles tear during the New York Jets 2023 - 2024 NFL season opener against the Buffalo Bills.
When the veteran NFL MVP quarterback tore his Achilles tendon in the New York Jets' season opener, Hardman said that threw their offensive unit into complete disarray, and it soon became crystal clear that the New York Jets were ready to move on from the services of Mecole Hardman Jr.
"I got with my agents, and they said there's some talk they could possibly trade you," Hardman goes on to say. "After that, that's when we just started waiting for the inevitable, seeing what would happen. They kept it low - key the teams that were interested -- in the mix. When I heard it was Kansas City, I was excited to get back here."
Hardman Jr.'s Football Career Achievements, Honors, & Awards
2 - Time Super Bowl Champion (LIV, LVII)
Second - Team NFL All - Pro Selection (2019)
NFL Pro Bowl Selection (2019)
PFWA All - Rookie Team Selection (2019)
2 - Time Second - Team All - SEC Selection (2017, 2018)
Sources:
"Mecole Hardman Jr. heads back to Chiefs in trade with Jets", Adam Teicher, espn.com, October 18, 2023.
"Mecole Hardman", pro-football-reference.com, October 19, 2023.
Posted by
DavidGreen