Introduction
On Wednesday, February 23rd, 2022 the New York Knicks and their superstar point guard, Kemba Walker, have agreed that and announced that the 4 - time NBA All - Star will be shut down for the rest of the 2021 - 2022 NBA season in order to allow Walker to work out and get back to 100 % health in preparation for the 2022 - 2023 season of the National Basketball Association.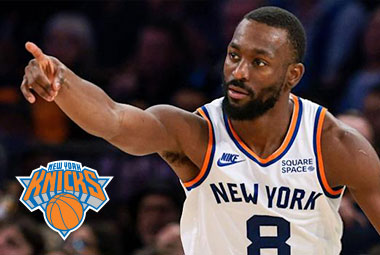 The New York Knicks' president of basketball operations Leon Rose stated, "We fully support Kemba's decision to shut it down for the remainder of the season and use this time to prepare for next season. His long - term success on the court remains our priority."
The 31 - year - old Kemba recently signed a 2 - year contract with the New York Knicks following an August of 2021 buyout deal involving the Oklahoma City Thunder, but the partnership eventually turn out to be burdened with various starts and stops for Walker that finally steered towards the New York Knicks organization collaborating with Kemba's agents, Jeff Schwartz and Javon Phillips of Excel Sports, on a strategy for Walker and the rest of the New York Knicks' remaining 23 - regular - season basketball games.
Kemba's current contract will be expiring this summer, and that will provide an opportunity for the New York Knicks and Schwartz to look into possible trade scenarios during the 2022 NBA offseason.
Veteran Makes Return
At the moment the New York Knicks are expecting the return of their veteran NBA point guard, Derrick Rose, to their active team roster and Rose should be back in the New York Knicks line - up pretty soon following Derrick's absence from the team over the past 2 – months due to his recent ankle injury and ankle surgery.
The New York Knicks' head coach Tom Thibodeau took Kemba out of the New York Knicks' playing rotation back in mid – November of 2021 following Walker averaging 11.7 points per game over the New York Knicks initial 18 - games of the 2021 - 2022 NBA season. Following Kemba missing 10 - games due to injuries as well as COVID - 19 cases which ultimately resulted in Thibodeau having to reinsert Walker back into the line - up of the New York Knicks, and Kemba first responded with 29 - points during a December 18th, 2021 loss to the Boston Celtics as well as an amazing 44 - point performance during a loss to the Washington Wizards just a matter of days later.
Walker has been continuously in and out of the New York Knicks' line - up due to chronic knee soreness during January of 2022, and during that time Kemba was averaging only 8 - points per game over 22 – minutes per game in February of 2022 right before the NBA All - Star break as the New York Knicks managed to lose 7 out of 8 basketball games.
He spent his 1st 8 - NBA seasons with the Charlotte Hornets where he was the face of the franchise and a perennial NBA All - Star. Following a mega NBA sign - and - trade deal Kemba was traded to the Boston Celtics back in 2019, Walker spent 2 - years playing for the Boston Celtics just before he was eventually traded to the Oklahoma City Thunder last season.
Career Achievements, Honors, & Awards
4 - Time NBA All - Star (2017, 2018, 2019, 2020)
All - NBA Third Team (2019)
2 - Time NBA Sportsmanship Award (2017, 2018)
NCAA Champion (2011)
NCAA Final Four Most Outstanding Player (2011)
Consensus First - Team All - American (2011)
Bob Cousy Award (2011)
First - Team All - Big East (2011)
Third - Team All - Big East (2010)
Big East Tournament MVP (2011)
Second - Team Parade All - American (2008)
McDonald's All - American (2008)
Sources:
"New York Knicks & Kemba Walker agree Walker will Miss rest of Season", Adrian Wojnarowski, espn.com, February 23, 2022.
"NBA Standings 2021 - 22", espn.com, February 25, 2022.
"Kemba Walker", basketball-reference.com, February 25, 2022.
Posted by
DavidGreen