Introduction
On Wednesday, June 28th, 2023 the New York Yankees right - handed starting pitcher, Domingo German, orchestrated a rare Major League Baseball perfect game versus the Oakland Athletics. The New York Yankees starting hurler gave up no hits as well as no walks on 99 - pitches throughout the New York Yankees 11 to 0 win over the Oakland A's.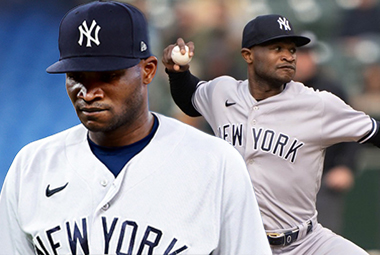 Domingo German's Perfect Game
During an up - and - down 2023 MLB season that includes a suspension as well as a below .500 record prior to Wednesday night's start for the New York Yankees. Domingo was amazing versus the last - place in the American League West, Oakland Athletics, as German magically mixed his pitches extremely well while keeping his team behind him on their toes. German posted 9 - strikeouts, 0 - walks, 0 - hits, and not much to swing at for the Oakland A's along the way.
Domingo's perfect game marked just the 4th - perfect game in the illustrious franchise history of the New York Yankees. It's the 1st - Major League Baseball perfect game ever since the Seattle Mariners' Felix Hernandez pitched on back on August 15th, 2012.
Domingo was just the first pitcher born in the Dominican Republic to throw a perfect MLB game, and German also became the 1st - pitcher in the long and rich history of Major League Baseball to reach that accomplishment after giving up 10 or more runs during his previous big – league starting assignment.
German now joins only Don Larsen (1956), David Wells (1998), and David Cone (1999) as New York Yankees starters to achieve perfection on the mound. Larsen's perfect game came in Game 5 of the 1956 World Series versus the Brooklyn Dodgers.
Media Statements
"I'm just happy for Domingo. He's had a rough last couple starts and been dragging a little bit," the New York Yankees' catcher, Kyle Higashioka, explained. "For him to do this and get back to being himself? I always felt like if anyone, he had a really good chance to do something like this. For it to all come together tonight, it's just amazing."
"So exciting. When you think about something very unique in baseball, you know not many people have an opportunity to pitch a perfect game," the New York Yankees right - hander Domingo German stated. "To accomplish something like this in my career, you know, it's something that I am going to remember forever, be part of history, so exciting."
"He threw strikes, he pounded the zone, obviously. You don't not throw strikes when you go nine innings and don't get a baserunner," the Oakland A's manager, Mark Kotsay, expressed. "Overall, offensively, our approach wasn't great. We didn't make any adjustments tonight to what he was doing."
Following the ball game, the officiating crew chief, James Hoye, mentioned that German had, "The stickiest hand I've ever felt."
Rollercoaster of a Season for Domingo German & the New York Yankees
Domingo who previously allowed 15 - earned runs on 15 - hits throughout just 5 1 / 3 innings over his past 2 - starting pitching assignments, seemed to ride the momentum and flow of the baseball game as he only appeared to get stronger as the game unfolded. During the 9th - inning of Wednesday night's game German only needed a total of 6 - pitches in order to complete his perfect game and go down in the Major League Baseball history books.
Winless in German's 6 - last outings versus the Oakland A's, Domingo poured in 72 of his total 99 - pitches for strikes as he dazzled the crowd sitting patiently at the Oakland - Alameda County Coliseum. He mixed in 51 - curveballs as well as 30 - fastballs that managed to average 92.5 miles per hour along with 17 - changeups and 1 - sinker.
The win Wednesday night was the New York Yankees 3rd in their last 4 - games, and it was the 1st of the New York Yankees' current road trip that will also incorporate a weekend stay in Saint Louis for the Yankees to play the St. Louis Cardinals.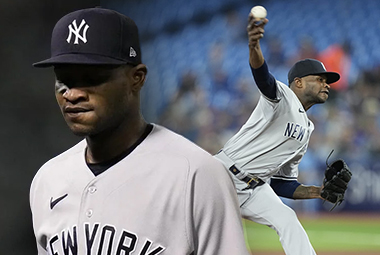 Just more than a month ago, Domingo was sidelined due to a Major League Baseball suspension for a total of 10 - games after using too much rosin on his hands during a start against the Toronto Blue Jays. German reportedly told the major sports media outlets a week later that he would use less rosin moving forward, and he ultimately ended up apologizing to his teammates and the New York Yankees organization.
German was disciplined by Major League Baseball after being tossed during the 4th - inning of New York Yankees 6 to 3 victory in Toronto on May 16th, 2023. Domingo retired the first 9 - batters prior to getting his hands inspected by the 1st - base umpire, D. J. Reyburn, as Domingo headed to the bump for the New York Yankees for the 4th - inning of game action.
The win in Oakland against the Athletics helped to boost German's record to 5 and 5 for the 2023 MLB season, and he witnessed an unusual burst of offense from his teammates ever since Aaron Judge has been sidelined while he recovers from a nagging right toe injury. The New York Yankees broke out during the 6th - inning as they scored 6 - runs, and they tacked on 3 - additional runs throughout the 9th and final inning of the ball game. Giancarlo Stanton bombed a home run and drove in 3 - RBIs in this monumental win for the New York Yankees.
Domingo German's Baseball Background
Born in San Pedro de Macorís, Dominican Republic allegedly on August 4th, 1992 (age of 30 - years - old). The right - handed starting pitcher made his Major League debut for the New York Yankees on June 11th, 2017. Domingo has pitched for the New York Yankees from 2017 through 2019 and 2021 through the present time.
During the current 2023 Major League Baseball season German has compiled an overall record of 5 and 5 over the course of his 15 starts for the New York Yankees with an ERA of 4.54. Domingo has struck out 78 - batters while earning a WHIP of 1.045 and a WAR of 0.3.
For German's MLB career he has gone 31 and 26 with an earned run average of 4.40 to go along with his 507 strike outs, a WHIP of 1.178, and a WAR of 4.1 throughout the course of his 495 total innings pitched all for the New York Yankees. Now German can add a perfect game to his pro ball resume.
Sources:
"Domingo German authors perfect game as Yankees top Athletics", espn.com, Thursday, June 29, 2023.
"Domingo German", baseball-reference.com, Thursday, June 29, 2023.
Posted by
DavidGreen