Introduction
Mandalay Bay is one of the larger and more upscale MGM properties, and is often considered the southernmost casino on the Las Vegas Strip. There are other casinos located further south on Las Vegas Boulevard (such as the South Point and the M), but the strip is generally thought of as encompassing all of the casinos between Mandalay Bay and the Stratosphere.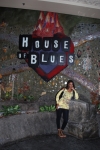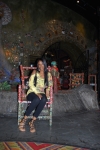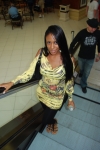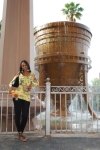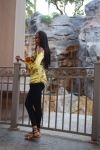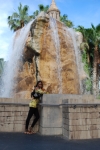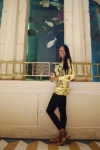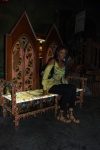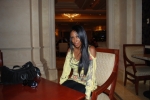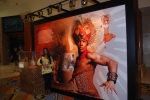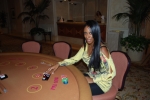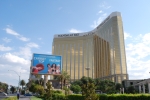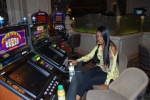 Casino
According to the Nevada Gaming Control Board, Mandalay Bay has 127 table games and 1,900 slot machines.
Blackjack
According to the Current Blackjack Newsletter, Mandalay Bay has 10 tables of 6:5 "blackjack", 40 tables of 3:2 blackjack, and 2 tables of Blackjack Switch.
Roulette
American (double-zero) roulette is offered on the main floor, and European Roulette is offered in the high-limit area.
Craps
The craps tables at Mandalay offer 3-4-5x odds, full-pay hop bets (15:1 and 30:1), and a full-pay field bet (12 pays 3:1).
Other Table Games
Here are some of the other table games available at Mandalay Bay:
Baccarat
Mini-Baccarat
Let It Ride
Pai Gow
Pai Gow Poker
Three Card Poker
Video Poker
According to vpFREE2, the best video poker games at Mandalay Bay are as follows:
9/6 Jacks or Better (99.54%)
12/8 Loose Deuces (99.20%)
8/5 Bonus Poker (99.17%)
9/7/5 Double Bonus (99.11%)
With the exception of Loose Deuces, which is available for quarters, the best games are located in high-limit for coin sizes of $5 and up.
Slot tickets expire after 60 days.
Sports Book
The sports book has 16 betting windows. For seating, there are 96 cubicles (24 of which are non-smoking) and 127 "student desks". The lounge has 30 tables, each of which has 4 chairs. There is 1 huge screen, 6 large, and 8 small. Race and sports tickets expire after 120 days.
Poker
The poker room at Mandalay has 10 tables, all of which are non-smoking. The rake is 10% of each pot up to $4.
Player's Club / Cashier
Both the player's club and the cashier have McDonald's-style lines (free-for-all chaos). To their credit, at one time there was one window at the cashier which was dedicated solely to redeeming gaming chips.
The player club at Mandalay Bay is the MGM/Mirage Player's Club which serves nearly all MGM properties. After playing Pai Gow at the minimum bet of $100/hand for about 3 hours, my one-night stay was comped, though it did take some haggling upon checking out.
Hotel Room
My hotel room at Mandalay Bay was impressive. The dimensions were 15' by 30'. A flat-screen TV and mini-bar were available. The bathroom had a separate tub and shower, and the toilet was located within a smaller closet off the main bathroom. There was also a small TV in the bathroom.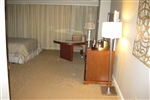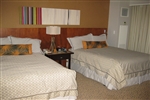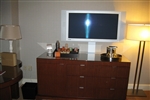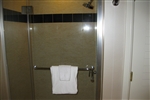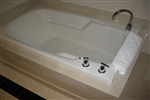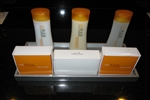 Pool
The pool at Mandalay Bay has been featured on the Travel Channel. It is called The Beach because it generates its own waves. The waterfalls and other scenerey make the pool at Mandalay Bay one of the best pools in Vegas, if not the best.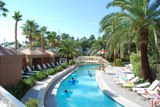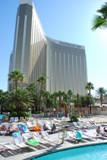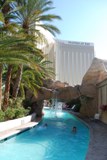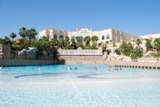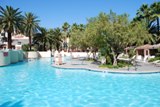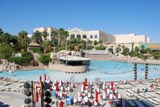 Food
The buffet prices were $15.99 for breakfast, $19.99 for lunch, and $26.99 for dinner. The Raffles café offers casual dining, with average to above-average prices:
Coffee: $3.25
Omelette: $12.25
10-ounce black angus burger: $14
12-ounce Prime Rib with 1 side: $25
Overview
Mandalay Bay is a classy casino with friendly dealers and a pleasant atmosphere. As strange as it may sound, the one thing I remember most was the smell that was used to cover up the smoke. Not only was it pleasing, it was very effective at hiding the smell of smoke.
There is a free tram that runs between Mandalay Bay, the Luxor, and the Excalibur.
Links
Acknowledgement
The Wizard would like to thank Nikkia for her modeling services and J.B. for the review. Nikkia invites you to visit her MySpace page
Contact Information
Address: 3950 Las Vegas Boulevard South, Las Vegas, NV 89119
Phone: 877-632-7800
Web site: mandalaybay.com
Resort and Parking Fees
| | |
| --- | --- |
| Resort fee | $13.50 |
| Parking fee | Free |
Games at Mandalay Bay
| Blackjack | Location | Decks | Min | Max | Soft 17 | DA | DAS | RSA | Surr | Tables | CSM | Party Pit | 6/5 BJ | Video | H. Edge |
| --- | --- | --- | --- | --- | --- | --- | --- | --- | --- | --- | --- | --- | --- | --- | --- |
| Blackjack | Strip | 8 | 5 | 500 | H | Yes | Yes | No | Yes | 1 | - | No | Yes | Yes | 1.92724 |
| Blackjack | Strip | 6 | 10 | 5000 | H | Yes | Yes | No | No | 17 | Yes | No | Yes | No | 1.99842 |
| Blackjack | Strip | 2 | 25 | 5000 | H | Yes | Yes | No | No | 4 | No | No | No | No | 0.45688 |
| Blackjack | Strip | 6 | 25 | 5000 | H | Yes | Yes | Yes | Yes | 4 | No | No | No | No | 0.48263 |
| Blackjack | Strip | 2 | 100 | 10000 | S | Yes | Yes | No | No | 4 | No | No | No | No | 0.25532 |
| Blackjack | Strip | 6 | 100 | 10000 | S | Yes | Yes | Yes | Yes | 6 | No | No | No | No | 0.28507 |
| Craps | # of Tables | Min Bet | Max Bet | Odds | Field12 | Video |
| --- | --- | --- | --- | --- | --- | --- |
| Craps | 8 | 10 | 5000 | 3-4-5 x | Triple | No |
| Roulette | # of Tables | Min Bet | Max Bet | Rules | Video |
| --- | --- | --- | --- | --- | --- |
| Roulette | 9 | 10 | 300 | 00 | No |
| Roulette | 2 | 50 | 500 | Euro | No |
| Roulette | 1 | 3 | 1000 | 00 | Yes |
| Video Keno | Rank | Avg Return | Grade |
| --- | --- | --- | --- |
| Video Keno | 65 | 88.17% | D- |