Introduction
I've got a lot of interests, and most of them are pretty tomboyish. When I have free time, you'll probably find me trekking up a mountain, setting up a tent somewhere off the beaten path and unspoiled, or sitting on my couch watching sports (football or golf most likely). There's a girly side to me too, though, and it seems to rear its prissy little head when I am in a mall. Yep, I like to shop. Nah, I love to shop.
So how lucky am I to live in Las Vegas, where the shopping is so varied and so great? From seriously upscale to hilariously kitschy, the ways to blow your paycheck are endless. Here's my take on the malls and shops of Vegas, along with the eateries I frequent when I am out shopping.
Down-and-Dirty Souvenir Shopping
Let's face it, you can't go home without some fuzzy dice, retired playing cards and Las Vegas t-shirts for the friends and family. Souvenir shops are in every casino/resort up and down the strip as well as in stand-alone shops. Probably the most impressive of the souvenir shops is on the corner of Sahara and Las Vegas Blvd. Bonanza Gifts, also known as The World's Largest Gift Shop, is where I take visiting friends and family when they want to pick a little something up. True to its nickname, the place is huge, and so is the selection. And it's a fun place to kill an hour or so.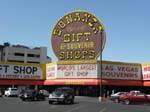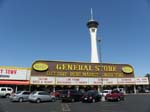 A couple other great spots for souvenir shopping are Fremont Street and The Hawaiian Marketplace. Fremont is great if you are downtown, as the shopping is under the huge canopy, mixed in with casinos and plenty of restaurants. The Hawaiian Marketplace is between MGM and Planet Hollywood on the east side of the strip. Despite its prime location, it seems the recession has hit The Hawaiian Marketplace hard. Most of the stores and vender carts are still open, but the food court has been abandoned. Still surviving in the food court building, however, is a great Indian restaurant called Tamba. My husband and I recently had dinner at Tamba. Great food, solid drinks (I recommend the super-sweet Kama Sutra), comfortable surroundings and outstanding service. They are probably staying afloat due to a steady flow of locals, particularly Indian locals; I heard about Tamba from a friend. A great menu choice is Buddha's Feast, which gives you small servings of many Indian dishes, along with rice, naan bread and a little dessert. Make sure you order some naan regardless of the dinner you choose, as they do it right.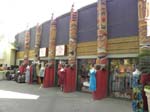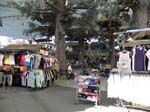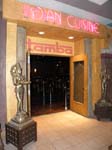 By the way, if you leave your souvenir shopping until the last minute, there are some pretty good options at McCarran International Airport. In the airport's main building, there are small storefronts for most of the major strip casinos; so if all else falls, you can grab a stack of MGM Grand t-shirts on the way to the security checkpoint.
Run-of-the-Mill Malls
Like any decent-sized city in America, Las Vegas has some traditional malls, complete with The Gap and JC Penny. On the west side of town, at US 95 and Valley View, you'll find Meadows Mall, while in Henderson, at Sunset and Stephanie, you'll discover The Galleria. Centrally located at Maryland Parkway and Desert Inn is The Boulevard Mall. These are all pretty good malls, but they are pretty common. I say if you're shopping in Las Vegas, skip these malls and head for the ones with more glitz.
Not-So Run-of-the-Mill Malls
Ooh-La-La Upscale Malls
Ritzy Mini-Malls
Get-Your-Deal-On Outlet Malls