Property
The California ("the Cal") is located in downtown Las Vegas, at the corner of Ogden and Main Streets. It features a full-service casino, several restaurants, and a large hotel. Garage parking and free valet service are available at the southeast entrance.
Aloha!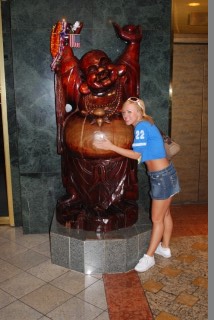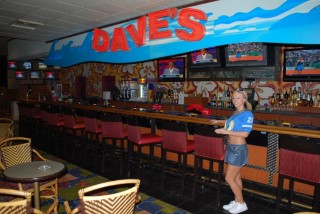 The Cal is located somewhat awkwardly, offset from the main part of downtown by a long city block. Therefore, it gets relatively little foot traffic. So the Cal's marketers long ago developed a strategy: they would concentrate on appealing to a niche market. That market is: Hawaii. The Cal survives and thrives by bringing in planeloads of Hawaiian tourists to stay and gamble there. When you stroll the casino floor, you see this rather strikingly: a good 70-80% of the clientele are smiling little Japanese/Hawaiian-Americans, many of them wearing aloha shirts. (The majority ethnic group in Hawaii is Japanese; whites are much less than 50% of the population there.) I've never seen such a cheerful, good-time bunch. First of all, if you live in Hawaii, it's probably hard to be a grump, and second, these folks just seem to have a good attitude. Not only that, but Hawaii is one of the few US states where there is no gambling available of any kind, so when the Hawaiians get to Vegas, they are prepared to let 'er rip.
The Cal also hires many dealers from Hawaii (as you can see from their name tags), and in general tries to preserve the island atmosphere. The snack bar offers Spam. The progressive slots are called the "Aloha Slots". The coffee shop serves Hawaiian and American food. All in all, this is a pleasant place to play and stay, even if it does feel a little odd at times to be in Hawaii-in-Vegas. I actually am intrigued by the cultural diffusion aspect: second- and third-generation Japanese-Hawaiian-Americans traveling to Las Vegas to gamble. We're a real melting pot, all right.
In the casino
The Cal's gambling offerings are what I call "Coast Casinos generic". Table games are the standard mix, with $5 and $10 minimums, and there is the usual assortment of slots and video poker.
Video poker: offerings are reasonably good, with most machines being short-pay (as everywhere), but many full-pay machines are available. Particularly, there are quite a few 10/7 Double Bonus and 9/6 Jacks or Better machines scattered around the casino, mostly in .25 denominations. The 9/6 machines seem to be very popular with the Hawaiian crowd. There are also full-pay versions of these games that pay extra for royals in certain suits. The slot club is the "BConnected" multi-casino club, and returns a standard 0.1% comps for "Ruby" level. This can be increased to 0.2% and 0.3% by attaining "Sapphire" or "Emerald" level, respectively.
Table games: Crap games with $5 minimum and 2x odds are offered, in a standalone pit with four tables. Either because the 2x odds are unattractive compared to nearby casinos, or because Hawaiians don't play craps, the craps pit was completely dead every time I was there. The most common blackjack game is $5/$10 minimum hand-held double-deck, standard downtown rules. There are also carny table games such as Let it Ride, Three Card Poker, "Super Fun 21", Texas Hold Em Bonus, and Pai Gow Poker ($5 minimums, except for $10 on PGP). Sports book: A small sports book is found on the second floor. It looked unremarkable, except for the large sign showing the schedule for upcoming University of Hawaii athletic events. The Aloha Bowl line was also prominently displayed. They deal a standard dime line on football and basketball.
Keno: There is a fairly large Keno lounge in the southeast corner, near the craps pit. A cursory examination of the pay schedules showed nothing unusual, except for various tickets like the (what else) "Mauna Loa" and "Mauna Kea" Specials. However, inside the Keno blower, instead of ping-pong balls, they have little pineapples with numbers on them bouncing around. Okay, not really. But they should have.
Restaurants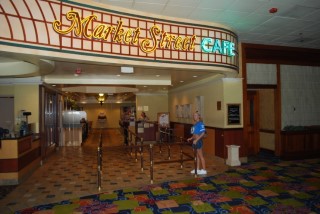 Market St. Cafe: This is the Cal's coffee shop, open 24 hours. The Cafe offers standard coffee shop fare at very reasonable prices, and by standard coffee shop fare, I mean Hawaiian coffee shop. Items such as oxtail stew and chicken katsu regularly appear on the specials board. Entrees range from $6-10, and usually include a salad bar. There are graveyard specials such as steak and eggs for $4. The real draw, for me, is the Oriental seafood soup, one of several meal-sized saimin soups offered. It contains shrimp, fish cake, char sui, noodles, green onion, etc. etc. etc. and sells for $5.50. I go out of my way to come here and have this.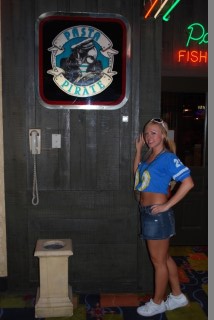 Pasta Pirate: The Pirate offers seafood and pasta dishes for reasonable prices. The atmosphere is "Old Vegas steak house", with a subdued, casual look ("cannery" theme). Prices are moderate, and there are frequent specials. Those who want a nice steak, but don't want to spend a lot of money, should note that the Pirate shares the same kitchen with the pricey Redwood Bar and Grill, but not the same prices.
Redwood Bar and Grill: Steaks and seafood. Closed during my visit, and IMHO, no reason whatsoever to dine there anyway: the Pasta Pirate next door is just as good. Entrees run $18-28 for steaks, and $35-45 for seafood. Menu is a la carte.
Aloha Cafe (upstairs): Now here, we have your authentic Hawaiian fast food joint. Saimin, bento, teriyaki, rice curry, etc. etc. etc. I saw dozens of such places all over the Islands, and this place has the same sort of menu. Prices are in the $5-7 range. Too bad they don't have shaved ice, though.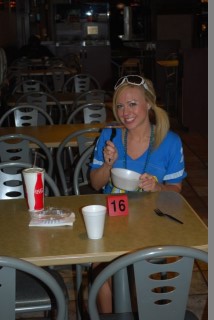 Cal Cafe: downstairs, near the southwest entrance. A mixture of Hawaiian and American snack fare, but noteworthy because it is the only snack bar in Vegas that serves......SPAM!!! Only $2.
Lappert's Ice Cream: This is apparently a Hawaiian brand of ice cream (they really want to make people feel at home here). They also serve as a morning coffee stand, and they serve puffy little "malasadas" with the coffee, which are really good.
Hotel
The Cal is basic but serviceable. Rooms are on the smallish side, but decently appointed and perfectly comfortable. I've never paid for a room there, but rates are low, in the $35-50 range during high season and the $20-40 range during low season.
Since Main Street Station and California are "sister properties", and physically connected to boot, offers for one property can usually be used at the other. So if I were booked at the California, I might consider moving across the street to MSS, where IMHO, the rooms are nicer; rates/freebies are usually interchangeable. However, if it was pool season, I might want to stay at the Cal (see below).
The Pool
Since when I was at the Cal, Vegas was experiencing a pretty thorough rainstorm, I couldn't access the pool; the entrance was blocked, and it would have been closed anyway. But NB for future visits: the pool is located at the end of the hotel corridor on the 13th floor, on a portion of the rooftop. This means that if you are already on the 13th floor, pool access is super easy, and the pool is never very crowded. So if it's summertime, stay at the Cal rather than the MSS, and get a room on the 13th floor.
The Big Kahuna Visits the Cal
I stayed one night at the California in late December 2010, in conjunction with my longer visit at Main Street Station. I spent most of one Sunday gambling at the Cal. After slurping down a bowl of saimin soup at the Market Street Cafe, I first tried my luck at double-deck blackjack. I noticed that this hand-held game was being dealt pretty deep, at least by my first dealer, "Lily", who was from Maui and wore a flower in her hair. I decided to actually pay attention, and count the deck down, using only a $5-15 bet spread, since my goal was not to murder the casino and make gobs and gobs of loot, but rather, to play, have a good time, and negate the house edge. Well, two hours of counting and making fortuitous decisions was making me look like some kind of friggin' genius. My big bets usually won; my small bets usually lost. I stood on 12 against a 2 one time and hit it another; both times, I was correct. I stood on 15 vs. a 9 and hit it another; both times, I was correct. After the two hours were over, I was up over $300, and I was starting to feel conspicuous. One little old gentleman was starting to mimic my bets; he would wait to see how much I bet before he placed his own, identical bet. I was flattered by my newfound status as God of Blackjack, but I didn't really like the notoriety, so I cashed out. It turned out to be fortunate that I won that money, because I was about to face:
The Killer 10/7 Double Bonus Machine of Flaming Death
I enjoy playing Double Bonus, but it's a game with only a tiny player edge, and that only afforded by mastering a very complicated strategy. It's also highly volatile, with much of the payback dependent on getting four-of-a-kinds; my friends and I call this game "Quads or Die". If I'm downtown and I play this game, I usually prefer to play at Main Street Station, since they have the scratch card promotion, and the slot club is identical. But the Cal does have a bank of 50¢ 10/7 DB with a 1,000 coin bonus for heart royals, which adds about a tenth of a percent or so. So flush with my BJ winnings, I said, what the hell.
I read this morning of an unfortunate member of a group of three expert kayakers who were paddling down the White Nile in Africa. A crocodile suddenly ambushed him, yanked him out of his kayak, and disappeared with him in its jaws. His stunned friends never saw him again. Why this digression? Only to stage the metaphor that the 50¢ Double Bonus machine that morning was the crocodile, and I was the kayaker. My $300 was a mere morsel to it. And I didn't think they even had crocodiles in Hawaii. Oh, wait, this was actually Las Vegas. But hold on, they don't have crocodiles in Vegas, either. I'm so confused...I think I'll go upstairs to the sportsbook and watch a game or two.
There's something about watching a bunch of football games simultaneously on a bunch of TV screens in a sportsbook that makes you suddenly care about the outcome of a football game being played 2,000 miles away between two teams that you normally don't give a damn about. But..there's all these BETS you can make! I bet a three-team off-the-board parlay involving, I think, the Memphis Goats, the Grand Rapids Wolverines, and the Tallahassee Super Squid, and suddenly, I was CARING about the outcomes of the three games they were simultaneously playing! To make a long story short, three hours and seven beers later, I won my parlay!! $145 for me. It was time well spent, and money in my fist that begged to be spent at:
The Crap Tables Where the Hell IS Everybody??
I was fully prepared to shoot 'em up for a hour or so, but when I got to the craps pit, there was a bored-looking crew just...standing there. Why? There were no players. None. There must have been seventy or eighty players in the BJ/card games pit, but all four crap tables were empty. Too bad, because I picked up the dice and made four points. This was worth about $75 to me at $5+double odds, but when I finally sevened-out, I colored up, tipped the dealers (who were making minimum wage that day), and left; I don't like to play craps except at a crowded, noisy table. I guess the Cal customer base doesn't like craps. Maybe if they used little pineapples instead of dice...?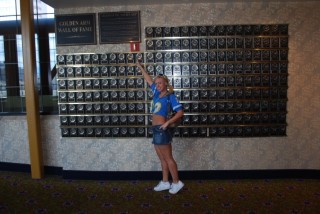 Evidently nobody in the casino that day knew, or cared, that for years the California held the record for the longest documented craps roll in history. On May 28, 1989, Stanley Fujitake shot the dice 118 times, or 3 hours and six minutes before sevening out. The record was broken, by the way, on May 25, 2009 at the Borgata in Atlantic City. Still, the Cal honors the event with its "Golden Arm Wall of Fame," upstairs, in the covered bridge that leads to the Main Street Station.
Arcade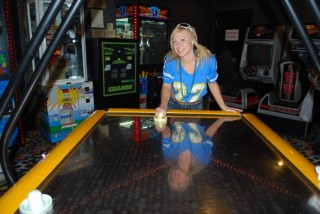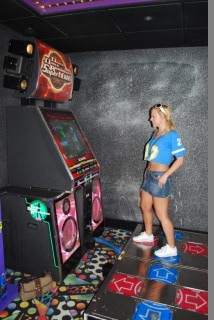 I never made it to the arcade, but the Wizard obviously paid a visit there with the lovely Lisa.
Summary
You could do worse than to stay and hang out at the Cal. The rooms are comfy and cheap, the food is really good (and, cheap), and the gambling is reasonably good, with low limits. There's not a lot available in extracurricular activities, which is pretty much true of downtown in general, but you're near all the other downtown casinos if you want to explore.
For those of you wondering, "If it's so Hawaiian-themed, why don't they call it the 'Hawaii' or the 'Aloha' or something instead of the 'California'," the Cal predates the era of frequent jet travel to and from Hawaii. The marketing angle of junkets from Hawaii has only been done by the Cal for a couple of decades; before that, it was just another unremarkable downtown grind joint. Without Spam.
Links
Contact Information
Address: 12 East Ogden Avenue, Las Vegas, NV 89101
Phone: 800-634-6505
Web site: thecal.com
Acknowledgements
The Wizard would like to thank Kevin L. for the review and Lisa Furman for modeling in the pictures. Lisa invites you to visit her page at ModelMayhem.com
Resort and Parking Fees
| | |
| --- | --- |
| Resort fee | $13.50 |
| Parking fee | Free |
Games at California
| Blackjack | Location | Decks | Min | Max | Soft 17 | DA | DAS | RSA | Surr | Tables | CSM | Party Pit | 6/5 BJ | Video | H. Edge |
| --- | --- | --- | --- | --- | --- | --- | --- | --- | --- | --- | --- | --- | --- | --- | --- |
| Blackjack | Downtown | 6 | 3 | 200 | H | Yes | No | No | No | 1 | No | No | Yes | No | 2.14296 |
| Blackjack | Downtown | 2 | 5 | 1000 | H | Yes | No | No | No | 15 | No | No | No | No | 0.60225 |
| Blackjack | Downtown | 1 | 5 | 500 | H | Yes | No | No | No | 2 | No | No | Yes | No | 1.69824 |
| Craps | # of Tables | Min Bet | Max Bet | Odds | Field12 | Video |
| --- | --- | --- | --- | --- | --- | --- |
| Craps | 4 | 5 | 1000 | 2 x | Triple | No |
| Roulette | # of Tables | Min Bet | Max Bet | Rules | Video |
| --- | --- | --- | --- | --- | --- |
| Roulette | 1 | 5 | 100 | 00 | No |
| Video Keno | Rank | Avg Return | Grade |
| --- | --- | --- | --- |
| Video Keno | 47 | 90.40% | C+ |