Introduction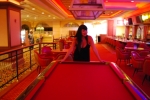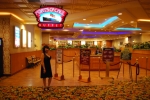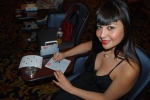 Situated on West Flamingo Road, next to the Rio and across from the Palms, is the Gold Coast Hotel & Casino. I had never paid much attention to this spot in my past three trips to Las Vegas, I actually only went off-strip on my last one. I stumbled upon Gold Coast back in March after seeing Penn & Teller at the Rio searching for a moderate dining option at 11:00 PM. I was initially brought in by the TGI Friday's that was advertised outside.
I decided to stay at Gold Coast for my first two nights of my summer Vegas trip; I needed a cheap easy place to stay after my drive from San Francisco. The following is my review of the hotel.
The Gold Coast has 750 rooms and 27 suites according to the 2010 American Casino Guide. I checked in Monday August 16, 2010 for two nights at a rate of $23 a night. This included a $5 discount from the standard midweek rate for just having the basic standard issued red B Connected card. Much to my dismay I was warned of a $3 per day resort charge that included local and 800 calls which I find useless since everyone has a cell phone. Also included in the charge are shuttle service to The Orleans and the strip, access to the fitness center, and the unusual luxury of coffee in the guest rooms (so much for $5 medium coffee at Starbucks!).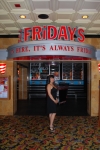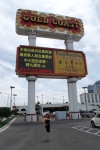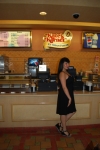 The room was on par with the standard budget Vegas hotel. The room was clean. Unlike other rooms where the bathroom is near the door into the room, the bathroom was on the far end enclosed in a little cove where the sink barely fit and there was a small closet. An interesting feature in the bathroom was a small window that fully opened that had a nice view of the Luxor and the backside of the city center and the façade of Planet Hollywood. The air conditioner was a single unit which I prefer over relying on the hotel engineers temperature wishes.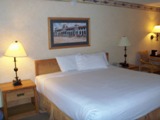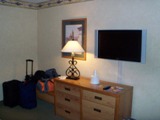 The mattress felt like a foam pad over a cement block, I awoke sore both nights. The bed had three pillows, two were fine but one was as hard as a rock I have never felt a pillow that was so firm.
One thing that was annoying is for the free in room coffee the tray was stocked with cups and condiments but no coffee! I left a note for the maid saying "Please stock coffee" with a smiley face and a dollar tip. I returned to the room to find four coffee pods. If anyone has ever pondered the idea of taking a shower with a pressure washer, Gold Coast is the perfect place to do that. Perhaps they are trying to conserve water by limiting the guests showers because the water pressure from the shower head was so strong it was painful. There was no way to adjust the pressure it was purely a water cannon.
My final night at Gold Coast I decided to take their shuttle that runs from Gold Coast to the Orleans to Bill's. I regret doing this as the line to get on the shuttle to go back to Gold Coast was so long there was not enough room for everyone to get on the shuttle. I was very upset as I had waited twenty minutes for the shuttle, was unable to board, and ended up walking from Bill's all the way back to the Gold Coast as I could not get a cab. It is only about a mile, but after waiting for the shuttle and walking through the miserable heat I was quite unhappy.
The Pool was the size of a large backyard swimming pool. There was also a Jacuzzi which was fenced off and completely drained. I cannot see how anyone would want to sit in a Jacuzzi in the heat anyways. I went down to the pool at nine am when they first opened hoping to take some pictures with no one around. Unfortunately there were about four people and they were giving me some dirty looks when they saw me taking pictures of the Jacuzzi so I declined to take any of the pool.
The Gold Coast has a selection of budget friendly restaurants. There is Ping Pang Pong, their "signature" Chinese restaurant which was supposedly voted best Chinese in Las Vegas. Also there is a small noodle shop "Noodle Exchange" as well as a deli, buffet, Seattle's Best, and TGI Friday's. I ate at TGI Friday's Tuesday night. I usually try to avoid chain restaurants, but these are scarce around northern California.
I ordered their "Jack Daniels Sampler" which was an assortment of baby back ribs, fried shrimp, and small breaded chicken pieces in a sweet yet mildly spicy barbeque sauce. They were running a happy hour that included half price appetizers and a drink special of a $5 Electric Lemonade.
The American Casino Guide states Gold Coast has 85,545 feet of casino space, which is roughly half the size of the MGM.
B Connected (the Coast Casinos player club) has a unique feature, an iPhone application that displays your point balance well as various offers and a casino locator using the iPhone's GPS feature.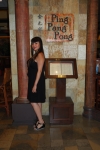 I did a short sample of the video poker selection. Near Ping Pang Pong there is a bank of machines with 9/6 JOB at 50 cents, $1, and $2. This machine also had short pay deuces wild. I also found that most of the machines had better pay tables which increasing the coin value to fifty cents.
In terms of blackjack there was a double deck at $5 minimum that H17 and paid 3-2. It seemed like this would be a good game except for I noticed the shuffle point was 50%. There was lousy 6-5 single deck, Pai Gow Poker available at $5 a hand, Ultimate Texas Hold'em at $5, mini Baccarat at $10, double zero roulette at $3 a spin, as well as some other carnival games.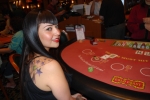 Unfortunately I am not yet a high enough roller to have my play count for anything in terms of room charges, but I will say I played for an hour in the pit, $10 Pai Gow Poker and the $5 double deck black jack. Using the Wizard's Black Jack house edge calculator I figured the house edge of the game was 0.37%. I also noted as a player the house edge on Pai Gow Poker was 2.66%. Assuming I played Black Jack for 30 minutes at $5 a hand, two hands per minute I ended up wagering $300 my expected loss should have been $1.11 (300*.0037). For my Pai Gow Poker I played $10 a hand for 30 minutes at one hand per minute my wagering was also 300, my expected loss should have been around $8 making a total of maybe $10 expected loss which ended up being closer to $100. I figured my comp value would be $4 so I did not bother asking for anything at check out.
The bowling alley in the hotel had about seventy lanes. My spouse and I met up with some of his friends that had relocated to Las Vegas and we played two games. The cost for two games and shoe rental was $8.75 a person around 3:00PM. They advertise dollar bowling and shoe rental weeknights after midnight. The lanes were on par with the average city's bowling center. I shall not disclose my embarrassing score but will say I did not understand why the lanes to the left and right of ours had bumpers that came out but ours did not.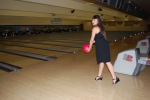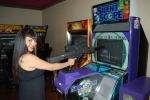 Overall I was quite disappointed with Gold Coast. I had low expectations for a place that was $25 a night, but the basic parts of a hotel room such the painful shower, mattress and pillows were quite unacceptable. I also was very upset about the shuttle being unable to transport all passengers. I considered asking the front desk for some kind of compensation for my unsatisfactory experience but in the end it was not worth it to me, I will never give Boyd Gaming any business ever again.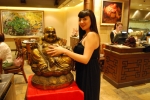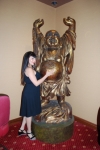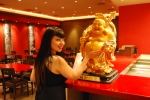 Contact Information
Address: 4000 West Flamingo Road, Las Vegas, NV 89103
Phone: 800-331-5334
Web site: goldcoastcasino.com
Resort and Parking Fees
| | |
| --- | --- |
| Resort fee | $13.50 |
| Parking fee | Free |
Games at Gold Coast
| Blackjack | Location | Decks | Min | Max | Soft 17 | DA | DAS | RSA | Surr | Tables | CSM | Party Pit | 6/5 BJ | Video | H. Edge |
| --- | --- | --- | --- | --- | --- | --- | --- | --- | --- | --- | --- | --- | --- | --- | --- |
| Blackjack | Off-Strip | 2 | 5 | 1000 | H | Yes | Yes | No | No | 15 | No | No | No | No | 0.45688 |
| Blackjack | Off-Strip | 6 | 5 | 500 | H | Yes | Yes | No | No | 3 | Yes | No | No | No | 0.63873 |
| Video Keno | Rank | Avg Return | Grade |
| --- | --- | --- | --- |
| Video Keno | 9 | 92.50% | A- |