Can it Be Beaten?
Another On-Line Casino Promotion, brought to you from our Wizard of Odds, "Getting Started with On-Line Gambling," page.
Is the Aladdin's Gold promotion, and, as always, the question is, "Can this promotion be beaten?"
The first thing that I would like to point out about this casino is that it is a Wizard of Odds APPROVED casino, and as such, is subject to the Wizard's guarantee.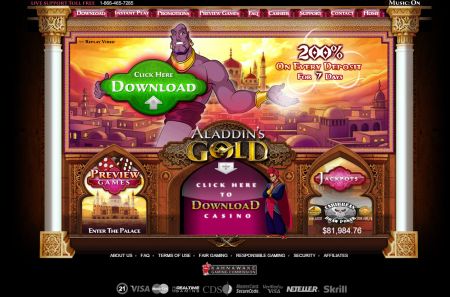 This means that if you have a problem of any kind with this casino, while we ask that you first attempt to resolve it yourself, the Wizard will intervene on your behalf if the casino and yourself cannot come to an agreeable resolution.
The New Player promotion for this casino is either UNLIMITED deposit bonuses of 200% for the first seven (7) days from the initial deposit OR 100% UNLIMITED deposit bonuses from the first seven (7) days dependent upon which games the player chooses to play.
The first thing that we should look at is that the 200% offer is for Slots, Video Keno or Scratch Cards and has a 30x Wagering Requirement. As a result, if the player were to deposit $100 and get a $200 Bonus, then the player would have to make $9,000 in total wagers before the player could cash out.
This is also a Phantom Bonus, which means that, while winnings from the Bonus itself are cashable, the Bonus itself is not and will be removed upon a player requesting a withdrawal.
The first thing that we want to look at is that 200% on Slots, Video Keno or Scratch Cards. Again, without knowing the probabilities for each pay or the pays distribution of the slot machines, that's going to be anyone's guess. Obviously, you want to win an amount such that the remaining balance you have, less the initial Bonus amount, are such that you can complete the remaining wagering requirements and finish with a profit.
The best way to do that, of course, is to bet as big as you can relative to your bankroll, hope for a good hit, and then grind through the playthrough betting as small as you can stand or is allowed.
I would also say the same thing for Keno. Aladdin's Gold operates on Real Time Gaming Software, and I have exhaustively tried to find ways that these promotions can be beaten on the Keno, but they just aren't there so far, so I apologize. I plan to continue looking into Keno to see if there are any ways to vary bets such that the player would have an advantage, but the Max bets usually have not been enough to cause that.
Scratch cards are anyone's guess.
With that said, let's get into the Table Games Promotions. The first thing I want to say about the main page is that it calls for a 30x playthrough on the 100% Unlimited Bonuses for Seven (7) days on the main Promotions page, but then, none of the, "Other Games," qualify for the full amount, dollar for dollar, of playthrough when you look at the Terms and Conditions page:
6. Wagers placed on each type of game will contribute different amounts towards the wagering requirement.

Slots, Video Slots, Keno and Scratch Cards - 1.00
Roulette - 0.40
Casino Poker Games - 0.25
Video Poker - 0.20
21 Games, Blackjack, Baccarat, War - 0.10
Craps, Sic Bo - 0.10
Furthermore, the Main Promotions Page says that Baccarat, Craps, Roulette and Sic Bo are excluded, and the Terms and Conditions state:
5. All bonuses carry a wagering requirement that is to be completed on a specific selection of games. Any wagers made on games that are excluded from the wagering requirement before the wagering requirement is completed will result in the bonus and any winnings being void. The player must be aware of and accept these terms and conditions before playing the bonus.
I'm definitely confused now, the Terms and Conditions page shows how much each game contributes to wagering requirements, including the, "Excluded," games, but then, if you play the excluded games it will void everything.
I would just assume you cannot play Baccarat, Craps, Roulette or Sic Bo, which basically eliminates my favorite way of going after these promotions.
Okay, the first thing we can figure out easily is what we are going to play it off on if we get to a winning point, and that is going to be Aces & Eights Video Poker with a 0.22% House Advantage. On a $100 deposit, with a $100 bonus, we would have to play-through $6000/.2 = $30,000 which would be at an expected loss of $66 on Aces & Eights.
That low expected loss is actually pretty good news. That means that, if we can get our bankroll to $266 (which is $166, actually, because the Bonus amount will be subtracted), then we can expect to break even.
I'm going to go with good ol' fashioned Pai-Gow Poker, here. The reason why is because I want to get all $200 out there on one bet, so I don't want a multi-level betting game, a game where I can take bets back, or a game where I have to worry about splits or doubles. It's true that I can only win Even Money, (less 5%) but that's also the reason that bets in which the player can make one large bet and win more than even money generally don't see to be allowed on this promotion.
As you will see, I'll take my Even Money less 5%, that's fine.
Okay, I can find the House Ways for the Dealer on the Wizard's site for Realtime Gaming, but I can't find the probabilities associated therewith, so I'm just going to use the probabilities for Dealer Banker from the Main PGP page and following the House Way.
The first thing we have to do is convert the probability of winning into one that ignores ties, fortunately, here comes a cheap parlor trick:
Add the probabilities of losing and winning:
.302984 + .292486 = 0.59547
Divide the probability of winning by the combined probability:
.292486/0.59547 = 0.49118511427
Do the same for the probability of losing:
.302984/.59547 = 0.50881488572
There you go.
Okay, so if we win, then we will win $190 and we will have an effective bankroll of $290 because the $100 Bonus will be subtracted when we make a withdrawal. We will lose $66 playing Aces & Eights, by expectation, and will finish with a Balance of $224 for a profit of $124.
Either that, or we will lose $100.
(0.49118511427*124) - (100*0.50881488572) = 10.0254655975
Thus, we have an expected win of $10.0254655975 on an initial $100 outlay and an advantage of over 10%.
The overall advantage and dollar value may seem petty compared to some other promotions that we have analyzed here, but there are a few advantages to this one:
1.) The initial deposit is unlimited.
My analysis was based on a $100 deposit, however, if a player were to deposit $1000, then the expected win is going to be about $100.25.
2.) The bonus can be repeated for seven days.
This means that you won't have the same degree of Variance that you would with a, "One-Shot," type of promotion. You might want to see what the Max bet on PGP is and use that, but since you can do it more than once, you'll have a higher probability of winning overall given the Law of Large Numbers.
If you don't mind playing...A LOT...then this really isn't a bad promotion. I don't think the Maximum bet on PGP is going to be such that you can destroy this thing for a ton of cash, but if you do like to gamble, it's certainly a nice little advantage.
Posted by
Mission146