Introduction
The Excalibur is one of the two unimpressive MGM properties (the other one, oddly similar, being Circus Circus). It is located on the southwest corner of the intersection of the Strip and Tropicana. The casino is loosely based on a medieval/Arthurian theme. It appears to target budget gamblers, especially those who want to bring their children with them to Vegas. There is an area called the Fantasy Faire on the lower level, which offers lots of carnival favorites such as water-pistol horse racing.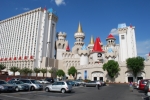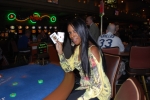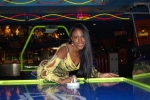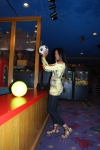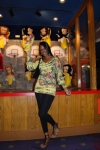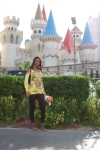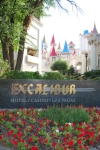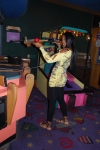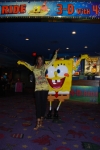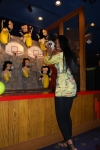 Casino
According to the Nevada Gaming Control Board, the Excalibur has 81 table games and approximately 1,500 slot machines.
Blackjack
According to the Current Blackjack Newsletter, Excalibur has 9 tables of 6:5 "blackjack", 2 tables of Spanish Blackjack, and 22 tables of 3:2 blackjack. I also saw a table of 7:5 blackjack in the Party Pit. Minimum bets range from $5 to $25, depending on the table, time of day, and day of the week.
Roulette
Only American (double-zero) roulette is offered at Excalibur.
Craps
The Craps tables at Excalibur offer the strip-standard 3x-4x-5x odds, and full-pay hop bets of 15:1 and 30:1. The field bet, however, is the short-pay version with both the 2 and 12 paying double.
Other Table Games
The Excalibur offers lots of carnival games. Here are some of the games observed:
Big Six
Caribbean Stud Poker
Casino War
Let it Ride
Pai Gow Poker
Texas Hold'em Bonus
Three Card Poker
Pai Gow Poker
Unlike every other casino I have played Pai Gow Poker at, the Excalibur does not let you "surrender" your hand. For example, if your hand was an Ace-high "Pai Gow", and the dealer split Two Pair, you know your hand lost. Most casinos will let you "surrender" by placing your 5-card hand on top of your 2-card hand. It is actually in the casino's interest to allow this, since it can speed up the gameplay slightly. However, when I attempted to surrender a losing hand at the Excalibur, I was sharply scolded by the dealer that she must reveal my cards for the camera to see. Keep this in mind if you play Pai Gow Poker at Excalibur.
Most casinos offering Pai Gow Poker use an electronic device to determine who gets the first pack of cards. At the Excalibur, they use a dice shaker as is used in regular Pai Gow. When you bank, you get to shake the dice.
Video Poker
vpFREE2 confirms my own finding, which is that the video poker at Excalibur is very poor. The best game is 9/6 Double Double Bonus (98.98%), which can be found for nickels, dimes, quarters, half-dollars, and dollars. Some of the quarter machines have a progressive jackpot for a Royal Flush. There are also some 1-2-3-4-4-9-15-25-200-800 Deuces Wild machines (sometimes called Illinois Deuces or Airport Deuces, returning 98.91%) scattered around the snack bar.
Slot tickets at Excalibur expire after 1 month (approximately 30 days).
Sports Book
The sports book at Excalibur has 5 betting windows. There are 13 tables, 25 cubicles, and 68 lounge seats. There is one huge screen, 12 small widescreens, and 12 small square screens. Race and sports tickets expire after 120 days.
Poker
The poker "room" at Excalibur has 12 non-smoking electronic PokerPro tables. It is not so much a poker room, but more of a fenced-in area in one section of the casino. My notes on the rake deducted from each pot were ambiguous, but I believe that the rake is the usual 10% up to $4, with an additional $1 deducted from pots of $20 or more, which I believe goes towards the licensing fee of the table itself from PokerTek, the supplier of PokerPro tables.
Update: The electronic tables have since been replaced with standard, human-dealt poker tables.
Keno
I picked up a keno booklet while eating at the Sherwood Forest Café. There are many types of keno offered. Here are the returns for the payouts that were in effect in June 2009:
Standard Keno
Spots Picked
Return
1
0.750000
2
0.721519
3
0.721519
4
0.709986
5
0.708706
6
0.709865
7
0.704197
8
0.705323
9
0.702327
10
0.704599
11
0.694452
12
0.699719
13
0.691154
14
0.699804
15
0.697938
For the Standard Keno, the following bet ranges are available:
1 to 9 numbers: $1, $3, $5, $10
10 to 15 numbers: $2, $5, $10, $20
As the number of spots chosen, number of matches, and bet size increase, the returns decrease due to capping the top prizes at $100,000. The worst-case scenario, betting $20 on a 15-spot ticket, loses an additional 0.5509% due to capping.
4, 5, 6-Spot Specials
Spots Picked
Return
4
0.718776
5
0.714020
6
0.717332
The 4-spot, 5-spot and 6-spot specials appear to only be available for bets of $3.50, $7, or $14.
All or Nothing Specials
Spots Picked
Return
4
0.736007
5
0.694024
6
0.682542
The All or Nothing specials appear to only be available for bets of $5.
Red Hot Keno Special
Spots Picked
Return
3
0.728457
4
0.727105
5
0.726014
6
0.726086
7
0.726197
8
0.723818
Red Hot Keno Specials appear to only be available for bets of $2.
Red Hot "On The Go" Specials
Spots Picked
Return
3
0.801302
4
0.799816
5
0.799825
6
0.798694
7
0.798817
8
0.796200
Red Hot "On The Go" Specials appear to only be available for bets of $2, and you must purchase at least 31 games.
Miscellaneous Keno Bets
Game
Return
16-Spot $5 Ticket Special
0.706184
20-Spot $5 Ticket Special
0.706406
"Merlin's Magical Keno Kube" $5 Ticket
0.722252
Top/Bottom $5 Ticket
0.714033
Left/Right $5 Ticket
0.714033
Overall, the best bet (which is hardly a good bet) is the 3-spot Red Hot "On The Go" bet, with a house edge of 19.8698%.
Player's Club / Cashier
The player's club is the MGM Mirage player's club. Both the player's club and the cashier have a single line that leads to several windows, ensuring that everyone is taken care of on a first-come first-served basis.
Towards the beginning of my 2-night stay at Excalibur, I spent more time playing Pai Gow at nearby Mandalay Bay than I spent playing at Excalibur. The day before I checked out, I asked an employee at the player's club if play at Mandalay Bay counted towards my comps at Excalibur. I was told that it did not. So I put in about 1 hour of play betting $25 on double-deck blackjack, and 2 hours of play betting $25 on Pai Gow Poker.
When I checked out in the morning, I asked the person collecting room keys about getting my stay comped. He barked at me that I had to go next door, inside an office with glass doors, to ask about that. I don't know if he was having a bad day or if too many people had already asked him that question. In any event, I went inside the office and asked the clerk the same question. She was very pleasant and comped my 2 nights without hesitation. The total cost of the room was $222.36 with tax. I have a hard time believing that my small amount of play at Excalibur warranted both nights being comped. Therefore, I think play at other MGM casinos does in fact count, as long as you put in some play at the casino you are staying at.
Hotel Room
My hotel room was located high up on the second floor, with a breathtaking view of the backside of the neighboring building, as well as the gravel and air conditioning units on the ground. I would rate the room itself as average; there are better places and there are worse. The bed area itself was rather large. The total size of the room was approximately 337 square feet (27.5' by 12.25'). I chose a room with a king-sized bed.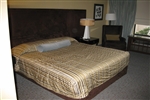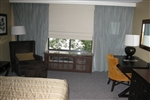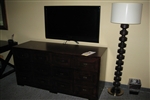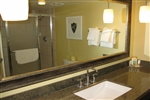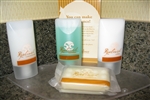 Check-in Coupons
When I checked in to my hotel room, I received a yellow sheet of paper with the following coupons:
2 each: One Free Drink or $5 Beverage Credit at the casino bars.
2 each: One Free Midway Game at Fantasy Faire
2 each: Free Fitness Center Admission. My opinion on this is that they felt the need to require a coupon for entry to the fitness room, so that people feel like they're getting something for free. I think it would make more sense to just require a room key to access the fitness room.
Pool
The pool at Excalibur has a secluded feel to it, thanks to the large rocks surrounding it. The rocks have water rushing down them, and the palm trees in front of them add a nice touch. It almost seems out of place, or too nice, for the casino that it belongs to.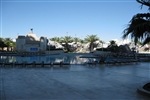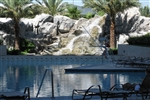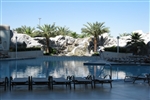 Food
There are lots of medieval-themed places with quick eats at Excalibur:
Roundtable Buffet: The prices are: Breakfast - $13.99 ($12.99 kids); Lunch - $15.99 ($13.99 kids); Dinner - $18.99 ($15.99 kids). Kids are defined as those who are 12 and under.
Sherwood Forest Café: This is the only place I ate at during my stay, because it was the only thing open late at night. I had the garlic chicken for $19, which came with two sides. Some typical items include: Coffee/Soda/Iced Tea/Hot Chocolate - $3 (with free refills). 3-egg Omelette - $13. 12-oz New York Steak - $24. Fish and Chips - $15.
The Steakhouse at Camelot - Features a 3-course meal for $29.95 per person, plus the usual steak dishes (NY Strip Steak, Prime Rib, others).
Dick's Last Resort - The self-described "Shame of the Strip". A very strange place indeed, not for the light-hearted.
Baja Fresh - Mexican fare.
Regale Ristorante Italiano - Traditional Italian fare. This restaurant also offers a three-course meal, for $24.95 per person.
Food Court - Features popular chains such as Starbucks, McDonald's, Quizno's, Pizza Hut, and others.
Overview
Excalibur seems like an ideal place for the budget-conscious family with young kids. If you don't particularly enjoy screaming kids, there are better places to spend your time and money.
There is a free tram provided by MGM that runs between the Excalibur, the Luxor, and Mandalay Bay.
Links
Acknowledgement
The Wizard would like to thank Nikkia Carter for her modeling services and J.B. for the review.
Contact Information
Address: 3850 Las Vegas Boulevard South, Las Vegas, NV 89109
Phone: 877-750-5464
Web site: excalibur.com
Resort and Parking Fees
| | |
| --- | --- |
| Resort fee | $13.50 |
| Parking fee | Free |
Games at Excalibur
| Blackjack | Location | Decks | Min | Max | Soft 17 | DA | DAS | RSA | Surr | Tables | CSM | Party Pit | 6/5 BJ | Video | H. Edge |
| --- | --- | --- | --- | --- | --- | --- | --- | --- | --- | --- | --- | --- | --- | --- | --- |
| Blackjack | Strip | 6 | 3 | 200 | H | Yes | Yes | No | Yes | 2 | - | No | Yes | Yes | 1.91020 |
| Blackjack | Strip | 8 | 5 | 1000 | H | Yes | Yes | No | No | 16 | Yes | Yes | Yes | No | 2.01881 |
| Blackjack | Strip | 8 | 15 | 1000 | H | Yes | Yes | No | No | 4 | Yes | No | No | No | 0.66083 |
| Blackjack | Strip | 2 | 25 | 1000 | H | Yes | Yes | No | No | 2 | No | No | No | No | 0.45688 |
| Craps | # of Tables | Min Bet | Max Bet | Odds | Field12 | Video |
| --- | --- | --- | --- | --- | --- | --- |
| Craps | 4 | 5 | 3000 | 3-4-5 x | Triple | No |
| Craps | 1 | 2 | 500 | 2 x | Double | Yes |
| Roulette | # of Tables | Min Bet | Max Bet | Rules | Video |
| --- | --- | --- | --- | --- | --- |
| Roulette | 8 | 5 | 50 | 00 | No |
| Roulette | 1 | 3 | 1000 | 00 | Yes |
| Video Keno | Rank | Avg Return | Grade |
| --- | --- | --- | --- |
| Video Keno | 42 | 90.71% | B- |