Introduction
Circus Circus Las Vegas is a family-oriented resort on the north end of the Las Vegas Strip. It is one of the more historic properties in Las Vegas, open since 1968. It was the brainchild of Jay Sarno of Caesars Palace fame, who had the idea for an attraction that would entertain kids while their parents gambled at the casino. In 1974, Sarno sold the property, and the casino became the flagship property of Circus Circus Enterprises, a large casino corporation with casinos in four states.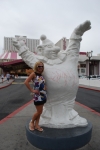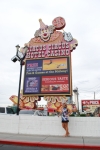 In 2005, MGM Resorts took over ownership of Circus Circus and neighboring Slots of Fun. MGM does not like to publicize that they own Circus Circus. It is not included on their MLife players' card, and you cannot use your MGM comps there. In fact, the only way you would know you are at an MGM property is that the sports book uses MGM lines.
Circus Circus has a bad reputation among Las Vegas locals and tourists. I think that reputation is unfounded -- people always like to have something to "look down upon" to feel better about their own surroundings. While it is true most the Strip resorts have left the Circus behind in terms of opulence and visual stimulation, Circus Circus still achieves its prime directive: Keep the kids entertained while the adults gamble. For a family vacation, you could do a lot worse, although I would still recommend taking your kids to Disney World.
Location/Transportation
Circus Circus is located at the north end of the Strip, across from the Riviera. While there were big plans for this area, construction projects have stalled and the neighborhood is getting run-down and low-rent. It doesn't help that the properties there have a reputation for cheapness. The best description for the area is a transition zone between the Strip and downtown. It is something of a walk if you are coming up from the Wynn, the nearest hotel south, and you have to pass by some vacant lots on the way. It is not the most pleasant stroll. However, the Deuce bus stops right outside, and it is easy to get downtown.
There is valet parking in the front off Las Vegas Boulevard and in the back by hotel registration. The Circus Circus front valet is one of my preferred valets because they will often leave your car in the little area right in front of the hotel, so you can retrieve it quickly. A shortcut if you are driving from the Strip is to take Industrial/Dean Martin drive to the back entrance. There is a large parking garage, but I always find it cramped and hard to access. I would instead recommend using the free valet at Circus Circus. It will only cost you the tip and you will save yourself oodles of frustration.
Hotel
The hotel at Circus Circus is gargantuan, with 3,773 rooms and a KOA campground for RV hookups. Hotel rooms are divided into three towers: the Casino tower, the West tower, and the Skyrise tower. The Casino tower is the original hotel tower and is the most convenient to the casino and restaurants. The West tower is completely renovated and is above hotel registration and the Adventuredome. The Skyrise tower has older rooms and is further away near the pool and the meeting spaces. Finally, there are the Manor rooms, which are a series of motel style buildings located way in the back of the complex. There is a moving sidewalk that gets you there. Needless to say, these rooms are not updated and command the lowest prices at Circus Circus, but they are still a good value. You can park your car right outside of your room.
The KOA campground is the only one of its kind on the Strip, and has its own pool, hot tub/sauna, laundry facilities, full-service hook-ups, and 24-hour registration.
Circus Circus charges a resort fee of $7.95 ($8.90 including tax) on all rooms per night, which according to a sign at check in includes: a Resort Passport with Over $150 in savings for dining, gaming and attractions; 2 well drinks at any casino bar; 2 premium ride passes for the AdventureDome, 2 free midway games; 2 fitness room passes; free toll-free and local calls; and free wireless internet access. For comparison, Bellagio's resort fee is $20 a night. Wireless Internet access is $12-$14 at most hotels, the two premium ride tickets have a face value of $16, and midway games cost $1-$2 each. The Resort Passport also offers some good coupons like a $5 matchplay on the field in craps, and a bunch of food coupons. So I salute Circus Circus for actually offering some value in its resort fee when most hotels offer none. I still oppose resort fees, however, which I think are a rip-off.
For my own stay, I booked an offer for a two night stay which included a free upgrade and 2 free buffets. The total cost of the package, including tax and resort fee, was $67. When I checked in, the front desk clerk put me in a Manor room. I had to remind her of the upgrade, and she apologized and upgraded me to a West Tower room.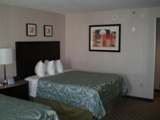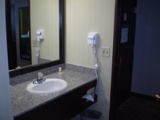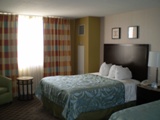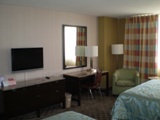 The West tower rooms are really nice. The have all been recently renovated, and the decor is what I like to call "generic MGM," which features earth tones, lots of square edges and a couple whimsical touches like lime green duvets and optical art on the walls. They did a nice job with the renovations at Circus Circus. At no time did I feel like I was in a hotel from 1968. (For comparison, at the Riviera one often still thinks it's 1955.) There is also a very new and stylish bar and deli in the West casino downstairs, a new sportsbook and poker room, and a new hip restaurant called Rock N' Ritas. Cheers to MGM for keeping the property current and not letting it go to pot.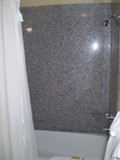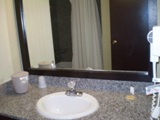 Hotel room amenities include a hair dryer, iron/ironing board, those folding suitcase pedestals that every hotel should have, electronic safes, alarm clocks and flat screen TVs (in the renovated rooms). There was no refrigerator, minibar or coffee maker. Cots and cribs are available for $15 a night. According to the website, Manor rooms have a "refreshment cooler" available. Whatever that is, they make it clear that it is not to be used for food or medicine. The bathrooms are tub/shower combos with a tube of conditioning shampoo and moisturizer provided. The beds are very comfortable, without the horrid down comforters that for some reason Las Vegas hotel designers think customers desire in 101-degree weather.
The pool is outdoors, and there are two of them, connected by a concrete walkway. I was told the pools are heated to 80 degrees, but they were closed during my winter visit. They looked clean, and attractive enough with a snack bar poolside. There is also a pool in the KOA campground. I forgot to check the fitness room. There is no spa, although there is a beauty salon and a foot massage parlor in the hotel. The hotel complex is also packed with a bunch of cheap souvenir stores and tacky shops as you walk from your room to the casino. This can get annoying with the storeowners hustling you in addition to the time-share people. It's also an assault on the senses of good taste. Do people really come to Vegas to pick up a shirt that says, "want my chorizo?" on it? Don't answer that.
Restaurants/Dining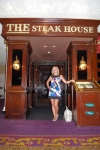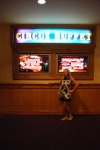 Circus Circus has a pretty weak variety of restaurants for a mega resort. Here is what they offer:
Rock 'n' Ritas (American).
Blue Iguana Express (Mexican).
Circus Buffet.
Garden Grill (Coffee Shop).
The Pizzeria.
Westside Deli and Sandwiches.
THE Steak House at Circus Circus.
There is also a McDonalds, Krispy Kreme, Tastie D-Lite, and Auntie Anne's Pretzels available for all your heart-stopping needs. There is also a Subway in Slots of Fun. The only restaurant I ate at was the buffet. I checked out the menu for Rock 'n' Ritas, saw something called the Ulcerator burger, and decided I'd rather have an extra year tacked onto the end of my life than eat there. Blue Iguana looked absolutely horrid and was the usual garbage Tex-Mex. The Pizzeria was, well, pizza, although the room décor was really outstanding. I've never seen so much red.
So I ate at the buffet. I was not looking forward to it. The buffet at Circus Circus, like the rest of the hotel, does not have a good reputation. I walked through at dinner service to scout it out and was reminded of the scene with Cousin Eddie in Vegas Vacation. "I'll have a scoop of the blue, a scoop of the red ... and don't be stingy now." I don't think I recognized most of the foods they had. Needless to say, I was terrified, so I left without eating. I came back the next day for lunch, and it was better in the daylight. I ate at the salad bar, which I like to use as a litmus test for buffets. This one passed, barely: They had romaine lettuce and fresh cut veggies. There were a few standouts. I was delighted to find steamed edamame (salted soybean pods), which I love, and the clam and mussels soup was some of the best I've ever tasted. The rest of the food looked pretty bad. They did have a made-to-order omelet station, and all the classic American food that will hasten your untimely demise but damn it tastes good. They also have a self-serve beverage station. Prices for the buffet are $11.99/$13.99/$14.99 for breakfast/lunch/dinner, and there is a $3 discount for children.
A word needs to be said about THE Steak House at Circus Circus. Some consider it the best steak house in Las Vegas, and it won awards from the Las Vegas Review Journal ten years in a row (although I noticed it hasn't won any awards in the last couple years). The room is exactly what you would expect a clubby steakhouse to be like, with rich burgundy leathers, green felt accents, and paintings of noble Herefords on the walls. Prices for steaks are $44-$47, and include sides, while fish and chicken entrees run $30 or so. This is cheaper than, say, Strip Steak at Mandalay Bay, but more expensive than places like The Flame downtown or Carve at Eastside Cannery, which in my opinion also offer great steaks. I can't comment on the service since I didn't eat there, but it could be a fun outing if you are looking for a retro night out. The only thing I'd be worried about is bringing a date there. They might get a bad impression if you have to bring them through Circus Circus to get to the restaurant. The Steak House should really have its own separate entrance.
Entertainment
Circus Circus has some of the best free entertainment on the Strip, and one that not many people know about. There are free circus acts in the midway above the casino. These run every day from 11 AM to Midnight, with acts every half hour or so. Each show features a single performer -- sometimes a small group -- with a specialized act. The one I saw was a silk ribbon acrobat from Poland, who was amazing. They also have other acts like trapeze artists, jugglers and a clown show. One thing I liked about the circus shows is that they use live musicians for every show -- a drummer and a keyboard player. As someone who has musicians in the family, I respect Circus Circus for using live music when they could just have easily used a cheap recording. The music really highlights the performance.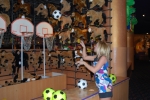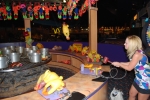 In addition to the circus acts, there is a large midway surrounding the performance stage. These are the usual carny games like bottle toss, knock-a-block, and basketball shoot. They cost $1 or $2 each, and the prize is usually a large stuffed animal. I tried a dart shooting game and lost. (Phil "The Power" Taylor I am not). From a pure E.V. analysis, none of the games are ideal, because the odds are against you, but from an entertainment standpoint the best game was the "Chicken Launch," where you use a hammer to launch a stuffed chicken into a rotating table of pots. There were also Flip It machines in the midway, and I hate to admit I lost a dollar playing it. Those quarters were just waiting to fall off!
The AdventureDome is an indoor amusement park in the back of the resort. It won't remind anyone of Cedar Point or Six Flags, but it is a bit of fun. Admission is pay-per-ride, and you can buy a pass for $27 for unlimited rides. Ride prices range from $5 to $8 for "premium rides." I rode the Canyon Blaster roller coaster. It was more fun that I thought it would be, although it was a short ride. There is also a log flume ride, and a few of those stationary carnival rides that throw your harnessed-down carcass around in various non-linear directions. The AdventureDome is a nice diversion, although it would get boring after an hour or two. There is just not much there. Of course, there are a bunch of midway games, greasy snack bars, and cheap gift shops back there as well.
A coming attraction at Circus Circus is the "Chuck Jones Experience," which according to posters in the casino is "an interactive experience based on the artwork of the man who created Wile E. Coyote, Road Runner and Pepe Le Pew." I visited it while it was still under construction, and they said they plan to open in mid-January 2012. From what I saw, it looks to be a very fun and well-done attraction. I wish them success. It is located in the Skyrise casino. You can visit their website for updates: http://www.chuckjonesexperience.com.
Casino/Players Club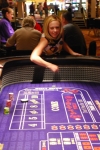 Circus Circus has a surprisingly good casino, especially for the Strip, which usually has more unfavorable games for the players. The blackjack rules and video poker are as good or better than anything you will find elsewhere. The most popular game, of course, is slots, of which there are plenty, including all the new varieties and some classic coin-droppers as well. The table games are located in the main casino under the big top. There are no table games in Slots of Fun or the other casinos.
The table games rules are as follows:
Blackjack: Six decks, dealer hits soft 17, no resplit aces, and no surrender for a house edge of 0.64%. Minimums are $3-$5, with about five or six tables. There is one $10 double-deck game where the dealer hits soft 17, no surrender and no resplit aces, for a house edge of 0.45%. Finally, there is one single deck game that pays 6-5 on blackjacks, which is not proper blackjack. An interesting promotion at Circus Circus is that at certain times they will turn on flashing lights in the "party pit," and during that time blackjacks pay 2 to 1. This creates a strong advantage for the player while the lights are on. Last time I played at Circus Circus, they were turning on the lights very often, but on this visit they did not turn on the lights the entire time I played. I did hear some people were abusing the promotion, so they may have cut back on the "party" time.
Other table games include Let it Ride, Three Card Poker, Mississippi Stud, Roulette ($1 chips, $4 minimum inside/outside, $20 minimum buy-in), Pai Gow Poker (Fortune side bet), Champion Poker Texas Hold 'Em, and Wheel of Madness Blackjack (which was never open). Craps is $5 minimums with double odds.
There is a renovated poker room and sports book. The sports book uses MGM lines. Both rooms are very nice and modern, with comfortable chairs and new TVs. The poker room looked to be spreading one game of limit Hold 'Em most of the time, with some good high-hand bonuses. They certainly were advertising it a lot over the loudspeaker. The sportsbook has a self-service wagering terminal, as well as live bookmakers who will take your money with a smile.
The best video poker game on offer is Aces & Eights with a progressive jackpot for a sequential royal flush. When I played, the jackpot was a very high $42,000 for the sequential royal at the $0.50 level. The payback on these machines is more than 100% accounting for the value of the jackpot. Be aware that the good paytable is only found at the $0.50 level. The best game in quarters is Bonus Deluxe at 99.64% payback. It is hard to find games returning over 99% on the Strip, let alone 100%+, so Circus Circus is a good place to do your video poker-ing.
Circus Circus' slot club is the Circus Players Club. It is a good slot club, with four levels, Regular, Platinum, Diamond and Sapphire. It takes 10,000 points to get to Platinum, 25,000 for Diamond, and 50,000 for Sapphire. So it is not terribly hard to move up in tiers. There are some good benefits for Sapphire members like complimentary airport transport and four free tickets per year to any show at MGM properties. $10 coin in equals one point in video poker, and $2 coin in equals one point for slots. (Of course slots players get a much better deal). You may redeem 200 points for $2 of freeplay or $1 of cashback, for a rebate of 0.1% on video poker and 0.5% on slots if freeplay is chosen. You also accumulate comp dollars in a separate account. Comp dollars can be used for any of the food establishments, for rooms, shows, or AdventureDome tickets, but not for retail. From my calculations, comp dollars accumulate at the rate of $2.27 per $1,000 coin in at video poker. I can't speak to slots, but I assume you rack up comps faster playing those.
My own gambling
During my stay, I almost exclusively played Aces and Eights video poker in the West casino, trying to hit the $42,000 jackpot for the sequential royal. I didn't get it, and neither did I get the $2,200 jackpot for the regular royal. However, I did hit four 8's four times for $200 each, a rare occurrence to be sure. So I came out slightly ahead for my play. Most of the time I was playing, I noticed another serious player on the machine next to mine. We struck up a conversation and it turns out he is a tourist visiting from Europe. Out of respect for his privacy I won't say where he is from, but he gave me a good impression of his country. He shared some good info about comps and promotions. He also knew the optimal strategy for Aces and Eights, which was helpful. He said he reads Wizard of Odds, so if he happens to read this review, Dankeschön und gutten glück, meine Herr!
I also played a little blackjack, mostly on the $10 double-deck game. Circus Circus has a promotion where you can buy $45 worth of promotional chips for $30, an offer that can be redeemed every six months. Promotional chips are wagered until you lose them. I converted my $45 in chips into $50, so I made a nice profit. The blackjack dealers were just okay. Most of them seemed very sad to be working at Circus Circus. It wouldn't hurt to get some new, enthusiastic blood in there. It has the potential to be a really fun place to play table games if they had cheerful dealers and turned the 2 to 1 lights on more often.
At the end of my stay, I asked the front desk about comps. I had put about $10,000 through the video poker machines. She called a host, who at first said I didn't qualify for a comp, but then she changed her mind and comped one of the room nights. I was able to use my comp dollars for the other room night, so my stay was free. All in all, I was happy with my experience at Circus Circus.
Conclusion
Here are the positives:
Generous promotions and overall good gambling.
Great hotel rooms in the West tower.
Good entertainment options for families.
Negatives:
Table game dealers could use some extra motivation.
Tacky come-ons and cheap souvenir stands everywhere you turn.
Poor food options.
A final caveat about Circus Circus: The place is packed with children. This can be either positive or a negative depending on where you're coming from. Just be aware that children are not allowed in the gaming areas. (They are told to stay on the carpeted paths). From what I saw, this rule is not terribly well enforced, and I saw children crawling over slot machines more than once.
Links
Contact Information
Address: 2880 Las Vegas Boulevard South, Las Vegas, NV 89109
Phone: 702-734-0410
Web site: circuscircus.com
Resort and Parking Fees
| | |
| --- | --- |
| Resort fee | $13.50 |
| Parking fee | Free |
Games at Circus Circus
| Blackjack | Location | Decks | Min | Max | Soft 17 | DA | DAS | RSA | Surr | Tables | CSM | Party Pit | 6/5 BJ | Video | H. Edge |
| --- | --- | --- | --- | --- | --- | --- | --- | --- | --- | --- | --- | --- | --- | --- | --- |
| Blackjack | Strip | 1 | 5 | 500 | H | 10 | No | No | No | 5 | No | No | Yes | No | 1.97460 |
| Blackjack | Strip | 6 | 5 | 500 | H | Yes | Yes | No | No | 22 | No | No | Yes | No | 1.99842 |
| Baccarat | # of Tables | Min Bet | Max Bet |
| --- | --- | --- | --- |
| Baccarat | 4 | 10 | 5000 |
| Craps | # of Tables | Min Bet | Max Bet | Odds | Field12 | Video |
| --- | --- | --- | --- | --- | --- | --- |
| Craps | 2 | 5 | 1000 | 2 x | Triple | No |
| Roulette | # of Tables | Min Bet | Max Bet | Rules | Video |
| --- | --- | --- | --- | --- | --- |
| Roulette | 5 | 10 | 25 | 00 | No |
| Video Keno | Rank | Avg Return | Grade |
| --- | --- | --- | --- |
| Video Keno | 41 | 90.83% | B- |