Introduction
I know it's been a while since I have done one of these, but a wide variety of gambling happenings within a short period of time have made it almost necessary. Ideally, I would do at least one of these a month, but Covid-19 kind of rendered it such that there wasn't a whole hell of a lot to report on, and when there was, it usually had something to do with Covid-19, such as:
My Harrah's Atlantic City Covid Review
How the Parlor Model Performs Better During a Pandemic
How Covid Impacted Long-Term Outlooks for Casinos
Wizard himself would even do a Covid Review of Bingo!
For those who want a TL;DR version of my articles here it goes:
Harrah's Atlantic City-Cocktail service was slow and sometimes non-existent, there was a last call for alcoholic beverages, you could only smoke outside, most eateries were closed during most days and times and they were doing temperature checks as vaccines were not widely available yet. Shows were all cancelled, but it was still fine if your main impetus is that you are going for the gambling operations. There was no social distancing to be had at Baccarat, but that really wouldn't concern me, even if I were a Baccarat player. They would also hop on you if you had your mask down for longer than five seconds, even if you were holding a beverage, but they were nice about it.
Parlors-The parlor model ALWAYS performs better when it comes to state revenues/resident, but in the light of a pandemic or other economic downturn that might make people less inclined to travel, or to visit busy casinos, the parlor model especially signs. While some players will occasionally spend big money in parlors anyway (I once saw a player lose over a thousand bucks, in the space of two hours, on a machine with a $2 max bet), most gamblers will visit parlors for their convenience, relative solitude and because they don't have a ton to potentially lose within a relatively short visit. Online casinos succeed for much the same reasons and also have more games.
In terms of the long-term economic impacts on major casino corporations, the Covid-19 hype was majorly overblown in the stock markets and created a unique ability to almost blindly pick retail/hospitality companies to the tune of massive short-term gains, but with casino-related companies, you literally couldn't miss. The biggest standout was perhaps Penn National Gaming who, in addition to saying they would pay furloughed employees pay and benefits for a month (before the unemployment expansion even happened), donated food and PPE from its casinos to hospitals (for those regional casinos ordered to close) and saving cash in the short-term by selling Tropicana Las Vegas to the Gaming and Leisure Properties REIT in exchange for five months rent forgiveness on its other operations---openly stated in their Earnings Call that they could make not a single additional dollar (as of March 2020) for the remainder of the year, and even potentially into 2021, and be just fine financially. Easy buy, at the time. That's not the sort of statement that a company can make, regardless of the number of legal disclaimers that might accompany it, if it's not absolutely true...and it was.
However, that's all old news and we are here to discuss new news at this point, so here we go: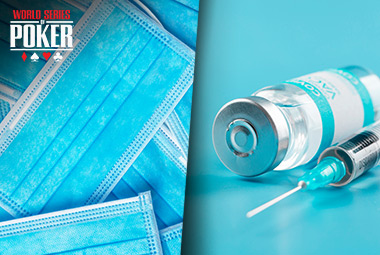 WSOP Requires Vaccines, but no Masks
As we all know, the way many players play poker involves an attempt to read their opponents, which often requires at least perceiving oneself to have an in-depth understanding of body language and facial expressions. Top level players that play this sort of game will study these things as well as betting actions on the table, as Daniel Negreanu is so famous for saying, "Everything that you do at the table conveys information."
With that, KTNV would report:
That the World Series of Poker, in conjunction with the directives of Nevada Government, would not require masks at the Poker tables during the World Series of Poker, however, all players would have to prove their vaccination status in order to participate.
I obviously don't want to get into the politics of vaccine requirements here, but suffice it to say that, no matter where you may or may not personally stand on this issue---it is the WSOP's tournament that they host, and therefore, have the right to require anything that they wish to require.
I also tend to think that being able to see the players' faces is a huge aspect of the television viewing experience, fo the WSOP probably recognized that having all players be masked would cause their already slipping (compared to the Poker Boom of the early 2000's) viewership to slip even further. This seems like a reasonable compromise that will allow players to play safely without compromising the television product.
Beyond that, is there something to be said for reading hints of what an opponent's holdings might be or what an opponent's strategy is in facial expressions that most casual observers would consider to be perfectly stoic? Well, maybe and maybe not...but Negreanu himself has demonstrated an uncanny ability to call an opponent's exact holdings in Live Poker games (though he has also done the same thing, on occasion, in online play), so I'm not going to discount it as a key component in some professional players live play.
More Vaccine Requirements
In addition to the World Series of Poker, the Global Gaming Expo (known as G2E) has similarly announced that they will be requiring vaccines to attend the event, which should be ongoing as of the time that this is published:
Here is what they have to say about the event being held at The Venetian this time around:
The G2E vaccine requirement mandates all attendees, exhibitors, media, speakers, and AGA and RX staff to provide proof of COVID-19 vaccination. All participants will have to complete a two-step process to gain access to the G2E vaccination verified areas.
Additional details, including a list of approved vaccines, are available in the FAQ below.
Vaccine.gov offers more information if you're interested in learning about the COVID-19 vaccine or how to schedule your vaccination.
In addition to the vaccine requirement, G2E will ALSO require masks for this year's event, which has not received as much buzz as usual on the Forum side of this website. We would expect that is because many individuals to visit this (and other) gambling forums are on the side of the debate that is not quite ready to get the vaccine yet. Additionally, Vegas isn't quite as fun of an environment with all of the various restrictions that the state Government has imposed, so the fact that tourism is a bit down compared to previous years, in general, probably has a lot to do with it.
With that, we would expect this year's G2E event to be a much quieter affair with a higher proportion of the attendees being casino insiders and employees than compared to previous years. Unfortunately, that means that there won't be quite the same consumer feedback on new games and implementations as the event has enjoyed in previous iterations. Let's hope that the 2022 event is back to normal. If it is, maybe I will make it a point to attend for the first time. If someone can hook me up with one of their comped rooms for a modest price, I probably would not refuse.
Be Careful Booking Downtown
As I have recently written about in our listings for the RealMoneyAction site, Downtown Las Vegas visitors are going to want to be careful, as well as Vegas visitors, in general, when planning their Vegas trips during the back half of the year.
Customers that have been to Vegas during the back half of the calendar might find themselves with sticker shock when looking at weekend rates at any property during the weekends leading up to Las Vegas Raiders home games.
Of course, not all of these visitors will be in town with the intent of seeing a Raiders game live, but that was always one of my favorite objections when I worked in the hotel industry, "But, we're not here for the baseball tournament, we're just driving through the area!"
While sticker shock might be a very real thing and consumers might find that they are not getting the bargains on overnight accommodations that they might be accustomed to, the truth of the matter is that the Laws of Supply and Demand do not care why you are in town and you can be sure that there is a lot more action on the demand side the night before Raiders games.
The best value that will probably be found in the Downtown Las Vegas area the night before Raiders games will be the usual places. We would encourage would-be visitors to also pay special attention to Binion's and Four Queens as TLC Entertainment properties do not charge any Resort Fees.
On the positive side of weekend Raiders games, many guests to Las Vegas will enjoy packed casinos, a full schedule of shows and a party-type atmosphere that will come from casinos looking more like they do during the touristy season. One of our favorite card counters to visit this site also points out that Table Games advantage Players might also enjoy max bets flying under the radar that normally wouldn't fly at all this time of year, so they may be able to piggy-bank some bets off of Las Vegas Strip high-rollers, and maybe even elsewhere in town, that would normally get them noticed.
Slot advantage players who are local will also be sure to enjoy the increased activity, unless it comes with too much increased competition from others visiting the casinos hoping to find strong variable-state machine plays, of course. They won't have to worry about finding me, though, because I'm not in Las Vegas. More than that, even in my regional casinos, I like visiting when there's no competition there...much more casually paced.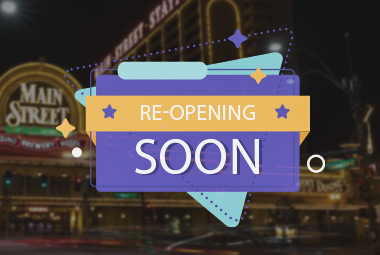 Main Street Station (Finally) Reopens
Hawaiian visitors to Downtown Las Vegas will take delight in the fact that one of their popular haunts, the Main Street Station, finally reopened last month, September 2021.
There were many frequent Vegas visitors wondering if the property would ever reopen, as it was one of the last to close for Covid-19 to do so and visitor traffic is not what it has been in previous years. It would probably have been even worse with all of the restrictions in place, but it turns out that the concept of, "Pent up demand," is a very real thing sometimes.
Of course, I strongly suspect that the subject of the previous listing (Raiders' home games) had a lot to do with this reopening as the property can command some seriously expensive rates on the weekends of those games.
Speaking of rates, there's not much new at Main Street Station, but one thing that has been added since the reopening are increased Resort Fees! They went up a few bucks as of the property's reopening and now live just shy of $30/night, so much for Downtown value, right!?
Anyway, the property currently has very limited offerings with The Garden Buffet being mostly relegated to brunch and lunch hours during the week. In fact, the property, as of the time of this writing, does not have ANY eateries for dinner during the early parts of the week. Guests of this property (as well as the Fremont) will also have to make their way to the rooftop pool at California Casino and Hotel if they want to go swimming. It's a bit easier for Main Street guests, however, as there is a walkway that links the two properties.
With that, I'm inclined to ask, "What does the increased Resort Fee actually get you?" In my opinion, exactly nothing. Depending on when in the week you visit, aside from the casino floor operations, Main Street Station has less to offer its guests than many chain economy hotels.
Personally, if you're looking for both value and an excellent pool option, then I would recommend looking into either Golden Gate Hotel and Casino or The D. As of the time of this writing, part of the Resort Fee is two daily passes (you must be 21+) to the Stadium Pool at the brand-new Circa Resort and Casino, which is one hell of an amazing spectacle. Personally, I wouldn't think twice about paying $15/person for a daily pass for the Circa Pool, so the Resort Fee is actually getting you something there. The D also has a 24 hour fitness center.
For those of you out there not interested in pools or fitness, but who are interested in value, we think that your best values will be at Binion's or Four Queens. Both located under the Fremont Street Experience and owned and operated by TLC Entertainment, neither of these two properties charges Resort Fees and the rooms at Binion's are in the newly renovated Hotel Apache boutique hotel.
Guests who are staying for one night might also consider the El Cortez. Though this property is located off of the Fremont Street Experience, one night guests also receive a coupon book with an advertised $20 in value, which largely offsets the fact that ElCo charges a $19.95 night, "Amenities Fee," which is just a resort fee that they call something else.
Either way, there's still plenty of value to be had Downtown, just not at Main Street Station (in our opinion, anyway) and also not during the weekends of Las Vegas Raiders' home games.
For those of you who want to experience a nice boutique hotel on the Las Vegas Strip and don't mind dropping a few dollars---we actually like the overall value of The Cromwell on slower weeknights. There's a massive difference between weekend and weekday rates here, but we expect that the room experience is about the same no matter the price tag. It's still not cheap, but might be economical enough for some of you to be willing to check out for one or two nights on weekdays.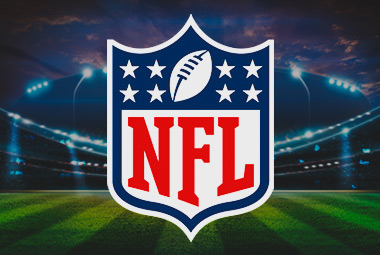 Records Will Be Broken
Expect this to be the biggest season for NFL betting in all of history and we expect that records will be shattered nationwide.
In addition to the fact that Vegas sports betting has substantially increased, year-over-year after the end of the Great Recession (2020 being an exception, of course) an ever-increasing number of states have legalized sports betting in their physical casinos, and of these, a majority also have some form of legal online sports betting.
With these have come a wide variety of sports betting promotions in online casinos legalized and regulated by the individual states, but we can't give away the farm, so if you want to become a fat and happy cow, you're going to have to do your own research on this one. We will simply say that there are rebates, deposit matches and match bets galore.
In addition to the introductory offers, savvy players will also know that they should read the promotional E-Mails (after the deposit offers have been done for new players) before deleting them as many of these online casinos will also present fairly strong follow-up offers. Even if the offers aren't that strong, most casinos will have something that offers a little bit of residual value.
Some of these promotions are even such that, if you can go in with a partner, you basically can't lose. When it comes to ideas along those lines, we must caution you about the Roman Emperor who is on to such tactics and may take adverse action against players, but those online casinos to offer bonuses for smaller raw dollar amounts seem not to take quite as much notice.
Either way, this represents a unique opportunity to essentially even blindly bet at some kind of advantage. Thus, whether you want to string together some parlays in the hopes of a big score (I do not recommend this) or you want to stick with more vanilla forms of betting to maintain a greater probability of net profit---we say that you should start looking into these deals now before they are gone.
Sings Gary, Indiana not Louisiana, Paris New York or Rome
(Clears Throat) Sorry!
Regarded by some Youtube list of U.S. facts providers as the most miserable city in the country, Gary, Indiana has something to look forward to in the coming months as Hard Rock Casinos has announced an opening date for a casino to come to the city.
According to Inside Indiana Business:
GARY - A major part of the new Hard Rock Casino Northern Indiana in Gary will open in just over a month. The casino says the Hard Rock Live entertainment venue will kick off November 4 with a concert from Chicago-based rock band Disturbed.
The casino itself opened in May, but the Hard Rock Live section of the casino was not yet completed at that time and will be a massive draw that should draw some Chicago traffic to the new property. At least, they're certainly hoping so as the deal with the State of Indiana for this land-based casino involved agreeing to close two different Riverboat casinos and essentially combine those operations into this new property.
Say what you want about casinos, but Gary, Indiana could certainly benefit from the influx of new jobs and visitors. For those of you out there who may be concerned that land casinos bring an increase in crime, I wouldn't worry about that too much, as Gary, Indiana already had plenty of crime as it was, so even if there is an increase, we would expect that residents will be unlikely to notice the difference.
In short, what I am saying here is that a new casino is almost certain to do more good than harm. The only thing that I hope is that this marks a turnaround for the city and that the city's widely-known reputation as being one of the, "Worst in America," (not my words, I've never been there) doesn't dissuade visitors from checking out the new property.
Revel Tried and Failed
The Atlantic City indoor smoking ban was meant to be a temporary measure as a result of the Covid-19 pandemic, but the Press of Atlantic City reports that the prospect of an indoor smoking ban has some support, including from Governor Murphy himself, in part:
If the state Legislature passes a bill to ban smoking permanently in Atlantic City's casinos, it will have Gov. Phil Murphy's seal of approval.
"You should assume that I will sign it," Murphy said during an interview with News 12 on Tuesday when asked about permanently banning smoking in casinos.
Personally, I think a total indoor smoking ban in casinos is a terrible idea.
If it's such a great idea, then why does it always seem to take the Government to force it rather than casinos doing it of their own accord.
Oh, that's right, Revel Atlantic City did it of its own accord and is now Ocean Resort Atlantic City, if that tells you anything. By the way, pre-Covid, Ocean Resort allowed smoking on the biggest area of the casino floor that it was legally permitted to have.
I'm obviously not saying that Revel failed exclusively because of their no smoking policy, but it certainly didn't help. Revel would open under an astronomical debt load and could not have ever realistically hoped for the sort of revenue stream that would have been needed to come anywhere close to maintaining its operations. Beyond that, CEO Kevin DeSanctis took an almost perverse delight in basically saying, "**** value gamblers," and the Revel would exist to attempt to appeal only to the highest of high rollers---even though Borgata had already been doing that and had tremendous guest loyalty in place.
Other head-scratching decisions made by Rveel included not opening a buffet on the property, despite the fact that it was considered an almost mandatory staple for casinos, at the time, though Covid-19 has shifted that paradigm a bit.
In any event, outside of a few small Native American casinos scattered here and there, Revel was the one casino to go completely non-smoking of its own volition and it failed colossally. In fact, the property would be sold, in bankruptcy, for less than 10% of what it cost to build!
Even casinos in non-smoking states such as Ohio and Maryland find a way to skirt around those laws by having machine offerings that are technically outdoors, but the problem that Atlantic City might face is that their casinos have already been built to utilize most of their available real estate, so even if such a thing would be permitted by the New Jersey state Government, it's difficult to say whether or not it would actually be feasible for most properties.
Besides that, the gambling offerings for many of these properties are not even located on the ground floor, at least, not for the most part. As a result, guests would often have to stray far from the main casino floor (such as with Ocean, formerly Revel) to get to where they could light up.
It will eventually get to the point where states restricting smoking in casinos becomes something of an expectation, but if I were Atlantic City, I would not want to pull that particular trigger any faster than I have to.
Casino workers and representatives, at least some of them, have publicly expressed support for such a measure as has Cynthia Hallett, the CEO for Americans for Nonsmokers Rights, but the latter entity really has no reason to care about how the casinos perform. As far as the casino workers are concerned, sure, that's a great idea...if you want there to be fewer casino workers because of the decreased traffic to the area. I guess at least what workers remain won't have to deal with the smoke, until they go out for their smoke breaks, of course.
Anyway, I think it's a patently ridiculous idea….because, if it weren't...then I suspect that casinos would already be doing it. I also maintain that, if this should be decided by various levels of Government at all, then that should only come by way of popular vote via some sort of ballot measure. I don't expect that we will see many outright casino closures if a bill of this nature passes, but I would expect gambling revenues to go down a bit.
By the way, non-smokers already have plenty of, "Rights." They have the right to choose not to patronize businesses that permit smoking and express that as the reason for their boycotting the business, but I guess it's easier just to have the Government do it. Additionally, workers also have rights, such as the right not to apply for, and accept, jobs in places that they know allow patrons to smoke. How about those for rights, which by all rights, I think are right.
Las Vegas Strip Monopoly Game
This is not the title of a new slot machine, though Monopoly-themed games are popular in both land casinos and online, so maybe they should try that out! Instead, this is about the fact that the Cosmopolitan of Las Vegas has sold its land to The Blackstone Group who will be leasing the property's casino operations to none other than MGM Resorts International.
According to the Las Vegas Review Journal, in part:
MGM Resorts International has reached deals since fall 2019 to lease Bellagio, MGM Grand, Mandalay Bay, Aria, Vdara, and, as announced this week, The Cosmopolitan of Las Vegas.
Its initial annual rent ranges from $200 million for The Cosmopolitan to $292 million for MGM Grand and Mandalay Bay.
All but one of the deals involved sale-leasebacks that netted MGM a fortune in proceeds, including more than $4 billion for Bellagio alone. Moreover, all of the deals involved the same company on the other side of the table, New York financial giant Blackstone, which has been gobbling up real estate in Southern Nevada for years.
Of course, this is nothing new in the Las Vegas Casino industry, or elsewhere, for that matter. Essentially, Blackstone is to MGM what Gaming and Leisure Properties is to Penn National Gaming and Vici Properties is to Caesars.
Generally speaking, the idea behind these Real-Estate Investment Trusts is that they own the physical properties, which they typically buy from casino operating companies and then lease those same properties back to them. Essentially (and simply) the two main things that this accomplishes are:
1.) In the event of some sort of major catastrophe or decline in tourism (Covid was clearly not enough, if that tells you anything about how major it would have to be) a bankruptcy for the casino operating company would not cause the real estate to be at any risk. The reason why is that it is technically owned by a completely different company.
In the case of Blackstone, there's a bigger degree of separation between MGM Resorts and the company than there are with other casinos REITs; Gaming and Leisure Properties as well as Vici Properties, for instance, pretty much exist entirely to own and lease properties to Penn National Gaming and Caesars Entertainment, respectively.
Of course, the properties that the operating companies still hold, if any, can also be used to help preserve cash during lean times. We saw this in 2020 with the sale of the Tropicana Las Vegas from Penn National Gaming to Gaming and Leisure Properties in exchange for several months of rent forgiveness on PNG operated properties elsewhere.
2.) The second thing that this accomplishes is that it results in a cash transfer, by way of the lease agreement, from the operating company to the Real Estate Investment Trust. This results in the operating company being able to (almost artificially, at one time) show less in profits or perhaps even some losses on their books. In essence, the fact that they no longer own the buildings cuts into what their profits otherwise might have been, by design. Were they not paying any sort of lease, then everything that comes in wouldn't have such a huge line item offsetting it. In the meantime, they do garner revenues from the sale of the property itself, but that only happens during one tax year.
There are other reasons for this sort of thing, as well, but it really starts to get complicated at that point and I don't fully understand most of them.
What will the difference be when it comes to guests of The Cosmopolitan?
In my opinion, The Cosmopolitan already catered to a pretty exclusively high-end crowd, so I wouldn't expect them to be treated much different if The Cosmo becomes part of the MLIFE Rewards program, which is something that I would fully expect to happen.
The Cosmopolitan was also well-known for taking a strong stance against advantage players and has been reported by advantage players (at least one on this site) for taking strong action even against card counters, such as including them in listings of the Oregon Surveillance Network. Machine Advantage Players would also find themselves trespassed from The Cosmopolitan, even if they weren't doing anything untowardly such as acting as, "Creators."
Personally, I see The Cosmopolitan as some weird combination of a sort of, "Party Central," for only the most pretentious of Las Vegas visitors who want to engage in all forms of debauchery, but want to pretend that they are classy and elegant while doing so. If I hadn't seen the property with my own eyes, then I would think that it was some gambling fiction writer's satirical description of some fantasy casino for the young and wealthy, but nope, it's there.
In other words, it fits right in with MGM Resorts International's other operations and seems to be just another step in their two-part effort to make all of the high end Vegas-Strip casinos a duopoly of themselves and Caesars Entertainment (other players having joined forces or been eliminated from the game already) as well as to focus, in particular, on the higher end resort properties...which explains their divestment of properties such as Circus Circus.
If any other low end properties are going to change hands, or at least low end by MGM Resorts' standards, then I would expect to see Excalibur sold off, at some point in the future, to a different new owner than Blackstone and to be operated by another entity altogether. Another candidate for a potential sale, at least in my opinion, would be Luxor, which is another casino that is on the lower-tier of MGM's portfolio of operations.
Anyway, other than the players card saying MLife rather than Identity, in the somewhat near future, I don't really expect much else to change. The property is certainly in no need of renovations.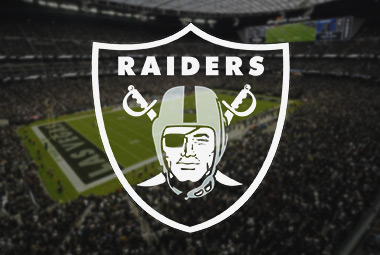 Value on the Raiders?
The Las Vegas Raiders are white hot to start the season with a 3-0 record that includes wins over the Pittsburgh Steelers, Miami Dolphins and a Week 1 Overtime win against the Baltimore Ravens.
Granted, this isn't the toughest possible schedule and the Baltimore Ravens is the Raiders' only W against a (slight) division favorite, but one would think that it would be tough to argue against a 3-0 record to open up the season.
Apparently, people aren't going to jump the gun until they see at least one matchup against the Chiefs as, according to VegasInsider, Futures Odds would have the Raiders at:
Win AFC West: +550
Win AFC Championship: +1600
Win Super Bowl: +3000
Admittedly, the Broncos also sit at 3-0 at this point in the season thanks to a stellar defense, but the Raiders held the Baltimore offense in check as much as needed, the Steelers offense is nothing to speak of so far this season so means nothing and they also did what they had to do against the Miami Dolphins.
Through three games, Derek Carr is having the best start to the season of his career with 1,203 Passing Yards, six touchdowns against two interceptions and a 64.7% completion percentage. This includes a game against a tough Steelers defense (really the only thing that team has this year) and I obviously don't think 401 Passing Yards/Game is sustainable, but this is the best that the team has looked since their last playoff appearance under then-coach Jack Del Rio.
I don't know that I would pull the trigger on the Raiders to win the Division straight up as I would expect the Chiefs to turn it around (they faced a much tougher schedule to open the year) and the Broncos are a legitimate contender, but paired with the right new player sports betting promotion, it might be worth taking them to win the AFC West as one of your picks and might set up a strong potential hedge in the future. Aggressive bettors might even consider taking them in an AFC Championship or Super Bowl futures bet in the hopes of a later hedge, but I wouldn't even be considering that.
In terms of common opponents, there has been only one with the Chiefs, thus far, and the Chiefs ended up on the wrong side of a close game with the Ravens. With the Raiders going to Los Angeles (a former place they called home) to play the Chargers this week, it's possible that this is the best opportunity that you're going to get on a futures game if they pull off the Monday Night Football win as a three point underdog.
I'll leave it to better analytical minds than mine to decide whether or not to pull the trigger, I just would have expected some futures betting on the Raiders to have come in already and moved these numbers more. Those of you out there who are aggressive can only play the wait and see game for so long!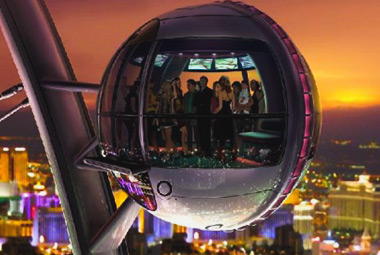 High Rollers Stay High
Some passengers of the Las Vegas Strip's High Roller Ferris Wheel were left high and dry according to Fox 5:
Clark County Fire Department Deputy Fire Chief Warren Whitney said the incident happened around 12:30 a.m. Sept. 18. Whitney said people riding the High Roller observation wheel on the Las Vegas Strip reported that one of the pods was tilted and not resetting.
Apparently, the mechanical issues was related to only one of the pods on the ride, but as a result, the entire ride has to stop until the issue can be corrected, as a safety measure. My guess is that it has something to do with the weight and balancing of the entire ride, so changing anything about it might cause the entire thing to go out of balance and pose a substantial safety threat to a great number of riders.
Of course, those who signed up for the ride probably didn't anticipate spending a full hour and a half on board. Guests of the tilted pod were quite alarmed as they were concerned that they would eventually wind up upside down...would that make it the low roller? What would you call an upside-down roller?
The good news is that there didn't wind up being any injuries, just riders in the affected pods being seriously emotionally shaken up and a bunch of annoyed riders in the other pods. Caesars would immediately offer refunds after the nearly two hours that it took riders to disembark, including for guests who had future rides scheduled.
No word on whether or not, in addition to the refunds, affected passengers of the ride were offered a free future ride, of course, we would expect that many of them wouldn't want it.
Not What They Signed Up For---Until Forced
Earlier, I complained about employees in Atlantic City trying to petition to get the State Government to Legislate a bill that would ban smoking at Atlantic City Casinos---that the Governor said he would sign---rather than instead trying to push for a public vote. However, it's not always the workers who are doing complaining that I consider unfair, sometimes, they are legitimately treated unfairly.
The notion that, "All press is good press," is going to seriously be tested by The Lodge at Hualapai, which the Las Vegas Review Journal reports:
A business accused of deducting money from a bartender's checks following an armed robbery was one of several Las Vegas Valley bars accused in a 2016 lawsuit of shorting employees a portion of their pay.
The Lodge at Hualapai, along with other bars under the Lodge brand name, were among dozens of defendants named in a class-action lawsuit filed in District Court in 2016 by Las Vegas lawyer Christian Gabroy.
In addition to this bar, and others, being accused of paying tipped employees less than the minimum wage required by the Government, there's also an employee who claims that he was forced to pay the bar after the establishment was the victim of an armed robbery.
Essentially, this Edward Parker was given the choice of paying the monies stolen in the form of a lump sum due immediately, having $300 deducted from each paycheck or being terminated immediately.
Unfortunately, in the bar business, which often has establishments with little in the way of security that deals in lots of cash, this is not as uncommon an occurrence as some might think. The way it usually happens is that employers become considered about the prospect of, "Staged Robberies," here's a link to a random one from a gas station in which an employee will conspire with a known associate to come and rob the place with the two splitting the take.
Similar scenarios not necessarily involving bars have also unfolded in Las Vegas, such as dealers who would intentionally mispay bets when they have lost, or pretend like the bet w2as a push on games such as Pai Gow Poker, would pay late bets to known associates, or would sometimes even be as brazen as to pay off bets that didn't exist in the first place.
I'm not quite sure where the balance should be between employee responsibility and the responsibility of cash-heavy establishments to simply accept that robberies are one of the risks of doing business, but I am sure that most readers here will agree that holding employees responsible, after the fact, is a bit too far on the other side.
Besides that, from my time in hotels, I know that businesses that take a lot of cash (or can incur expensive damages caused by vandals in a short period of time) can purchase property insurance add-ons, or separate policies, that specifically cover events such as these. For that reason, it's not as if employers are automatically going to be out that money as long as they purchase the proper coverage.
Anyway, the Las Vegas Review Journal would also report that this employee definitely had nothing to do with this particular robbery as the bar simply fell victim to this charming couple:
Who were apparently involved in an assortment of bar robberies in the Las Vegas area, they even targeted a few places multiple times! We're going to cover ourselves and say that this should all be considered alleged, for the time being.
While the issue on minimum wage has been decided in the favor of employees, the Labor Division is currently investigating the issue of employees signing documents such that they agree to be financially responsible for lost monies due to robberies. Unfortunately, early indications are that these appear to be considered voluntarily signed, and therefore, perfectly legal by the standards of the department.
I'm not exactly how voluntary it can be considered when the alternative is termination and a previous employer who will likely refuse to speak well of you when used as a reference, so I'll leave the readers to form their own opinions on that. Personally, I wouldn't want to work for that employer.
Do you guys have any ideas on how you balance protecting your property from employees (potentially, anyway) while also being fair to your employees. I don't, but I'm pretty sure this is definitely not it. The good news for me is that, when I ran the hotel, the worst I ever had was a bartender who did a little bit of skimming (caught it on camera...she didn't realize I could see bill denominations), but she admitted it, so it was a really easy termination.
Massive Gambling Arrests
Interpol reports that they recently conducted a massive illegal gambling investigation that would result in more than 1,000 arrests and seizure of more than 7.9 million in U.S. dollars.
Apparently, this investigation and the resulting action had to do with illegal sports betting operations that were taking place across 28 different countries, which include:
Participating countries: Austria, Azerbaijan, Bahrain, Belgium, Brunei, Cambodia, China, Croatia, Czech Republic, Finland, France, Germany, Hungary, India, Ireland, Italy, Malaysia, Maldives, Philippines, Poland, Portugal, Romania, Russia, Singapore, Spain, Switzerland, United Kingdom, Vietnam.
That's quite a wide range of illegal bookmaking activity! Apparently, these were operators without borders, but what that says to me is that these countries should simply expand their LEGAL gambling operations, assuming they have any at all, so that the Government can take a slice of the revenues rather than have themselves (and other agencies) waste money conducting investigations and arrests on a voluntary activity.
Either way, this Division of Interpol is approaching 20,000 total arrests and some 63 million in total United States dollars seized as a result of same. Again, all that demonstrates to me is that there is a huge market for sports gambling, which everyone already knows, and it's my opinion that you're never going to stop all of it no matter how hard you try.
Therefore, just do what the smart U.S. States have done and make it legal. Again, it's a much easier way for the Government to get a slice of the revenues, players can bet with less risk of being cheated and everyone just has a better time across the board.
You Never Know…
Jackson Progress-Argus reports that a man was recently killed at the Golden Nugget in Biloxi, Mississippi, which originally started off as a verbal dispute outside of the casino.
The early investigation indicates Jones allegedly got into a physical altercation outside the casino with the victim, a 41-year-old man from Gulfport, Mississippi, according to the news release. Jones followed the victim after he ran into the casino and allegedly fired at the man multiple times on the gaming floor, the release said.
The dispute would escalate into a physical altercation which would allegedly lead to the arrested suspect, Jereme Lamond Jones, following the other man back into the casino and shooting him.
We recently had a post on the Forum about a similar altercation, though it did not get physical and started at a similar local casino property in a different jurisdiction. If nothing else, this should serve as an important reminder that you never know who you are talking to or what they are capable of...and while, behind the scenes, security likely prevents more incidents than those that actually result in death, you never know when the day will come that you cross paths with a person who is willing to gun you down in cold blood.
While Land Casinos are certainly safe, they are, by no stretch of the imagination, the safest places in the world.
Even in Kansas City
As we see in Kansas City, Missouri, where the Kansas City Star reports that a gambler on s streak of positive variance would soon see his prospects for the visit come up Snake Eyes as he was met by a pair of armed assailants on his way out of the Harrah's North Kansas City Casino.
Apparently unaware that he was being tailed, the man would return to his home, more than five miles North, just to be confronted by these assailants in his driveway.
As someone who is familiar with both Harrah's North Kansas City and the general North Kansas City area (I used to live there) I can say that the man would not have been terribly difficult to follow as it was late at night and the quickest route would not have involved very many turns. The most likely route would have led the men to North Brighton for the better part of the journey, so catching some long greens (and we can assume the assailants would have been willing to run a red light or two anyway) could easily lead to the assailants having a relatively not difficult time with it. The streets are going to be mostly barren that time of night, anyway.
The hardest part would have actually been following the man to North Brighton, but again, depending on the light cycle that is something of a trivial affair.
Unfortunately, the world we live in is one where you have to at least be mindful of who is driving behind you when you leave the casino. If you have any idea in your mind that you might be being followed, then you would often do well to try to get to a brightly lit public building, such as an all-night gas station, to see if they pull in with you.
Even if they seem to pass you by, if you strongly suspect that you are being followed, then don't let them lie in wait while you make your stop. What you should then do is leave the brightly lit area and then go back the original way you came, only deviating from your route when you are sure that it is clear. When that happens, then you will also want to take a different route than usual home as the would-be assailants will be sure to have made note of what you are driving if they are still waiting.
Another good idea, of course, would be to simply remain at the casino until morning if you happen upon some big winnings. While this isn't the sort of event that occurs frequently, you can bet your bottom dollar (rather than having it stolen from you) that most casinos are going to have opportunists, at least at some point, that are just waiting to pounce on someone leaving with a huge amount of cash.
Remember, for every time that this actually happens, we have no way of knowing how many failed attempts were made in the meantime. Generally, it'll probably be because would-be assailants lose track of the person who they are trying to follow.
In My Neck of the Woods…
The Ohio Casino Control Commission has recently raided four illegal casinos in Ohio according to WKKJ:
Casino Control Commission (OCCC), along with personnel from the Fayette County Sheriff's Office, served search warrants Wednesday on four businesses in Fayette County allegedly associated with illegal gambling.
According to the police, these entities took advantage of their local communities to line their own pockets without respect for the law. Apparently, you're only supposed to take advantage of your local communities to line your own pockets if you are doing it according to the law...and with much worse returns-to-player...like the Ohio State Lottery does!
In fairness, these sorts of establishments come and go on a cyclical pattern of about a decade apiece...opening slowly, becoming more brazen, then getting cracked down upon by the state.
The machines that are found in these locations are of all varieties. A few of them players of Pennsylvania Skill Games (more on that in a minute) will recognize while there are others that look just like straight up slot machines.
In fact, I could tell you where three other such locations are in the State of Ohio, though I'm obviously not going to.
The businesses involved will mostly protest that all of their games are games of amusement and skill, but that's not even remotely true. Skill Games were mostly made illegal in the State of Ohio, and of those that do legally exist, they are not supposed to cash tickets, but instead, use the tickets to represent credit towards physical merchandise or food that they sell.
The State of Ohio has been in bed with its casino operators for so long that they are probably thinking about upgrading to a King Size, in fact, it was in advance of the casinos and racinos opening that the most recent statewide series of raids of these sorts of operations happened. Although, some of those termed themselves, "Internet Cafes," while others went with, "Skill Games," that time around.
If there's a place like this that you enjoy near you, just look out, because you might find yourself there when it gets raided and I am not sure you will be able to get your ticket cashed.
One of the places in Ohio I am aware of has, "Skill Games," as a name and, "Win Big $$$," and pictures of slot machines on its window signage...they also have a Facebook page. They might as well just save the State time and call themselves, "We Do Illegal Gambling Here, Please Come Raid Us." These sorts of machines can fly under the radar, often in bars and lounges, but only if you're really quiet about it. The crackdowns come the more brazen these places get.
Speaking of Which...
In the current state that I call home, well, Commonwealth of Pennsylvania, it looks like the Government has finally decided to start doing something about the lottery's competition:
According to The Progress:
DuBOIS — A total of 60 skill game machines, plus redemption centers, in eight establishments across Clearfield County were confiscated by law enforcement officers Tuesday, according to District Attorney Ryan Sayers.
"Liquor Control Enforcement (LCE) and state police approached me last year in regards to these machines," said Sayers. "Contrary to the popular belief and one of the manufacturers, these machines are gambling machines and are illegal under the case law and statute as it stands in Pennsylvania. They are not regulated. They are not taxed.
Apparently, these seizures have been taking place here and there in the state. I'm not sure what exactly is going on, but appears that some places have been spared, for now, even in the areas that are otherwise having crackdowns.
For the most part, it's local law enforcement who has to care to do something about it, though the State Government created a fund for precisely that reason. They will often work closely with Pennsylvania State police in these crackdowns.
The fact that some places are spared creates the perception that some of these games are regulated/licensed and others are not, but that's not even remotely true. Not a single one of these games is regulated by the State of Pennsylvania and not a single one of them pay tax on the gambling revenues, though operators (we would assume) do pay income tax to the state which would include a small portion of their profits on these machines.
One Commonwealth Common Court (Beaver County) declared the games, "Presumptively Legal," but all that means is that, in the opinion of that one court (which isn't binding across the entire state) there is nothing in State Law or Local Ordinance that would serve to specifically make these Skill Games illegal...that said, it doesn't specifically make them legal, either.
Again, the problem as I see it is places getting more and more brazen. While people are free to do whatever they want (until they aren't) one of the big steps in the wrong direction is when places would open to do nothing but provide guests with Skill Games. You also don't want to be doing that in bars or beer distributors, because you definitely DO NOT want the liquor board to take notice of you.
With a few machines scattered here and there in gas stations, convenience stores and laundromats (and most locations not serving alcohol) it was easier for them to fly under the radar and, arguably, actually be tolerated by the State Lottery Commission. I can't tell you how many times cops would walk right behind me at the local 7-11, or other venues, and not even look in my direction. In fact, when I was checking, "Next Puzzles," a cop was actually curious about why I would be switching from game to game all the time!
The District Attorney for the area claims that the Skill Games confiscated were paying out only sixty percent, which means that they are neither Banilla Games or Pace-O-Matic, or that the District Attorney is spouting straight bull**** because those manufacturers have no setting by which the games can even be programmed that low.
Besides that, the State of Pennsylvania seems fine with games that pay under 60% as long as it is the State Lottery doing it. Hypocrites. If the Government wants its slice of the Skill Games revenue, then they should just legalize the damn things.
After all, if the State Lottery Department, or less likely, the legal casinos in the state feel like the presence of these machines is losing them all kinds of revenue, then it seems like they could resolve that by, I don't know, improving their own offerings? If the local casino is scared of the local CoGo and its four machines with ten games on them, then it sounds like they need to be a better casino.
The article also states:
"These are the ones the LCE and state police identified for this operation based on the quantity of machines and the type of businesses that have them. Some of those being liquor establishments where liquor enforcement was involved and some of the establishments did not have liquor licenses and those were handled directly by the state police," he said. "It's not practical at this time to go roundup what would be over 1,000 machines in the county."
Like I said, it's simply a matter of getting too brazen about it or doing it at a place that is licensed to sell liquor. I would hope that the machines at convenience stores, gas stations, laundromats and a few smoke shops will continue to be ignored (as they have been for a year or two now), but I'm not so sure that's going to happen if this keeps up.
That would be a shame, too, because these machines generate a wide variety of loyal players and it is HIGHLY UNLIKELY that the state will ever officially legalize and regulate them.
As always, the easiest solution for Ohio and Pennsylvania would be to simply adopt the parlor model that bordering (to both) West Virginia has implemented. You won't find many (and, maybe not any) Skill Games in that state because it is relatively easy for a location to get licensed as a Video Lottery Terminal parlor as part of the Limited Video Lottery.
Basically, it gives players the convenience gambling and relative quiet (compared to casinos) that they want AND the state gets to enjoy a HUGE slice of those revenues. If the real goal of the state is to generate more revenue AND eliminate the Skill Games, and they care at all about the players and citizens actually being happy, then they could accomplish both by adopting West Virginia's model.
Besides, Pennsylvania and Ohio are both geographically huge states, so many citizens of the state are legitimately nowhere near any of the casinos.
Posted by
Mission146