February a Strong Month for Revenue in Nevada
It is unsurprising that the State of Nevada enjoyed a revenue increase of 7% for the month of February 2016 as compared to February of 2015. It is almost doubtlessly the case that the entirety of Super Bowl week taking place in February of this year, (as opposed to most of it being in January last year, with exception to Super Bowl day being February 1st) there would certainly have been an increase in Vegas visitors, and as a result, in gambling. It is important to keep in mind not just that the Super Bowl draws a crowd, but what kind of crowd it draws: With a guarantee of being absolutely sold out every night, comped rooms are kept to a minimum, and those that have the money to travel to Vegas and pay premium flight costs and room rates certainly have the capacity to gamble a greater amount than the average Vegas visitor.
Is Trump a Good Bet?
With respect to the gambling futures market, FiveThirtyEight.com (my favorite predictive research with respect to politics) reports that Donald Trump may be overvalued. The futures markets show a probability of over 50% of him winning the Republican Primary, but they also show a probability of over 60% of there being a contested convention. According to fivethirtyeight, in the event of a contested convention, it is highly unlikely that Trump would emerge as the Republican nominee and the probability of Trump winning (according to the futures markets) shows too much of an overlap between Trump winning the primary and the probability of a contested convention.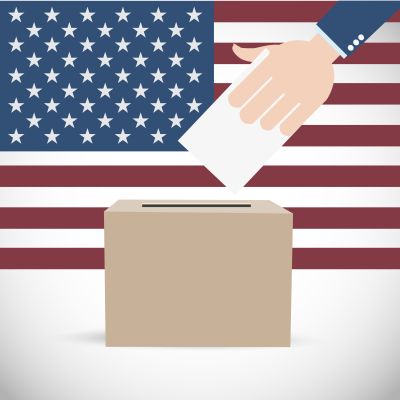 Essentially, if people believe that Trump is going to win the Primary, then they have to believe that he will win it straight-up by way of having secured enough delegates for a first-ballot nomination. The very notion of a contested convention is the one that even has other Republican hopefuls (such as Ted Cruz and John Kasich) even still in the race to begin with. Furthermore, also according to Fivethirtyeight.com, Trump is currently a little short of his delegate target given the number that they anticipate he would have needed to win by now in order to secure a first-ballot nomination. In other words, that essentially makes his probability of winning the Primary straight-up slightly less than 50%. Since Trump failing to succeed in a contested Primary, according to almost every possible source, is nearly a sure thing, there shouldn't be an overlap of greater than 10% between Trump winning and a contested Primary.
Where would I place my bet if I were inclined to play the political futures? When it comes to Politics and probabilities, I would always hang my hat (for the record, I'm not playing the futures) on Fivethirtyeight.com, so to me, Trump is an easy sell right now if you bought under the impression that he had greater than a 50% chance of winning the nomination.
More Reasons the Employees Should be Watched More than the Players
The Times Tribune reports that a former employee, to wit, Mohegan Sun Pocono's James Clayton Benczkowski, has been arrested and is facing charges for theft by unlawful taking and receiving stolen property.
http://thetimes-tribune.com/news/ex-casino-worker-faces-trial-in-theft-case-1.2024777
Benczkowski's all-too-obvious angle was allegedly filling out fraudulent, "Paid-Out," slips when resolving disputes with slot machine players at the Mohegan Sun Pocono. Not only did he allegedly commit theft, but an audit has shown that an alleged roughly 60% of such transactions involved some kind of theft.
Benczkowski has admitted to the crime, which is perhaps the most hare-brained scheme in gambling crime history. According to the complaint, what he would do is essentially fill out paperwork to the effect that machines were reading an incorrect amount of credits, or misread bill denominations (which sometimes happens, but not nearly as much as the average records v.Benczkowski's would indicate) and then he would weither receive completely fraudulent money, or alternatively, he would misreport amounts on patrons who were actually shorted by the machines, but then go to the cage and request smaller bills and keep any overage for himself.
The one thing I don't understand is how he got away with over three-hundred such transactions totaling over $25,000 before he was finally caught, if I had to venture a guess though, it would be that the, 'Eye in the Sky,' boys might have been too busy looking for Blackjack card counters to worry about their own employees. Benczkowski claims that he was using the money to illegally buy drugs to satisfy his drug problem, though, so perhaps he already realized that his days would be numbered and he would inevitably be caught.
Interestingly enough, it was not the eye in the sky that caught him. A fellow employee happened to observe one of these suspicious transactions and turned him in.
At this rate, I might be able to have an, 'Employee theft of the Week,' segment in this Article!
Route 66 Casino Follow-Up
In last week's News and Notes, I mentioned a shooting at the Route 66 casinos in which one of the suspects of a suspected Grand Theft Auto was killed after firing upon Laguna Pueblo Officer Peter Tanzilli. It was during this altercations that a second, and still unknown suspect, fled the scene of the crime. Authorities have released the name of the man killed, which is Mario Sandoval.
Fortunately, Officer Tanzilli suffered only non-threatening injuries and is expected to make a full recovery. It is doubtlessly the case that the Laguna Pueblo police force will be looking forward to having him back on duty. I understand that, 'Fortunate,' seems a strange term in this entry, but just remember, it could just as easily have been the carjacker that ended up living and Officer Peter Tanzilli dead. Anything can happen out there on a night to night basis, and there is no police officer that truly knows exactly what he is getting into as soon as his shift starts, so they have my absolute respect until I have a good reason to feel otherwise.
Posted by
Mission146