Introduction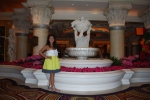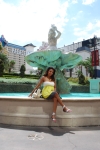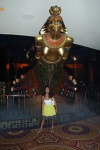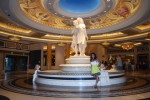 Caesars Palace is a world famous hotel and casino and very much an iconic Las Vegas destination. The casino was launched by Jay Sarno in 1962 by, a cabana motel owner, who borrowed $10 million from the Teamsters Union on land owned by Kirk Kerkorian. Sarno was the designer of the property and the creator of its Roman era image, intended to convey luxury. He thought that guests should feel they were at a king's home while at his hotel. Therefore, Sarno called it 'Caesars' and not 'Caesar's' because he wanted every guest to feel like he was a Caesar. The casino officially opened in 1965.
While still a great destination — I've been going to Caesars since the 80's — I can attest to its changed environment over the years. In my view, the property used to have a much more intimate feel where dealers knew your name as well as your game. It was not all fancied up then with the glitzy retail and name restaurants and there were only a couple of gaming areas. Yet I preferred it that way, even with a pool complex that was a concrete maze (the new towers were yet still to be built). Yet Caesars still had an elite feel with its marble, chandeliers and tasteful lighting. Of course, it isn't just Caesars that's changed. This was prior to the Strip's big expansion and the whole town still had a bit of an edgy feel to it which made you think you might be doing something exciting, something out of the Rat Pack. Obviously, this is no longer the case anywhere. But Caesars, in my view, still comes closest to evoking these time-capsuled memories.
Caesars has also changed hands over the years and is now the flagship of Harrah's Entertainment, once a publicly owned company but which was brought private by buyout firms in January 2008. Harrah's is the world's largest owner and operator of casinos, with nearly 40 properties in its portfolio. The property is located on the west side of the Strip, between the Bellagio and the Mirage. It has over 3,300 rooms in five towers: Augustus, Centurion, Roman, Palace and Forum. Its sixth tower, Octavius, was recently built, but is still being completed and has yet to open. It has also just completed a huge convention center though it has yet to open as well.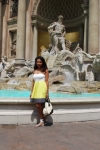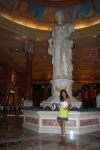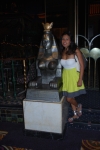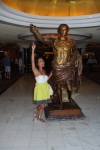 As everyone likely knows, the hotel and casino is imbued with classic Roman architecture from the time of Caesar. Its very entrance is pronounced with this theme as it is flanked by columns, spraying fountains and detailed replicas of Roman statues. This is a continuing style to be found throughout the property as triumphal arches, painted mosaics, sky domes, "classical" furniture reproductions, paintings of mythical persons and intricately carved designs permeate Caesars. Also, pink and gray marble cover the floors and walls through much of the hotel space, and in tandem with a heavy use of brass, lend it an elegant feel.
It's a simplistic fantasy to evoke the idea of the Rome of 100 B.C. and I suppose it's all to be taken as intended, for amusement and entertainment. There's really nothing subtle about the style and swagger of Caesars — but then this is Vegas, and why should there be. Further, the property's distinctive architecture and design serves as a powerful organizing concept as well as a very effective branding mechanism. As mentioned, Caesars is a singular destination, one that harks back to the city's serious growth spurt of the 1950's and 60's and one of the very few casinos left on the Strip to have lasted and maintained its personality over the years.
Caesars is invariably crowded as it is, as indicated, an iconic Vegas destination. A cross-section of the country as well as the world can be found here. Although people from different levels of society can certainly have a great time at the property, it tries to convey an upscale feel and a decent strata of its guests seem to reside in the more comfortable income brackets.
The reception area is highly ornate and is shaped in a large oblong circle centered by a Roman statue. Check-in looked to be a nightmare with what looked to be about fifty people waiting in a winding rope line at reception. Fortunately, I could avail myself of VIP check-in around the corner and we were in our room in minutes and ready to enjoy our visit. Be forewarned, though, fun is expensive here; Caesars can be pricey and is generally not for slender budgets.
The Room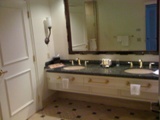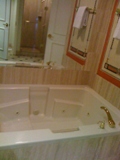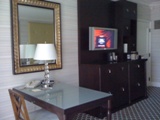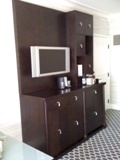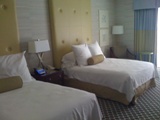 Our room was in the Palace Tower, a building adjacent to the pool. It was plenty roomy, but it seemed just a bit tired. The rugs were thick and old with a design that seemed like it was from the 1970s. Also, there were small nicks in some of the furniture and scuffing along the baseboards. However, it had a decently sized flat screen TV and a nice view of the pool area. And the bathroom was huge and contained a Jacuzzi which we tried out the next day, and which was heaven.
I've stayed in various towers at Caesars and despite the Jacuzzi, I prefer the Augustus Tower overall. The rooms there are even larger with a sofa and a couple of easy chairs in addition to the standard writing table. It also afforded a view of the Strip and the spectacular Bellagio dancing fountain show at night, which felt as close as your outstretched hand.
Each room I have stayed at in Caesars over the years had safes, which is appreciated. The closet size and bureau storage size is plentiful and the maid service was excellent. If you like to avail yourself of room service, though, best to plan ahead. I was told that the room service wait for breakfast would be an hour and a half one morning but it ended up being just under an hour. And as is consistent with the hotel's generally steep prices, eggs, coffee and Danish somehow ended up costing a staggering $80 for two. Breakfast was good, but not that good.
The Pool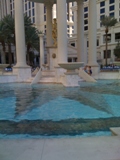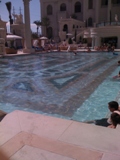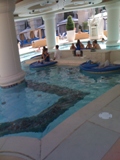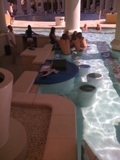 The Pool area constitutes several different pools with seemingly different target audiences in mind. This seems to be a strategy to segment its customer base along economic and demographic lines as well as to create some aspirational thinking on the part of its clientele. Most of the guests seemed to be couples, I didn't see any children at any of the pools at all during my stay, but they were likely in school as this was October 2009.
The Temple pool is the closest to the entrance, and hard to miss. It is shaped in a large circle, and adorned with sculptures and fountains in its center. It has the largest area for lounge chairs, too, and given its relatively quiet vibe I've swam before, and enjoyed the experience. However, this time around, the recent construction of the Octavius Tower (still not completed inside), next to the existing Augustus Tower, has served to obstruct the area from the sun for most of the day. It's fine if you like shade, I suppose, but most people seem to like at least a little bit of sun, and so it was somewhat sparsely populated given its mass.
In speaking with one of the lifeguards, she reported that the pool will be mostly in the shade until late Spring and after Labor Day. During the height of summer the sun reaches high enough in the sky to over the new 30-story building. This leads one to speculate about the wisdom of such a move, but the logic seems obvious: Caesars likely had limited construction space and opted to add rooms that would translate into revenue, despite concerns that the building would cause shade over a large portion of its preëminent pool for at least some of the year. This seems a somewhat cynical business decision, but it is what it is.
The lack of sun at the Temple pool drove us to try out the Venus pool. The Venus pool is ostensibly more of a party-type scene as it run by the same folks who run Caesar's high-gloss PURE Nightclub. We had wrist bands attached upon entrance and were told that we could not bring our water in with us. This was an obvious ploy to force you to order libations from the poolside waitresses and this was not a pleasant first impression. Though I've paid admission charges for this pool in the past, we were not so charged during our stay.
But when we got settled, there was plenty to appreciate. It's an over-21 pool since topless bathing is permitted. Several women availed themselves of this opportunity. Further, the thump-thump of the high octane house music does evoke a kind of party atmosphere. However, despite its best efforts, PURE doesn't seem to muster up very much excitement since the crowd is a bit more mature and muted than other pool scenes I've been to in Vegas. Nonetheless, we had fun drinking and swimming in the refreshing 80-degree water, and relaxing to the upbeat vibe.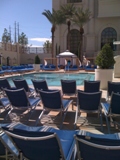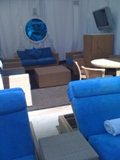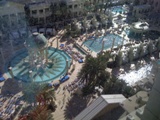 The Neptune Pool is a nice large pool and another option which began to receive sunlight only during the afternoon. It is situated right next to the new, small Fortuna pool, most of it shaded for its five in-pool blackjack tables. Guests can wade out to the pit and sit on stools in the water to play. I was told that the pit was new and opened on Labor Day as well. The dealers of this multi-deck game are attractive young ladies and Caesar's single deck blackjack rules apply (6:5 payout on blackjack, doubling only on 10's and 11's and no doubling after splitting). The water is definitely heated here relative to the other pools but still a bit cool for my taste to warrant playing there for too long. Adjacent to the pit is a long bar area with several widescreens set to sports events. It was empty during my stay though pumping house music, I suppose, as part of its intended party scene milieu.
There are several other pools in the complex which just opened on Labor Day such as the Apollo pool, which is small, and only open on weekends. This is a shame since it's entirely in the sun so perhaps Caesars will change that policy. There is also the newly-opened (and also sunny) Jupiter pool, also open weekends-only, and the new Bacchus, a VIP pool with cabanas, private pools, whirlpools and extra cushy lounge chairs. The cost for this is this last pool area is $550 per day plus extras, unless you're comped of course.
Cabanas line most of the pools and can be gotten for $150 half a day and $300 for the full day though this increases to $200 and $400, respectively, on weekends. They come with refrigerators, flat-screen TVs, DVD players, iPod docks, wireless Internet, ceiling fans and sofas, chairs and pillows — and plusher lounge chairs. Massage services can be had from a ten-minute suntan lotion application for $40 to a 50-minute deep tissue massage for $160 in a private cabana. There is waitress service for drinks and food, though it's pricey; a couple of sandwiches at the poolside Snackus Maximus ran about $45.
The Spa and Exercise Facilities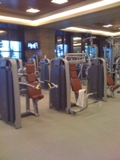 Qua Baths and Spa is a high quality spa that offers a wide range of spa services. Various services under such categories as massage, pain management, facial therapy, hydrotherapy and hypnotherapy are too numerous to mention and range in price from $75 to $520 for couple's therapy though most fall in the $150 to $220 range. There is also a "Men's Zone" for massage, facials and barbering. The facilities have a nature motif of natural materials and waterfalls and its layout, which I toured, is well thought out.
The spacious and airy exercise facility with state-of-the-art treadmills, bikes, ellipticals, free weights and a large selection of exercise machines. The facility is rarely crowded, even during prime time mornings, which made it easy for me to hop from machine to machine. It costs $25 per day to use the facility.
Restaurants, Bars / Clubs and Entertainment
Caesars abounds with a variety of very good restaurants. However, its bar and entertainment options seem to be either very good or just average, with few in between. Its entertainment options, though superior, certainly need to be pre-planned. Most choices are somewhat expensive keeping with the generally expensive nature of the property.
Restaurants
If you're a burger aficionado as I am, then you'll definitely want to check out Bradley Ogden. The burgers are ground from lean sirloin and fire grilled to perfection, charred on the outside and succulent in the inside. The hand cut fries are freshly made and non-greasy. The experience will set you back $25 or so but in my view, it is well worth it.
Another favorite is The Palm, which is located just as you enter the Forum Shops from the casino. Their steaks are great, as is everything they serve; I'd recommend their crabmeat cocktail to start and hash browns to accompany the steak. If you travel as I do occasionally, you may weary of experimentation; in that case, you'd definitely appreciate The Palm's old school style. There are ten other restaurants to try in the Forum Shops adjacent to the casino including Spago, Il Mulino and Joe's Stone Crab, all of which we've tried and liked in their various incarnations in other cities.
In terms of the casino property itself, we liked the all-you-can-eat breakfast buffet at Café Lago. I can only say to get there early, say nine or so, because when we left at ten there was a huge line. There's anything you can imagine for breakfast, from eggs and bacon to pancakes and waffles to smoked salmon and fresh fruit. It's not inexpensive at $18 per person (we saw that the dinner buffet was $27), but well worth it if you can move afterwards.
Also, the Augustus Café is not bad in a pinch. Especially if it's 3 am and you've been gambling most of the night and too wired to sleep; it's open all night. Another relatively inexpensive option is Beijing Noodle No. 9, whose look is better than the actual food. Its bright orange décor and floor to ceiling goldfish tanks that line the entrance make for a good lure. The food is okay but certainly not special; a light dinner for two runs about $45.
Payard, a take-out and snack bar, is also popular for gelato, sandwiches, and almost too-perfect looking desserts. Other restaurants that we didn't get to but would want to try was the Mesa Grill, Rao's and Hyakumi, all of which looked good. There are several other places to try as well.
In sum, going to both high end and reasonably priced restaurants is likely a sane way to try engage different culinary experiences while sanely navigating one's credit card limit as well as one's caloric intake. We were able just to walk in wherever we liked; for most restaurants, reservations aren't necessary unless it's a weekend night.
Bars / Clubs
PURE Nightclub is Caesars famous nightclub destination. At 36,000 square feet, it is a large club and one of Vegas' best known. An attractive young lady friend I know and I recently went there on a Thursday night. As it was after the summer, it wasn't too crowded and though that sometimes suggests dull in the night club world, we had a pretty decent time.
The club itself has an all-white interior, accented purple lighting, and a highly modern look and feel. The dance area is surprisingly small but the outside areas afford great views of the Strip. The crowd is a mix of tourists with a few locals, all perhaps with the idea of drinking a little too much and stirring up trouble in a What Happens in Vegas mentality. I understand that sometimes celebrities show up (i.e. are paid to show up) to lend glamour to the club and others like it. Clubs have also been known to comp big groups of girls and give them tables and free bottle service so as to attract a bigger crowd — but then I learned that here are a lot of things clubs do to create hype.
PURE wasn't very wild when we went, but my young lady friend assured me that it can get like that. The vibe at PURE is pretty much the same as in all the clubs, and lots of people go with the same goal, to have a good time and hope to have a story to tell about it.
In terms of a script, if the club is crowded, the best strategy is to get a table, which will run you $500 for three people. This can be reserved ahead of time. Otherwise, unless you're on their guest list, you'll end up waiting an hour or so in line. The line starts at ten or so and the admission cost is $30 for men and $20 for women, except for certain holidays and special events. There is a separate line for Harrah's Total Rewards VIP Seven Star and Diamond card holders. All guests must be over 21 with a valid ID and they seem to check everyone.
The Pussycats Doll Lounge is located inside the PURE Nightclub and offers two shows nightly, at 10:45 pm and 11:45 pm. It's only open on Tuesdays and Thursday through Saturday. Other bars include the Shadow Bar, the Seahorse Lounge, all of which I found fairly generic and lackluster, and Cleopatra's Barge, with its moving ship, which was nothing short of ridiculous.
Entertainment
There are plenty of restaurants and great shopping (see below) available on the property but just walking through the property can serve as entertainment as well. As indicated, there is a bevy of statues, architecture and Roman era design mimicry that permeate the property. One statue of special note is a replica of Michelangelo's statue of David which stands more than 18 feet high and weighs more than nine tons and is situated in a kind of pathway rotunda along the Appian Way shops.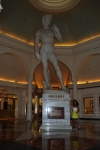 Caesars' version of the David statue is almost an exact replica of the statue in the Galleria dell'Accademia in Florence (the original stands 17 feet) and the plaque states that it is constructed from the same materials of white Carrara-marble. However, the '75% off' sale signs on nearby objet d'art stores somewhat detracts from the experience but the constricted space in which to look straight up at this figure makes it look that much more immense.
There is an animatronic show at the Festival Fountain where statues of Bacchus, Apollo, Plutus and Venus come to life for a seven-minute revel with dancing waters and lasers; it takes place every hour on the hour. A 50,000 gallon aquarium, and yet another fountain with another show, awaits just around the corner where Atlantis comes to life in a nonsensical story amidst spraying fountains and bursts of real-looking fire. While the kids seemed riveted by these two shoes, the adults seemed more bemused, though I thought the effort somewhat hackneyed. When just walking around the property, the best entertainment of all in my view is the well-known dancing fountains in front of Bellagio, which adjoins Caesars at the opposite end of the property.
In terms of name entertainment, Caesars has two of the best divas around with Cher and Bette Midler, who alternate show dates. As neither stars were performing when we visited, it makes sense to plan ahead if one of your objectives is to see big-time entertainment. I understand that their shows are spectacular, with great performances, elaborate sets, and lots of costume changes. However, I also understand that their long-term contracts are nearing their end, and so it's uncertain as to how much longer either will be around.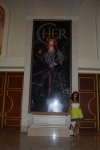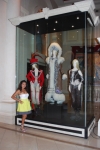 Many top performers have performed at Caesars over the years, almost too many to mention such as Frank Sinatra, Liberace, George Burns, Andy Williams, Judy Garland, Diana Ross, Julio Iglesias, David Copperfield, Gloria Estefan, Stevie Nicks and Mariah Carey. Celine Dion, for whom the Colosseum was specifically built, and Elton John recently had long runs in recent years. Therefore, one would expect Caesars to sign up more headliners in the future no matter what happens with Cher and Bette. Tickets run from $95 to $250 for Cher and $50 to $250 for Bette Midler. Other top headliners due in to Caesars to perform soon include Jamie Foxx, for a one-night show, and Jerry Seinfeld.
Several championship boxing matches were held in Caesars Outdoor Arena over the years. Such boxers as Sugar Ray Leonard, Marvelous Marvin Hagler, Thomas Hearns, and Roberto Duran all headlined here, along with Larry Holmes against both Muhammad Ali and Gerry Cooney. Also, three bouts between Evander Holyfield and Riddick Bowe were contested here. However, I have not heard much buzz about boxing at Caesars as interest in the sport seems to be fading in general.
Shopping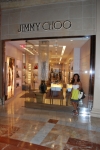 Caesars' Forum Shops boasts 160 stores, most of which are upscale chain stores, with a significant portion of them being upscale. Also, there is lots of shopping on the immediate casino property where, for the most part, more singular retail shops can be found. As many know, however, aside from special sales, better prices for high end goods can be gotten at the nearby Las Vegas Premium Outlets on South Grand Central Parkway which is only a $20 cab ride away.
On-Property Shops
Lots of shops can be found just ambling along the hallways of the casino, whether you're on the way to the room from the pool, going to the casino or going out to eat. With a few exceptions, the on-property shops tend to be more interesting one-of-a-kind stores than those in the Forum Shops. An exception would be the men and women's Bernini clothing stores, of which there were two. Their clothing didn't exactly suit our tastes, and seemed at the same time both second-rate and gaudy. We liked the Neil Leiffer Gallery, on the other hand, which offered blown-up unique sports photography, though their expense ($4,000 for a large print of Muhammad Ali) seemed a bit prohibitive. We also stopped in Oculus, which had some nice eye wear and Art in Crystal, which had some interesting glass and crystal.
Another unique place to stop was Ancient Creations, which offered jewelry made of antiquities such as rare coins. Most of these pendants seemed to run in the $1,000 to $3,000 range though you could easily spend a lot more on other kinds of jewelry. There were also the jewelers Gevril, whose offerings seemed very affordable, and Le Pradis and Cartier, both of which might demand more purchasing thought. While Cartier can fit in anywhere, the Harley-Davidson chain store seemed out of place, given the casino's orientation towards more niche retailers.
There was also a Cher/Bette souvenir store, located next to the Colosseum, Caesars' entertainment venue, that offered all kinds of memorabilia, (CD's, t-shirts, pens, coffee table books, etc.,) done in glamorous Cher and Bette styles. And finally, there were a couple of well-located gift shops, necessary stops where you could buy assorted sundries and Caesars shirts and hats with the casino's logo.
Forum Shops
As we've become inured to the ubiquity of shopping malls (and so we do it rarely), The Forum Shops seem to be a shoppers' paradise. A sampling of the stores really wouldn't do it justice; it's enough to say that my favorites were the Apple Store, Niketown and Tourneau while my girlfriend's were Harry Winston, Cartier and David Yurman. Nonetheless, the stores run the gamut from women's and men's clothing, jewelry, cosmetics, art galleries, entertainment, handbags / luggage, and kid's clothes / toys.
Gambling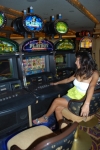 Caesars has several pits that contain the standard table games, roulette and craps. There is also, as in most casinos, a plethora of slots on the floor which purposely necessitates that you wind through them to get to wherever you're going. As is the case in most other casinos, the main floor doesn't really get going until after noon when they begin to open up more tables. Other gaming pits in other areas of the casino open according to demand which generally means nighttime only on certain days and on weekends.
Roulette
In the main casino, the roulette was the standard double zero, for a house edge of 5.26%. In the high-limit room, there was one single-zero wheel, for a house edge of 2.70%.
Craps
The craps games allowed the Vegas standard 3-4-5X odds for a combined house edge between the pass and odds of 0.37% and 0.27% between the don't and laying odds.
The Main Pit
The main gambling pit is located just feet from the main entrance to the casino. It makes for a grand first impression as its large and oblong floor is matched by a concave roof which is lit by multiple lines of chandeliers. As in other gaming pits throughout the property, it offers an array of table games such as multi-deck (6 deck) blackjack, Three Card Poker, Texas Hold 'Em Bonus, Crazy 4 Poker. Let it Ride, Caribbean Stud, and Pai Gow Poker. The ten blackjack tables typically have $25 minimum bets per hand, which often increase during prime time, such as weekend evening hours. Alternately, during very slow periods, I noticed that a few tables can go down to $10 minimums per hand. There are also several roulette tables (all double zero) that anchor the table games and a separate pit for craps.
The main pit does not have single deck blackjack but single deck can be found in other pits nearby. However, single-deck only pays 6:5 for blackjack, and players can only double with the first two cards of 10 and 11 — and players cannot double following a split. This is a significant disadvantage for the player relative to the multi-deck game.
The Pussycat Dolls Gambling Pit
An even more unfavorable game for the player can be found at the Pussycat Dolls blackjack "pleasure" pit, which is located adjacent to the Pussycat Dolls Lounge club and the PURE Nightclub. Scantily clad young ladies serve as dealers against the backdrop of a sexy pole dance to club music. All the single-deck rules just described apply to the multi-deck blackjack game here. The logic is that the percentages forfeited in the multi-deck game relative to the normal multi-deck game are more than made up for by the entertainment afforded by these young ladies in bustiers. However, if you want the best of both worlds, Planet Hollywood, as one example, has a similar-type pit with normal multi-deck blackjack rules. The pleasure pit is closed on Mondays, Wednesdays and Sundays as is the Pussycat Dolls Lounge nightclub.
The High Roller Pit
There is a separate large space for high roller just steps away from the main gambling floor. In the first room you'll find high stakes blackjack, baccarat and single zero roulette. The minimums for these tables are at least $100 per hand (or single spin of the roulette ball). There are generally two or three tables available for play at any one time with minimums per hand of $100 or $200 minimums. At these tables, dealers stand on a soft 17, in contrast to lower minimum tables on the main floor, where dealers hit a soft 17 and stand on a hard 17. The surrender option is available in all blackjack games but I saw few people avail themselves of it. There is a very large room further behind this first room where one can find the occasional high roller who has likely reserved tables for them and their posses.
Sports Book, Poker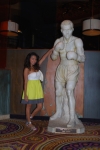 Caesars has a very impressive Sports Book area, constituting a huge space with more than ample seating. The space is centered by a giant tote board on the wall which lists all current games of interest with their betting lines. There are also six huge TV monitors that outline the area and which are set to different broadcasting sporting events. A dozen smaller TV monitors mounted underneath complete a bettor's sense of immense sports coverage. There are also several dozen individual betting stations with individual small monitors where you can tune into sports events of personal interest so as to keep track of one's own betting.
The Poker area is found behind the Sports Book area. There are plenty of tables to play but only a few were in use. As is the case in other casinos, Texas Hold 'Em was the game being played. The room was not particularly crowded times when I dropped by, and the wait to play did not seem to be to be very long.
Comps
Caesars, as does all of Harrah's properties, participate in its Total Rewards player's card program. All play is rated when using a player's card whether at the slots or by pit bosses who monitor roulette, craps and the table games. Also, when you buy something at any of the properties, or even when you dine, this also adds to your points. Reward points are aggregated from each casino visit and can be used for future visits to any of the Harrah's properties.
My six hours of rated play during my recent visit at an average bet of $125 earned me 175 points in reward credits. This nicely offset all of my room charges of roughly the same amount.
It's worth mentioning that while it's easy to use your points, it took forever for the front desk to pick up so that I could do so. That can feel a bit unsettling when you're rushing to pack and check out; the feeling of no one home left a sour last impression to what was a fun getaway.
Cashier
There was hardly a wait at the cashier's cage at any time during my stay. As is sometimes the case in other casinos, there is a separate line for elite card holders. There is also a cage in the high roller's pit which makes it even easier to cash there since there is rarely a line.
Summary
Caesars is my favorite casino on the Strip. I've stayed there often through the years, going back longer than I care to remember. While a step or two behind the Wynn and Bellagio in upscale decor and accoutrements, I always maintained that Caesars offers a variety reasonably priced entertainment and dining options that the other two do not. This adds to its appeal: you can grab a sandwich to go at Payard, for example, go to a coffee shop, or hit the wide-ranging Forum Shops and find a relative bargain. The variety of options available across the board are simply broader and better. Meanwhile, in my view, Caesars has a warmth and ease in attitude with less formality than the other two casinos impart.
However, my recent visit gives me pause. While still imbued with its inimitable personality, nicks here and there in the room and shortcomings in the running of the property itself makes me wonder if Caesars' upkeep budget and attention to detail is suffering at the hands of its aggressive expansion plans. I wonder if Caesars isn't fraying at the edges a bit, and one wonders if the casino is perhaps resting on its iconic Roman laurels. Before long, it might not just be the property but its reputation that needs burnishing.
Nonetheless, given its manageable size and its full spectrum of guest activities, I still prefer Caesars to any other hotel on the Strip. Although eclipsed in glamour and chic by at least a couple of other properties, Caesars is still a class joint, timelessly hip, retaining some of the soul of an almost forgotten Las Vegas.
Links
Acknowledgement
I'd like to give a big thanks to Karina for modeling in some of the pictures.
Contact Information
Address: 3570 Las Vegas Boulevard, Las Vegas, NV 89109
Phone: 866-227-5938
Web site: caesarspalace.com
Resort and Parking Fees
| | |
| --- | --- |
| Resort fee | $13.50 |
| Parking fee | Free |
Games at Caesars Palace
| Blackjack | Location | Decks | Min | Max | Soft 17 | DA | DAS | RSA | Surr | Tables | CSM | Party Pit | 6/5 BJ | Video | H. Edge |
| --- | --- | --- | --- | --- | --- | --- | --- | --- | --- | --- | --- | --- | --- | --- | --- |
| Blackjack | Strip | 6 | 5 | 100 | H | Yes | Yes | No | Yes | 1 | - | No | Yes | Yes | 1.91020 |
| Blackjack | Strip | 8 | 10 | 10000 | H | Yes | Yes | No | Yes | 29 | No | No | No | No | 0.56926 |
| Blackjack | Strip | 1 | 10 | 2000 | H | 10 | No | No | No | 10 | No | No | Yes | No | 1.97460 |
| Blackjack | Strip | 8 | 25 | 2000 | H | 10 | No | No | No | 6 | No | Yes | Yes | No | 2.16309 |
| Blackjack | Strip | 6 | 100 | 10000 | S | Yes | Yes | Yes | Yes | 6 | No | No | No | No | 0.28507 |
| Blackjack | Strip | 2 | 100 | 10000 | H | Yes | Yes | No | No | 2 | No | No | No | No | 0.45688 |
| Baccarat | # of Tables | Min Bet | Max Bet |
| --- | --- | --- | --- |
| Baccarat | 14 | 25 | 10000 |
| Craps | # of Tables | Min Bet | Max Bet | Odds | Field12 | Video |
| --- | --- | --- | --- | --- | --- | --- |
| Craps | 6 | 5 | 5000 | 3-4-5 x | Double | No |
| Craps | 1 | 5 | 1000 | 2x | Double | Yes |
| Roulette | # of Tables | Min Bet | Max Bet | Rules | Video |
| --- | --- | --- | --- | --- | --- |
| Roulette | 12 | 10 | 5000 | 00 | No |
| Roulette | 1 | 5 | 100 | 00 | Yes |
| Video Keno | Rank | Avg Return | Grade |
| --- | --- | --- | --- |
| Video Keno | 50 | 89.94% | C |