Introduction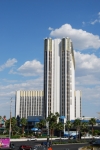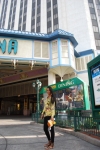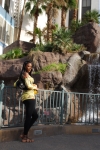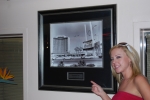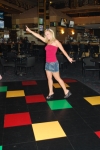 Built in 1957, the Tropicana is one of oldest properties on the Las Vegas Strip. In its prime, it was one of the best properties in Vegas. When James Bond came to Las Vegas in the movie "Diamonds are Forever," he stayed at the Tropicana. Unfortunately, the property has not aged well, and it does not look like much has changed since the 1970's. When I visited on October 1 and 2, 2009, it was undergoing a much-needed remodeling.
The Tropicana is owned by Tropicana Entertainment and is one of the few properties on the Strip not part of either the MGM-Mirage or Harrah's Corporation. Lake many casinos in Vegas, it is under bankruptcy protection. According to the Las Vegas Sun, the Onex Corporation of Toronto is in the process of taking over the Tropicana.
Location
The Tropicana sits on the southeast corner of Las Vegas Blvd. and Tropicana Blvd., the intersection that holds the world record for the most hotel rooms. Pedestrian bridges make crossing the intersection easy. Next door are the MGM Grand and the Excalibur, and kitty-corner is the New York New York. Within easy walking distance are the Monte Carlo, Hooters, Luxor, and Mandalay Bay. The Tropicana is among the closest casinos to the airport, and it has easy access to the I-15.
Free Spin
At the two main entrances are promotional slot machines. Everyone walking by gets a free spin. The possible prizes are:
Car or $15,000 in chips.
$25 in chips
$10 in chips
$5 in chips
Any two free show tickets
Two magic show tickets
One show ticket (house choice)
One magic show ticket
Scratch card, for signing up for a player card
Most people get the voucher for a scratch card. I already have a player card, so I don't know how good the scratch cards are. These machines often tease the player by stopping on the car on two of the reels, and then a blank.
Casino
According to the 2009 American Casino Guide, the Tropicana has 62,011 square feet of casino space. By way of comparison, the MGM next door has about 2.5 times as much at 156,023. According to the Nevada Gaming Control Board, the Tropicana is home to 45 table games, although I only counted 32. As already noted, I was there during a renovation, so some tables may have been temporarily removed. The Gaming Control reports the number of slots as 920. By way of comparison, the MGM Grand has 178 table games and 2,470 slots. At the time I was there, the Tropicana had no live poker and no high-limit table game room. An employee said a poker room was part of the expansion.
When I visited, there was no shortage of blackjack tables with $5 or $10 minimums. If you are a low roller, you should not have difficulty finding a game at the Tropicana. On the other hand, they didn't have a high-limit table game room or pit, so the high rollers will not get the extra attention or better rules that other casinos may offer them.
Following are the games they did have and some comments on the rules.
Blackjack
At my count, the Tropicana had 21 blackjack tables during my visit. Most of the tables had the following rules:
6 or 8 decks
Dealer hits soft 17
Double after split allowed
Surrender allowed
Re-splitting aces not allowed
The house edge at six decks is 0.54%, and with eight decks it is 0.56%.
There is also a single-deck game, which pays 6 to 5 on blackjack, for a house edge of 1.84%.
The Current Blackjack Newsletter mentions a game, with a $25 minimum, that has the same rules as above except the dealer stands on a soft 17. I could not find this game while I was there. Standing on a soft 17 favors the player, lowering the house edge to 0.33%.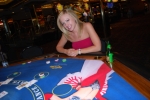 Roulette
Two wheels, both with two zeros.
Craps
Two tables with 3-4-5X odds. They pay the stingy 14 and 29 on hop bets, and the field only pays 2 to 1 on a 12.
Other Table Games
Other table games I noticed were:
Baccarat (1)
Crazy 4 Poker (1)
Let it Ride (1)
Pai Gow Poker (1)
Three Card Poker (3)
Video Poker
According to VPfree2, the best video poker is 9-6 Jacks or Better, with a return of 99.54% with perfect play. VPfree2 states it is available in $1 to $5 denominations, but I found it available only from $5 to $25.
Slot tickets expire in 30 days, which in my opinion is much too soon.
Sports Book
The sports book is a franchise of Leroy's and sits in a small room, a half flight of stairs down from the main casino. As I recall, the room features two betting windows, about a dozen chairs, and a few television screens. It is basically a bet and run affair, not a comfortable place to watch a game.
There was no expiration policy indicated on the back of the ticket for sporting events. Rules are stated for horse racing. I asked a guy at the window about it, and he said that he had never heard of a mailed in sports ticket being declined, even if the event occurred 6 to 12 months ago. Lacking an expiration policy, I would interpret sports tickets from the Tropicana to never expire, a policy I enthusiastically support.
Player Club
New members get $10 in free play and a deck of cards when they receive their card. Although I signed up years ago, they forgot about me, so I collected both this trip. Contrary to what was posted at vpFree2 at the time of my visit, I found that slot players earned free play at a rate of 0.33%. Unlike every other club I have seen, at the Tropicana the player club balance is shown directly in the amount of free play. So there is no point conversion process necessary. To collect free play, just enter your PIN into any machine and indicate how much of your balance you wish to download.
My Own Gambling
Usually when reviewing a casino, I like to play the table games, because it gives me a chance to interact with the employees more. However, I couldn't resist playing 9/6 Jacks video poker with a free play rebate of 0.33%. That makes the return 99.54% + 0.33% = 99.87%. So, I played in the high-limit Crystal Room, the only place I could find the 9/6 Jacks.
Most of the time I had the entire room to myself. There was an employee around, who often asked if I wanted anything to drink and was happy to watch my stuff if I needed a break. Once another player wandered in and hit a jackpot (necessitating an employee to do a hand pay). When the high-limit employee left to attend to the jackpot, a middle-aged lady came over and told me a sob story about her mother dying and her needing a room for just one night. She asked me to donate $5 to her cause. She seemed to be truthful, so I complied. This led to a long conversation. When she finally left, the high-limit worker was very inquisitive about what this other patron wanted. I didn't rat her out, so she spied on her and commented she was bothering another man. I think she then radioed security, who probably 86'd her.
Getting back to my game, I played a $5 single-line machine for a total bet of $25 each time. By the time I left, I collected a total of $104.91 in free play. Dividing by the 0.0033 cash back rate, I would have bet a total of $31,475, or made 1,259 bets. While my expected loss on this play was only $40.92, my actual loss was $2,800 (ouch!). In 1,259 hands, my expected number of good hands were 2.96 four of a kinds, 0.14 straight flushes, and 0.035 royal flushes. However, I hit none of any of these. It just goes to show that when things run bad in video poker, they can run real bad.
When I was ready to check out, the "VIP services" room was closed, so I asked at the front desk if I could get any of my room charges, which were about $130, comped. The front desk attendant called a host who said my play was more than sufficient to cover everything. For months following my stay, the Tropicana has been trying hard to get me to return. The latest offer was for a free weekend stay when the rodeo is in town, including tickets to a bull-riding event.
Food
In many ways, the Tropicana is a large property that feels like a small one. For example, for a hotel with 1,877 hotel rooms, there were relatively few restaurants. There was no basic coffee shop, which should be a staple in even the smallest of casinos. The eating choices when I was there were:
Island Buffet
Player's Deli
Bacio Pasta & Vino
Legends Steak & Seafood
Havana Go Go Cafe
My Webmaster, J.B., and I tried the buffet for dinner. The prices were $10.99 for breakfast, $13.99 for lunch, $16.99 for dinner, and $15.99 for continental breakfast. On the good side, there was only one group in front of us in line, and the service was friendly and fast. However, the food left a lot to be desired. The selection was extremely small, with few or zero high-end choices. You can judge a lot about a buffet by the shrimp. In this case, it was the peel it yourself kind, which I don't have the patience for. With no salmon or other respectable fish choices, I tried the pasta bar. There you choose your pasta, sauce, and stuff to put in the sauce. The chef drowned my selection in sauce, putting on about twice as much as one normally gets. J.B. declared his own pasta dish a success, because the noodles were not sticking together. Overall, I was not impressed. The price was also too high, given the selection and quality. I would recommend paying a little more and crossing the street to the MGM's buffet.
I had my heart set on a nice diner for breakfast, but was told it was closed during remodeling. So, I settled on the Havana Go Go Cafe. In my opinion, table service should be required to call a restaurant a cafe, which was not the case here. This was strictly fast food, offering mostly sandwiches. For breakfast, I ordered the lox bagel, but they were out. So I had some kind of Cuban egg McMuffin kind of thing, which I would not order twice. On the other hand, the coffee was pretty good, and the service was fast.
I've never tried the Player's Deli, but here are some prices:
BLT $7.25
Shrimp Cocktail $4.50
Folies Bergere (hamburger) $8.25
Coffee $2.25
Entertainment
The Tropicana used to host the long-running Folies Bergere, but alas, it has ended its run. Today the Tropicana offers the following shows:
The Soprano's Last Supper (dinner theatre)
Hypnosis Unleased
Xtreme Magic Starring Dick Arthur (magic)
Bobby Slayton (comedy)
The only show I can comment on is Hypnosis Unleashed. I told the young woman who worked at the box office that it was against my religion to see a Vegas show without a coupon. Then I noticed a used 2 for 1 coupon to the hypnosis show on the counter and inquired if she had any. She proceeded to look all over a cluttered counter for one, and after about two minutes, she found one and gave it to me. This was truly going beyond the call of duty, which I applaud her and the Tropicana for. For more information about the show, please see my review of Hypnosis Unleashed (link coming soon).
Hotel






When I stayed there on the night of October 1, 2009, my choices were a Garden room for $33, an Island Tower room for $43, or a Paradise Tower room for $63. There was also an additional $7.99 "resort fee," which covered local calls, parking, pool, incoming faxes, and the fitness center. As I've said many times before, I oppose any kind of fee added on top of the standard room prices if the guest has no right to refuse it. Plus, I received a voucher for two free drinks (beer, wine, or "call" only).
Even with the silly resort fee, these were very reasonable prices. I took the middle of the road with the Island Tower. From past experience, I know that any kind of room labeled "garden" in any way, whether it be the type of room or the moniker for every room in the place, is to be avoided (don't write -- I'm sure there is an exception somewhere). The Paradise Tower is the newer of the two high rises, and it's nicely located near the casino. The Island Tower, where I stayed, is further back, and you have to walk past a bunch of little retail kiosks to get to the elevators. In my younger days, I recall there were lots of parrot cages in this hallway instead. I could see from my window that the Garden rooms were in three-story, motel looking buildings.
My room was fairly big, but like most of the property, it was long overdue for a renovation. I couldn't help but take a picture of the moldy caulking in the bathroom. The color of the bathroom walls was lime green. Why anybody chooses this as a color for paint is beyond me. The bathroom freebees were just two small bottles: shampoo and lotion. The TV was small and old. Worst of all was the mattress, which was much too soft, probably from decades of use. Despite it feeling like a trip back in time, the room was satisfactorily clean.
Pool
The Tropicana earns points for a nice pool. It is reminiscent of the kind of pools you see in Hawaii, the ones that meander all over the place with lots of landscaping and a waterfall or two. It wasn't quite as nice as what you might find on Ka?anapali beach in Maui, but it's still one of the best features of the Tropicana. Unlike in Maui, the Tropicana's pool has swim-up blackjack.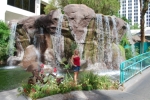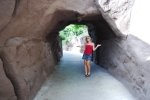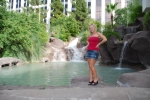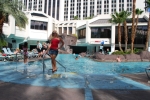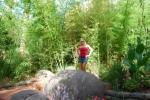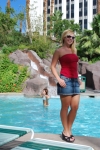 Suggestions for Improvement
The Tropicana is in much too good of a location to let it get as run down as it has. However, they were doing some remodeling when I was there, so I can't say they aren't trying. There is a lot to do, and times in Vegas are tough, so I'll forgive them if it takes a while. Perhaps some of these ideas are in the works, but here are my suggestions for improvement:

More restaurants: For a property of this size, there should be a basic diner, Chinese food and Mexican food. There were none of these when I was there.

Poker room: I've seen much smaller casinos that had a poker room. These days, it is pretty much a staple of a full-service casino.

Island Tower Passage: Those vendor stalls in the hallway are simply tacky. How about bringing back the parrots?

Gambling: The Tropicana does an excellent job at offering plenty of games for red-chip players. However, there should be a high-limit table game room, or at least a designated pit for $25+ players.

Slot tickets: Have a heart, and give the players more than 30 days to cash a slot ticket. Do you think that most of your customers visit on a monthly basis?
Links
Acknowledgement
I'd like to give a huge thanks to Lisa Furman and Nikkia Carter and for their modeling services. Lisa invites you to visit her page at ModelMayhem.com. Nikkia invites you to visit her at myspace.com.
Contact Information
Address: 3801 Las Vegas Boulevard South, Las Vegas, NV 89109
Phone: 888-826-8767
Web site: tropicanalv.com
Resort and Parking Fees
| | |
| --- | --- |
| Resort fee | $13.50 |
| Parking fee | Free |
Games at Tropicana
| Blackjack | Location | Decks | Min | Max | Soft 17 | DA | DAS | RSA | Surr | Tables | CSM | Party Pit | 6/5 BJ | Video | H. Edge |
| --- | --- | --- | --- | --- | --- | --- | --- | --- | --- | --- | --- | --- | --- | --- | --- |
| Blackjack | Strip | 6 | 5 | 1000 | H | Yes | Yes | Yes | No | 4 | Yes | No | Yes | No | 1.90744 |
| Blackjack | Strip | 6 | 10 | 1000 | H | Yes | Yes | Yes | No | 4 | No | No | No | No | 0.57085 |
| Blackjack | Strip | 2 | 25 | 5000 | H | Yes | Yes | No | No | 3 | No | No | No | No | 0.45688 |
| Blackjack | Strip | 6 | 100 | 5000 | S | Yes | Yes | Yes | Yes | 3 | No | No | No | No | 0.28507 |
| Baccarat | # of Tables | Min Bet | Max Bet |
| --- | --- | --- | --- |
| Baccarat | 2 | 50 | 5000 |
| Craps | # of Tables | Min Bet | Max Bet | Odds | Field12 | Video |
| --- | --- | --- | --- | --- | --- | --- |
| Craps | 2 | 10 | 3000 | 3-4-5 x | Triple | No |
| Roulette | # of Tables | Min Bet | Max Bet | Rules | Video |
| --- | --- | --- | --- | --- | --- |
| Roulette | 2 | 10 | 300 | 00 | No |
| Roulette | 1 | 3 | 3000 | 00 | Yes |
| Video Keno | Rank | Avg Return | Grade |
| --- | --- | --- | --- |
| Video Keno | 63 | 88.45% | D |