Introduction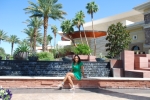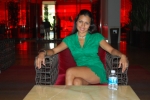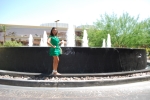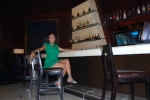 The Red Rock Casino, Resort and Spa is located 10 miles north of the Las Vegas Strip in Summerlin, Nevada. The 70-acre site is located at the corner of Charleston Blvd. and I-215.
The Red Rock is a Station Casino, and in fact the corporate headquarters is located on the premises. The décor could be described as Desert Modern or Desert Art Deco. It's very impressive with enormous Swarofski crystal chandeliers featuring over 3 million pieces of crystal. Wikipedia describes the site as a "locals" casino, but if it is, it's the most expensive and luxurious locals casino I've ever seen.
The Red Rock opened in 2006, at a cost of $930 million. It features a full casino with all the standard slots and table games, 11 restaurants, a 60-lane bowling alley, a 500 seat Bingo parlor, a 16 screen movie theatre, and a 3-acre (!) pool area and spa. The total casino area is 87,000 sq. feet, and the convention center has an area of 94,000 sq. feet. The total number of rooms is 815.
The Red Rock has a very understated, elegant style compared to most Las Vegas properties. I found it to be very classy, and it looks like the intention is to attract big corporate events. The property has a lot of appeal to those who would prefer to stay out of Vegas. There is an emphasis on amenities such as the spa, pool, hiking, and outdoor activities.
I checked into the Red Rock for one night on July 2, 2009. This review is based on my experience.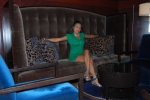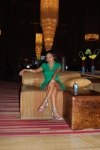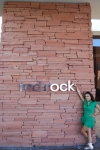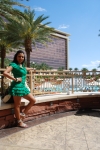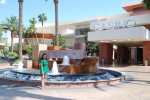 Gambling
According to the 2009 American Casino Guide, the Red Rock has 56,750 square feet of casino space. By way of comparison, the MGM has 2.75 times as much at 156,023. According to the Nevada Gaming Control Board, the Red Rock has 67 table games, 20 poker tables, and 2,890 slots. By way of comparison, the MGM Grand has 178 table games, 23 poker tables, and 2,470 slots. So, the Red Rock has more slots, and almost as many poker tables as the MGM. Here is a game by game table game count:
Baccarat: 4
Blackjack: 41
Craps: 5
Let it Ride: 1
Pai Gow Poker: 6
Roulette: 5
Three Card Poker: 2
Seven Card Thrill: 1
Texas Hold 'Em Bonus: 1
Crazy 4 Poker: 1
Following are some comments about some of the table game rules. The Wizard had to help me with this part.
Bingo
The Red Rock has an enormous bingo room. There is a separate glassed-off room for the smokers. The Wizard says the best session is at 9PM, and the best value is in the Countdown cards.
Blackjack
Most of the blackjack tables had the following rules:
Six decks
Dealer hits soft 17
Double after split allowed
Surrender not allowed
Re-splitting aces allowed
The house edge under those rules is 0.56%, according to the Current Blackjack Newsletter rule survey (link). $5 minimum tables at these rules were not difficult to find. For a $25 minimum bet, there were also plenty of double-deck games, with otherwise the same rules, for a house edge of 0.35%. In the high-limit room there were $100-minimum tables with liberal Strip rules, as follows:
Six decks
Dealer stands on soft 17
Double after split allowed
Surrender allowed
Re-splitting aces allowed.
Those rules result in a house edge of 0.26%.
Craps
3-4-5X odds were allowed, which is the Vegas norm. The hop bets paid 15 to 1 and 30 to 1, which is also the norm. The 12 on the field bet paid 3 to 1, which is good.
Keno
The Red Rock is one of the few casinos left to have live keno. They offer some progressive jackpots, which the Wizard addresses on at WizardOfOdds.com.
Poker
17 tables, rake 10%, max. $4, NL and Limit, Omaha 8, up to $5-10.
I played in this room for a couple of hours late at night. After 10:00 the convention people started to disappear, and the locals began to show up. You can tell the locals because they generally have fewer teeth and more tattoos than the conventioneers. After midnight, things started to get loud and a little more cantankerous. So I left early. At my age, I'm thinking more about falling asleep on that incredible mattress than anything else.
Roulette
All the wheels had two zeros.
Sports Book
The Red Rock has a very impressive race and sports book. I counted 21 betting windows, 150 cubicles, 23 lounge chairs, a VIP area, plus a bar and deli.
Video Poker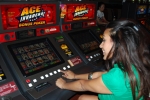 If you are a low-limit video poker player, you'll be happy to know the Red Rock has lots of "full pay" games, under some "Optimum Play" banks near some of the entrances. These banks offer the following games. The returns are based on optimal strategy.
Full pay deuces wild (100.76%) 25¢
10-7 Double Bonus (100.17%) 25¢, 50¢, $1
Full pay loose deuces (100.15%) 25¢, 50¢, $1
10-6 Double Double Bonus (100.07%) 25¢, 50¢, $1
High-limit players will not be as happy. For players at the $5 level and above, the best game is 8/5 Bonus Poker (99.17%).
High Limit Room
The Red Rock's high-limit room features eight blackjack and two baccarat tables.
Non-Smoking Areas
120 slots are set aside as non-smoking.
The main bingo room (the smokers are in a separate room, separated by a glass wall).
Poker room.
Player Club
According to vpFree2, most video poker games earn one point for every dollar bet. An exception is the "Optimum Play" games that return over 100%, which require $4 bet to earn a point.
1000 points may be redeemed for $1 in free play, for a rebate of 0.1%. 600 points may be redeemed for $1 in comps, for a rebate of 0.17%.
They gave me $3 in free slot play for signing up.
My Own Gambling
The Wiz and I played the 2-deck $25 game for a while. We didn't have much luck but the dealers and players knew an amazing amount of trivia. We should have played Trivial Pursuit and left our money home.
Hotel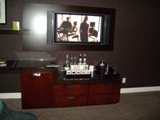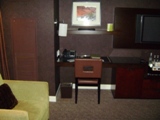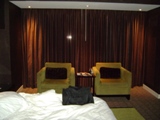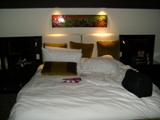 The cost of rooms averages about $75-125 depending on the day of the week and season. The Wiz paid $150 for my room (TY Wiz), but I suspect that to be higher than average owing to the fact that it was the 4th of July weekend. The package prices ranged from a one-night $75 family rate to a 3 night $699 concert package. There were other offers depending on what you like to do on vacation such as a spa/golf (2 nights $399), outdoors adventure (2 nights $520), or party in the Presidential Suite (1 night $600).
My 11th floor room had a beautiful view of the Strip and Downtown Vegas. The room has much the same feel as the rest of the property – tasteful reds and browns in a desert modern style. The bed had a pillow top mattress, and I counted 9 pillows of various shapes and sizes. There was a 45" Panasonic TV and a writing desk. In addition there was a fully stocked pay bar that included a disposable camera and an "intimacy kit". I didn't look inside the intimacy kit, but it looked big enough to hold about 10-15 condoms, which ought to be sufficient for one night of intimacy.
The bathroom had white marble floors and tub, a separate shower and toilet. There was a TV over the tub with remote plus a soft terrycloth robe. The bathroom was stocked with crystal glasses and several types of shampoo, soap and cologne. The overall effect is very luxurious and comfortable.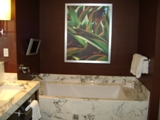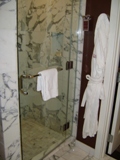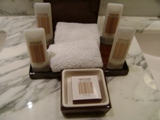 Lines
Both the cashier and player club had Wendy's style lines, where one line leads to multiple windows, which I applaud. However, the hotel check-in was confusing, evidently with one line per station.
Restaurants
There are 11 restaurants on the property:
Hachi
T-Bones Chop House
Terra Rossa
Cabo Mexican Restaurant
LBS: A Burger Joint
Grand Café
Salt Lick Bar B-Q
Turf Grill
Feast Buffet
Sand Bar
Quick Serve Outlets (includes Starbucks)
I ate in three of the restaurants, and had a really great experience in all of them. Here are my reviews:
Feast Buffet
I ate here with the Wiz, who not only paid for my meal, but was also very careful not to influence my review in any way. This buffet has all the standard food stations – salads, Mexican, American, Chinese, Italian, desserts, seafood, etc. The food is uniformly excellent, and the service was great. One thing I always notice about restaurants is the age of the servers. In the case of all the Red Rock eateries, the average server was middle aged or senior. This is always a good sign to me, indicating that the management is good and the staff is being adequately compensated. Additionally, the staff seemed to have a relaxed but professional demeanor, another sign of quality management. Prices were as follows:
Red Rock Buffet Prices
Meal
BoardingPassMember
Non-Member
Breakfast
$6.99
$7.99
Lunch
$9.99
$10.99
Dinner
$16.99
$18.99
Grand Café
This is their version of a 24-hour coffee shop. Very nice inside, and featuring the biggest lampshades in history, at about 5' by 7'. It was a little pricey, but about what I would expect for a good restaurant. I paid $9.00 for breakfast plus $2.50 for coffee. Lunch and dinner was a little more expensive. Appetizers run $5-10, salads from about $10. Burgers and sandwiches also cost around $10. Dinner entrees were a little bit higher, at around $10-15. All in all, it was reasonably priced for the quality of food and service. Again, most of the staff was middle aged, and looked happy to be there.
Terra Rossa
This is the most expensive restaurant in the building, but still reasonable considering the quality of food and service. I paid a total of $34 dollars for dinner - $11 for a Caesar salad and $16 for a pasta entrée. Typical appetizer prices were about $10, pizza about $15, and the pasta dishes cost anywhere from $15-18. The higher priced meat and fish entrees cost about $30-50. The Terra Rossa also featured the large lampshades, and even older staff members who provided exceptionally fine service.
LBS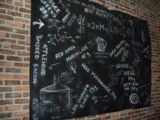 I never ate here, but it has a chalkboard with a lot of scientific notation on it. The Wizard says that he has been trying to figure out what the equation in the upper center (that begins with dV/dt=2πMy...) means for months.
Entertainment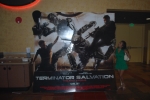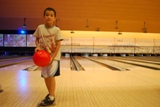 There were four bars and one disco inside the casino. The concert venue had an impressive summer lineup of country and country-rock bands such as Counting Crows, Jackson Browne, John Legend and Lynyrd Skynyrd. The Cherry Nightclub advertises "Ripe Young Singles Ready to be Plucked". Sounds like it might be a good place for me to stay away from. There is also a 16-screen movie theatre and 72-lane bowling alley.
Pool and Spa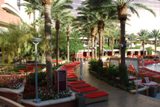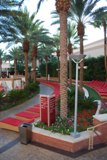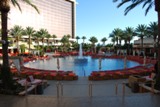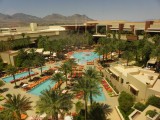 The Red Rock has an enormous pool and spa area, more than 3 acres. The spa offers all of the usual services – facials, Swedish massage, scalp massage, reflexology, aromatherapy, full body wraps, manicures, pedicures, etc. I didn't have time to check prices, but I'm guessing they're reasonable or maybe slightly more than similar services obtained on the outside. There were several different pools for children and adults, and also several Jacuzzis. One small complaint is that there were a lot of children in the pool on the day I observed it. I'm guessing that there were more than average because of the holiday weekend. The waitresses by the pool are wearing the smallest bikinis I've ever seen on a hotel employee.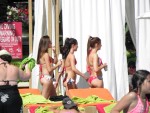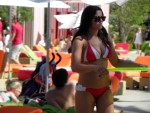 Bob's Review
This was by far the best Station Casino I've ever been in. The atmosphere is very classy, the architecture, interior design and furnishings are beautiful. The food is excellent and the staff is great. The Red Rock is perfect if you are looking for a quiet place to vacation, maybe with family. It's far enough from the Strip to be a little quieter and not so touristy. The rooms are a major selling point because they're beautifully appointed and well maintained. If you like outdoor activities, check the package deals, because it looked like there were some good prices.
Links
Contact Information
Address: 11011 West Charleston Boulevard, Las Vegas, NV 89135
Phone: 702-797-7777
Web site: redrocklasvegas.com
Resort and Parking Fees
| | |
| --- | --- |
| Resort fee | $13.50 |
| Parking fee | Free |
Games at Red Rock
| Blackjack | Location | Decks | Min | Max | Soft 17 | DA | DAS | RSA | Surr | Tables | CSM | Party Pit | 6/5 BJ | Video | H. Edge |
| --- | --- | --- | --- | --- | --- | --- | --- | --- | --- | --- | --- | --- | --- | --- | --- |
| Blackjack | Off-Strip | 2 | 10 | 2000 | H | Yes | Yes | No | No | 18 | No | No | No | No | 0.45688 |
| Blackjack | Off-Strip | 6 | 10 | 2000 | H | Yes | Yes | No | Yes | 5 | No | No | No | No | 0.55051 |
| Blackjack | Off-Strip | 1 | 10 | 1000 | H | Yes | No | No | No | 6 | No | No | Yes | No | 1.69824 |
| Blackjack | Off-Strip | 6 | 100 | 3000 | S | Yes | Yes | No | Yes | 4 | No | No | No | No | 0.35361 |
| Baccarat | # of Tables | Min Bet | Max Bet |
| --- | --- | --- | --- |
| Baccarat | 8 | 25 | 5000 |
| Craps | # of Tables | Min Bet | Max Bet | Odds | Field12 | Video |
| --- | --- | --- | --- | --- | --- | --- |
| Craps | 4 | 5 | 5000 | 10 x | Triple | No |
| Roulette | # of Tables | Min Bet | Max Bet | Rules | Video |
| --- | --- | --- | --- | --- | --- |
| Roulette | 4 | 10 | 200 | 00 | No |
| Roulette | 1 | 3 | 500 | 00 | Yes |
| Video Keno | Rank | Avg Return | Grade |
| --- | --- | --- | --- |
| Video Keno | 52 | 89.53% | C- |