Introduction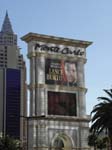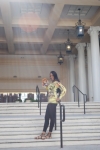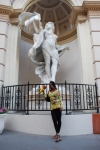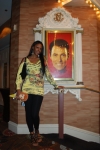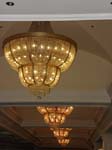 Monte Carlo Resort & Casino opened in June 1996. MGM Mirage currently owns it. The focus of this resort, from its conception, has been to offer European elegance at budget prices. Compared to many Strip properties, Monte Carlo can be called a budget option, and I would agree that it offers the European elegance they strive for. The casino and the hotel do not follow a strong theme. The décor is classic yet glitzy, with plenty of chandeliers, domes and arches. If you want to avoid pyramids, castles and fiery fountains in favor of an understated and elegant resort, the Monte Carlo is a good choice.
My previous experience with Monte Carlo is extremely limited (and not all that pleasant). As far as I recall, I was only in it once before, and that was on New Year's Eve 2003. I had been roaming the strip with all the crazies, but it was cold, so I wanted to go inside somewhere and soak up the heat. I wasn't the only one seeking out some warmth — the place was jam-packed. I recall finding a step to sit on outside a lounge. I also recall leaving that particular spot when someone vomited on my shoe. Not a great memory.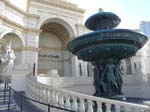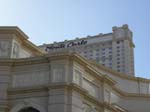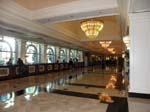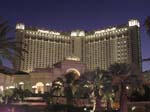 Gambling
I found the Monte Carlo casino to be easy to get around, especially in comparison to the big, sprawling casinos like Caesar's Palace and MGM Grand. While MGM Grand has 156,023 square feet of gaming space, the Monte Carlo boasts only about 90,000 square feet. The energy in the casino was good, but compared to Venetian and Paris on that same night, it wasn't all that busy. There were plenty of empty gaming tables, and of those in use, there were almost always empty seats.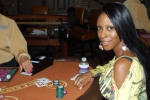 Monte Carlo seems to draw in a diverse crowd — people of all ages and backgrounds. On the Wednesday night in September 2009 I was there, the tables had some $5.00 minimums. When I went back on Friday night, however, the price to play was a little higher.
Poker
Tucked away in a corner near the Race and Sports Book, the Monte Carlo's poker room looked pretty small from the main casino floor. As I got closer, though, I realized it houses about 10 tables. It looked to be a comfortable room, and on my Wednesday night, I saw games going at three or four tables.
Race & Sports Book
I'd say the Book at Monte Carlo is pretty darn small. They have the mandatory wall of TVs along with plenty of seating, but it felt tight in there. It's not a place I would want to hang out in for hours watching sports and races. Most of the seating looked pretty uncomfortable — booths and stiff chairs. If you want to get one of the few comfy seats I spied, you'd probably have to get there early on the day of an event.
Player's Club
Since Monte Carlo is part of MGM Mirage, they honor the MGM player card. I already have one, so I did not have to stop by the player club. I walked passed it several times, though, and I never noticed a big line.
According to vpfree2.com, $4.50 of play will earn you 1 point, and after 100 points, you'll earn $1 in cash back. vpfree2 indicates this is a 0.33% return.
Hotel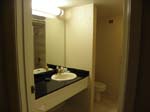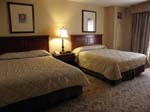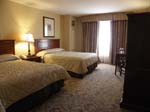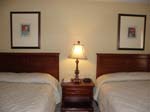 I checked into the Monte Carlo for one night on Wednesday, September 16, 2009. I was with a friend, so I selected a nonsmoking, standard room with two queen beds. The room rate was $69.95 plus tax (12%). I was also charged a $9.50 resort fee that had just gone into effect. This fee covered access to the fitness center, a newspaper for each day of our stay, two small bottles of water in my room for each day of our stay, copies and faxes, boarding pass printing, and local and 800 calls. We drank the water, but we didn't use any other part of the package. So, basically I paid $9.50 for two small bottles of water. I suppose I could've grabbed my free paper, as they had USA Todays stacked in a rack near the elevators on each floor.
I'm just going to say that I think these resort fees are bogus. The resorts are advertising low rates to get people in the door, but then they're tacking on an additional fee. And you can't decline the fee. You're paying whether you send faxes or enter the fitness center. Personally, I'd rather pay for things a la carte. Speaking of a la carte fees, 24 hours of Internet access at Monte Carlo will run you $14.99.
My room at Monte Carlo was practical and nice. It had some luxurious touches, like marble in the bathroom, but basically it was a common hotel room. It was decorated in a warm and traditional way, but it didn't wow me. The furniture included the two queen beds, an armoire with a medium-sized tube TV, one nightstand between the beds, and a table with two chairs. It wasn't a big room, but it wasn't overcrowded, so it didn't feel tight.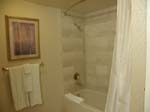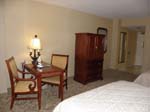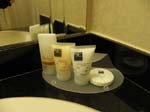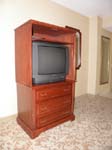 My 11th floor, south-looking view consisted of the backside of New York New York, Excalibur, Luxor and Mandalay Bay. I could see lots of parking garages!
In the closet, I found an iron and ironing board, a safe and one luggage rack. The closet was big, but it lacked sufficient lighting. The room, in fact, lacked lighting, as there were only two lamps in all of the bedroom area.
The beds, which boast pillow-top mattresses, were very comfortable. I also found the sheets and pillows to be quite nice. I could've used more pillows, personally, as there were only five in the whole room (two on each bed and one extra in the closet). When I tried to prop myself up with pillows against the bed's headboard and watch TV in the morning, I couldn't get comfortable.
The bathroom was pretty big, though the countertop around the sink was somewhat small. Still, it offered sufficient space for both my friend and me. The shower/tub combo served its purpose. I do have a complaint about the apparently temperamental toilet in my room, though. It would only flush one out of three times – the other two times, it would just swirl its contents. Not exactly what you want when you're sharing a room with a friend.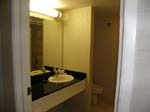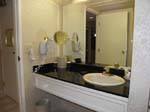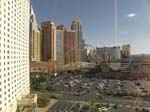 On the plus side, the room and bathroom were exceptionally clean.
Here are some other details from the room:
There is a provided hair dryer in the bathroom.
Soda and ice are vended on each floor. The soda machine on my floor, however, was out of order during my stay.
The room comes equipped with a digital thermostat and a clock radio.
When it came to check in and check out, I didn't have great experiences. The staff was helpful and friendly, but the waits were unnecessarily long. There are two ways to have your guests queue up: McDonald's style, where people pick from one of many lines, or Wendy's style, where everyone is in one line and when a party reaches the front, they are called by the next available clerk. Monte Carlo uses the McDonald's style lines at registration. Both when I was checking in and checking out, I managed to pick the slowest moving lines. I ended up waiting more than 10 minutes both when I arrived and when I was trying to leave. If I'd have picked different lines, or if Monte Carlo employed the Wendy's style, that wait would've probably been half as long.
Also related to check-in, I overheard the agents telling about every third group checking in that their room wasn't ready yet. This was around 3:30 pm, and check-in time is 3:00 pm according to Monte Carlo's website. Fortunately, my room was ready when I got there.
Restaurants
Monte Carlo has apparently been doing some renovations recently. Some areas I wandered through smelled like fresh paint even. There website listed several restaurants that would be "opening soon." Here's what was open when I was there:
BRAND Steakhouse — Steakhouse
Diablo's Cantina — Mexican
Andre's Restaurant & Lounge — French
Buffet — Buffet
Café — Variety
The Pub — American/Bar Food
Dragon Noodle — Asian
In addition, they have a food court right off the casino featuring Starbucks, McDonald's, Manchu Wok, Rubio's, Sbarro's, Subway and Häagan Dazs.
During my visit, I had dinner at Diablo's Cantina and breakfast at the Buffet. I went back a couple days later on a date with my husband and had dessert at the Café.
Buffet at Monte Carlo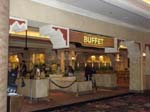 I had breakfast at Monte Carlo's buffet. In all, I was pleased, and I'm a persnickety buffet patron. I appreciated the large, varied selection of food. In all, the items I selected were fresh and tasty. I skipped the omelet station, since the line was pretty long and I was trying to get in and out quick. Instead, I opted for a ready-to-eat vegetable frittata that was very good – light and lovely. Along with it, I had the obligatory bacon and potatoes and a wee bit of lox with capers. I also had a large pile of fresh cut melon and a couple sweet items. I don't know that I've ever encountered a breakfast buffet with as many sweet items…sticky buns, popovers, donuts, Danish, muffins, breads, cakes, cinnamon rolls, and breakfast pizza that looked like a fruit pie. Oh yeah, and pancakes, French toast and waffles, too. If you have a sweet tooth, you'll love this buffet's breakfast. But if you don't, you'll still find plenty of savory options.
The dining room itself is a very large space that is subdivided into about six or eight smaller rooms. It wasn't all that busy when I was there, so I was seated up front by the food. During a busy period, you may find yourself a very long way from the buffet line.
As for the service, it was decent. The hostesses were efficient about taking payment and getting people seated, but none of the three I had direct contact with were all that friendly. They were pretty robotic as they did their work. My server managed to redeem herself after a bumpy start. She passed by my table at least three times before she stopped to find out what I wanted to drink. I asked for water and coffee, but she brought just the coffee. For the duration of my visit, though, she was prompt about clearing plates and refilling beverages. She even stopped at one point and chatted with me, which I think is nice, particularly since I was eating alone.
Prices for The Buffet on September 16, 2009:
Breakfast Monday – Friday, 7:00 – 11:30 am: $11.95 + tax
Champagne Brunch Saturday – Sunday, 7:00 am – 3:00 pm: $18.95 + tax
Lunch Monday – Friday, 11:30 am – 3:30 pm: $13.95 + tax
Dinner Saturday – Thursday, 4:00 – 10:00 pm: $18.95 + tax
Seafood Dinner Friday, 4:00 – 10:00 pm: $22.95 + tax
Diablo's Cantina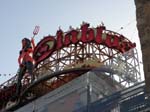 I'll start with the setting. Diablo's Cantina has a magnificent location and a very upbeat vibe. It is directly on the strip, on the southeast corner of the Monte Carlo property. You can either sit inside or on one of the open-air patios, which butt up against Las Vegas Blvd.'s sidewalk, offering a great people watching opportunity. Walking by, you can tell the place has a fun, positive energy. The hostesses and servers are all young and attractive, most with outrageous hairstyles and little clothing. Their enthusiasm is infectious, and their good looks and charm probably help them sell a lot of margaritas and tequila shots. They have a full, high-energy bar surrounded by TVs for sport watching.
The food is not as impressive as the setting, however. With the exception of the guacamole, which I thought had a very nice texture and was quite flavorful, I was disappointed with my meal. My "Casa" margarita seemed a bit watered down, and at $11.00 each, I was expecting a solid buzz. Usually half a margarita the size of this one would've had me feeling no pain, but I finished the whole thing and had only a mild buzz.
For my entrée, I ordered steak fajitas. The first thing I noticed when they arrived was my skillet had about four times more peppers than steak. The little bit of steak that was there was cut extremely thin, over seasoned and overcooked. I have a smallish appetite, so the fact that I finished all the meat, especially after enjoying chips and guacamole, means there probably wasn't enough there. I was additionally disappointed with the tortillas. Instead of using a ceramic or plastic tortilla holder, my tortillas came wrapped in paper. Once I opened them up to get one out, I wasn't able to rewrap it well. Consequently, the other two tortillas dried out and became crusty before I had a chance to eat them. I had dinner that night with a friend, who ate a bean burrito. She reported it was fine…nothing spectacular, but plenty good.
My final bill at Diablo's Cantina was $45, which included my $11.00 margarita, $19.00 for the fajitas, my half of the guacamole appetizer, and tax and tip. Considering the prime strip location, the prices seem reasonable. If, however, I'd paid that much off the strip and gotten the same quality, I'd have felt robbed.
Diablo's Cantina will try to draw you in with its outstanding location, attractive employees and fun atmosphere, but I recommend you resist. Keep walking, as you'll likely find a better meal and a more honest drink down the road.
The Café
Just a couple days after my stay at Monte Carlo, I found myself on the strip with my husband for a "date night." We'd had dinner across the street from Monte Carlo, at a great Indian restaurant named Tamba in the Hawaiian Marketplace. I was in the mood for some coffee and something sweet, so we made the short walk to the Monte Carlo and got a table at the Café.
It was an overall nice experience. The dining room is posh and warm with brown and orange hues. The booth we sat in was comfortable, conversation was easy since there wasn't any loud music, and the food was very good. I had the Strawberry Ice Cream Cake and my hubby had the Chocolate Turtle Tower. Both were scrumptious. I also had a pleasant cup of decaf coffee.
The service was mediocre, however. The restaurant wasn't all that busy, yet they were understaffed for the amount of tables they had filled it seemed. Our waiter was running around like crazy trying to take care of us and his other tables. In particular, a group of six half-drunk, middle-aged men in golf shirts and hats had him hopping. When he was at our table, he seemed rushed and stressed. For the most part we were understanding, but we started getting perturbed when we couldn't track him down to get our bill. Speaking of our bill, the two desserts and one cup of coffee ran us $16.00 with tax and tip.
Here are prices for some of the other items on the Café's menu:
Ham & Cheese Omelet (served with hash browned potatoes and choice of bread) = $9.95
Classic Rueben Sandwich (with one side) = $9.95
Mushroom Swiss Burger (with one side) = $11.
Baked Meatloaf = $14.95
Pool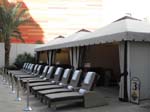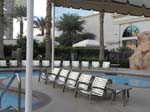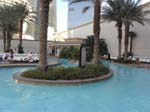 The Monte Carlo crams a lot of pool, and a lot of pool options, into a small space. You'll find a lazy river, a soaking pool, a hot tub, a wave pool and a "traditional" pool. I thought all the options were pretty nice, and the people in both the wave pool and the lazy river seemed to be enjoying themselves. Compared to the wave pool and lazy river at Mandalay Bay, however, the Monte Carlo's offerings seem small and not as interesting.
Being somewhat claustrophobic, the fact that the pool area is pretty much surrounded by tall buildings (the Monte Carlo itself and the new City Center), I didn't feel all that relaxed there. Still, they've done a good job of making it feel like an oasis. There are nice stands of palm trees, along with other foliage. The lounge chairs looked to be reasonably new, and there are tubes you can rent for the river.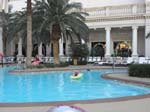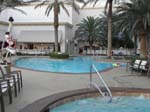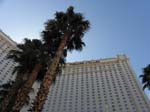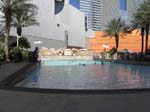 The cabanas were pretty run of the mill, though as a bonus, they had misters along the front outside edge. I've seen that at a few properties, and I think it's a really great idea. You don't get a lot of privacy at the cabanas, however, due to the lack of land. They've pretty much piled them one on top of another amongst the regular pool chaises.
Entertainment
Shows: Lance Burton and The Vintage Vegas Show were running during my visit. I haven't seen either. Just a couple weeks after my stay, I got an email from Monte Carlo about the launch of a new show: Frank Caliendo.That guy cracks me up, so I may have to make my way to the Monte Carlo to catch him.
Clubs: No
Lounges: Both Andre's Restaurant and BRAND Steakhouse have swank lounges. My friend and I stopped for a nightcap at BRAND. We ordered off their specialty drink menu, and for $11 each, I had a libation called "Impeared" and she had a potion called "Cable Car." Both were outstanding. I'd go as far to say my Impeared (which was basically a pear martini) was the best alcoholic drink I've had. That's saying a lot. The experience was made even better since our server was great and the setting was super comfortable. I found myself sinking deeper and deeper into the plush loveseat, making it hard to get up and go to bed!
Bowling: No
Cinema: No
Bingo: No
Shopping: It appears Monte Carlo is working on opening a shopping area called Street of Dreams. I found a hallway off the back of the casino with empty storefronts, and it smelled of fresh paint. In the meantime, the shopping at Monte Carlo is limited to the Lance Burton Magic Shop, a newsstand, some retail items at Diablo's Cantina (perhaps their t-shirts are better quality than their fajitas), and a shop at the spa.
Golf: Nothing specific to Monte Carlo, but the property's concierge can secure you a tee time and transportation.
Spa: The Spa, according to Monte Carlo's website, has recently been renovated.
Childcare: No
Wedding Chapel: Yes
My Conclusions
When you think of Las Vegas resorts, you generally think of the over-the-top themed properties that are always trying to outdo each other. Monte Carlo doesn't fall into that mold. It's understated, simple yet elegant. They don't really seem interested in keeping up with the Jones, but at the same time, they are staying current. Renovations in the casino were happening during my stay, and the room I occupied was modern and comfortable, without a lot of bells and whistles.
That all being said, because of its simplicity, I think it's easy to overlook the Monte Carlo. I must admit, before I stayed there for my review, I had only been in Monte Carlo once before. I've lived in Vegas for 5.5 years and frequently visited before we made this city our home. When visiting family and friends have asked me to show them around the strip, I would tell them during the tour, "We can skip the Monte Carlo, since there really isn't much to see there."
I would, though, recommend it to someone who is looking for a room on the strip at a low-key casino. The location is quite great, and I thought the price was reasonable when I stayed there. There are sufficient restaurant options and a decent pool.
These are my suggestions for improvement:
Make use of a Wendy's style line at registration, both for checking in and checking out.
Find a way to brighten up the guest room with more lighting. And put a light in the closet.
Dress each queen bed with three or four pillows.
Location
Monte Carlo is located directly on the Strip, just north of Tropicana Blvd. New York New York and City Center are its next-door neighbors. Within easy walking distance are MGM Grand, Tropicana, Excalibur, Planet Hollywood and Bellagio.
Links
Contact Information
Address: 3770 Las Vegas Boulevard South, Las Vegas, NV 89109
Phone: 800-311-8999
Web site: montecarlo.com
Resort and Parking Fees
| | |
| --- | --- |
| Resort fee | $13.50 |
| Parking fee | Free |
Games at Monte Carlo
| Blackjack | Location | Decks | Min | Max | Soft 17 | DA | DAS | RSA | Surr | Tables | CSM | Party Pit | 6/5 BJ | Video | H. Edge |
| --- | --- | --- | --- | --- | --- | --- | --- | --- | --- | --- | --- | --- | --- | --- | --- |
| Blackjack | Strip | 4 | 5 | 500 | H | Yes | Yes | No | Yes | 3 | - | No | Even | Yes | 2.82051 |
| Blackjack | Strip | 8 | 10 | 1000 | H | Yes | Yes | Yes | Yes | 22 | No | No | Yes | No | 1.85750 |
| Blackjack | Strip | 2 | 100 | 10000 | H | Yes | Yes | No | No | 2 | No | No | No | No | 0.45688 |
| Blackjack | Strip | 6 | 100 | 5000 | H | Yes | Yes | Yes | Yes | 2 | No | No | No | No | 0.48263 |
| Baccarat | # of Tables | Min Bet | Max Bet |
| --- | --- | --- | --- |
| Baccarat | 2 | 50 | 5000 |
| Craps | # of Tables | Min Bet | Max Bet | Odds | Field12 | Video |
| --- | --- | --- | --- | --- | --- | --- |
| Craps | 4 | 10 | 3000 | 3-4-5 x | Triple | No |
| Craps | 1 | 3 | 250 | 2 x | Double | Yes |
| Roulette | # of Tables | Min Bet | Max Bet | Rules | Video |
| --- | --- | --- | --- | --- | --- |
| Roulette | 4 | 10 | 3000 | 00 | No |
| Roulette | 1 | 3 | 1000 | 00 | Yes |
| Video Keno | Rank | Avg Return | Grade |
| --- | --- | --- | --- |
| Video Keno | 26 | 91.66% | B |