Forward
What follows is a review of Terrible's, the former name of this property before it went through a renovation and name change to the Silver Sevens in 2013. The property is much less terrible than it was under the Terrible's name (sorry for the pun). We plan to update the review soon.
Introduction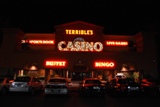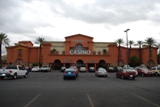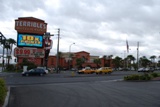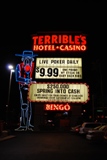 Terrible's Hotel and Casino is medium-sized property located at the intersection of Paradise and Flamingo, about a mile north of the airport and a mile east of the Strip. It was previously known as the Continental. In 2000, it was renovated and reopened as Terrible's.
At first glance, the name Terrible's may not seem like the most appealing name for a casino, but it is but a small part of the Terrible Herbst empire of gas stations, car washes, quick lubes and casinos. We locals see Terrible's businesses everywhere. If the signage with the Terrible's sheriff doesn't catch your eye, then the large American flags will.
Terrible's Las Vegas casino seems primarily targeted to economy-minded locals and tourists. The clientele looks mostly blue collar or retired. I stayed there April 22 and 23, 2010. This review is based on my stay.
Location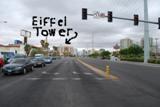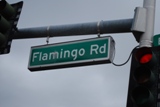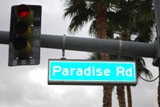 As mentioned above, Terrible's is located on the corner of Flamingo and Paradise. Specifically, it's on the southeast corner. It is the second closest casino to the airport, second to the Hard Rock, which is a short walk south along Paradise Rd. Terrible's is also about 1.2 miles from the Strip. The picture above was taken near the casino, looking towards the Strip, to give you an idea of the distance. I noted the tip of the Eiffel Tower in the picture.
If you want to get to the Strip but don't have a vehicle, I would recommend taking the 202 Flamingo Rd. bus (PDF). It runs 24 hours and comes by every 15-20 minutes most times of the day. In addition to its proximity to the Strip and airport, Terrible's is also close to the Hard Rock Casino, UNLV, the Atomic Testing Museum, the Liberace Museum and the Pinball Hall of Fame.
Hotel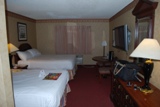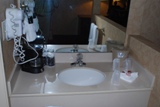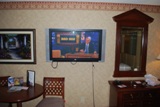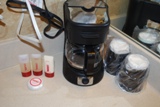 According to the 2010 American Casino Guide, Terrible's has 370 rooms. My room, on a Wednesday night, was $29 plus Nevada's 12% room tax. There was no resort fee, which I applaud.
The hotel check-in counter is located inside the casino. When I arrived, there was no line and two agents were helping other guests. The check-in process went smooth and quick. During the course of my stay, I noticed many of the guests checking in were pilots.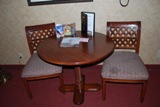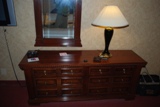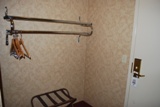 My room was located on the second of three floors. The room was number easy to remember: 2010, the year at the time. My room was basic and clean. I would compare it to the quality of a good motel room in terms of size and furniture. Terrible's scores bonus points for a coffee maker (something most Strip casinos don't provide), a big, wide flat-screen TV, and a very comfortable Serta pillow-top bed. I'm fussy about mattresses, and this was about as good as I've ever experienced. I was so happy with it I peeled back the sheets to find the mattress tag and learn who manufactured it.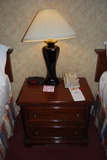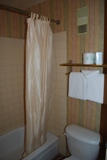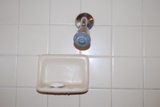 Something that is worth noting about the room is the soap tray in the tub/shower combination was located, very conveniently, just below the showerhead. I don't know why everybody doesn't do that. Local calls were 75¢. The room loses points for not offering a closet, safe or Internet connection. Also, the view was literally of a windowless wall of another wing of the building about 8 feet away. The picture below was my "view." No, I didn't forget to take the lens cap off my camera.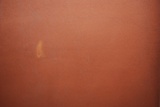 Parking Garage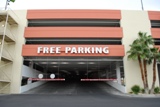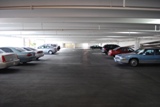 As parking garages go, Terrible's isn't terrible at all. It is a five-story structure, which seems more than adequate compared to the size of the property. There is a huge ramp to the upper levels. Everywhere has wide lanes and big parking spaces. Given the many senior citizens they get, that isn't a bad idea. It is extremely clean and well lit, with easy elevator access right to the casino. Parking garages just don't get much better than this.
Pool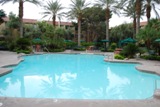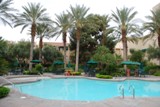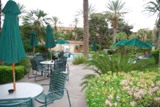 I was very pleasantly surprised by the quality of Terrible's pool. The grounds around the pool are large, with lots of tropical landscaping. There are plenty of tables and chairs, and when I was there, it was immaculately clean. For a property with just 370 rooms, it could be one of the most relatively spacious pools in Vegas. There was a nice hot tub, but no bar for snacks or drinks. That would make a nice addition.
Restaurants
Terrible's has two choices for eating, as follows:
Bougainvillea Café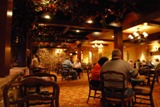 As I've said in other reviews, every Vegas casino should have a cafe with big portions and cheap prices. Teribble's cafe meets these expectations. The menu lists plenty to choose from, including pages for Mexican and Chinese food. Here are some of the regular prices I noted:
BLT: $5.99
Bacon cheeseburger: $7.99
BBQ ribs (full rack): $12.99
Spaghetti and meatballs: $6.99
Hong Kong chow mein: $8.99
Chicken or beef enchiladas: $7.99
3-egg omelet: $5.99
Bottle of wine: $10-$28
In addition, there were several graveyard specials, served 11PM - 7AM. I've noted just two of them:
Deuces Wild: 2 pancakes, 2 eggs (any style), 2 bacon, 2 sausage: $2.99
Full House: NY steak, 2 eggs (any style), hash browns, toast: $6.99
Signage in the casino indicated the "deuces wild" was served 24 hours.
I ordered the 3-egg omelet during my visit. The service was a bit slow, about five minutes longer than my expectations. However, the food was fine. I was so hungry I took a few bites before I remembered to take the picture below.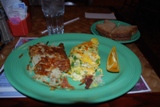 Terrible's Buffet
I ate at the buffet for dinner. This is a small buffet, with small selection to boot. There was nothing high end, but considering the prices, I really shouldn't complain. The cooks did a pretty good job with what they had to work with. The best thing I tried was the beef brisket at the carving station, followed by the taco bar. Something was identified as salmon, but when took a bite, it clearly wasn't. I'm still not sure what it was, but I don't think it was anything that swims. Here are the prices:
Breakfast $7.99
Lunch $7.99
Dinner $9.99 to $15.99
Saturday & Sunday-Champagne Brunch $9.99
Outside Eating Options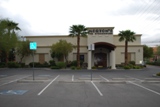 Terrible's is within easy walking distance of lots of nice restaurants along Flamingo Rd. Here are some I could easily see from the parking lot: Lawry's, Cozymels, Hamada of Japan, Bahama Breeze, Morton's, Buca di Beppo, and Roy's. As a 9-year resident of Vegas, I find such stand-alone restaurants often offer a better value and experience than the fancy establishments found inside the casinos.
Entertainment
Above the casino bar, there is a sign that says "Terrible's Entertainment." At the time I thought it referred to the television screens that were on. However, later in the evening, there was a singer on a raised part of the bar, too small to call a "stage," singing with the aid of pre-recorded arrangements of music.
Casino
According to the 2010 American Casino Guide, Terrible's has 28,266 square feet of casino space. By way of comparison, the MGM Grand has 5.5 times as much at 156,023. According to the Nevada Gaming Control Board, Terrible's has 10 table games and 965 slots. The casino obviously caters to small bettors, and mainly slot players. Unlike many casinos, it is well lit and doesn't blare music. The crowd definitely is on the elderly side, and about half the conversations I overheard were conducted in Spanish. Most players seem to prefer to be left alone, so it is a good place to play if you don't want to be bothered with a lot of chitchat. If you like a sociable game, your experience would be better elsewhere. Following are some specific comments on the games offered.
Blackjack
There were six tables, but only two to four were open depending on the time of day. Most were six-decks, $5-$500, double after split, no surrender, with re-splitting aces allowed, for a house edge of 0.57%.
There was always one double-deck game open. The limits were $5-$500 or $10-$500, depending on the shift. The rules were the same as the six-deck game, except re-splitting aces was not allowed, resulting in a house edge of 0.46%.
Craps
There was one table, with 3-4-5X odds, 3-1 win on a 12 on the field, and hop bets paying 15 and 30 to 1.
Roulette
One double-zero wheel.
Ultimate Texas Hold 'Em Bonus
Normal rules.
Video Poker
According to VPfree (http://www.vpfree2.com/casino/terribles-hotel-casino), the best game is 9-6 jacks or better, at the 25¢ and 50¢ denomination. The return is 99.54% with optimal strategy. The next best game was 8-5 Bonus Poker, at a 99.17% return.
Here are the pay tables I found on one randomly selected machine. Suffice it to say, some of the pay tables on that machine were pretty stingy. My advice is to play only the best pay tables, on point multiplier days.
Terrible's Video Poker
Game
Denomination
Pay Table
Return
Bonus Poker
25¢
6-5
96.87 %
Bonus Poker
50¢
7-5
98.01 %
Bonus Poker
1
8-5
99.17 %
Bonus Deluxe
25¢
6-5
95.36 %
Bonus Deluxe
50¢
7-5
96.25 %
Bonus Deluxe
1
8-5
97.40 %
Double Bonus
25¢
8-5
94.19 %
Double Bonus
50¢
9-6
97.81 %
Double Bonus
1
9-6
97.81 %
Double Double Bonus
25¢
7-5
95.71 %
Double Double Bonus
50¢
8-5
96.79 %
Double Double Bonus
1
9-5
97.87 %
Deuces Wild
25¢
25-16-13-4-3
96.77 %
Deuces Wild
50¢
20-12-9-4-3
97.06 %
Deuces Wild
1
20-12-9-4-4
97.58 %
Triple Double Bonus
25¢
8-5
95.97 %
Triple Double Bonus
50¢
9-5
97.02 %
Triple Double Bonus
1
9-6
98.15 %
Each $1 bet on video poker earns a point. It takes 500 points to get $1 in cash back, for a rebate of 0.2%. It takes 100 points to get a $1 buffet discount (1% rebate) or 300 points to get $1 worth of stuff in the store (0.33% rebate).
All machine tickets expire in 30 days, which is too short in my opinion. But, sadly, this is the policy at most Vegas casinos.
Poker
There were two poker tables in the main casino. I think they open only in the evenings. A dealer said they sometimes have trouble getting enough players to start a game.
Race and Sports Book
The race and sports book is a franchise of Lucky's. For a small casino, it was a pretty large sports book, with plenty of places to sit and monitors to watch the games.
I was there in April, during baseball season. They deal a 10¢ money line in baseball, meaning the two sides of the same game are only 10 points apart. They also break late to a bigger separation. When I was there, I noticed one game at +180/-190 and another at +185/-200, indicating they go to 15 cents at +185. Totals and run lines are 20 points apart, just like everywhere else in Vegas. If the sports betting terminology sounds like mumbo jumbo to you, suffice it to say that Lucky's is very competitive with their baseball lines.
Sports tickets expire in 120 days, which is respectable and better than most places.
Bingo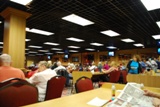 On the second floor is a fairly big bingo room, relative to the size of the property, but smaller than the enormous rooms at the Stations and Coast casinos. Sessions start on every odd-numbered hour from 11AM to 9PM. Scans of the program are below, for readers interested in the specifics.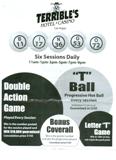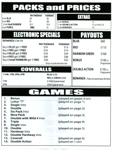 When I played the 9PM session, I followed my standard advice of buying only the cheapest cards and avoiding the gimmicks. However, the cash ball jackpot, at over $3,000, was unusually high compared to the other sessions, so I did what I seldom do: I validated. Every single game I was "cased," meaning I was one ball away from winning on at least one card, but somebody else beat me to it every time (dang!).
The bingo room was divided between smoking and non-smoking halves. A cocktail waitress came by towards the beginning. There were also self-service juice and coffee machines. As is usual with bingo, it was a very elderly crowd. I was probably the youngest player in the room. Most players seemed genuinely happy when they called out "bingo!," as opposed to the crusty old bats at other bingo rooms that stoically call "winner," as if they were entitled to the win.
Player Club
Singage around the casino indicated that new players received a free t-shirt or hat and a 2-for-1 buffet coupon. When I tried to earn points for my bingo purchase, the cashier said I had an outdated card. I think I applied for it several years ago. When I went to the player club to get a new card, I asked if he was establishing a new account, which would have entitled me to a free t-shirt or hat and the buffet coupon. He said I was already in the system so I didn't qualify for that promotion. A moment later, however, he quietly asked, "What size are you?" I told him, and he gave me a bag with a t-shirt, fun-book and quarterly magazine (a copy of which was also in my room). I love it when casinos give you stuff for nothing.
The fun book was pretty thick, with the following coupons:
Point specials: 2500 = free mid-week room, 5000 = Friday or Saturday room, 7500 = Jacuzzi suite or tower room midweek, 7500 = tower room Friday or Saturday, 10000 = Jacuzzi room Friday or Saturday.
$5 parlay baseball or soccer parlay card match play.
$10 match play on table games (valid Monday-Wednesday only).
2-for-1 buffet.
7500 points = free Thursday seafood buffet.
$3 off each entree at the cafe, up to four entrees.
Free bottle of wine with purchase of two entrees at the cafe.
$5 in free play for an e-mail address.
Half off entree at the cafe.
Free beer or bottle of wine at any casino bar.
1000 points earned on a Friday or Saturday = $10 in free play (1% rebate)
Free t-shirt for four of a kind in 7's, 8's, or 9's in video poker.
50 points = deck of cards, 1000 points = pack of cigarettes
100 to 1000 points doubled
Free $4 bingo pack with purchase of another pack.
Free Krispy Kreme donut with purchase of a 16-ounce coffee.
2-1 drinks at any casino bar.
Free mug with purchase of a 20-ounce coffee.
20% off any Terrible's logo item in gift shop.
50-point credit (I don't understand what this coupon is for).
100-coin bonus for four of a kind in 7's, 8's or 9's.
Free game of bowling (at the Henderson casino).
Free $5 free play, t-shirt or hat, and $1 off menu item for new player card registration.
2 free roller coaster rides at Buffalo Bill's in Primm (I never seem to see this roller coaster in operation any longer).
500 points = free breakfast buffet, 750 for lunch, 1000 for dinner.
Free all day attraction pass at Buffalo Bill's in Primm.
Free "rain-x" with purchase of a full service car wash.
$5 off smog check (what other casino will give you a coupon for that?)
$5 off oil change.
I indicate some information about how points are earned and redeemed in my video poker section above.
Promotions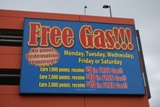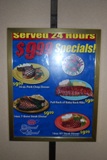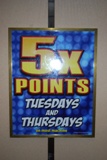 I have never in my life seen a casino with so many concurrent promotions going on. It took a 34-page, 9" x 10" magazine to list them all. Here are just some of them:
Up to 10% rebate on loses for table game players.
10x points on Sundays on video slots.
5x points Tuesdays and Thursdays on "most machines."
Weekly 7-day cruise drawings
Earn 250,000 base points and get a guaranteed 7-day cruise.
Free daily slot tournament entry. Daily winner wins $500.
Of all these, the one that merits the most attention is the rebate on losses for table game players. Normally, this kind of deal is only offered to the biggest of whales on the Strip; however, Terrible's offers it to any ordinary Joe who asks for it. I questioned the floor supervisors quite a bit about it. The way it works is you can request a rebate at any time, but no less than 24 hours since your last request. The floor supervisor will add up your wins and losses over the 24-hour period ending at the time you make the request. You get a 5% rebate of losses of $500 to $999 and 10% for losses of $1000 and over. Each 24-hour period is considered independent, and I was told there was no minimum play required; even just one bet was okay.
My Own Gambling
The only game I played was the double-deck blackjack. I estimate I put in about 3 hours at an average bet of $75. At all times, there were two to four other players. The players were very quiet. Some exchanged a few words in Spanish. Tables with a mixture of languages tend to be awkward and quiet at any casino. The dealers dealt a fast and clean game but seemed extremely bored. There was never any rapport with the player, not even a hello or good-bye. A tip would merit a mumbled thank you, at best, and no reaction at all, at worst. Cocktail service, however, was friendly and frequent. The floor supervisors were also very attentive and knowledgeable when it came to my many questions.
My first session was Wednesday night, starting at about 10:00 pm. After around 90 minutes of play, I noticed a haggard-looking but fairly young woman standing behind me watching. After a few minutes, she spoke up and said, "This sure is a quiet game." I should have known better, but I responded by saying, "Then why don't you play and liven things up?" I say I should have known better because this wasn't my first time trying to shake off an allegedly lonely and broke local of the opposite sex. My politeness, I think, is often mistaken for an interest in paying for their company.
So after I invited her to sit down, she sat but didn't make any indication that she was going to buy chips. I asked if she was uncomfortable with the $10 minimum, and she said she had no money at all. A few hands later, she asked if one of the two hands I was playing was for her. Despite saying "no," she kept making remarks like, "Can I have half?" or "I'm bringing you luck" after every win. Of course, no comment was made after a loss. In addition, she was smoking a smelly menthol cigarette and making no effort to keep it away from the non-smoking players, something I view as poor smoking etiquette. The other players were clearly annoyed with the huge cloud of smoke over the table. I felt bad for being an indirect cause of it, so I cashed out.
Naturally, she followed me as I left the table. She asked what I wanted to do next, so I said I had to leave. She then asked when I would be back and for my phone number, despite acknowledging my wedding ring. I dodged both of these questions. Lowering her expectations, she then asked for $10 for a ride to a methadone clinic. This was potentially a truthful destination. 20 years ago, I used to take SSI disability claims. Many of the alleged disabilities were for drug addiction. You didn't even need to ask what the disability was in those cases, and she had that same beaten-down, missing teeth, sickly look. Although bus fare is $2 in Vegas, I didn't question the need for $10. I thought that was a fair price to get rid of her, so I asked her an easy trivia question for the money. My question was on the name of the dog in the Wizard of Oz (go figure), which she knew. After I gave her two red chips, I made my escape.
The next morning, I played some more. I had done well the previous night, but I lost it all back, and more. Eventually, I had lost about $1000 total that trip, so I invoked the 10% rebate on losses offer. The floor supervisor went over to the table where I had just played to get my information for that session. He looked at a bunch of cards, added up numbers, and then said, "I show a loss of $1,100." That was about right, so I agreed. He then started typing at the keyboard in the pit and said my $110 should be available at the cage in 30 seconds. That was certainly easy, and if there was an error, it was in my favor. When I went to the cage, I asked for the $110, and there was already a printout there with my name and the amount, waiting for my signature.
So, I salute Terrible's for both the generosity and efficiency of the rebate offer. If you are wondering how to maximize the value of such a promotion, the best strategy is to shoot the moon by going for a huge win or bust trying. For example, try to win $5000 or lose $1000, whichever happens first. It sounds paradoxical, but you don't get the value of the promotion unless you lose. The best way to achieve that goal is with a high winning goal. However, it doesn't take long for the expected cost of the house edge to outweigh the benefit of the rebate. The maximum bet in blackjack is $500, so your winning goal shouldn't be too high. Personally, I was shooting for a $2,000 win.
In addition to my $110 rebate, the floor supervisor covered all my room charges when I asked at the blackjack table. This included the $29 room and about $15 in food. He simply said, "It's all taken care of." Just the way I like it.
Summary
Overall, I was very pleasantly surprised by my positive experience at Terrible's. Never did I encounter a long line, the place was very clean, the amenities were strong, and the casino proved to be a good value. My only significant complaint is the dealers were about as friendly as a brick wall.
Terrible's is clearly not for everybody, however. If you put a priority on youthful excitement in the middle of the Strip, you'll be disappointed. However, if you're after a no-nonsense gamble and a good value, Terrible's may be just what you're looking for.
Links
Contact Information
Address: 4100 Paradise Road, Las Vegas, NV 89169
Phone: 702-733-7000
Web site: terriblescasinos.com
Resort and Parking Fees
| | |
| --- | --- |
| Resort fee | $13.50 |
| Parking fee | Free |
Games at Silver Sevens
| Video Keno | Rank | Avg Return | Grade |
| --- | --- | --- | --- |
| Video Keno | 28 | 91.58% | B |